Projectors are a great piece of technology. You can use them anywhere in your home. If you're lucky enough to have a back patio, you can even use it in your backyard. But, how do outdoor projectors work?
The question of how outdoor projectors work has many layers. Different technologies allow a projector to function indoors as well as outdoors.
Therefore, in the following paragraphs, we will answer some vital questions that allow us to reflect on the inner workings of projectors by deciphering the type of technology it uses.
We'll also get into more fundamental questions like the lumens needed for an outdoor projector to work in the daylight and what you need for a projector to work outside.
Projector Technology and How They Work
Currently, all projectors are considered "indoor" projectors. However, if the technology is correct, you can take it outdoors or enjoy it anywhere you wish.
So, let's go over different types of projector technology and learn the basics of how projectors work. Each one works differently, but they all aim at giving you that great picture.
DLP
Digital Light Processing (DLP) uses a set of microchips that use optical micro-electro-mechanical technology in conjunction with digital micromirrors to create a stunning image.
The micromirrors are so small that each micromirror directly corresponds to each pixel in the image. Therefore, if you have a 1080 by 1920 resolution projector, then you have 1080 by 1920 micromirrors that move and reflect light to create one whole picture.
Smaller DLP chipsets are used in cell phones and other portable projectors, but often they're called "pico" technology.
In any case, DLP colors are made when a color light goes through a color wheel that reflects from the DLP. The DLP and the color wheel work in sync to produce the primary colors (RGB) and, in some cases, subtractive colors (CMYK) to project an entire image onto your wall.
LCD
LCD projector technology, or Liquid Crystal Display, is thought of like the modern-day slide projector.
An LCD projector creates an image by using the light of a Metal-Halide Lamp, which produces intense light for the LCD to function correctly.
The LCD sends the lamp light into a prism to separate all colors. From here, the light passes through a set of panels that are either opened or closed to create individual pixels.
These pixels appear in many different colors on the image you are viewing.
LED
LEDs are interesting because they function differently than other light bulbs. LEDs use electroluminescence to produce light.
In an LED, electricity passes through it to start the process. It then knocks off electrons that are too big for the electricity to pass through it. This allows the electrons to give off a photon which produces light.
An LED uses a lot less energy than regular bulbs, which is why an LED projector's life is so long.
LEDs are used instead of bulbs within a projector. LED Projectors have red, green, and blue LEDs that work in conjunction with one another.
When they mix, they create an excellent representation of light, often seen as very accurate.
However, the LED is often used along with a DLP or an LCD.
The LED lights are either passed through the micromirrors of a DLP or a layer of liquid crystal displays.
So when you hear of a projector that uses LED technology, understand that there is no light bulb here. In this case, it's an LED instead.
LCOS
LCOS is not as intimidating as it sounds. It stands for Liquid Crystal Technology on Silicon. Essentially it's a mix between DLP and LCD.
As noted above, an LCD display uses liquid crystals that block or allow light to pass through a panel. A DLP uses micromirrors to project pixels onto a display. An LCOS projector also uses reflective technology like a DLP but blocks light or allows it to pass through like an LCD.
LCOS creates the primary colors using a three-chip technology without using a spinning color wheel the way a DLP does.
The LCOS technology allows it to create deeper blacks and whiter whites.
Laser
A Laser projector works by projecting changing laser lights onto a screen to make an image for your viewing pleasure.
The technology uses either one or three lasers for full color. However, the projector also uses mirrors, galvanometer scanners in one compartment.
The result in using a laser projected image is good because you get better colors and brighter images. However, lasers are also quick and stable.
Laser projectors are also optimized for both 2D and 3D. They contain a higher accuracy of projection compared to other technology.
Laser projectors are also great for huge and complicated images.
How do Outdoor Projectors Work Outside?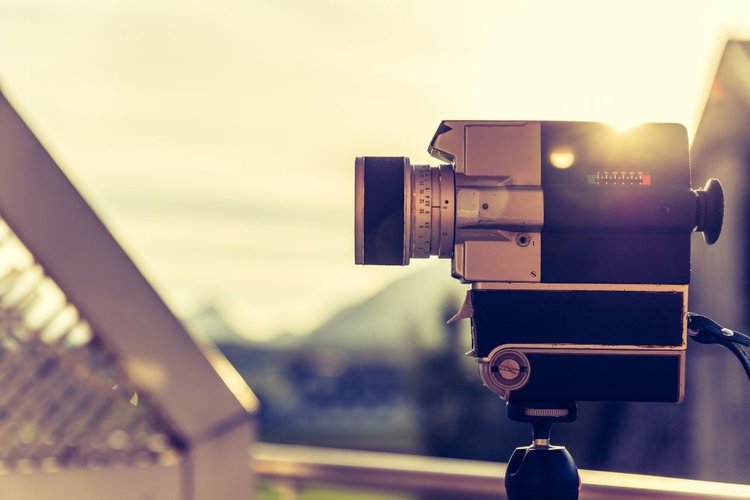 So, now that we know the inner workings of projectors and their technology, let's look into how outdoor projectors work.
An outdoor projector, in all essence, is a projector like any other. However, it must contain certain specifications that allow it to project an image that's clear enough for you to see with any ambient light you intend to have, daylight, and other reflecting surfaces that might hinder the image.
Regardless of which technology you go with, whether that's DLP, LCD, LED, LCOS, or Laser, you will need to know a few different things.
So let's get into a few vital questions we need to understand that help outdoor projectors work outside.
Do Outdoor Projectors Work in Daylight?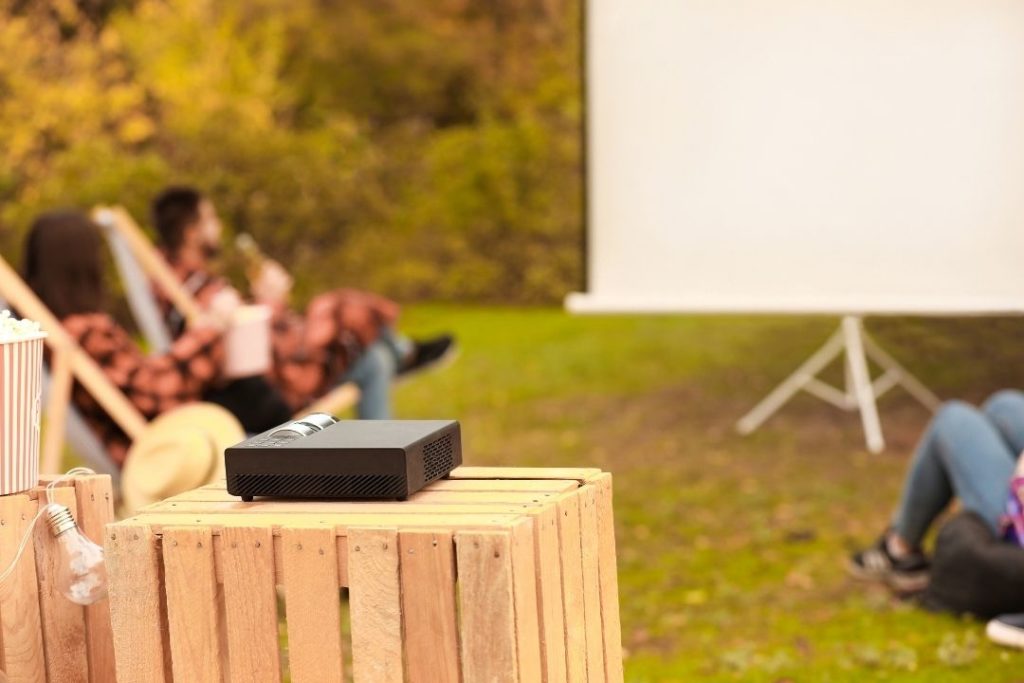 Yes, outdoor projectors work in the daylight. However, the answer is more complicated than that. You can take any proctor outside, but you'll compete with the ultimate brightness of the sunlight.
For a projector to work better under daylight, make sure you have a covered area where sunlight doesn't directly hit the projector and the projected image.
In any case, the amount of lumens your projector has is directly proportional to how well it works outside and in the daylight.
In the next section, we will get into how many lumens you will need for a projector to work outside, in the daylight, and at night.
How Many Lumens Are Good for an Outdoor Projector in the Daytime and at Night?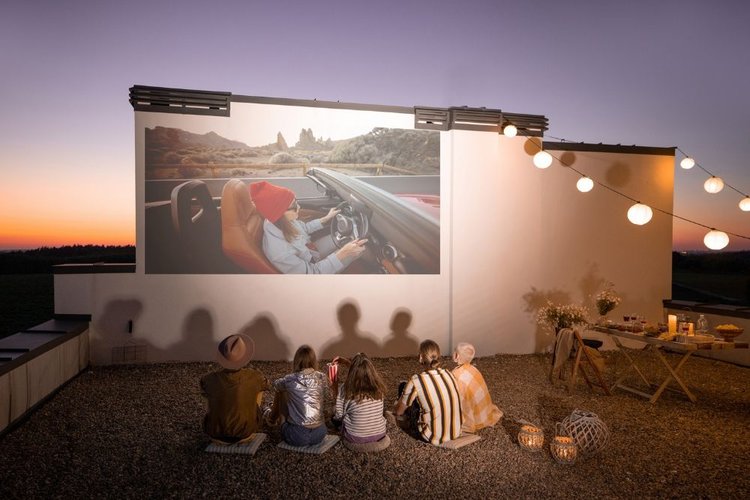 Some of the technology we talked about above works better in the daylight. Not because it's made for daylight usage, but because it's brighter than some of the other technology.
For example, Laser projectors create some of the most color-accurate imagery and the brightest light, which is excellent for outdoor projections.
However, you can opt for any projector with any technology as long as it's bright enough.
But what does that mean in terms of outdoor projectors? It means we need enough lumens.
If you're watching a movie at night, you'll need about 2,000 or 2,500 lumens of brightness.
However, if you're watching a movie in the daylight with ambient lighting, consider a projector with 3,000 lumens or higher.
For example, an Epson Powerlite contains 3,800 lumens, perfect for outdoor usage if you're trying to watch in the daylight.
What Do I Need For an Outdoor Projector?
However, there is one more thing to consider that allows an outdoor projector to work, and that's portability.
Portability means a couple of things. Is your projector light enough to carry to your backyard? Is your projector versatile enough to install outdoors? If the answer is yes, let's proceed.
Going back to the Epson Powerlite, this projector comes with a rear, front and back mount. Therefore, you can install it with ease, indoors and outdoors, which makes it versatile enough.
However, you can also opt for a more miniature, lightweight, portable projector, like the portable CiBest . This mini projector contains 6,500 exceptionally bright lumens.
The CiBest is also portable for easy transportation.
Considering versatility and portability, you are guaranteed an outdoor projector that works great for you.
As you can see, an outdoor projector works well according to the technology that's contained within it.
Now that we've figured out that we need a portable and versatile projector with enough lumens to see clearly during daylight and moonlight, our next question is, is it wifi enabled, or do we need to plug it in?
Either wifi-enabled or plugged in works. But this question is better directed at the specific user.
If you're using it while camping, perhaps a wifi-enabled projector is best, like the AODIN AirGo projector.
Otherwise, the choice is yours.
And That's how Outdoor Projectors Work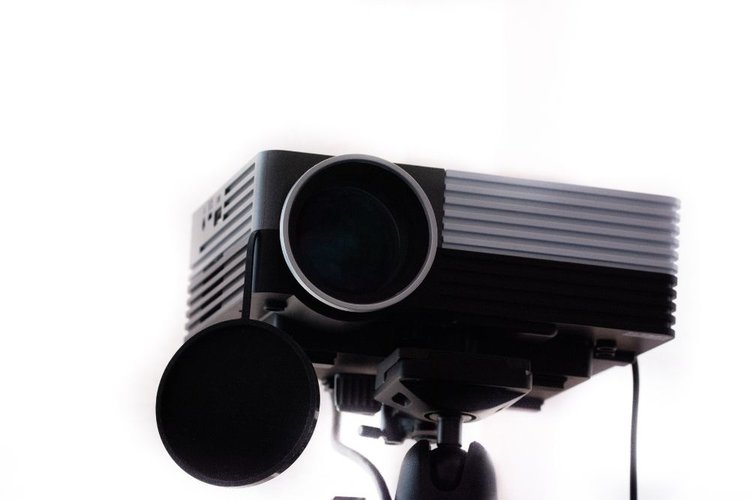 The projectors are great. However, taking your projector outdoors and creating a beautiful movie experience is fantastic.
But now that we understand the technology of LCD versus LED versus DLP versus LCOS versus Laser, we can decipher if our projector is good enough to take outdoors.
Regardless of our technology, our outdoor projector will work best if we have enough lumens and enough versatility and portability to allow us to use our projector in any environment we want.
Lumens makes the majority of whether a projector can work outdoors and even in sunlight.
So let's grab our projector, check out our specifications, and see if they're good enough to work outdoors.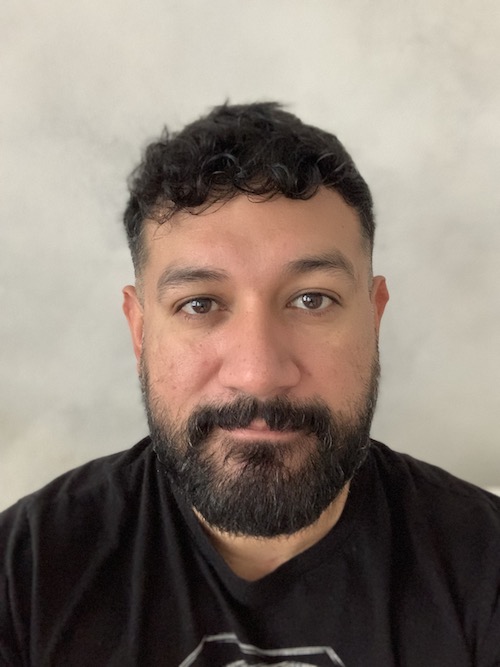 James Quintanilla is a technical copywriter. Although his experience allows him to write on many topics, he loves to focus on tech and travel. As a freelancer, James has worked on projects with Pointer Clicker, Lonely Planet, and the Travel Channel. When he's not writing or planning his next adventure, he's watching a scary movie.