What To Know
You can mount a larger TV on a smaller mount if the VESA measurements match, and the mount can handle the TV's weight, which is more important
It's essential to select a mount that can handle the weight of the TV to prevent any potential accidents.
The quality of the mount is significant – it should be made of solid metal, have a UL certification for safety, and include all necessary hardware.
This article helps you navigate the compatibility between TV sizes and wall mounts, offering a solution to the common dilemma of mismatched dimensions.
Let's explore how to match your larger screen with a smaller TV mount effectively.
Can You Put a Bigger TV on a Smaller Mount?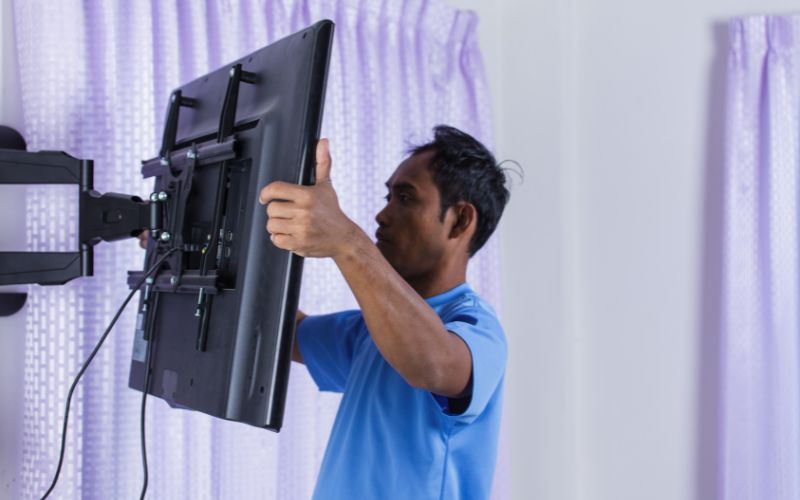 Yes, you can affix a bigger TV to a small mount if the VESA measurements of the two match and the mounting bracket is rated to support the TV's weight. Often, more than the TV's size, it's the weight that decides compatibility.
The mounting bracket must be robust enough to withstand the TV's weight. If not, the TV could fall off anytime.
Most mounts tell you the TV sizes they support. But because not all 55 or 65-inch TVs weigh the same, it's essential to note down your TV's weight and whether a given mount can handle that heft.
It's not the size of the mount but the maximum weight it can hold that matters.
The manufacturer would have mentioned the mount's weight-bearing capacity in its manual or packaging. If not, check the company's website or contact support.
Is a Bigger TV Mount Better?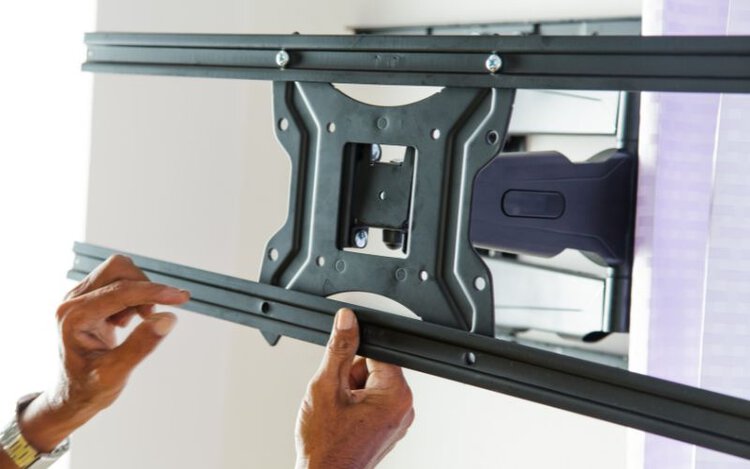 A bigger TV mount is better if it can accommodate a range of TV sizes (including your existing TV) and you have plans to buy a big TV in the future and rather not buy a separate mount for it.
The bigger TV would require a larger mounting bracket. But there's a range a TV mount supports—for instance, a mount for a 40-inch TV will work with a 50-inch unit too.
Look at mounts that support a wide range of TVs (40 to 80 inches). The mount you pick must hold at least a 55-inch TV, even if you have a smaller 32 or 40-inch TV.
If you need the mount to be discreet or want it to be proportional to the TV's size, a bigger TV mount would be an eyesore.
Also, larger TV mounts tend to be stronger or have higher weight-bearing capacity. If your TV is a bit heavy for its size, a bigger TV mount may be ideal.
However, that doesn't mean you plop a 50-pound (22.7kg) TV to a 150 or 200-pound (68 to 90.7kg) weight-bearing mount. That's excessive.
How to Choose a Mount for a Big TV?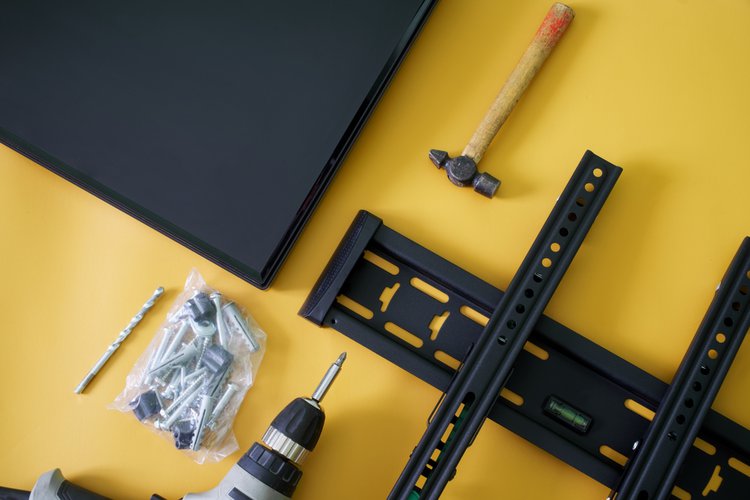 To choose the suitable mount, consider your TV's weight, size, viewing conditions, and other requirements.
Bracket Flexibility and Bearing Capacity
How you watch TV determines what mount is suitable for you.
If you can mount your TV at a perfect height and viewing distance and would not want to alter the positioning based on your seating position, get a fixed mount—like the Home Vision Heavy Duty Fixed TV Wall Mount .
If space is at a premium, look for a slim and discreet wall mount bracket, like the QualGear QG-TM Wall Mount . However, the thin profile of the fixed mount will make accessing cables or the TV's ports difficult.
It can hold up to 264 pounds (119.7 kg) of TV weight. Flat-screen TVs usually don't clock anywhere close to that number on the weighing scale, irrespective of their size.
If you require flexibility with viewing height, angles, distance, and unhindered access to the cables, look at a full-motion wall mount like the Amazon Basics Dual Arm Full Motion Articulating TV Mount . It's a heavy-duty mount with a bearing capacity of up to 132 pounds (60 kg).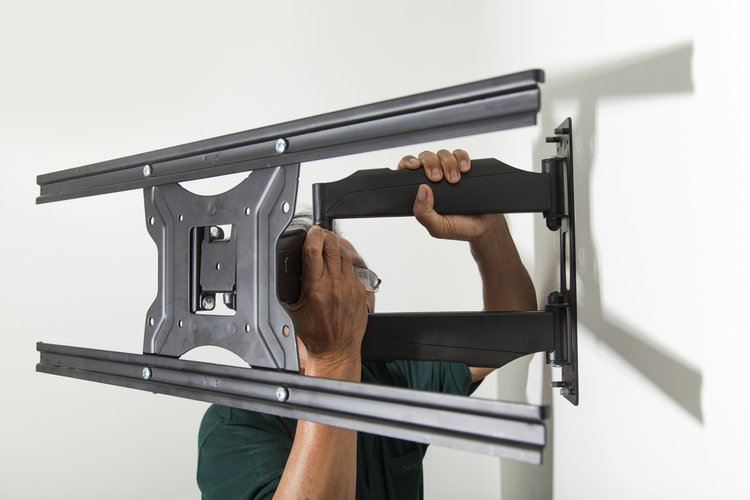 The ECHOGEAR Full Motion TV Wall Mount comes with arms extending very far. It also has a mounting bracket for a soundbar.
You don't need a full-motion bracket if you just want to mitigate glare or watch TV from different angles. A tilting bracket, like the ELIVED Tilting TV Wall Mount Bracket , will pack in all the motion you need.
To mount the TV in a corner, you will need a mount specially designed to fit into corners, like the Monoprice Cornerstone Series Full-Motion Articulating TV Mount . The corner mount stays extended throughout.
Look for a Solid Mount
Know your TV's weight and make sure it's not too heavy for its mount.
If the TV is on the heftier side, it may sit alright initially but could eventually weigh down the mount, causing its literal downfall.
Also, look for a mount made of one piece of metal. Multi-piece designs require more time screwing and installing and could also have a weak spot or two that may quickly yield to pressure.
Solid-looking rivets, rounded-over edges, easily threaded bolts, and all necessary hardware packed into the bundle are hallmarks of a well-made and designed mounting bracket.
To confirm build and quality, look for UL-approved mounts.
UL stands for "Underwriters' Laboratories." It tests and assesses products and components. Its certification mark assures that a third party has thoroughly verified a product's performance and safety claims.
Watch this video to learn more about UL certification and its significance:
The UL Certification Guide
Know the VESA Size
VESA sizes are standard but not universal. The VESA sizes for a 40-inch and 80-inch TV will not be the same.
The VESA rectangle is measured horizontally and vertically in millimeters. If the measurement is 600mm x 400mm, the rectangle is 600 millimeters wide and 400 millimeters tall.
Your TV's VESA numbers will be in its manual or online, or grab a measuring tape and note down the dimensions physically.
Kindly note that the screw hole pattern is not always rectangular. The holes could also be positioned to make a square, like with 200 x 200 (32-inch TVs) and 400 x 400 (up to 60-inch televisions) screw hole arrangements.
Conclusion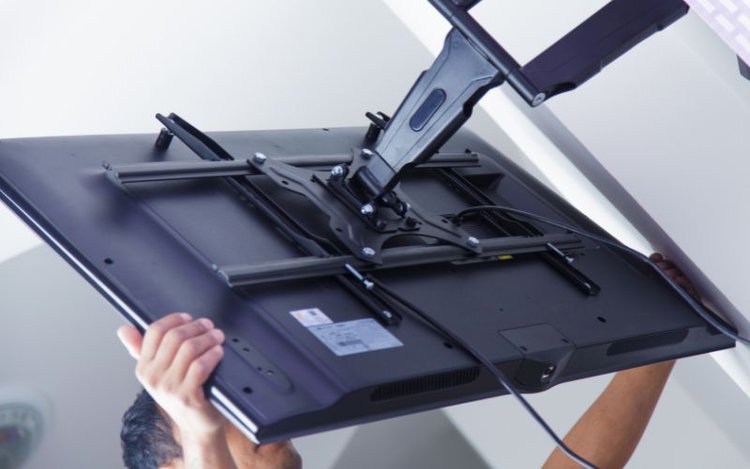 To reiterate, you can put a bigger TV on a smaller mount, provided the mount is rated from the factory to shoulder the particular TV's size and weight, and the VESA measurements of the TV and the mount align.
The TV mount is a simple accessory, but it plays a significant role in determining how safely and steadily your TV remains stuck to the wall.
Most TVs come with a bracket in their box. If your TV did not, or if the mount that came in was of the fixed kind without tilting or full-motion capability, consider buying one separately.
Also, if the build quality seems suspect, buy a new one. There should be no compromises whatsoever with the mounting brackets you use for your TVs.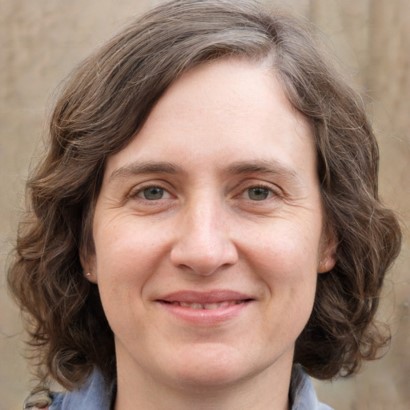 Catherine Tramell has been covering technology as a freelance writer for over a decade. She has been writing for Pointer Clicker for over a year, further expanding her expertise as a tech columnist. Catherine likes spending time with her family and friends and her pastimes are reading books and news articles.