Whether you're ordering a custom entertainment console or moving, knowing your Sony TV's weight and dimensions comes in handy. You could weigh and measure it yourself, but you don't have the right tools to do so at home.
Lucky for you, we've compiled a list of Sony TVs' weights and measurements so you don't have to go through the trouble of calculating them yourself.
Please note that Sony TVs' exact weights and dimensions vary depending on the model. The weights and dimensions listed below are an approximation based on Sony's current 43 to 65-inch TVs.
To learn where to find a Sony TV's exact weight and dimensions, proceed to the next section.
Weight
| | | | |
| --- | --- | --- | --- |
| TV Sizes | Weight of TV with stand (kg/lb) | Weight of TV without stand (kg/lb) | Weight of Package Carton (Gross) (kg/lb) |
| 43" | 10.5 – 10.7kg / 23.1 – 23.6lbs | 10 – 10.2kg / 22.1 – 22.5lbs | 14 kg / 30.9lbs |
| 50" | 12.9 – 13.3kg / 28.4 – 29.3lbs | 12.3 – 12.7kg / 27.1 – 28lbs | 17 – 19kg / 37.5 – 41.9lbs |
| 55" | 16.8 – 18.1kg / 37 – 39.9lbs | 15.7 – 17.1kg / 34.6 – 37.7lbs | 23 – 24kg / 50.7 – 52.9lbs |
| 65" | 22.6 – 22.9 / 49.8 – 50.5lbs | 21.6 – 22.1kg / 47.6 – 48.7lbs | 30 – 32 kg / 66 – 70.5lbs |
Dimensions
TV Sizes
Dimensions of TV with stand

(W x H x D)

Dimensions of TV without stand

(W x H x D)

Dimension of Package carton

(W x H x D)

43"
38.27 x 24.88 x 11.26 inch
38.27 x 22.32 x 2.76 inch
42.20 x 27.52 x 5.63 inch
50"
Approx. 44.33 x 28.27 x 11.26 inch
44.33 x 25.71 x 2.76 inch
48.82 x 30.79 x 5.55 inch
55"
49 x 31 x 13-3/8 inch
49 x 28-3/8 x 2-7/8 inch
53-1/4 x 33-1/4 x 6-1/2 inch
65"
57-5/8 x 36 x 13-3/8 inch
57-5/8 x 33-1/4 x 2-7/8 inch
62-1/8 x 38-1/4 x 7-3/8 inch
How to Know a Sony TV's Exact Weight and Dimensions Using Its Model Number?
While the approximations listed above can be helpful, you may need to know a TV's exact weight and dimensions if you're designing an entertainment setup, shopping for wall mounts, and so on.
You can find these values using your Sony TV model number by following the steps listed below.
Step 1: If you already have a Sony TV at home, verify its model number by following one of the methods listed in this Sony guide. (We recommend keeping the model number on hand for future use.) If you already know your Sony TV model number, proceed to Step 4.
Alternatively, if you're planning on purchasing a Sony TV, you can find its model number on the official Sony TV website.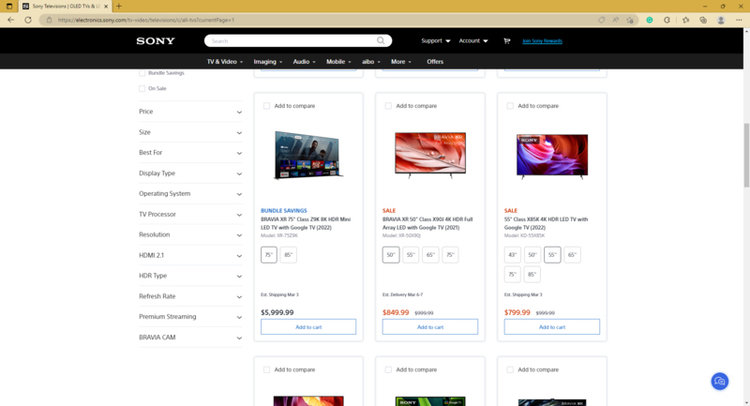 Step 2: Find and select the Sony TV you already own or are planning to buy from the catalog. For this example, we'll select the KD-55X85K model.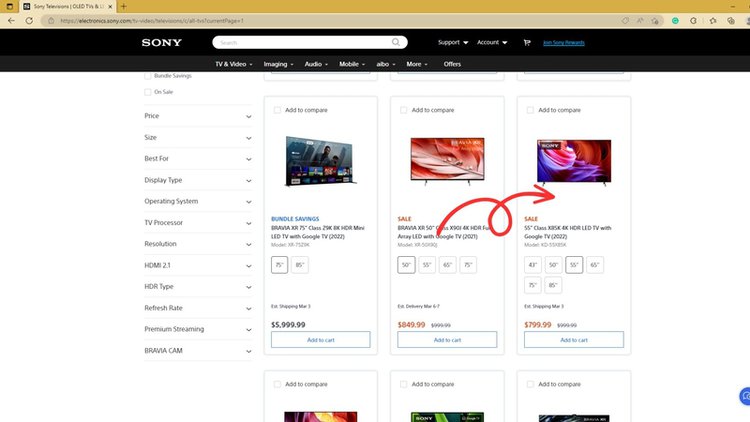 Step 3: Now, copy the model number (e.g. KD-55X85K).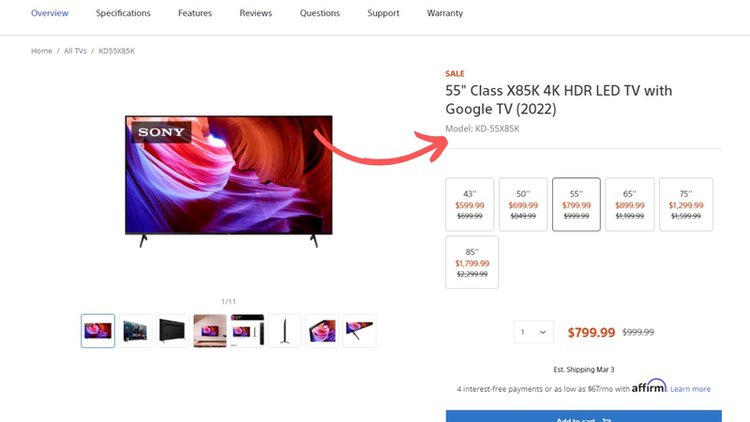 Step 4: Next, head to Sony's product support website.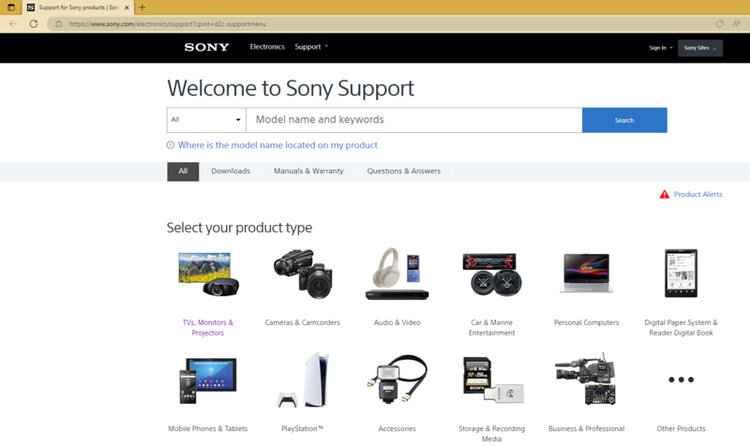 Step 5: Paste your TV's model number into the search bar at the top of the screen. Then, you should see the same model number appear as a result in the drop-down menu. For the sake of this example, we pasted "KD-55X85K" and selected it accordingly.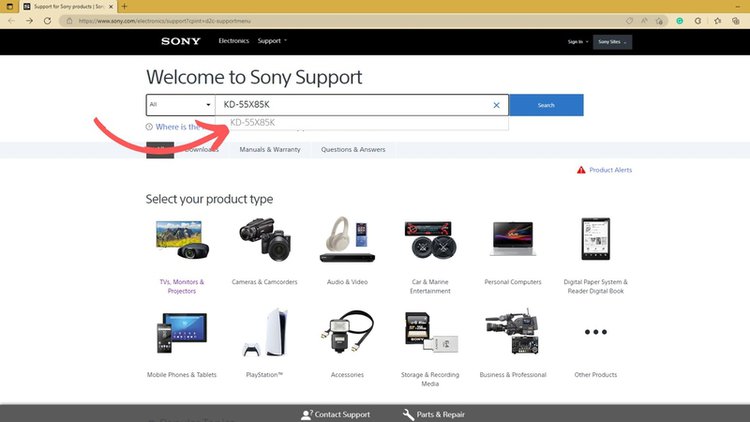 Step 6: Go to Specifications.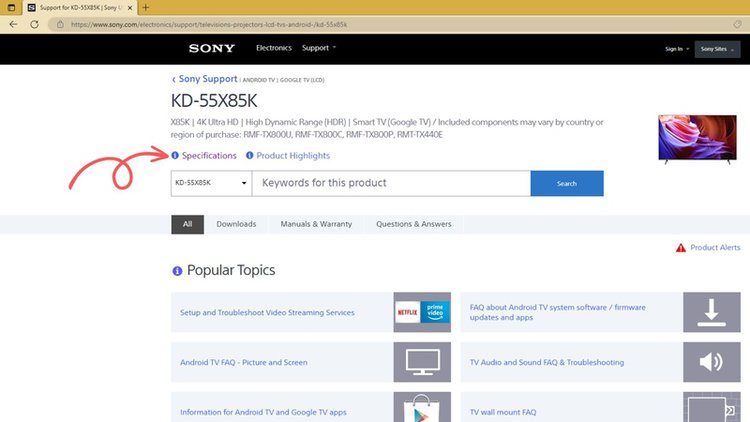 Step 7: Now you will be able to see the TV model's exact Dimensions and Weight!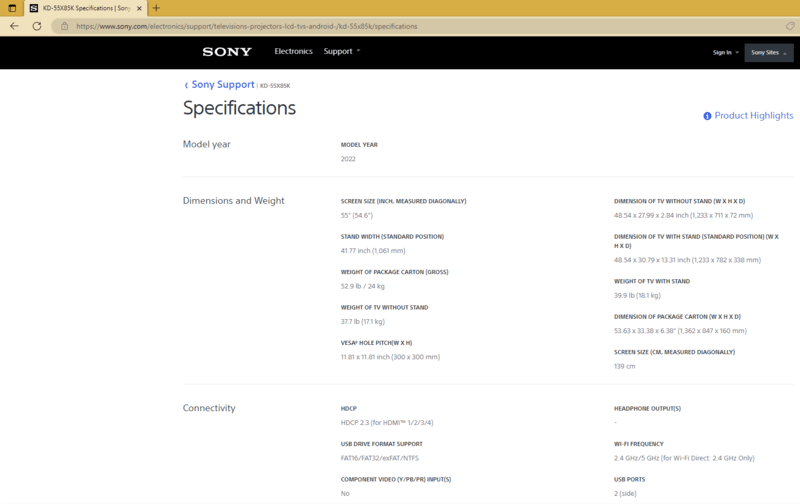 You will also notice your TV's VESA specifications, which will come in handy when looking for VESA-compatible wall mounts. These specifications are extremely important since ill-fitting TV mounts risk falling off the wall, especially if your TV is too heavy.
Wrapping Things Up
Knowing your TV's weight and dimensions will come in handy if you're mounting it, moving it, or designing the perfect TV room. However, measuring the TV yourself can prove to be challenging, and there's a lot of room for error.
So, it's best to refer to the approximate weights and dimensions listed in the tables above or find the model's exact measurements on the Sony product support website. However, you will need your TV's model number to do so.
Don't forget to take note of your TV's VESA specifications if you're shopping for a TV mount!
What's your experience finding a Sony TV's weight and dimensions?
Let us know in the comments below!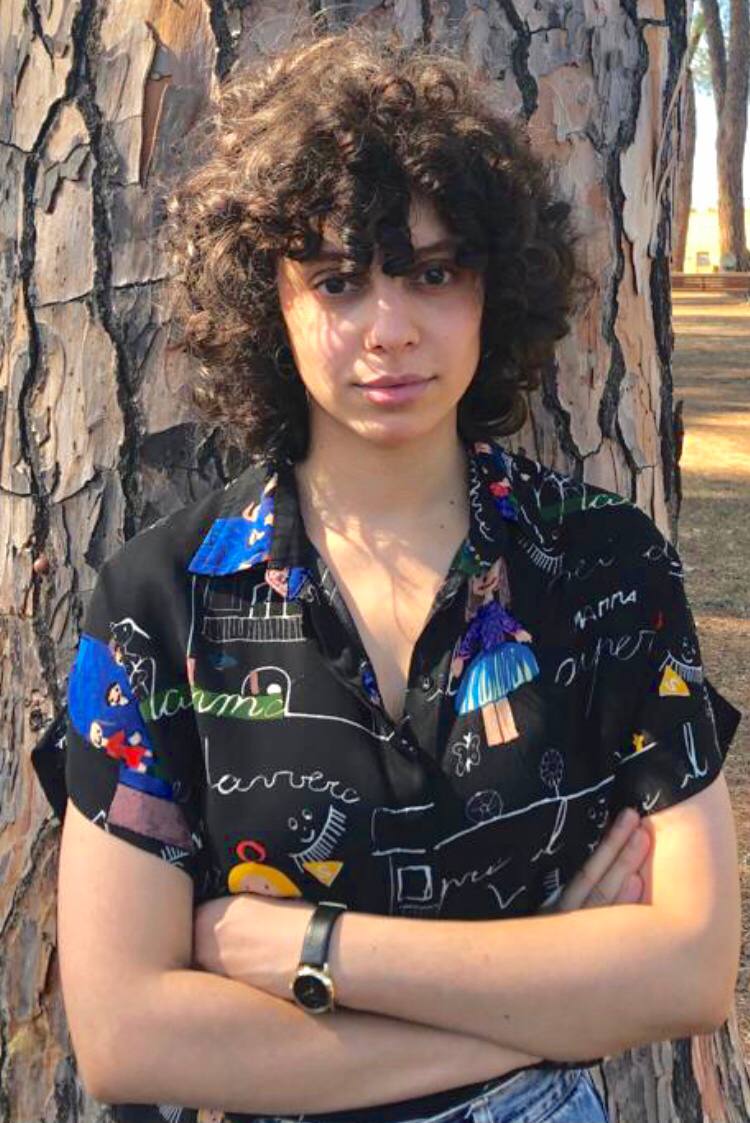 Yesenia Achlim is a technical copywriter and editor with a focus on AV equipment. She aims to break down complicated topics and make technology accessible, no matter your technical expertise. When she's not teaching you how to replace a projector lamp, you can find her reading and baking.