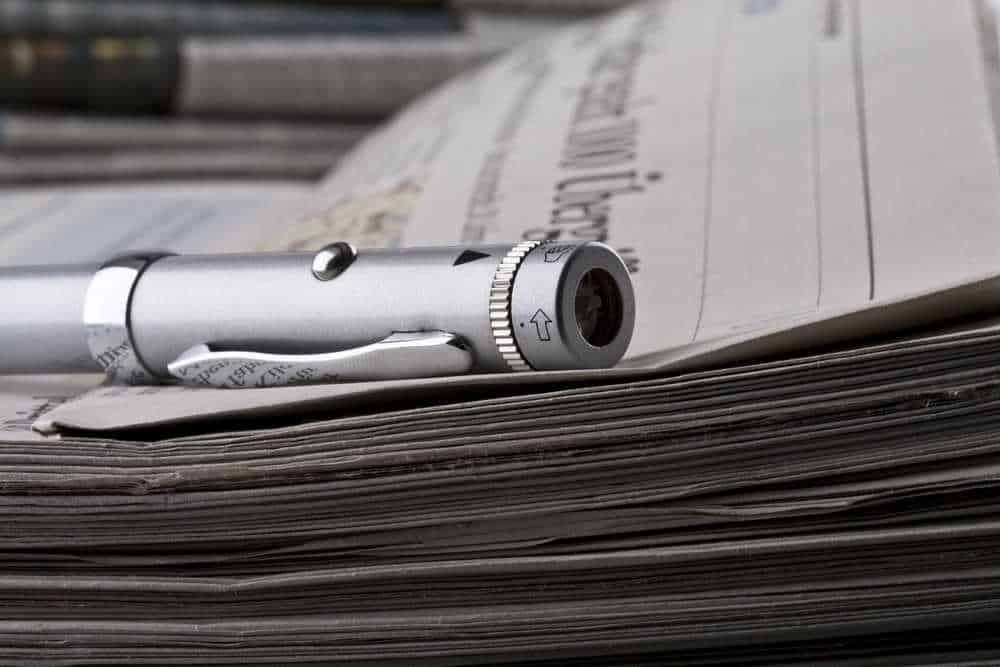 Best Laser Pointer of 2019: Complete Reviews With Comparisons
When presenting a new idea, business plan, or a powerpoint presentation in class, having a laser pointer can help highlight a few words on a page.
Instead of having your audience be lost reading a large block of words and statistics, you can instead engage them by highlighting an idea to focus on with the laser beam.
What's more is that, with modern laser pointers, you will be free to walk around the room and engage with the audience members.
This provides you with full control over your presentation no matter where you stand in the room.
In this article, we will introduce to you five of the best laser pointers for the year 2019.
Comparison Chart
Presentation Remote, PISEN Pointer Presenter Rechargable
Dinofire Wireless Presenter with Green Light
Wireless Laser Presenter, Restar 2.4GHz Wireless USB
KNORVAY N27 Wireless Presenter
Kensington Wireless Presenter with Red Laser Pointer
Top 5 Laser Pointer Reviews
1. Pisen Presentation Remote
The Pisen Presentation Remote is an advanced presenter that functions by wirelessly connecting to your device. Unlike other presenters on the market, this one features smarter functions and can be used as both a clocker, wireless presenter, air mouse, and a laser pointer.
Running on a 2500mAh battery, you can also play with it and use it as a pet toy. Either way, it comes with enhanced features that you won't find anywhere else. Now, that's real value for money, right?
Highlights
Here is an overview of the features of the Pisen Presentation Remote:
Multi-functional
This multifunctional remote allows you to control your cursor from afar. You can move it left and right, click, mark, mark clear, and open hyperlinks in your presentation. You can then Alt+Tab by pressing the switcher button, and this allows you to go right back into your presentation.
Stable Performance
This unit is powered by a built-in 2500 mAh rechargeable Li-ion battery, which can support three months' worth of presentations on a full charge. This ensures that you won't ever run out of juice or have to limit your presentation because the clicker isn't working.
This remote runs on a 2.4G RF frequency and can function up to 33 feet away from the screen. This allows you to walk around and answer any of your audience's questions without having to shout across the room.
Broad Compatibility
Support is essential when you are looking for a laser pointer. The Pisen Presentation Remote can support a wide range of compatible operating systems, which include:
Windows 98se/Me/2000/XP
Windows Vista
Windows 7
Mac OS
Linux
There are many programs that are supported by this device too, such as:
MS Word
Excel
PowerPoint
Google Slides
The Kit
Every purchase of this unit includes the Pisen wireless presenter with air mouse functions. You also will receive a Micro USB charging cable and one user manual in English. A nano receiver for the Pisen wireless presenter and a 12-month worry-free warranty is also included.
What's to like about the Pisen Presentation Remote
We really liked that the unit provides you with full control over what's happening in your presentations. The laser beam helps point out important graphs and statistics, which provides you with the convenience of engaging with your audience much better.
What's not to like about the Pisen Presentation Remote
After using it ourselves, we found out that the only downside to using this unit is that it can't move to previous slides. Even if one has managed to figure it out, it won't work most of the time.
2. DinoFire Wireless Presenter
The DinoFire brand has worked to create a laser pointer that combines all the functions you would want in one. This unit provides you with have full control over your screen while you're standing or walking around the room. As a result, you are able to engage with your audience more easily rather than stuck to stand idly by your laptop.
Highlights
Here is an overview of the features of the product:
Wireless Technology
The wireless feature allows you to walk around the room when you want to. Similar to the presenter above, this one also runs on a 2.4 GHz frequency. This one is powered using a 360mAh polymer lithium battery, which is already included in the package.
Wide Range
The range is larger than most other laser pointers on the market. This unit can support a total distance of 98 feet away from the projector. This leaves you with plenty of chance to move around the room and talk to each and every member of your audience.
Controls
The controls feature a wide range of settings. It allows you to either emit the green laser beam, scroll up or down a page, play slides, and also use a blackout screen.
Programs and Compatibility
Here is a list of programs that is compatible with this presenter:
Slideshow
MS Word
Excel
PowerPoint
ACDSee
Websites
iWork
Google Slides
Here's a list of supported operating systems:
Windows 2003
Vista
Windows 7 & 8
Mac OS
Linux
Android
What's to like about the DinoFire Wireless Presenter
After trying it out ourselves, we enjoyed the fact that there is such wide range on this device. Honestly, it's hard to find laser pointers that will reach that far away and still be visible, hence why we'd say it's a good model.
What's not to like about the DinoFire Wireless Presenter
What we didn't like is that while in use, you may have to click the same button for a couple of times to get it to be more responsive. Other than that, there were no other issues.
3. Restar Laser Pointer
The Restar Laser Pointer is an affordable option for those who are looking for one that features a broad range. This unit has a bright red laser beam, which can help you highlight critical areas of your presentation.
The battery function allows you to switch out the battery at a moments notice, without having to worry about charging it. The design is also a very slim model, which makes it easy to transport.
Highlights
Here is an overview of what the Restar Laser Pointer offers:
Range
The unit features a large range and can be used up to 100 meters away from the screen. It operates on a 2.4 radio frequency. The laser concentrates its power into a powerful red beam, which can be seen across the room. The red beam also stands out against most backgrounds or colors, hence helping your audience keep track of where you're pointing at.
Battery
The device is powered by a single piece of AAA battery and can easily be changed out if the batteries die. As for power saving, the Restar Laser Pointer features an auto-standby mode, which puts the unit into a deep sleep to help conserve energy.
Docking Bay
Presenting is a lot easier if you have a clip on the device. This unit features a built-in docking bay, which can help securely store your laser pointer when you need to use your hands. The clip is durable, and the docking bay helps prevent the unit from slipping.
Controls
This laser pointer provides you with basic functions, such as page up or down and play slides buttons. You'll also have the ability to black the screen out when needed. If you're using either PowerPoint or Keynote, you'll be able to use a website browser and picture software inside the programs instead of having to switch between the two.
Support and Compatibility
Here are the following supported operating systems:
Windows 98/Se/Me/2000/XP
Vista
Windows 7
Mac OS
Linux
Here are the supported programs:
MS Word
Excel
PowerPoint
ACDSee
Websites
iWork
What's to like about the Restar Laser Pointer
We loved the fact that this unit came with its own carrying case. The built-in docking bay is also a great addition, as this provides the unit with durable support when you need to go hands-free. It also helps ensure that the unit won't slip out of the case or clip-on, which can be a lifesaver if your presentation requires you to move around.
What's not to like about the Restar Laser Pointer
The only downside to this device is that the exterior of the unit is very fragile. The docking unit helps prevent any damage, but if you do end up dropping it, then the back may break, specifically the battery cap.
4. Knorvay N27 Presenter
The Knorvay is a brand trusted by many for its laser pointer that has increased convenience and comfort. This device includes a low-battery indicator, which notifies you by flashing when you're close to the device shutting down. The unit also features a long range and the device itself is slim and fits perfectly into your hand.
Highlights
Here is an overview of the features of the Knorvay N27 Presenter:
Controls
The controls on this device are a bit more complicated than other models. It features an on-off power switch, and a long press hold to place the program into full screen or exit full screen. Aside from that, there is also a page down button where you can hold it down to a black screen or escape the black screen.
Range
The range on this device is up to 328 feet or 100 meters, which is perfect for a large audience in an auditorium. It operates on a 2.4 radio frequency that is an ISM-free frequency, allowing it to be used worldwide. The bright red laser beam stands out among many backgrounds and colors, making it easy to see during a presentation.
Hyperlink Support
The Knorvay N27 features a hyperlink support button, which allows you to open up your hyperlink with ease. You can switch between different hyperlinks in the tab function of the powerpoint and use the double-click to open up the hyperlink. Holding down the button will allow you to switch through the currently opened windows.
Support and Compatibility
Here are the supported programs:
MS Word
Excel
PowerPoint
ACDSee
Websites
iWork
Google Slides
Prezi
Here are the supported operating systems:
Windows 2003
XP
Vista
Windows 7 & 8 and above
Mac OS
Linux
Android
What's to like about the Knorvay N27 Presenter
When it comes to supporting external links, this unit boasts an easy navigation system. You're able to switch between multiple links with a click of a button, which makes it easier to present facts and data.
What's not to like about the Knorvay N27 Presenter
What we didn't appreciate much is the fact that the unit does have a learning curve. You will need to practice to be able to control all of the functions before you take it into a presentation.
5. Kensington Presenter
The Kensington Presenter is a reliable wireless laser pointer that is equipped with enhanced intuitive controls. You'll be able to focus your energy on your presentation without the hassle of accidentally clicking the wrong button.
It features a unique four-button layout, which allows you to move from the previous page to the next without too much hassle. The other two switches will enable you to either hide your screen or access the red laser beam. The unit also comes with a USB receiver, which allows for a stronger connection.
Highlights
Here is an overview of the Kensington Presenter features:
Range
This device features a 20-meter range, which is an approximately 65-foot range. It runs on a 2.4 GHz frequency, which enables you to control the device even if you're standing across the room.
Design
Designs often feature overly complex displays, buttons, and features. However, the Kensington works to make the remote fairly simple to use. It has a sleek and modern look, but only includes four buttons. It's recommended for those who aren't very tech-savvy, as you don't have to practice before using this remote. The buttons are also spaced out, which ensures that you don't accidentally hit the wrong one.
Battery Saving Feature
This unit is designed with an intelligent power-saving technology that allows it to go into a battery-saving mode. The USB receiver detaches from the battery too, but when it's inserted into the presenter, it goes into a power-saving mode.
Compatibility and Support
Here are the supported programs:
Powerpoint
KeyNote
Google Slides
Here are the compatible operating systems:
What's to like about the Kensington Presenter
This unit's simplistic design is what draws most consumers to this laser pointer. Learning how to use new technology can be difficult, and if you're giving a presentation, you'll likely want to focus on that rather than learning how to use a new device. The four-button design is easy to use and features markings that allow you to see what button you're clicking.
What's not to like about the Kensington Presenter
Unfortunately, this is the first unit we've seen without an on or off switch. The power-saving feature dramatically decreases the amount of energy used, hence balancing out the lack of an on and off button.
BUYER'S GUIDE
When it comes to presenting, you're going to want the best laser pointer money can buy. However, it's important to understand that not every remote device comes with a laser, and not every laser is powerful enough to use when presenting.
In this buying guide, we will teach you the elements you need to keep an eye out for in hopes to help you choose which model is the best laser presenter for you.
Key Features of a Good Laser Pointer
The best way to determine if the laser pointer is worth it or not is to look at these three elements:
Power
There are four different laser colors on the spectrum: red, green, blue, and yellow. When it comes to deciding which color is best, it's good to understand the science behind what produces these colors. The Power is measured in what is called milliwatts or mW.
These types of power are classified into different sub-classes, and each different sub-class has their own amount of power. There are four different classes: 1, 2, 3, and 4. Class 1 operates at less than half an mW, while Class 2 lasers use up to 1 mW. The classes 3 and 4 are the ones that are dangerous for the human eye, and they function at the peak of up to 5 mW.
Size
The size of the laser isn't significant when it comes to determining if it's useful or not. While some laser pointers claim to be bigger, this is more for convenience or other features. The power of the laser or range doesn't factor into the size. We'd recommend finding a laser pointer that is as big as a pen, as it will be more convenient to carry with you.
Cost
The cost is another factor that you should consider. While it may be tempting to get a cheaper device, the issue is that the cheaper the unit, the less likely the company pays attention to quality control.
The power, wavelength, and safety features in a laser pointer all contribute to whether the laser has the potential to be harmful if flashed in the eyes. That's why it's best to avoid cheaper models and go for medium-range ones instead.
Different Laser Pointer Colors
There are four different colors of lasers: red, green, blue, and yellow. While other colors do exist, they aren't usually found in laser pointers. This is because the color of the laser correlates to how high the wavelength is.
Thus, there's a safety procedure when it comes to making laser pointers. We'll discuss that under the "wavelength" section of this buyer's guide.
Laser Pointer Safety Guidelines
Lasers generally aren't dangerous unless misused. You'll find that there isn't a "safe" range for laser pointers, but there are power levels that don't inflict as much damage.
Anything lower than 550 nm is safe for the human eye, as it gives the human enough time to blink and won't damage any cones or rods found inside the eye. However, when that level gets higher towards 600 nm, one flash into the eye can end up producing permanent eye damage, thus making it very dangerous if misused or by accident.
Trusted Laser Pointer Brands
When it comes to laser pointers, it's best to choose a brand or company that specializes in making laser pointers. As we've stated, laser pointers can be very dangerous when made incorrectly. Therefore, choosing a company that knows how to produce them, checks for quality control, and includes safety precautions is key.
All brands listed in this article are known brands that offer quality laser pointers, but here are a few other ones: Red Star Tec, JJYPet, and Logitech.
Wavelength
A laser pointer is measured by the number of nanometers, known as nm. A laser ranges anywhere from 400 to 700 nanometers. Now, we all know that with increasing power comes a more powerful light.
Blue, purple, and green lights fall within the 400 nm range while red and yellow are in the 550 to 700 nm range. The best nm for the human eye is around 555 nm, which produces a bright red laser beam
Various Laser Pointer Applications
There are two types of laser pointer applications: for presentations and for pets. The ones created for pets are much safer for the eyes, as they try and limit the amount of nm found in the system, just in case it accidentally comes into contact with your pet's eyes.
The other type of laser is used mostly for presentations, and you'll find that these often have higher nm powers because they need to be able to be seen over backgrounds and colorful graphs.
Laser Pointer FAQs
A laser pointer can be made as long as you have the right equipment and tools. If you'd like to create one, here's a DIY solution;
Step 1 – Gather the materials. For this, you will need to find a laser diode, casing, and a power source.
Step 2 – Brush up on the law. Look at both your state and federal laser pointer laws, as some areas do not always allow the use of laser pointers nor does it permit carrying it around.
Step 3 – Start by drilling holes. Once you've found an exterior casing, you'll want to drill two separate holes. One hole on the top of the case and the other hole on the other side. The one located on the top is for the switch, and the other one will be used for the laser.
Step 4 – Insert a diode. Put the diode into the casing on the one end you want the laser to point out. Make sure that the laser is pointing in the correct direction.
Step 5 – Power. Next, add a power source on your laser. Any battery pack will work as long it can produce enough power.
Step 6 – Attach the power source to the diode. This can be done by soldering on the pins to the laser diode to ensure that the two connect.
Step 7 – Add the switch. Next, place the switch into the other side of the casing, ensuring that they all connect.
Step 8 – Lastly, test it out. Check to see whether the laser pointer works. If not, then you may need to try out another power source or see if the components are attached to one another.
How Does a Laser Pointer Work?
Laser pointers work by projecting a small but powerful beam of light onto a surface. The first end of the laser features a mirror, and on the opposite end, is a semi see-through mirror rests. A flash tube will then use a light source, such as a laser beam, and shoot it to one end of the rod.
After this, when you press the power button, the tube will send atoms inside the rod and force it to point at the mirror. This results in it pointing towards the semi see-through mirror and exits the laser onto a surface. Read more here.
How to Fix a Laser Pointer
When it comes to fixing a laser pointer, there may be a few ways to do it without having to bring it into a repair shop or replacing the whole unit. Here's a list of a few fixes you can try at home:
Try and replace the batteries. Sometimes, one fix to a unit that just suddenly stopped working is just a simple change of batteries. Choose fresh batteries.
Disassemble the laser. Another way is to unscrew the unit and check to see if there is an issue with the circuit. You may be able to find replacement parts and order them online, though it may be cheaper to replace the whole unit.
Remove the internal circuit board. Take out all parts and see if you can get the circuit board off. After this, you can replace it or see if there were any connectivity issues.
Test all components of the laser – check to see if there are cut wires, if the circuit isn't connecting, or see if there is a smaller issue.
Trim the pot. Turn the potentiometer to the highest setting and power it with batteries. See if the laser has a continuous beam or if it's clicking. If the pen shows any sign of weakness, then it's likely that the unit will not work anymore.
How Far Can a Laser Pointer Travel?
Laser pointers have an exceptional range compared to older models. When you think of a laser pointer, you may imagine the ones they used back in school. However, with modern advancements in technology, lasers can now reach a bit farther while still retaining an intense beam of light.

The range of a laser pointer can be anywhere from 30 feet all the way to over 300 feet. You'll find that a majority fall into the 30-foot category, as this ones are good for small presentations or meetings. However, the most common one is the ones with a 100-foot range. These lasers are excellent for high school or college classes and feature a bright red laser that will show up on most backdrops.
What Are Laser Pointers Used For?
Lasers have two different uses: for fun and for business. While it may seem tempting to play with a laser pointer, you should only do it if the laser is below 550 nm. These lasers are safe and won't cause any permanent damage if accidentally flashed into someone's eyes.
Now, there are pet models of laser pointers created, and these are relatively safe. Just be sure to check for the nm power and see if it meets safety FDA regulations.
FINAL VERDICT
Laser pointers come in various colors and can be used for multiple applications. Whether you're using it for fun or plan to use it at your next presentation, laser pointers will enhance your ability to keep your audience's or pet's attention. Hopefully, this article has helped you find at least one laser pointer that you liked.
If we had to choose the best laser pointer of 2019, we'd highly recommend the Knorvay N27 Presenter. Out of all the presenters in this list, it has the best balance between range and controls. The range features over 300 feet and the controls are a bit complicated but offer you more functionality. This makes it our top choice when it comes to laser pointers in general.