You're unpacking in your new home, and of course, your trusty TCL TV has made the move with you. You already have the perfect place in mind to put it, but after half an hour of nervous searching, you realize that you've completely lost the TV stand's screws.
The good news is that screws are easily replaceable. The bad news is that you haven't gotten the slightest idea which screw size the TCL TV stand takes.
But, what does a screw's size mean? Which screw sizes do TCL TV stands use and how can you find out which ones you need for your specific model?
Keep reading to find out!
What Does a Screw Size Mean?
Before discussing which screw sizes TCL TV stands commonly use, it's beneficial to understand what screw sizes mean. You've probably noticed that screw sizes are made up of two digits separated by an "x."
Both digits are measurements, with the first one measuring the thread diameter and the second measuring the screw length.
The thread diameter is the outside diameter of the screw threads, or how thick the thread is.
Meanwhile, the screw length measures the distance between the screw's point and the top of the workpiece once the screw has been installed.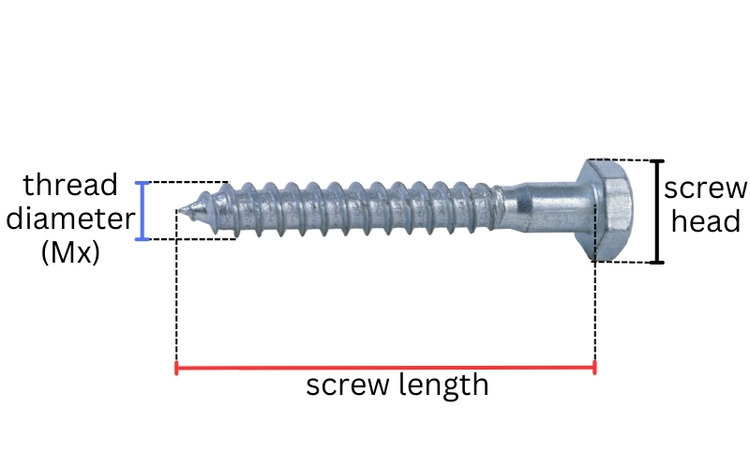 All screws are measured with the metric system using millimeters (mm).
A screw's thread diameter is often preceded by an "M" and looks like Mx, with "x" here representing the measurement in millimeters.
With this information we can understand that screw sizes will look like the following:
M (thread diameter) x (screw length)
Common TCL TV Stand Screw Sizes
Now that you understand exactly what screw sizes mean, let's go over a few common screw sizes for different TCL TV screen sizes measured in inches.
Please note that a stand's screw sizes may differ between different models of the same screen size.
How to Determine the Screw Size for Your TCL TV Stand
While the measurements cited in the above table follow TCL's general guidelines, some TV stands will require different screw sizes.
So, it's a good idea to do some research to verify your TV stand's exact screw sizes.
There are a few ways you can do this:
Check the Specifications Online
Consult the User Manual
Measure the Screw Holes
While some of these methods are more complex than others, they're all completely doable.
Let's learn how!
Check the Specifications Online
The official TCL website has a comprehensive list of almost all of their TV's specs and necessary information. So, all you need to do is head to the Base Stand Specifications section under the Specifications list.
For example, let's take a look at what these specifications look like for the TCL Model 50S455 TV: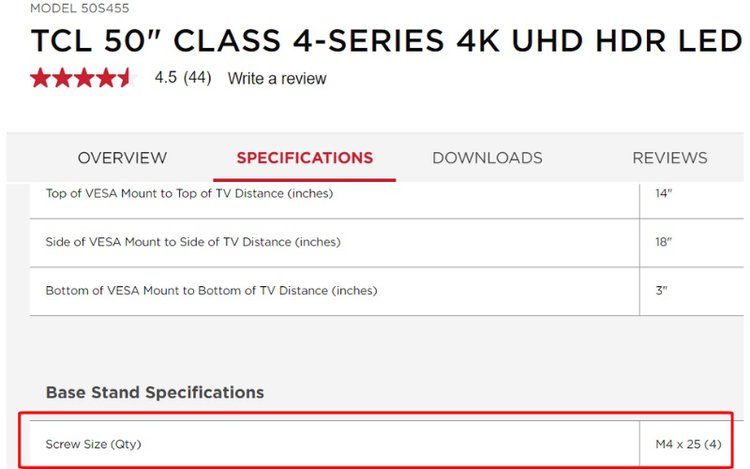 From these results, we can tell that this TV's base stand screw size is M4 x 25 (mm).
Consult the User Manual
Did you know your TCL TV user manual contains all the relevant information about your TV, including its stand's screw size? It's true!
You can find this information in the physical user manual pamphlet including in your TCL TV's original packaging. Alternatively, you can download your TV's user manual on the official TCL support website by searching for your TV model number.
For instance, here's an example of the TCL Model 98R754 TV's user manual outlining which screw size is included for the stand.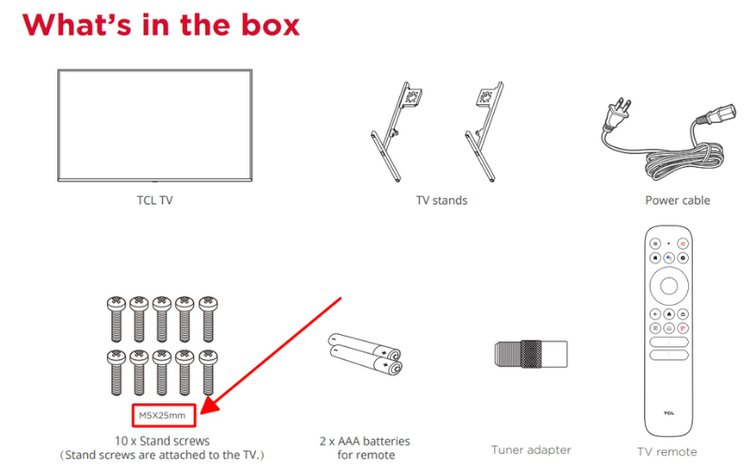 From this diagram, we can conclude that this TV stand needs the M5 x 25 (mm) screw size.
Measure the Screw Holes
While you should be able to find the TV stand's screw size information on the TCL website or in its user manual, there may be times when these resources are of little help. For instance, if your TV model has been discontinued, it may be hard to find its specifications online.
Luckily, you can use a ruler or caliper to measure the stand's screw holes yourself.
Sale
Last update on 2023-10-01 / Affiliate links / Images from Amazon Product Advertising API.
While it may be difficult to find the exact screw size measurement from this, it will allow you to estimate the measurements (i.e. thread diameter and screw length), making your trip to the hardware store a bit easier.
The good news is that many hardware stores have open containers of screws for you to choose from.
So, the best plan of action may be to pick up a few different screw options that are closest to the measurements. Then, you can test them at home to see which one best fits the stand.
Once you find the correct screw size, head back to the hardware store to buy the amount you need to assemble your TV. This is the most cost-effective way to find the right screw size without purchasing tons of screws you don't need.
Pro Tip: Make sure you keep track of the sample screws' sizes so you know which is which!
Where to Purchase Replacement Screws for Your TV Stand
Once you know which screw size you need, it's time to get shopping.
Many popular and affordable retailers carry screws, including Amazon, Walmart, and Home Depot.
The best part is that you can search for the exact screw size you need on their websites.
For instance, you could head to the official Home Depot website and look up "TV stand screw M6 x 12."
From here, you can order the correctly sized screw for your TV stand. See the image below for an example of what an M6 x 12 screw pack looks like on the Home Depot website.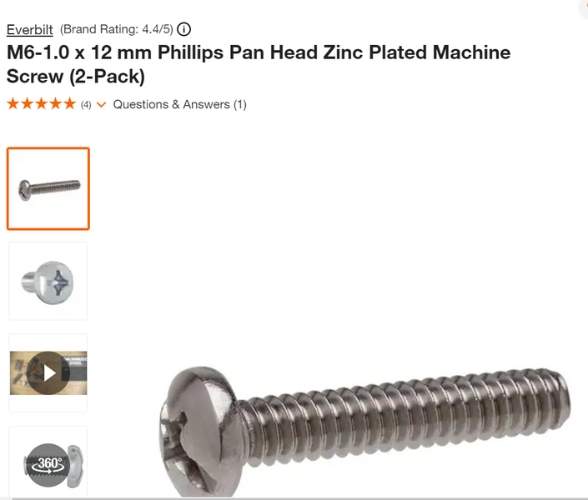 You can also head to the Amazon website, search for "screw," and find which screw you need based on its use, head style, drive style, material, size, etc. Then, you can filter the results according to your needs.

Most TV stands tend to use "machine screws," since they have a dull end that won't pierce your TV.
Wrapping Things Up
While all screws may look more or less the same to an untrained eye, they vary greatly in length and width. This is why it's important to ensure you're using the correct screw size for your TV stand, as using a too-small screw could make your TV setup wobbly, leading to an unfortunate accident.
If you're not sure which screw you need for your TCL TV stand, head to the TCL website's specification page or consult your user manual.
Once you've found the correct size, you can buy the screws you need from notable retailers' websites. You have the option of searching for the specific screw size using the search bar or the website's screw filters.
What's your experience finding the correct screw size for your TCL TV stand?
Let us know in the comments below!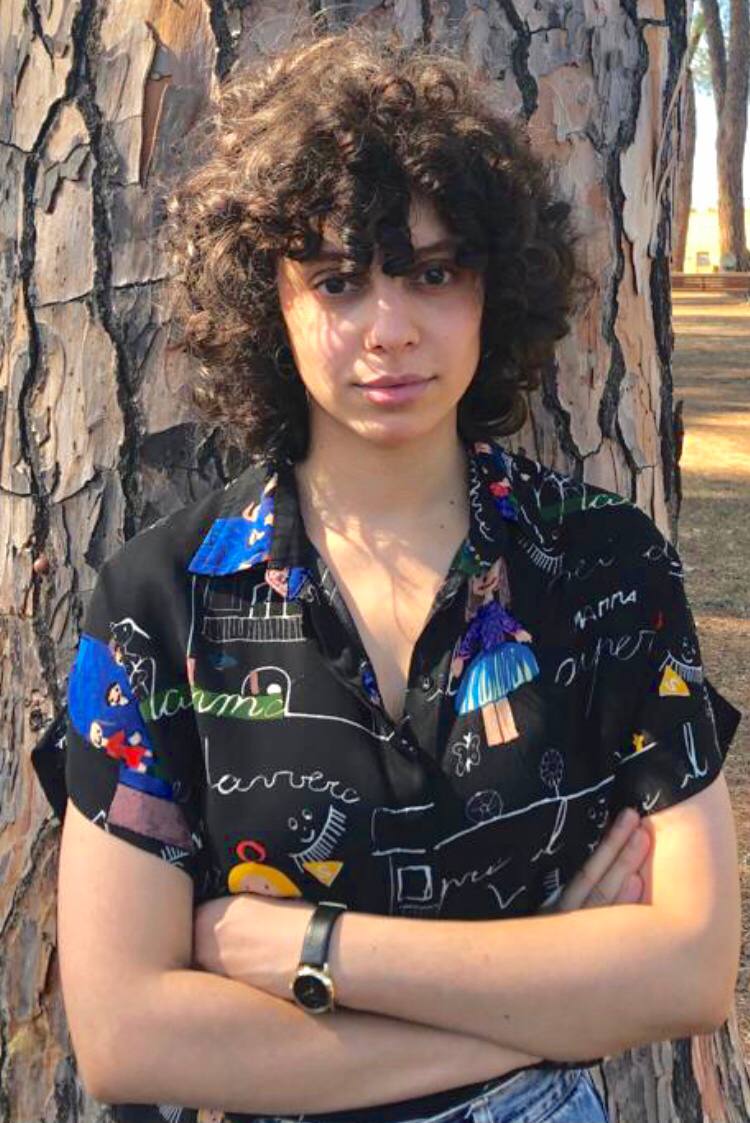 Yesenia Achlim is a technical copywriter and editor with a focus on AV equipment. She aims to break down complicated topics and make technology accessible, no matter your technical expertise. When she's not teaching you how to replace a projector lamp, you can find her reading and baking.