What to Know
Game of Thrones has been removed from VidAngel due to copyright infringement claims by HBO/Warner Media.
VideoSkip and Clearplay are viable alternative solutions for watching censored versions of Game of Thrones episodes.
Censored Game of Thrones episodes may lack crucial plot points due to the removal of scenes containing nudity and violence, which are integral to the storyline.
In this article, I will introduce two alternative solutions to VidAngel for watching the censored Game of Thrones series.
Let's get started!
Why Is Game of Thrones Blocked on VidAngel?
Game of Thrones used to be available on VidAngel, allowing users to opt to skip any of the racy show's nude scenes or mute profanity.
However, if you try to access Game of Thrones on VidAngel today, you'll be out of luck.
The hit show has since been removed from VidAngel due to HBO/Warner Media's (its owner) copyright violation claims since the court found that VidAngel was using unauthorized copies of the series.
If you miss the days you could watch the censored version of this raunchy series, you're not alone. Many VidAngel users wish they could still censor Game of Thrones episodes using VidAngel's precise filters.
Nowadays, searching "Game of Thrones" on VidAngel will only pull up similar results, as shown below.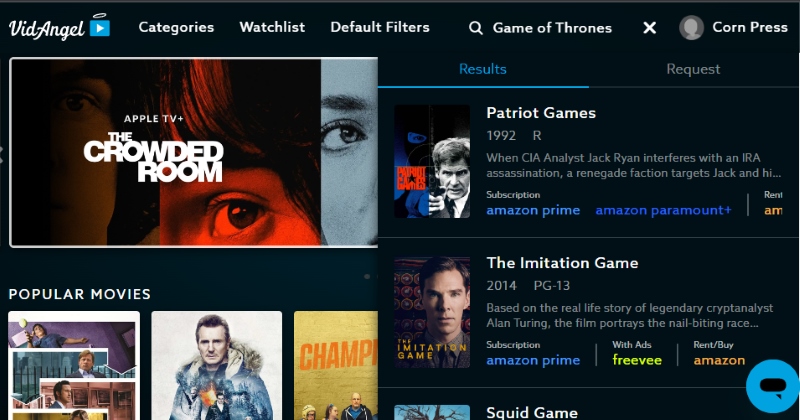 Luckily, there are a few alternate ways you can watch Game of Thrones without all the gore and nudity.
Keep reading to learn how.
Alternatives to VidAngel for Game of Thrones
Some tried and true alternatives to VidAngel that you can watch censored Game of Thrones episodes include VideoSkip or Clearplay.
Game of Thrones isn't the only show VidAngel users have trouble accessing since many popular TV shows and movies are inaccessible on this popular censorship app.
Luckily, we've already found and discussed VidAngel alternatives in this article. Check it out!
If you're determined to watch a censored version of Game of Thrones, keep reading to learn how to do so on VideoSkip and Clearplay.
1. Using VideoSkip
Note: VideoSkip is only supported on laptops/PCs. If you want to VideoSkip on your TV, consider connecting your laptop to it via Google Cast/AirPlay or HDMI.
Follow the steps below to watch Game of Thrones using VideoSkip.
Step 1: Open your preferred browser and install the free VideoSkip extension. Click on the links below to download the extension on your desired browser.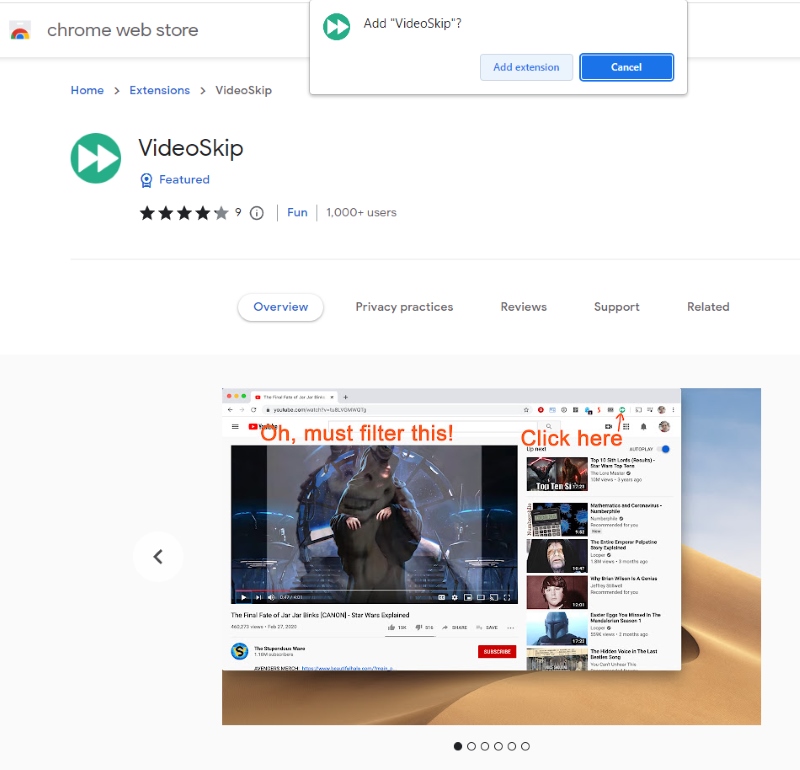 Step 2: Then, navigate to the VideoSkip website and enter "Game of Thrones" into the search bar.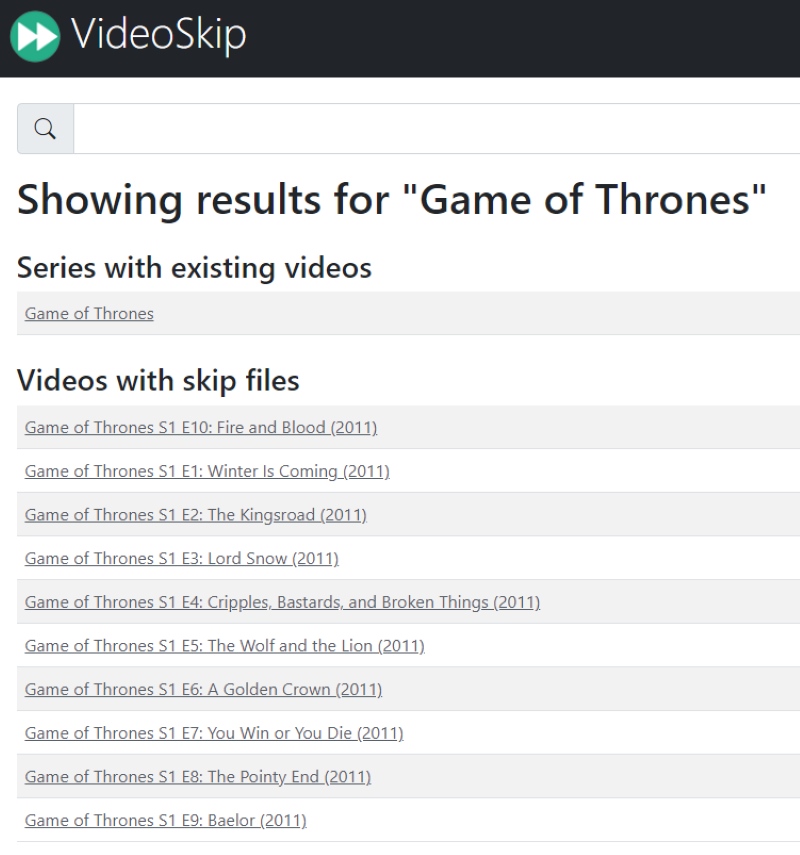 Step 3: Find which episode you want to watch and Download its corresponding skip file.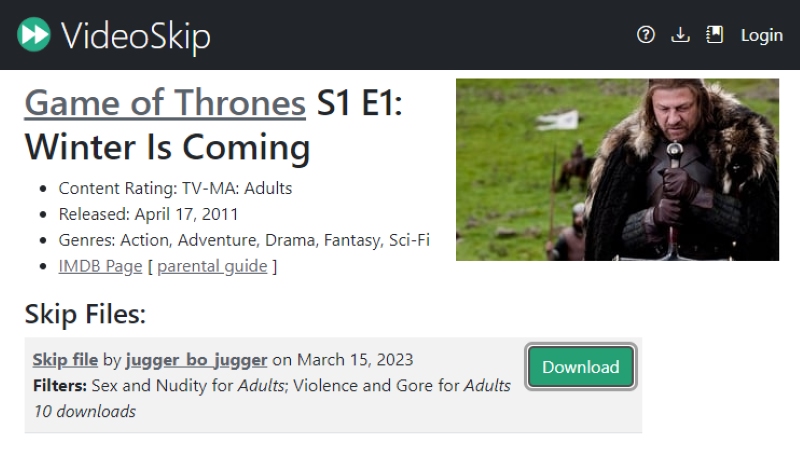 Step 4: Save the VideoSkip file to your computer to download it.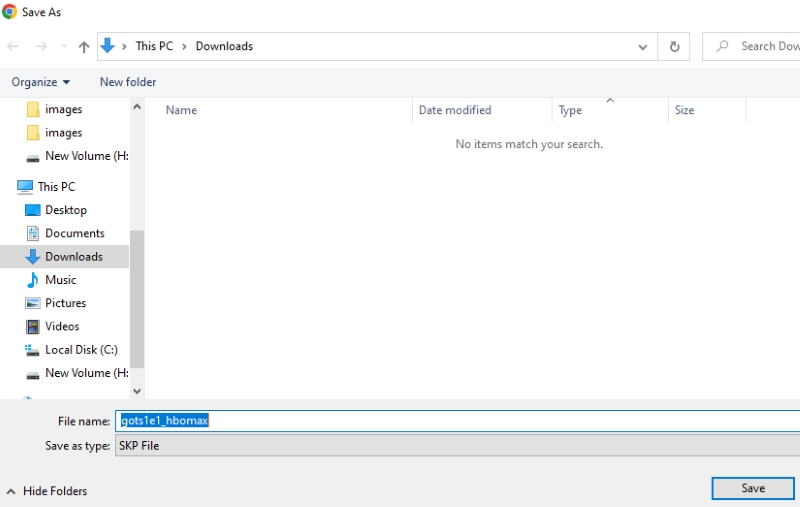 Step 5: On your computer, launch the streaming platform you watch Game of Thrones on. I'm using HBO Max but there are several other platforms that carry the show. Bear in mind that you must have a subscription plan to access the streaming platform and watch your favorite shows on it.
Note: Whichever episode you select should match the VideoSkip file you've just downloaded to your device.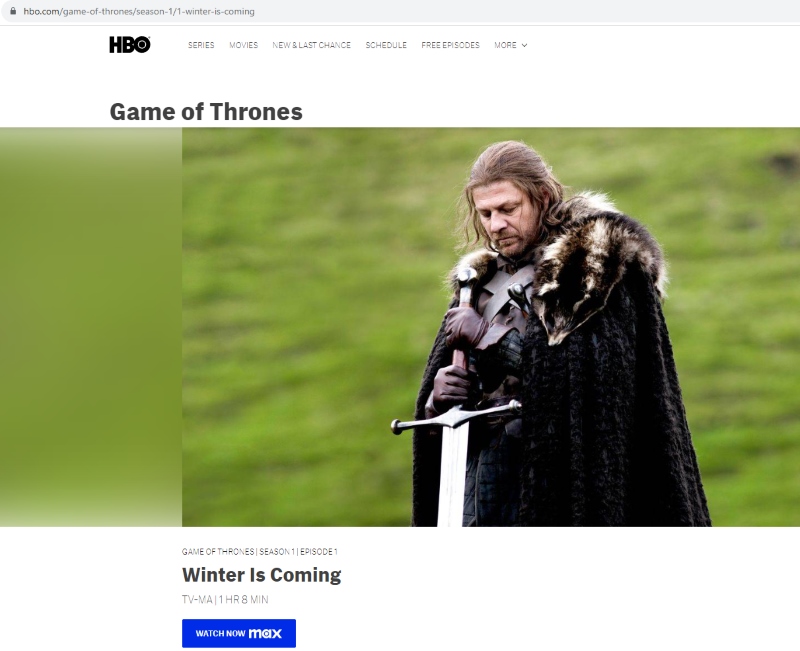 Step 6: Once the episode is playing, you'll see a VideoSkip button in the top right corner of your screen. Select it to start applying VideoSkip's filters to the episode.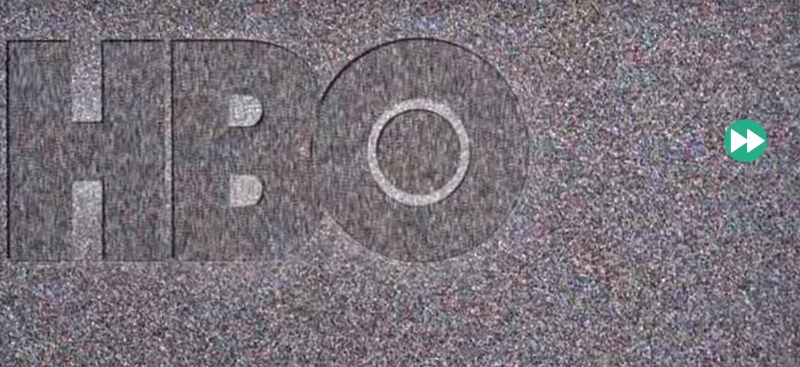 Step 7: Click on the Load skip file button.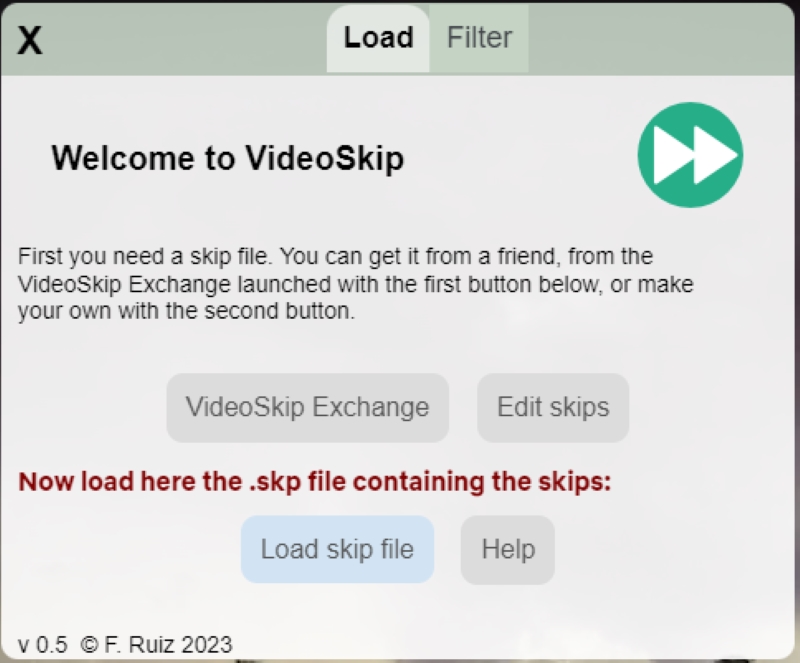 Step 8: Select the skip file you downloaded earlier on your computer before clicking Open.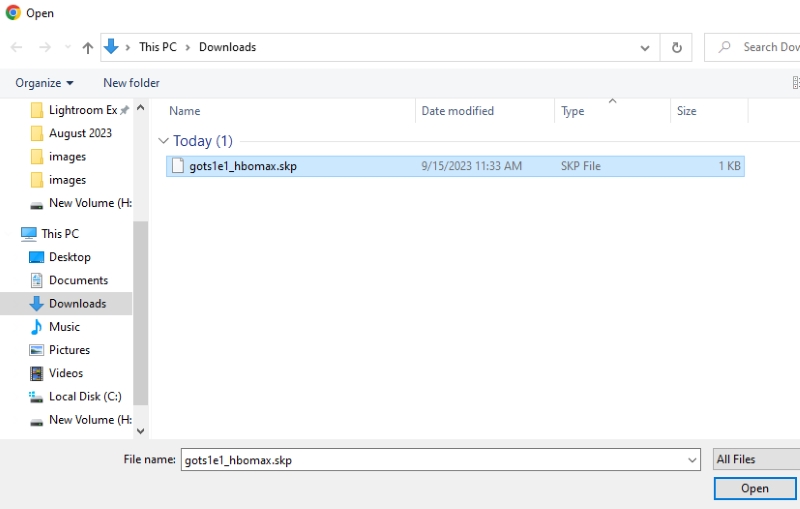 Step 9: From here, you can use VideoSkip's filters to censor certain content, including violence, nudity, profanity, and so on. Each filter can be set to "Low," "Medium," and "High," depending on what level of each category you're comfortable with.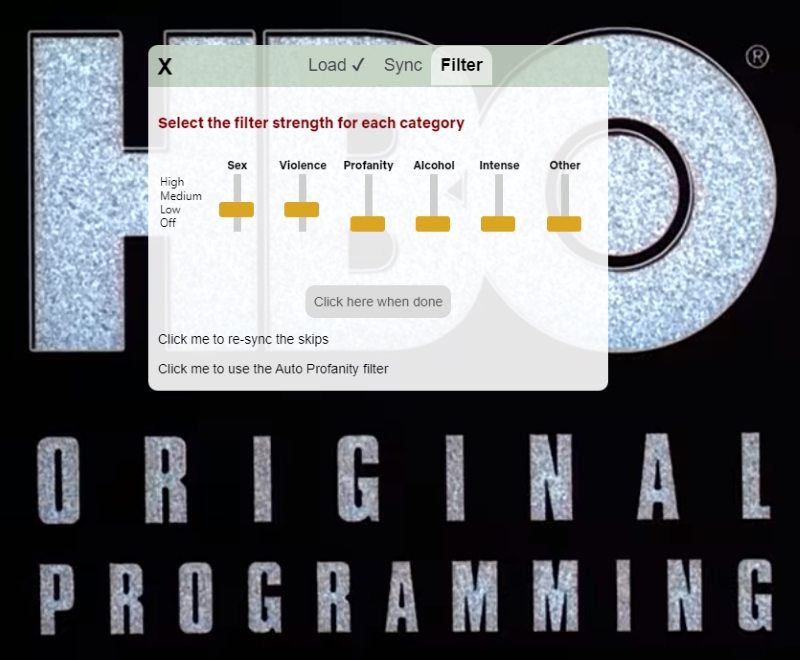 Step 10: Once you've chosen your desired filters, select Click here when done to exit the setup window.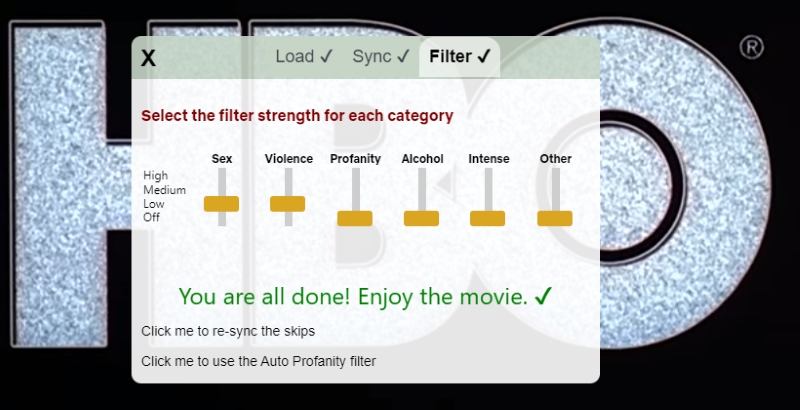 2. Using Clearplay
If VideoSkip doesn't tickle your fancy, you're in luck! Clearplay is another tried and true censorship app that, currently, supports Game of Thrones' seasons one through eight. Like VidAngel and VideoSkip, it allows you to filter nudity and profanity.
However, please note that the Clearplay filter app only works via a Google Chrome extension.
If you want to watch movies on streaming devices, you'll need to use screen mirroring from your computer to the streaming device.
If you have never signed up for Clearplay, they offer a 30-day free trial, after that the plan would cost $7.99/month.
FAQ: Is There a Censored Version of Game of Thrones?
Yes, depending on where you live, Game of Thrones may be censored.
While Game of Thrones' nudity, profanity, and violence may have been deemed appropriate for an American audience, many other countries found this hit show to be too mature for television.
So, scenes involving sex, nudity, and gore were preemptively removed from each episode before they aired. Which scenes are censored depends on the country's "decency laws" that dictate which content is and isn't appropriate for broadcast television.
However, many viewers have found these censored Game of Thrones episodes to be lacking certain pivotal moments in the series' plot since they're often accompanied by "inappropriate" levels of gore and sex. Many big reveals in the show are usually closely tied to mature content, as the characters use either pain or pleasure to collect information from others or to set the scene for their dramatic monologues.
Additionally, many characters' deaths tend to be extremely gory, and thus, are cut from the broadcast. This leaves viewers confused as to why their favorite character has suddenly disappeared out of thin air and provides no context to their death.
So, when watching a censored version of Game of Thrones, bear in mind that nudity and violence is written into the show's plotline and you may miss several key moments by using nudity and violence filters.
Wrapping Things Up
I have a pretty high tolerance for on-screen violence, but even certain Game of Thrones scenes left me wincing. If you want to filter any inappropriate content from Game of Thrones, you can use services like VideoSkip or Clearplay since VidAngel does not support this blockbuster series.
Both VideoSkip and Clearplay work similarly to VidAngel, and you can choose which feature you want to apply. However, one downside is that these VidAngel alternatives only work on a laptop/PC. So, if you want to watch these censored episodes on your TV or smart projector, you'll have to cast your laptop screen via a wired or wireless connection.
What's your experience watching Game of Thrones on VideoSkip or Clearplay?
Let us know in the comments below!
Yesenia Achlim is a technical copywriter and editor with a focus on AV equipment. She aims to break down complicated topics and make technology accessible, no matter your technical expertise. When she's not teaching you how to replace a projector lamp, you can find her reading and baking.