What To Know
The 10 TV shows listed, including "Tom Clancy's Jack Ryan," "Suits," and "Outlander," cover a range of genres and can be tailored using VidAngel to suit family-friendly viewing, despite their original content ratings.
Each TV show on the list thoughtfully includes a chart detailing profanity and sexual content, empowering viewers to make decisions that align with their comfort levels and values.
This guide will explore these 10 must-watch TV shows on VidAngel, highlighting how VidAngel's features enhance your viewing experience.
Whether you're looking for drama, comedy, or thrilling action, VidAngel 2023 has a TV show to captivate every audience.
Let's delve into the world of VidAngel's top TV shows for 2023.
What Is VidAngel?
VidAngel is a video streaming company that was launched in 2014 in Utah, USA.
What this platform does for its users is blank out or skip questionable content that is flagged by the viewer.
The user is able to go through a check list of possible unpleasantries that they would like to avoid, things like violence, sexual scenarios, profanity, and nudity.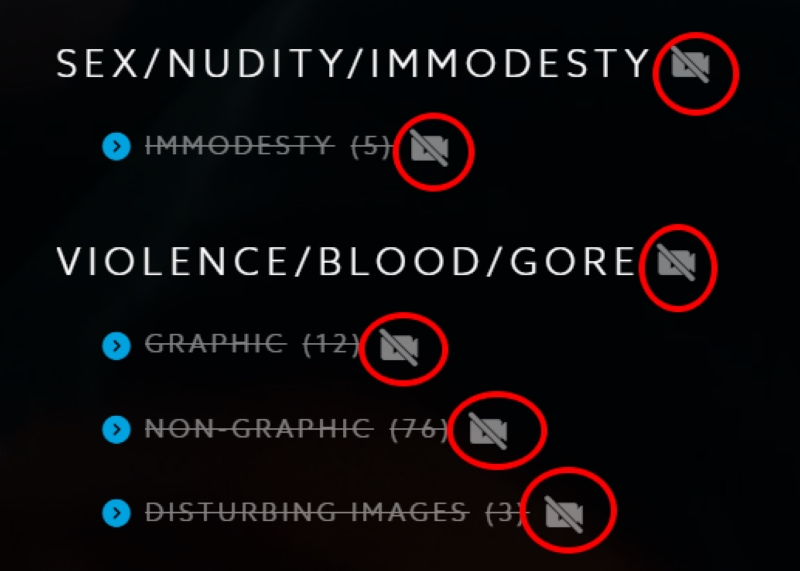 They can then toggle this type of content off and when they watch the program or movie, the graphic scenes will be cut out and the profanity censored.
But VidAngel takes this concept one step further. What this company does is make a list of all the questionable scenes throughout the content and allow you to turn off specific scenarios.
This is extremely helpful if you are trying to avoid a specific type of off-putting material, but would prefer to keep others in.
The only shortcoming we could see with this platform is that they currently only serve customers in the USA.
With all this in mind, let's take a look at 10 must-see TV shows which can be modified to be more family-friendly.
10 Binge-Worthy TV Shows
1. Tom Clancy's Jack Ryan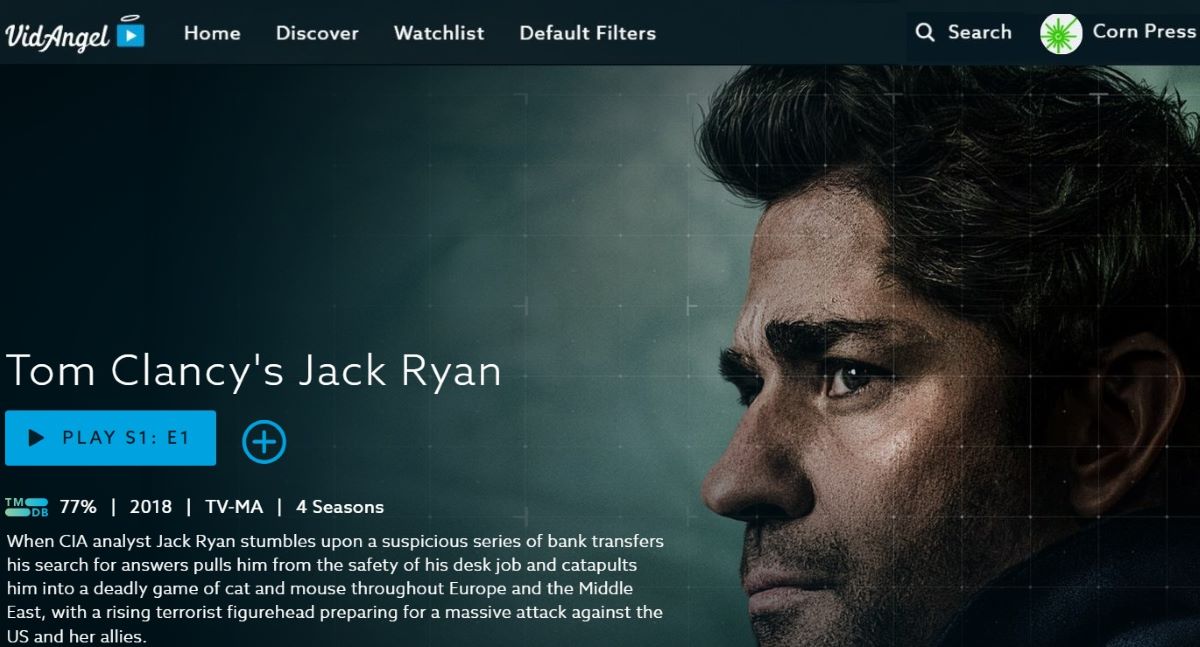 This four-season action adventure series follows the life of junior analyst Jack Ryan as he finds himself investigating money being moved by a terrorist organization.
After some unfortunate findings, Jack is thrust into a field assignment where chaos ensues. The series follows Jack Ryan in his exhilarating escapades based on Tom Clancy's well-known techno-thriller novels.
We have compiled the following quick reference chart to give you an idea of the profanity and sexual content featured throughout the series and give you an idea of how VidAngel can help you tidy up movie night.
| | | | | |
| --- | --- | --- | --- | --- |
| | Season 1 | Season 2 | Season 3 | Season 4 |
| Profanity | 201 uses total | 310 uses total | 154 uses total | 179 uses total |
| Sexual content | 61 | 23 | 1 | 49 |
Prime Video is the streaming platform for Jack Ryan.
2. Suits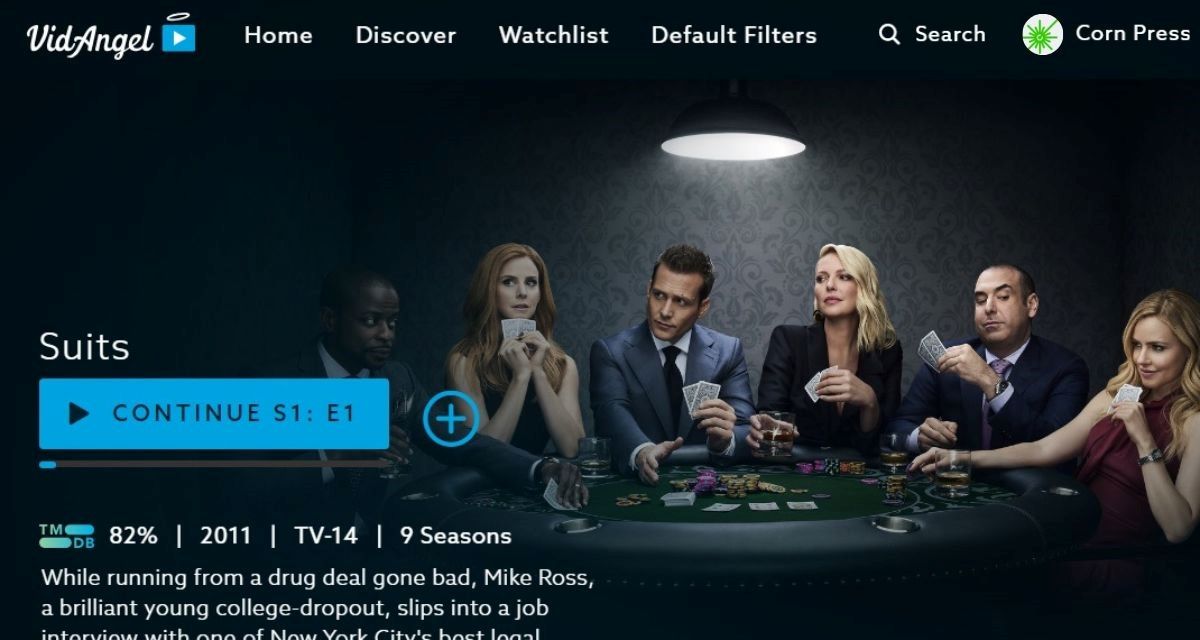 The series Suits has been highly praised ever since its debut in 2011 and fans remained on the edges of their seats until the seemingly abrupt end to the series.
Following the character Mike Ross, Suits takes viewers on a journey in and out of the courtroom as a cast of memorable characters navigate the legal system in New York City.
Although it's only rated TV-14, the amount of profanity and sexual material is quite prevalent throughout the series. Thank goodness for VidAngel!
Take a look at this quick reference chart:
| | | | | | |
| --- | --- | --- | --- | --- | --- |
| | Season 1 | Season 2 | Season 3 | Season 4 | Season 5 |
| Profanity | 190 uses | 468 uses | 596 uses | 810 uses | 846 uses |
| Sexual content | 141 | 195 | 157 | 198 | 116 |
| | | | | |
| --- | --- | --- | --- | --- |
| | Season 6 | Season 7 | Season 8 | Season 9 |
| Profanity | 868 uses | 892 uses | 736 uses | 456 uses |
| Sexual content | 91 | 107 | 55 | 33 |
You will find Suits streaming on Netflix.
3. Outlander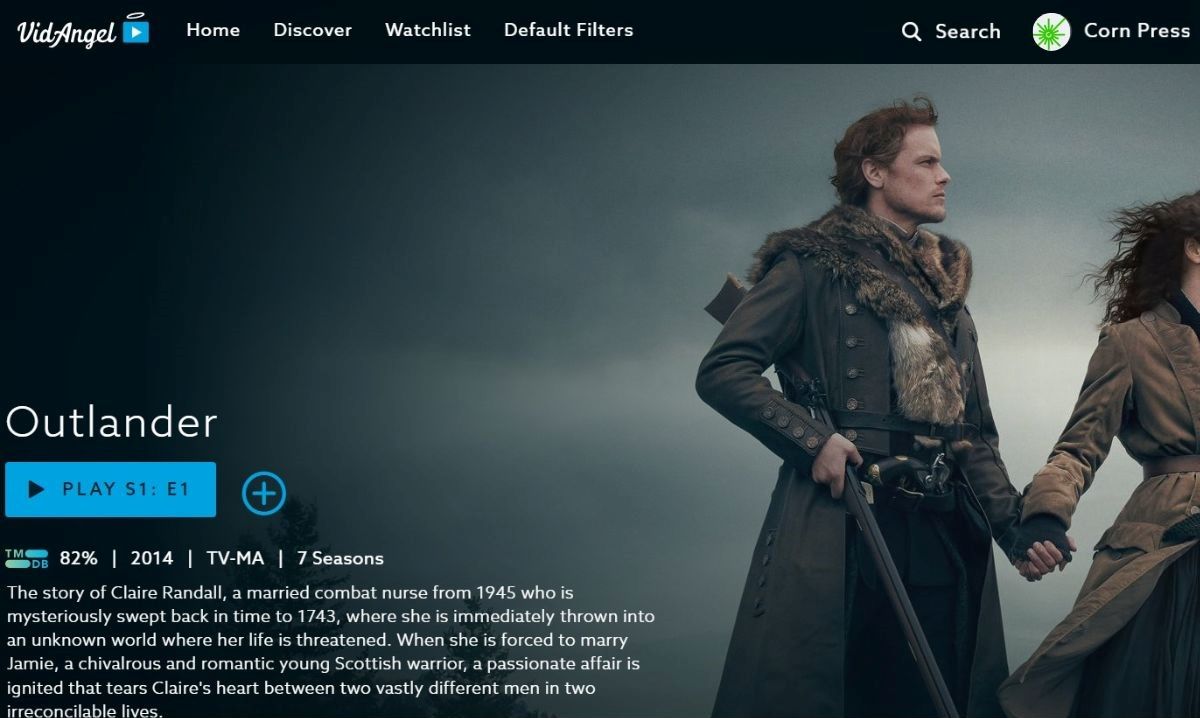 Do you love shows about time travel? Well then look no further because Outlander is the series for you.
Chalked full of romance and historical references, Outlander is about Claire Randall, a British nurse who time travels from 1946 to 18th century Scotland after touching a mysterious ruin.
She then has to navigate the treacherous and oftentimes strange world she finds herself in. Any manner you approach it, Outlander has a little something for everyone.
While the offensive language in the show is a lot less than in the first two entries on this list, this series does still contain frequent scenes of sexual intercourse, something which some parents may be more comfortable excluding.
| | | | | |
| --- | --- | --- | --- | --- |
| | Season 1 | Season 2 | Season 3 | Season 4 |
| Profanity | 342 uses | 255 uses | 299 uses | 166 uses |
| Sexual content | 411 | 386 | 229 | 175 |
| | | | |
| --- | --- | --- | --- |
| | Season 5 | Season 6 | Season 7 |
| Profanity | 186 uses | 179 uses | 136 uses |
| Sexual content | 304 | 118 | 31 |
You can find this series on Netflix.
4. Hijack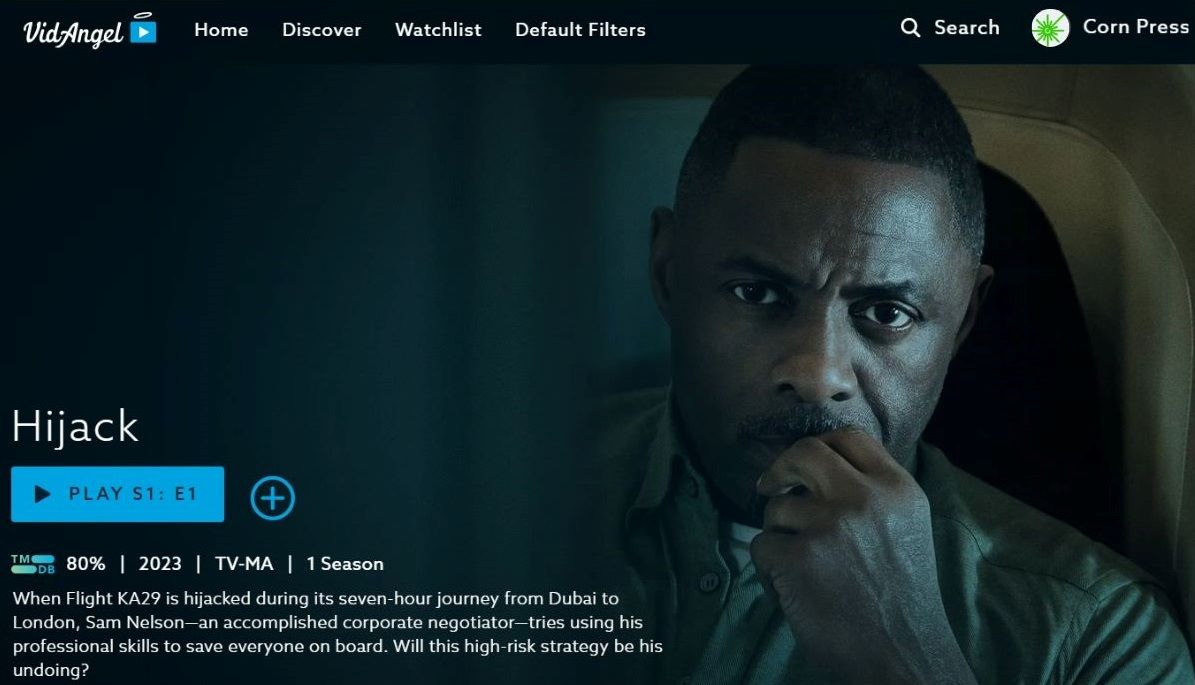 This series made quite a splash when it was released this June, creating a buzz between fans and critics alike.
Hijack is the story of a plane hijacking that takes place on a 7-hour flight from Dubai to London. Sam Nelson, played by Idris Elba, is a highly skilled business negotiator who uses his skills to try and bring the hostile situation to a peaceful resolution.
Idris Elba elevates this series to new heights with an incredible performance that shouldn't be missed. The first season ended at the beginning of August 2023 and there aren't any plans currently for a second season.
While the sexual elements aren't as present in this series, there is still a large amount of foul language, have a look below:
| | |
| --- | --- |
| | Season 1 |
| Profanity | 223 uses |
| Sexual content | 6 |
You can find this first season streaming on AppleTV+
5. Ozark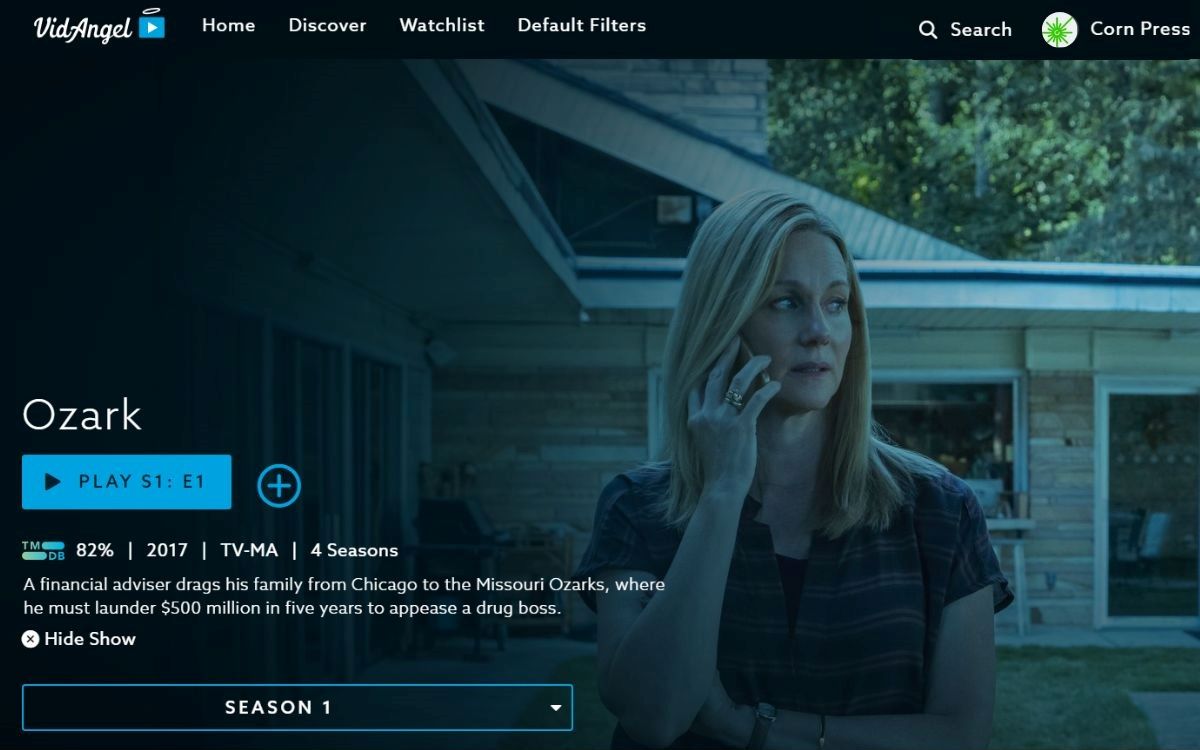 What will most likely go on to be considered Jason Bateman's magnum opus, Ozark grabs you from the very first episode and refuses to let go.
A masterfully written story of a financial advisor who finds himself entangled in a fight for his life as he and his family are pursued by cartel members and unhinged hillbillies.
The show premiered in July of 2017 and ended after four seasons. While this show is riddled with nonstop suspense and clever plotlines, it is also directed to a more mature audience.
If you wanna enjoy this series with your family, it's advisable to use VidAngel to cut out any content you might not want your children seeing.
Have a look at this chart which breaks down the profanity and sexuality of the show's four seasons.
| | | | | |
| --- | --- | --- | --- | --- |
| | Season 1 | Season 2 | Season 3 | Season 4 |
| Profanity | 770 uses total | 786 uses total | 688 uses total | 932 uses total |
| Sexual content | 206 | 166 | 49 | 15 |
You can find this series on Netflix.
6. Heart of Stone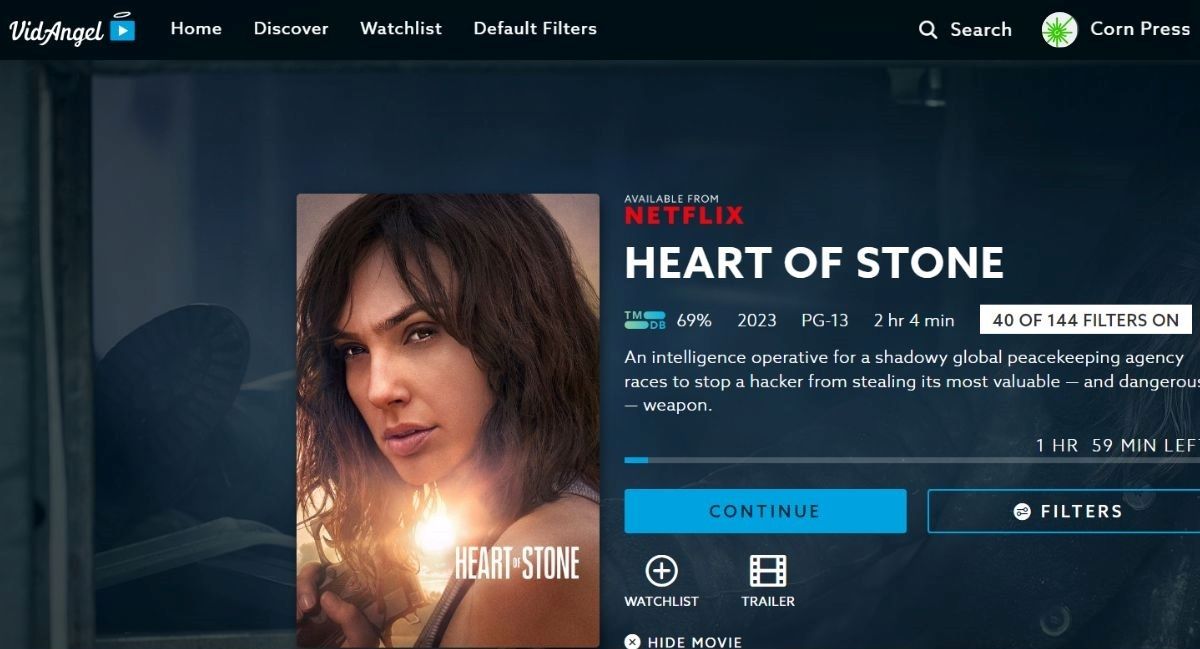 This movie is hot off the press, only being released at the beginning of August 2023. It follows Rachel Stone, played by Gal Gadot, who is an intelligence operative sent on a dangerous mission.
She is given the task of safeguarding an all-powerful artificial intelligence known as "The Heart". This film was produced by the same company that worked on one of the Mission: Impossible movies, and it definitely shows in the style and feel of the film.
This movie isn't as obscene as other entries on this list, garnering a rating of PG-13, but you may still want to clean up some of the language for your movie night.
Have a look at the chart below.
| | |
| --- | --- |
| | Season 1 |
| Profanity | 35 uses |
| Sexual content | 233 |
This movie is currently streaming on Netflix.
7. Special Ops: Lioness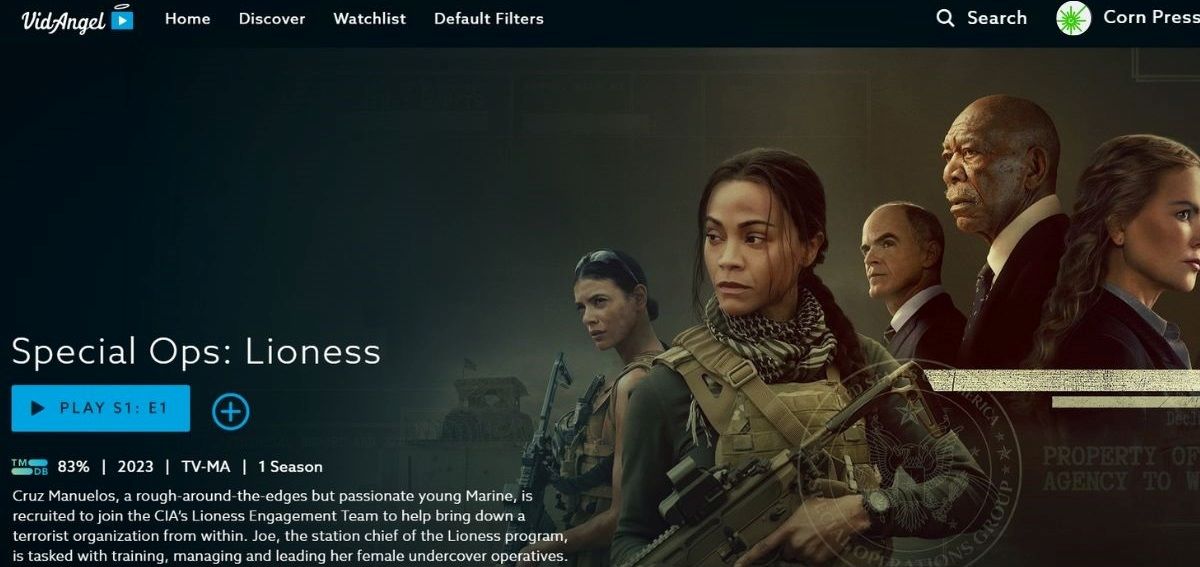 Another relatively new series, Special Ops: Lioness is a spy thriller that revolves around a CIA program that sends undercover female agents into dangerous countries to befriend wives of targeted terrorists.
With a star-studded cast including Zoe Saldana, Morgan Freeman, and Nicole Kidman, this series delivers action-packed edge-of-your-seat scenes from beginning to end.
Currently fans are waiting in anticipation for the announcement of a second season. When viewing the chart below, keep in mind that this series also includes a lot of violence.
| | |
| --- | --- |
| | Season 1 |
| Profanity | 532 uses total |
| Sexual content | 233 |
Special Ops: Lioness can be found on Paramount+
8. Top Gun: Maverick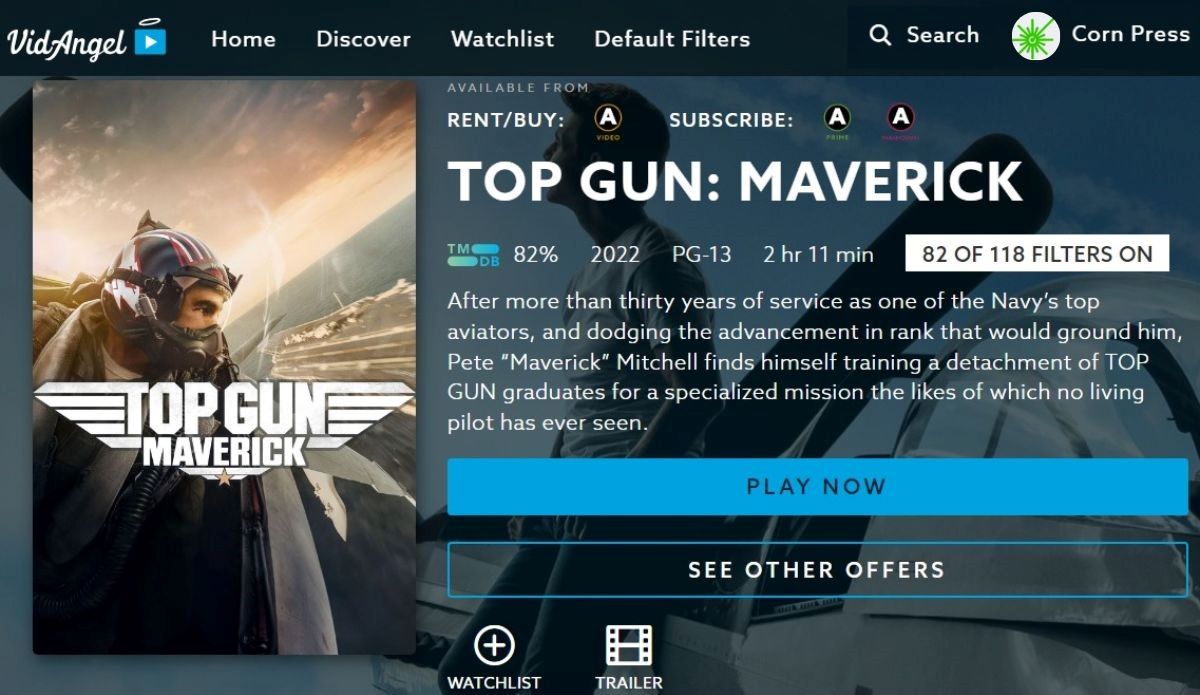 After 36 years, Tom Cruise reprises his role of Pete Mitchell, a high-level military fighter pilot who has been requested to come back and train the next generation of pilots.
With nostalgia presented throughout this film, this sequel delivers due not only to its cast, but its magnificently composed cinematic shots and attention to detail. If you were a fan of the original, we highly recommend Top Gun: Maverick.
This film focuses heavily on the flight and action aspect and for this reason it is void of any sexual content, but it does have some offensive language you might want to remove using VidAngel.
| | |
| --- | --- |
| | Season 1 |
| Profanity | 81 uses total |
| Sexual content | 0 |
Prime Video or Paramount+ are the streaming platforms currently hosting this movie.
9. Foundation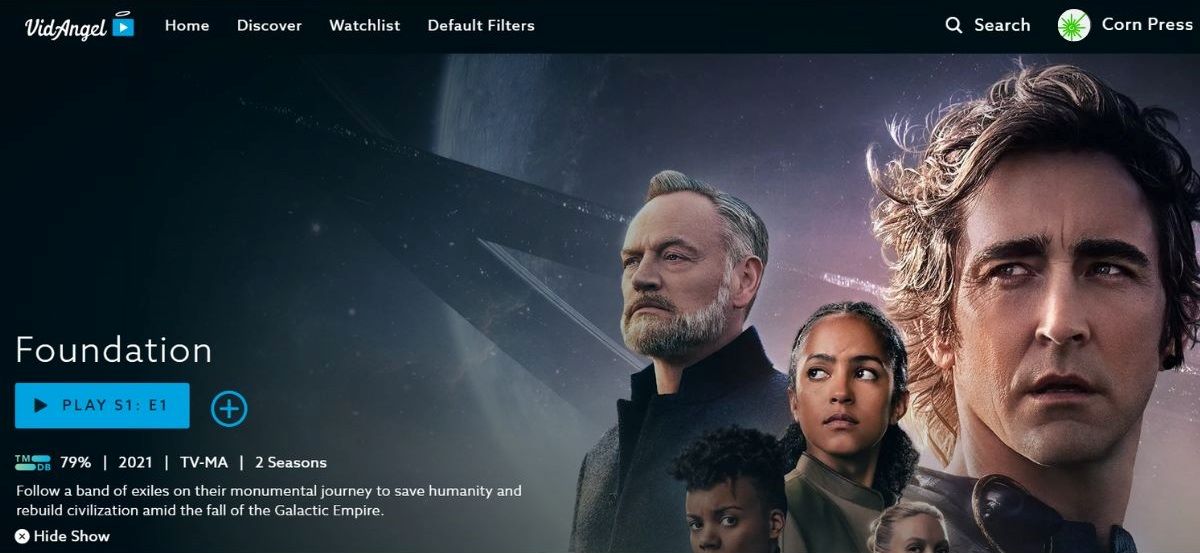 Based on the popular science fiction series by Isaac Asimov, this show explores mathematics, space travel, and recolonization. Since its debut in September of 2021, this show has received high praise from home audiences and critics alike.
With a massive budget and exceptional cast performances, Foundation is definitely a series worth adding to your "must watch" list. With two seasons under its belt, fans anxiously await the release of the third season, slated for some time in 2025.
While the cinematography of Foundation is truly something to revel at, it does still include quite a bit of off-color language, nudity, and violence.
Have a look at the quick reference chart below.
| | | |
| --- | --- | --- |
| | Season 1 | Season 2 |
| Language | 70 uses | 164 uses |
| Sexual content | 172 | 221 |
Look on your AppleTV+ to find this series.
10. Knock At The Cabin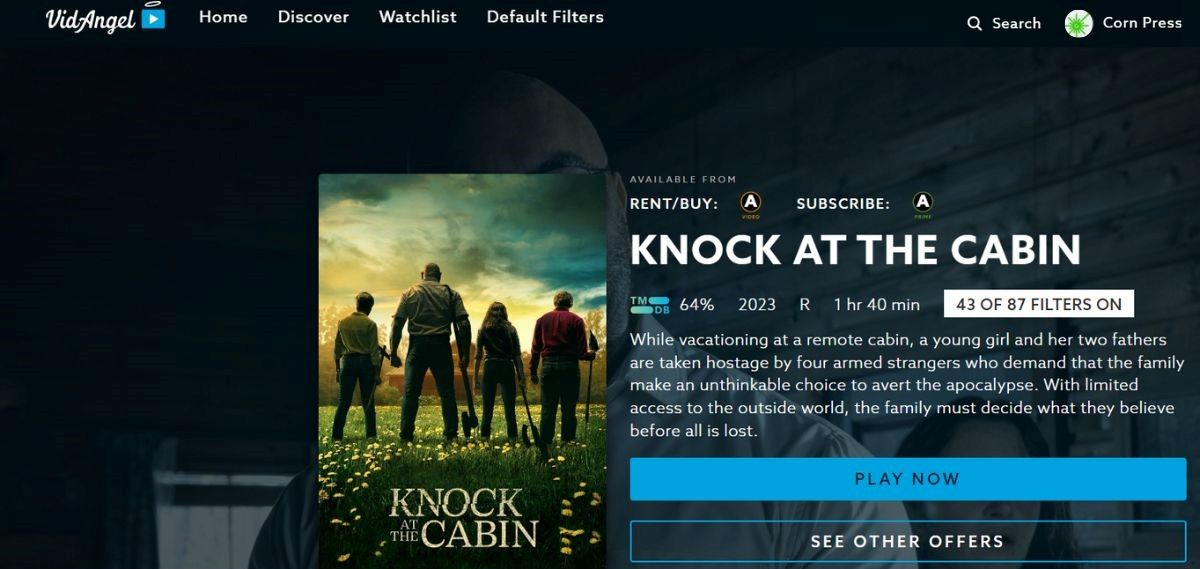 The latest film from critically-acclaimed director and producer M. Night Shyamalan, Knock at the Cabin is a horror flick sure to have you squirming in your seat.
A secluded cabin in the woods gets four uninvited and unwelcome visitors who make some inconceivable claims. If you are a fan of Shyamalan's other films, this will be right up your alley!
Now while the offensive language and sexual content of this movie aren't extremely prevalent, this flick gets fairly violent and graphic at times, and it might serve you well to put on some of VidAngel's filters before watching it with a younger audience.
| | |
| --- | --- |
| | Season 1 |
| Language | 51 uses |
| Sexual content | 4 |
You'll find Knock at the Cabin streaming on Prime Video.
FAQ: Parent Guide Links
For each of the movies and shows we presented you with, we also provided links to their IMDb parental guidance pages. It is best practice to review this site before watching any movie with your child that may contain questionable content.
IMDb lists information about nudity, sexual content, violence, and profanity among other things for all movies and TV series.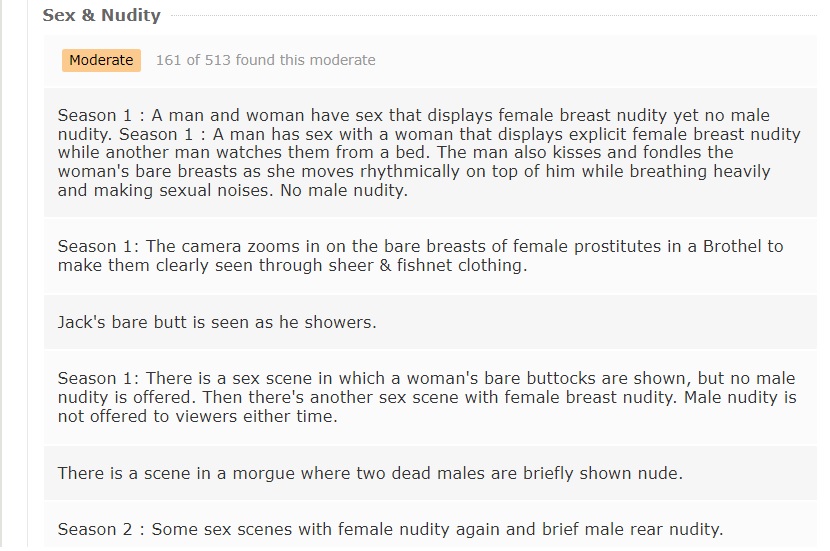 To get a better idea of what we mean, take a look at the image below, when entering the site you will be presented with a list similar to this one.
If you can't happen to find something you want to watch on our list, feel free to check out the 10 most-watched shows compiled by VidAngel. Between the two sources, you are sure to find a program that will elevate your movie night to the next level.
Jon Huber is an editor and technical writer who has been a freelancer since 2020. Since the beginning of his writing career, he has consistently written online articles in the tech, sports, and recreation genres. Recently, he has concentrated on scriptwriting for cartoons and puppet shows.