What to Know
Roku no longer supports VidAngel, but you can use VidAngel on alternative devices such as Android TV, Apple TV, Fire TV/Firestick, and PC/laptop.
If you don't want to download the VidAngel app on your TV or streaming device, you can cast it from your iPhone or Android phone using Chromecast or AirPlay, making Roku unnecessary for this setup.
Additionally, an alternative to VidAngel is ClearPlay, which offers content filtering for popular streaming platforms.
In this article, I will share with you my top three Roku alternatives for VidAngel, and I'll also introduce an alternative option for VidAngel at the end of the article.
Let's get started!
Alternative Devices for VidAngel Instead of Roku
The bad news is Roku no longer supports VidAngel. The good news is that all of the following devices do:
Android TV devices (TiVo, onn. box, Google TV, Nvidia Shield, etc.)
Apple TV (Generation 4 HD or newer)
Fire TV/Firestick (Generation 3 or newer)
iOS/Apple phones or tablets
Android phones or tablets
PC/Laptop (watch on the VidAngel website)
The process to install and use the VidAngel app varies depending on which device you're using. To help you out, I'll outline how I use VidAngel on my Apple TV. You can follow these instructions on your device to look up the specific instructions for your device.
Follow the steps below to use VidAngel on an Apple TV.
Step 1: If you haven't done so already, make a VidAngel account by going to https://www.vidangel.com/membership/email in a web browser.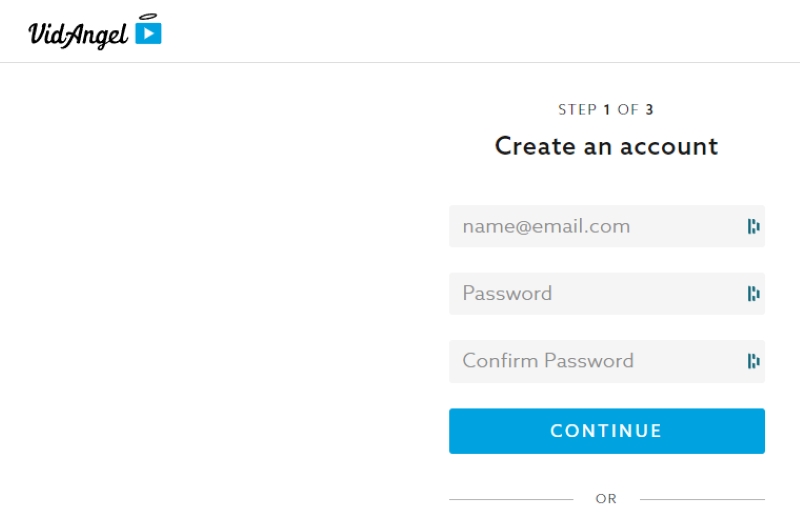 Step 2: Once you've made a VidAngel account, turn on your Apple TV and install the VidAngel app.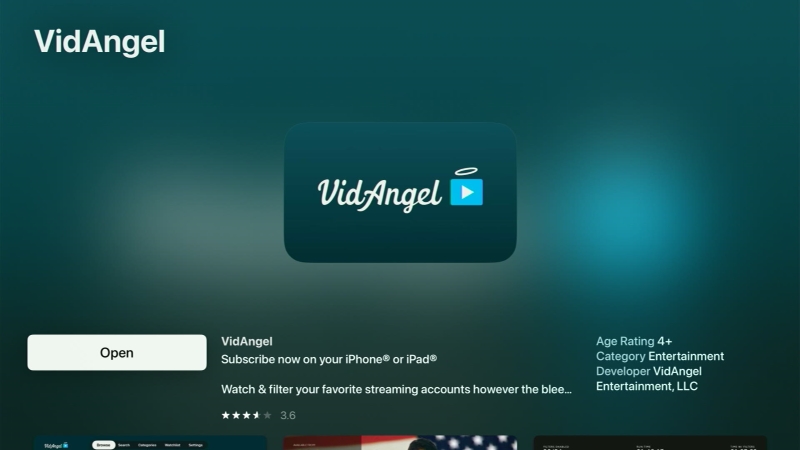 Step 3: Once installed, open the VidAngel app and head to Log In.
Step 4: Log into your VidAngel account.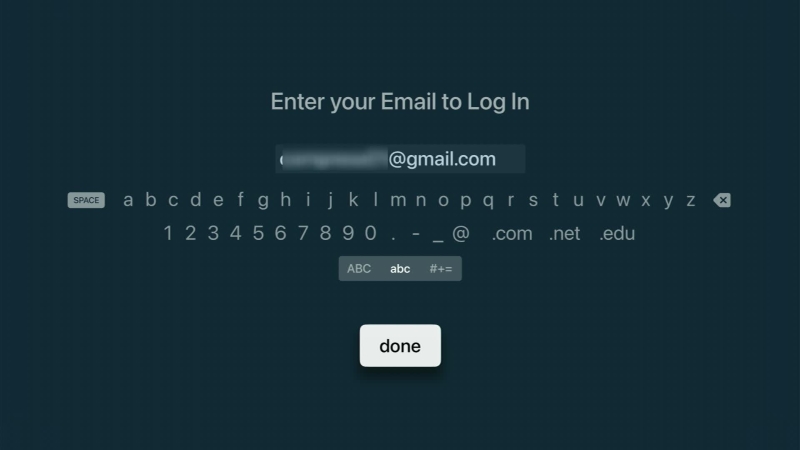 Remember, the password is case-sensitive. So, make sure to use the caps lock when needed.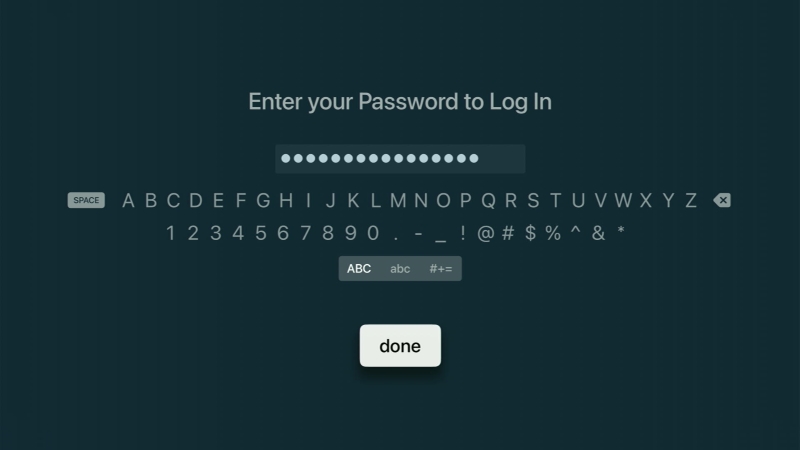 Step 5: On the Home screen, go to the Settings tab.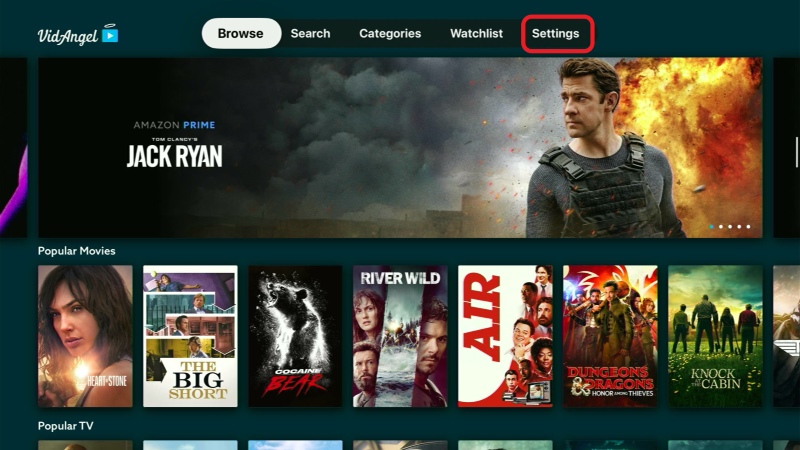 Step 6: Navigate to Streaming Service and select the streaming service you want to link to VidAngel. I want to link my Netflix account, so I will click on Netflix.
Remember, you must already have an active account for the streaming service you select.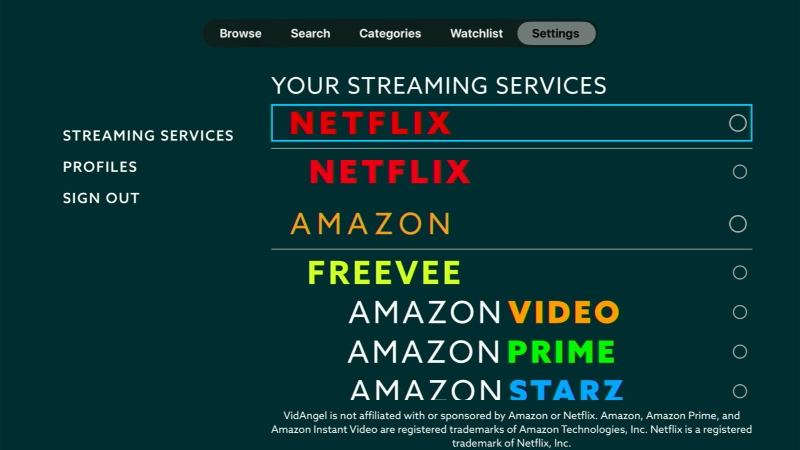 Step 7: Once selected, you'll see a notification (like the one shown below) instructing you to open the VidAngel website in a web browser or launch the VidAngel app on your smartphone.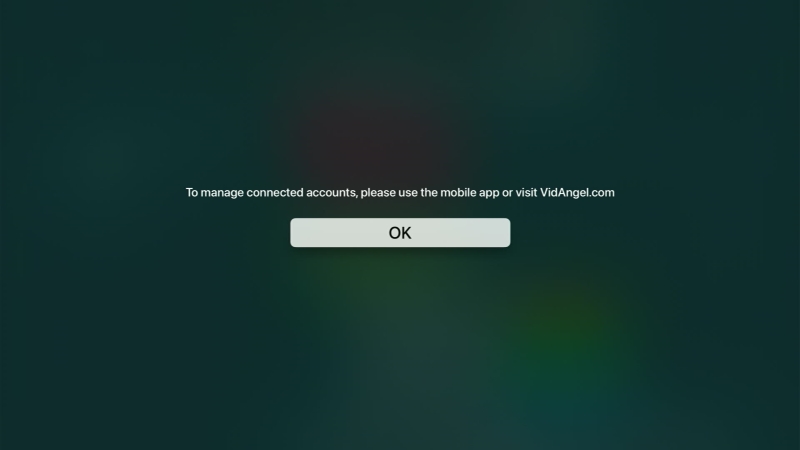 Step 8: Head to https://www.vidangel.com/ and log into the same VidAngel account you're using on your Apple TV. Check out this VidAngel guide to learn how to connect streaming platforms to your VidAngel account using their website.
Alternatively, you can install the VidAngel mobile app for iOS or Android and connect your desired streaming platform to your VidAngel account, as shown below.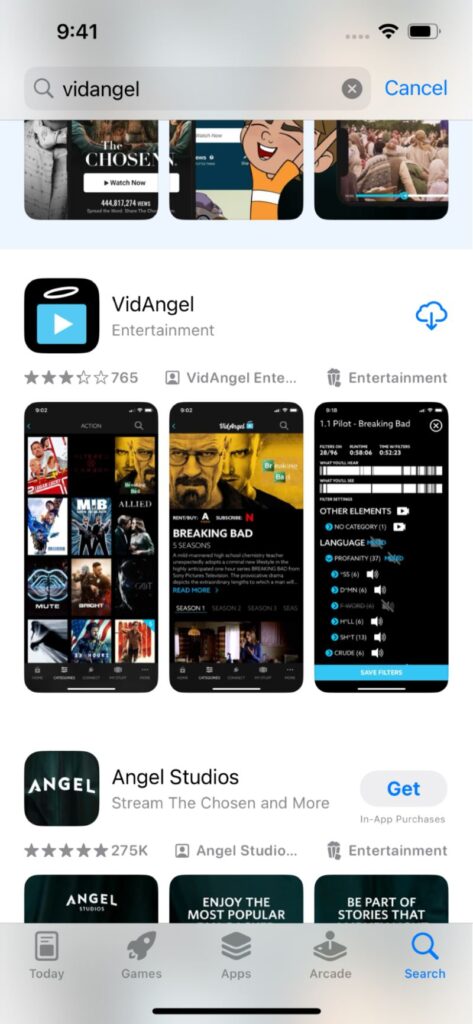 Don't forget to log into the same VidAngel account you're using on your Apple TV.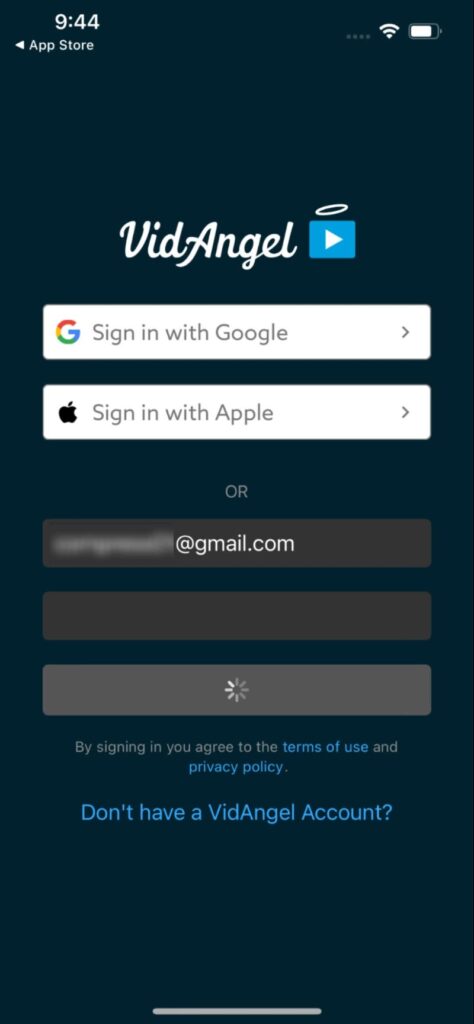 Step 10: If you're using the VidAngel mobile app, click the Continue button found on the Personalize Your Experience screen.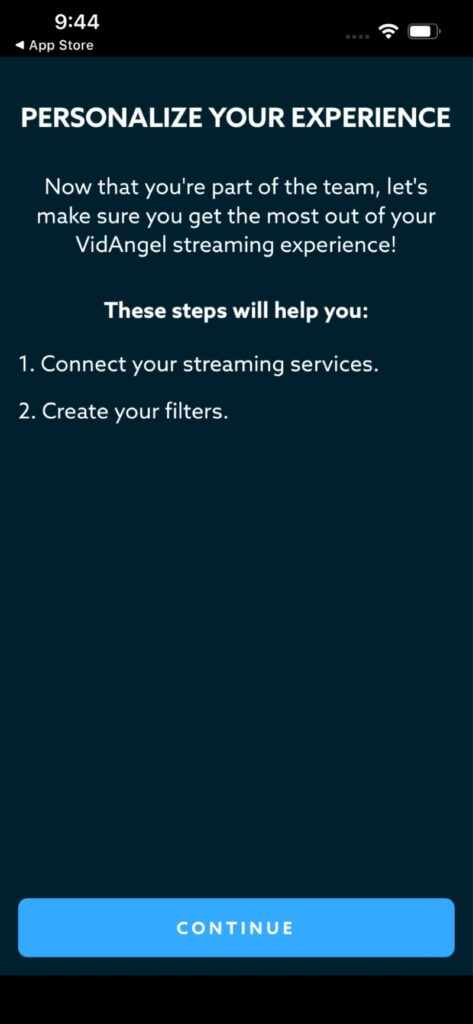 Step 11: Toggle your desired streaming platform ON. In my case, I'll turn on Netflix.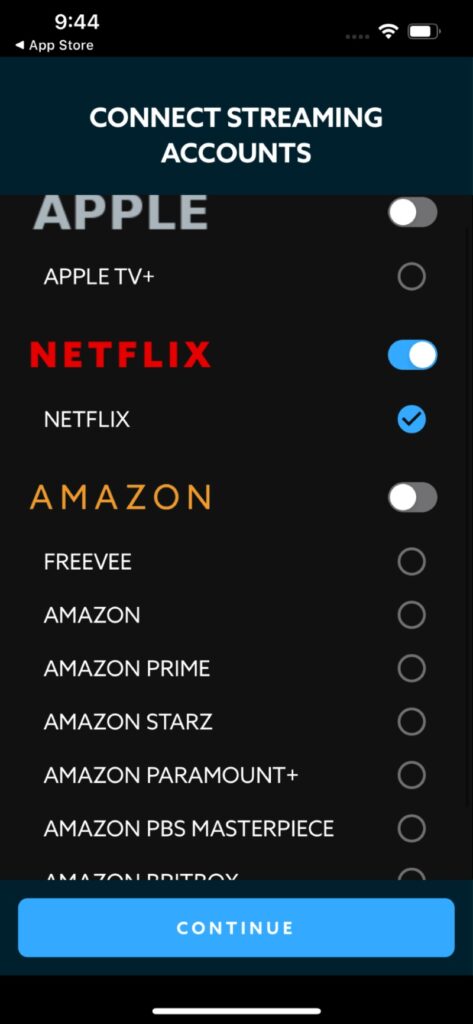 Step 12: Turn your attention back to your Apple TV where you should find the Netflix option has been ticked blue, signifying your account's been linked.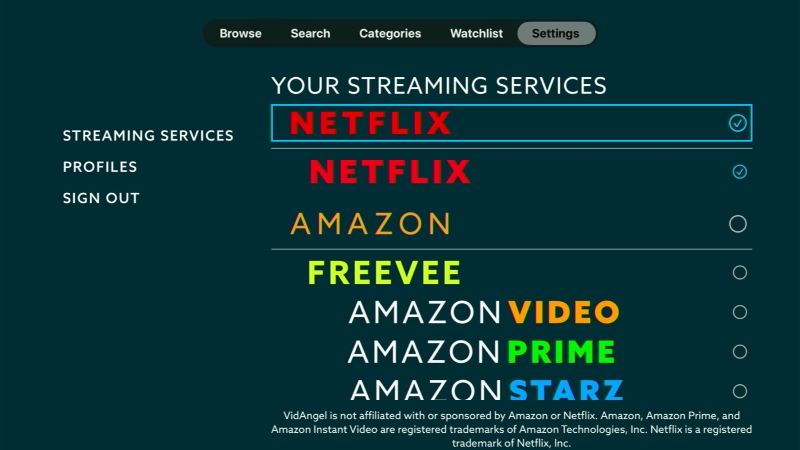 Step 13: Now, all you have to do is head to VidAngel's Browse tab and choose a TV show or movie to start watching.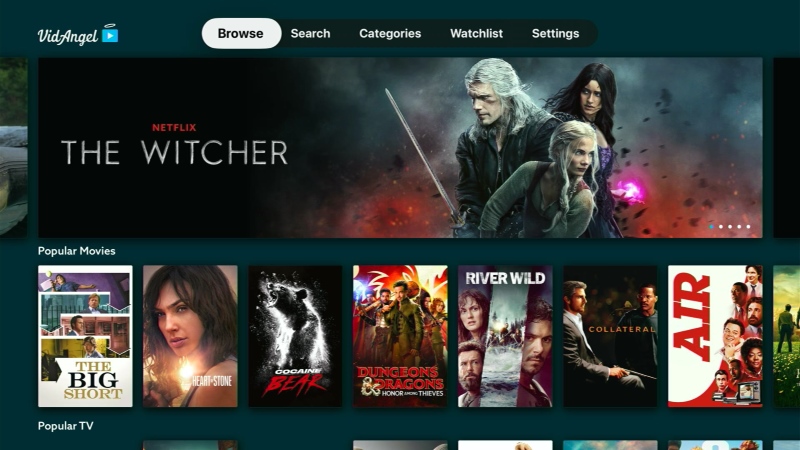 For instance, I'll choose the new Gal Gadot movie, Heart of Stone.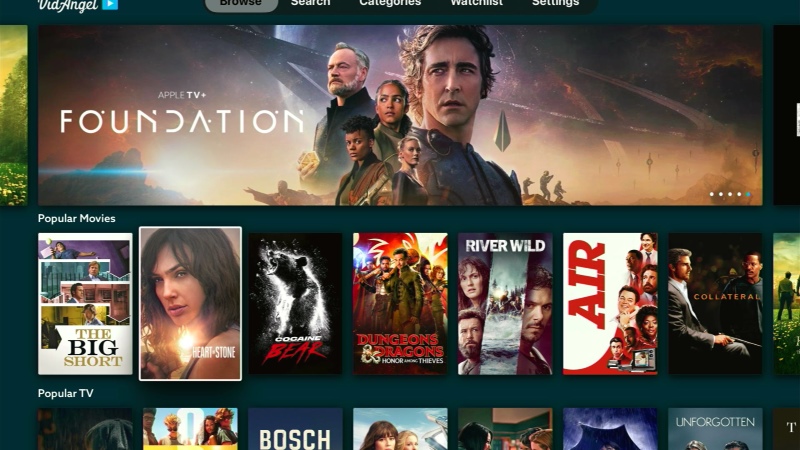 Step 14: Once you've selected something to watch, you choose Filter to start setting filters.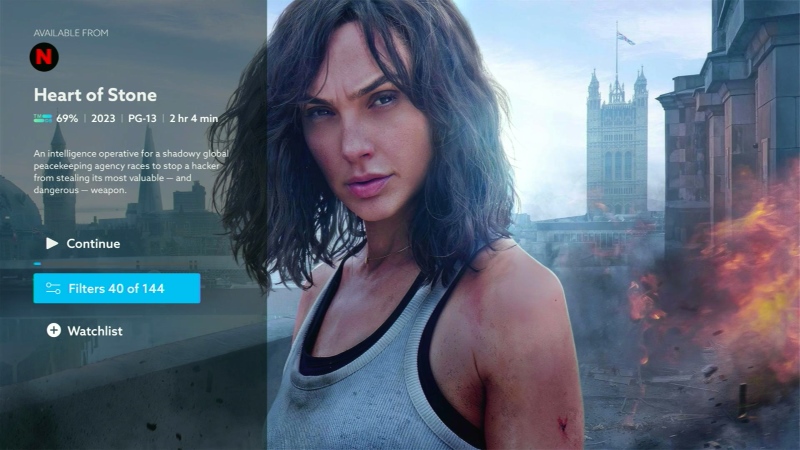 As you can see, VidAngel offers a variety of filters depending on what kinds of content you'd like to censor.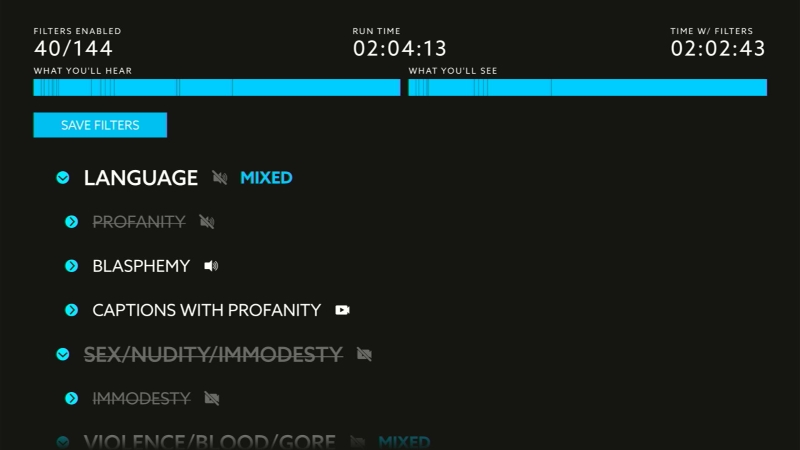 To learn more about how VidAngel's filters work, check out our comprehensive guide.
Step 15: Once you've chosen your desired filters, click Continue to start watching your censored movie.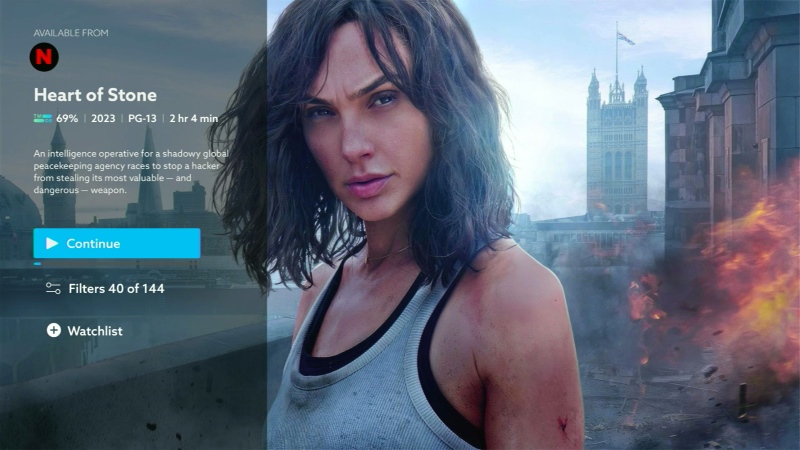 Now, you can watch the movie normally, but without all the profanity, sex/nudity, or violence.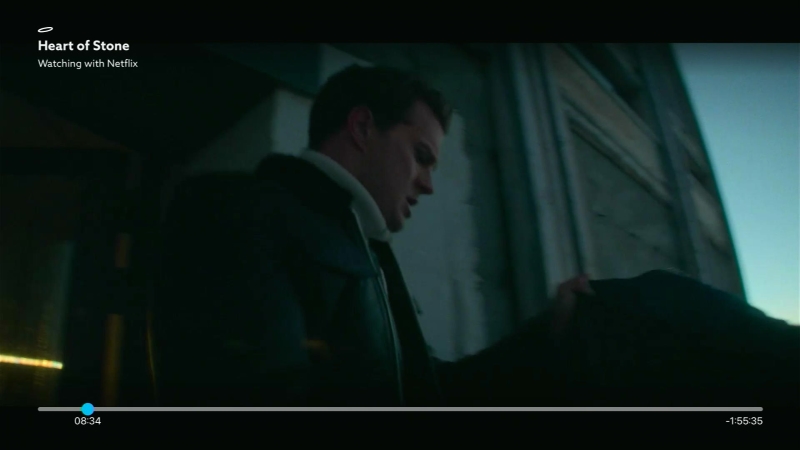 If you can't or don't want to download the VidAngel app onto your TV/streaming device, you can cast the VidAngel mobile app from your iPhone or Android phone using Chromecast or AirPlay.
Continue to the next section to learn how!
Another Solution: Cast VidAngel From Your Phone to a TV Screen
If you have a compatible smartphone, you can use it to cast VidAngel to your TV so you can watch censored content on a big screen. You have the option of connecting your smartphone to your smart TV or streaming stick wirelessly, or connecting it to your TV (smart or non-smart) via a wired connection.
The best part? You don't even need a Roku device for this setup!
Are you ready to start watching VidAngel using only your handy-dandy smartphone?
Keep reading to find out how!
Requirements
Before casting VidAngel to your TV, ensure your devices meet the following requirements:
VidAngel mobile app installed on an iPhone with iOS 12 or above, or an Android phone with Android 8 or above
TV with built-in Chromecast or Airplay. If your TV doesn't natively support Chromecast or AirPlay, you can use a streaming device, like Apple TV or a Fire TV Stick instead. To learn more about how to connect your smartphone to a TV, check out our guide.
Step-by-Step Instructions
To display your phone's VidAngel app on your TV, you must adjust both devices' settings. These settings menus can vary depending on the device's make and model. For the purpose of this demonstration, I'll outline how I perform this process using my iPhone and Fire TV Stick connected to an LG TV.
Follow the steps below to watch VidAngel on your TV using your smartphone.
Step 1: Plug your Fire TV Stick into your LG TV's HDMI port. Ensure both devices are powered before turning your TV on. If necessary, adjust your LG TV's Input settings to HDMI.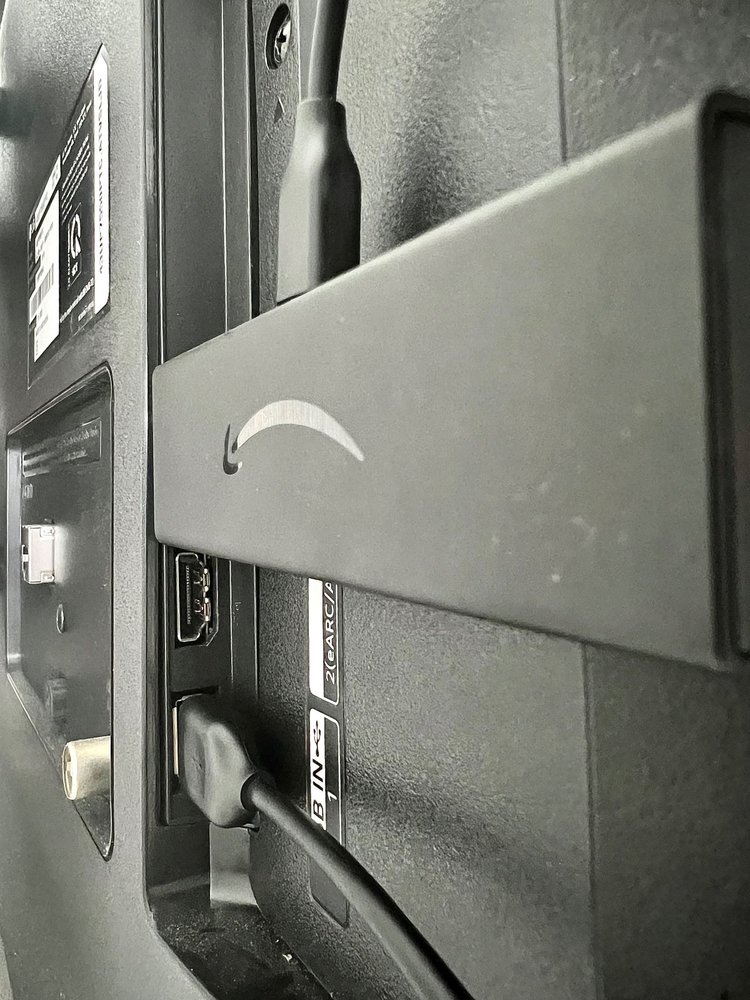 Step 2: Then, connect your iPhone and Fire TV Stick to the same Wi-Fi network.
Step 3: Next, open the VidAngel mobile app on your iPhone.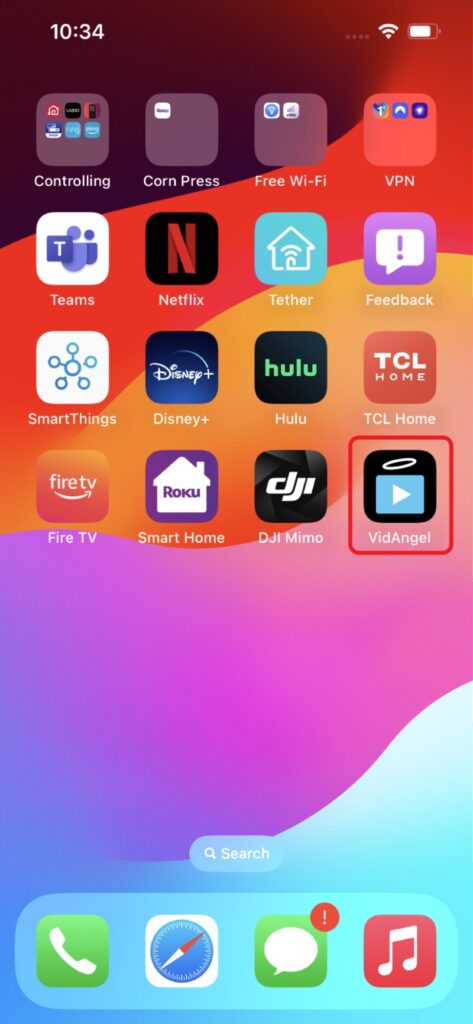 Step 4: Within the app, select a movie and click the SEND TO TV button.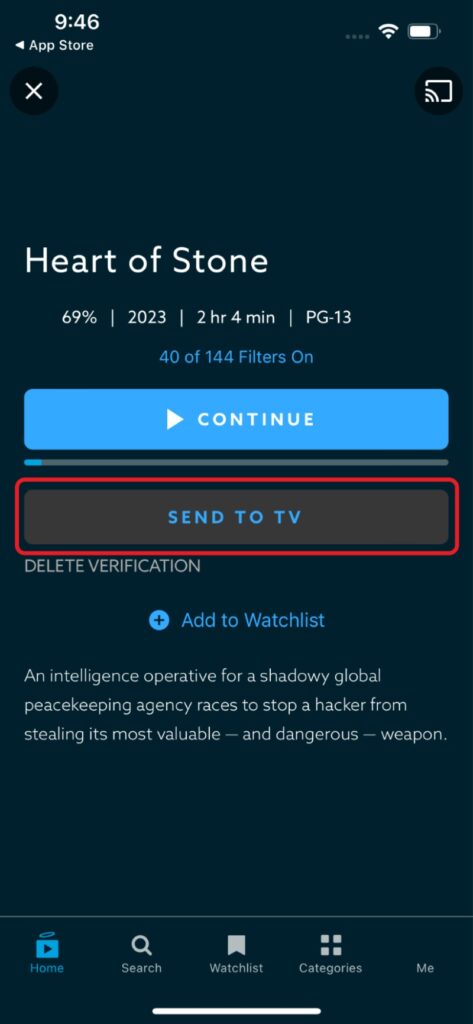 Step 5: Since I've connected a Fire TV Stick to my LG TV, I'll choose the Fire TV icon. However, you should choose whichever connectivity method you're using.
Step 6: Tap your Fire TV Stick's name in the list of devices to start casting the movie to it.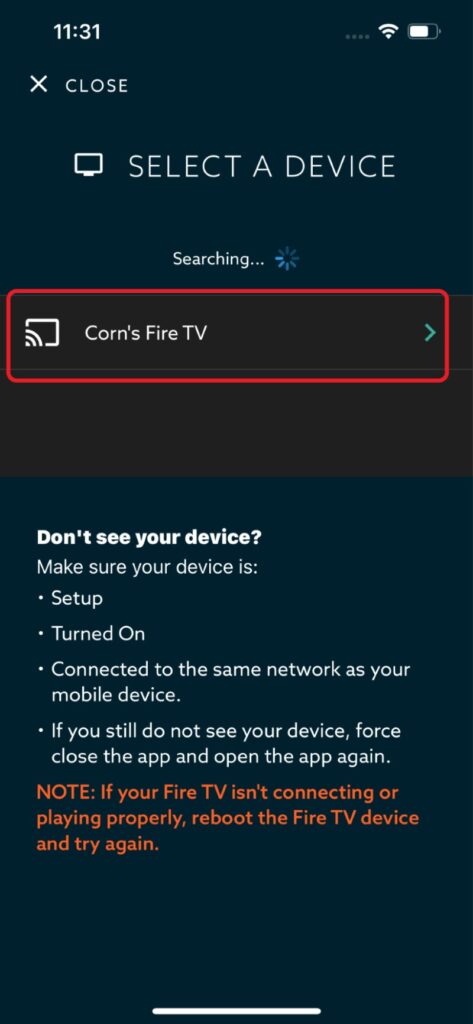 You'll be able to play/pause the movie from the VidAngel app as well as from your Fire TV Stick using its remote.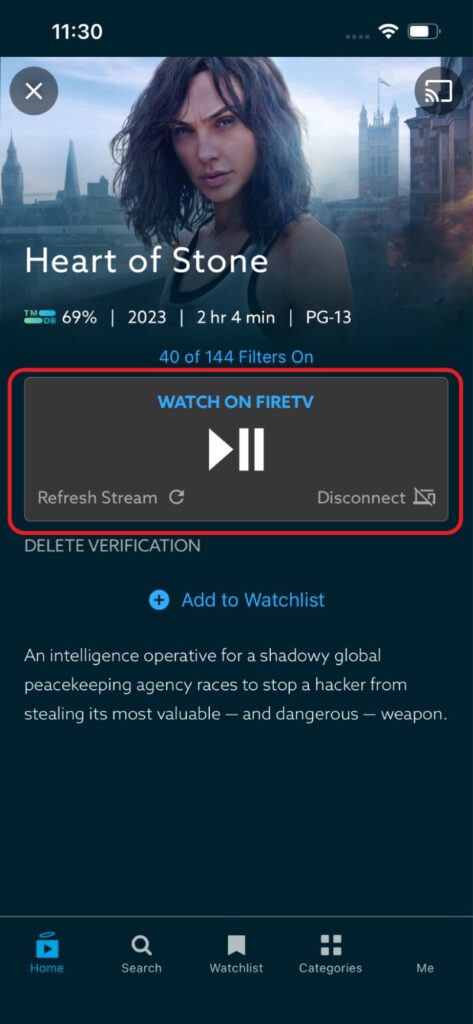 Step 7: Lean back and enjoy watching movies using VidAngel's filters on the big screen!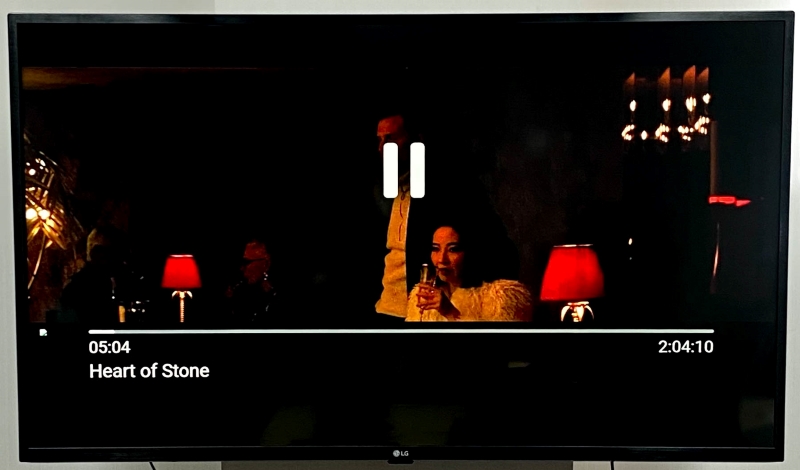 Bonus: ClearPlay, an Alternative for VidAngel
VidAngel is an amazing resource for anyone looking to watch popular movies without any of the inappropriate content they may contain. However, it's not the only service of its kind.
Clearplay is another censoring service that links to your streaming platforms, such as Amazon Prime, Apple TV+, Netflix, and more!
Like VidAngel, Clearplay offers several filters that censor content like sex/nudity, violence, language, and substance abuse.
This filtering service comes in the form of a Chrome plugin, so you must cast your laptop's screen to your TV to watch filtered content on a big screen. Once the plugin is installed, all you need to do is choose which filters to apply.
Clearplay will seamlessly skip and mute inappropriate content and profanity, so you'll never know there was even a violent scene in the movie you're watching.
The service is intuitive to use and budget-friendly, so you can shield your children from mature content without breaking the bank.
Clearplay isn't as well-known as VidAngel, but one user in this Reddit thread said it worked just as well and served the same purpose.
One downside of Clearplay is that it doesn't currently support any apps on popular streaming devices or smart TVs. However, seeing as Roku devices don't support the VidAngel app and prompt users to cast content from another device, using the Clearplay app with your Roku would be a similar experience.
Wrapping Things Up
Due to some legal complications, Roku TVs and players no longer support the VidAngel. However, that doesn't mean you can't use this popular filtering application when watching TV shows and movies.
Instead of using the VidAngel app directly on your Roku, you can connect a VidAngel-compatible streaming device to your Roku TV and then download the app onto the streaming device. If your Roku device is connected to a smart TV that supports VidAngel, consider disconnecting the Roku player and using the app directly on your TV.
Alternatively, you can cast the VidAngel app from your smartphone, providing your smartphone and TV/streaming device meet the necessary requirements.
Last, but certainly not least, you can always try using Clearplay instead. This filtering service is currently only available as a Chrome plugin. However, you can watch it on the big screen by casting your laptop's screen on your TV.
How do you watch content on VidAngel? Have you ever tried Clearplay, and if so, what was your experience?
Let us know in the comments below!
Yesenia Achlim is a technical copywriter and editor with a focus on AV equipment. She aims to break down complicated topics and make technology accessible, no matter your technical expertise. When she's not teaching you how to replace a projector lamp, you can find her reading and baking.