Twitch is a platform dedicated to live video game streaming, in addition to supporting music, cooking, talk shows, and other forms of creative content.
Twitch isn't the only live-streaming platform for gamers and other creative professionals. But it is arguably the most popular. It is a conduit for users to share their content with millions of viewers.
Like several other social media apps, Twitch is widely available. But then it could go amiss on a few platforms or devices.
So, is Twitch available on Samsung TVs? If not, why? And if it is available, what is the experience of using the app on the device like? Read on to find out more.
Note: The Twitch desktop app is no longer available. Users are expected to consume Twitch content on the mobile app and web browsers instead.
Is Twitch Available on Samsung TV?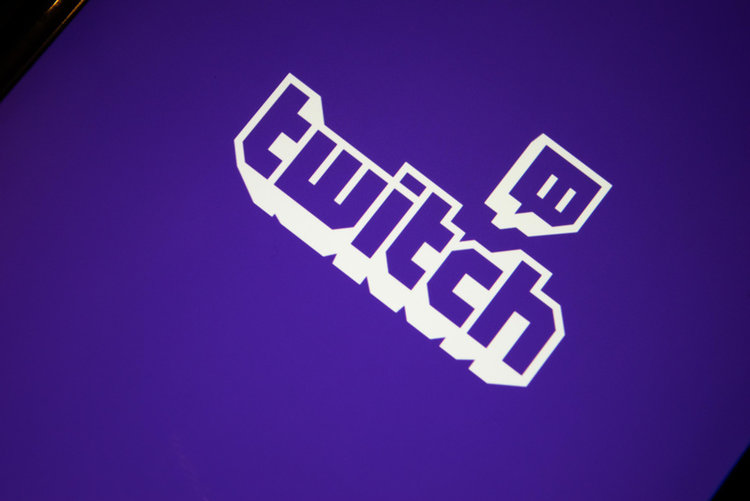 As of 2022, Twitch is available on Samsung TVs. Users can watch live streams, partake in them, chat with fellow users, etc. The app works on a range of Samsung smart TVs.
Not to mention, consuming Twitch content on your large, 4K Samsung TV is much more enjoyable and immersive than on smartphones and computers.
Do note that Twitch has had a complicated relationship with Samsung smart TVs. But the two parties cannot be blamed for it entirely.
Founded in 2011, Samsung TVs have had the Twitch app since early 2013. However, it was supposedly an unofficial Twitch app courtesy of an indie developer with a Russian support email address ([email protected]).
Twitch noticed the same (it took a while) and intimated Samsung about it. The South Korean giant removed the unofficial app from its store in 2019.
It is unclear what took Twitch so long to take action. Perhaps, Twitch was aware of the unofficial app on Samsung TVs but didn't care as it had no alternative to present.
Ultimately, the Amazon subsidiary was benefiting from the increased eyeballs courtesy of the unofficial app.
Once the plan for an official Twitch app for Samsung TV was hatched, the process to remove the third-party app was laid out.
Kindly note this is all speculation and educated guesses. Therefore, take them with a grain of salt.
It's also essential to know that Samsung allows developers to make apps using a software development kit (SDK) and submit the apps.
On the other hand, Twitch had its application programming interface (API) opened, allowing third-party developers to build their Twitch integrations.
Which Samsung TV Models Support Twitch
Since Twitch became officially available on Samsung TVs in mid-2022, it's most likely to be available on the latest Samsung TV line-ups or those with the Samsung Gaming Hub that have hardware powerful enough to run the games and launcher.
The Samsung Gaming Hub is discrete from the regular app store, the Samsung Smart Hub. Launched in 2022, the game streaming platform has been designed to cater to and enhance Samsung TV users' gaming experiences.
The models that support Samsung Gaming Hub include the QN900B , QN800B , QN95B , and QN90B line-up of Samsung Neo QLED 8K and 4K TVs. The 2022 Samsung M7 Smart Monitor also supports the gaming hub.
Additionally, the TVs mentioned above are Tizen-powered.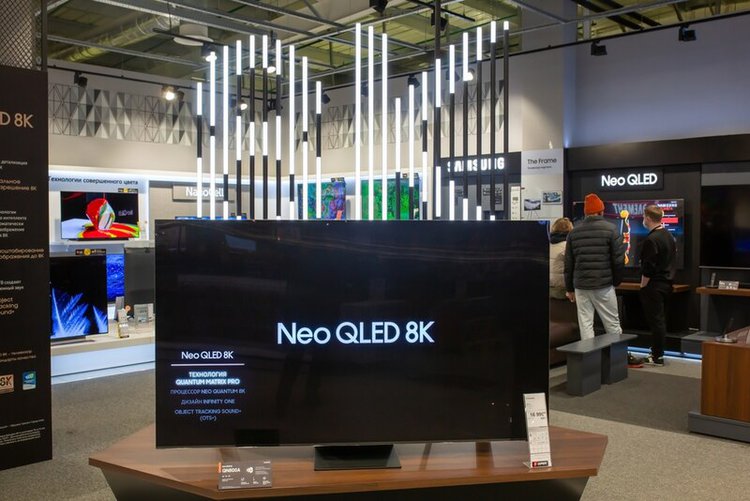 Twitch on Older Samsung TVs
If your Samsung smart TV doesn't support Samsung Gaming Hub, it may not support the Twitch app natively.
As mentioned earlier, the unofficial Twitch app has been on Samsung TVs for quite some time. Older Samsung TVs supported that version of the Twitch app, therefore.
The latest, official Twitch app is absent on older Samsung TVs, including the ones released in 2021.
The good news, however, is Samsung is planning to make Samsung Gaming Hub available on its older models. However, only a handful of 2021 Samsung TVs are expected to receive the update.
Those include the QN800, QN850, QN900, WS1A, QN700, LS03A, AU7000, AU8000, AU9000, Q50, Q60, Q70, and Q95. If your TV model is not mentioned above, you're out of luck. Contact Samsung for confirmation.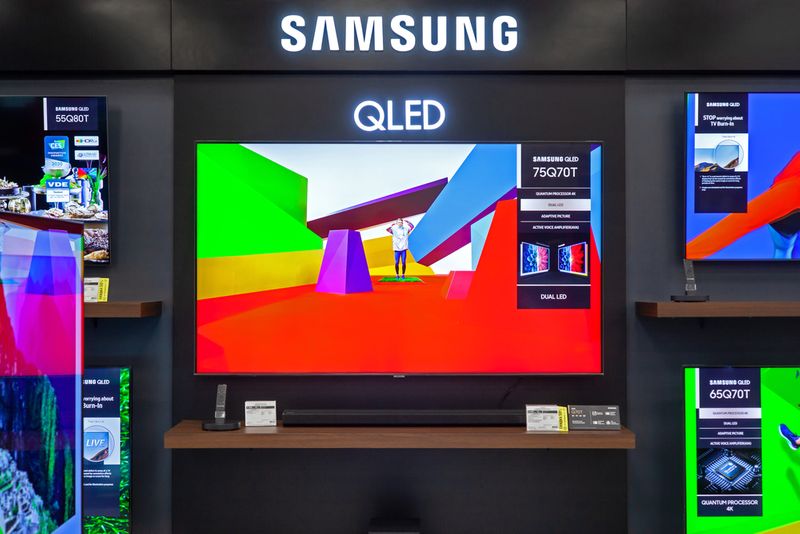 By the way, there are no official announcements made to bring 2020 and older Samsung TVs under the Samsung Gaming Hub wing.
If you own one and badly want Twitch on your Samsung TV, you have no option but to upgrade to a newer TV.
If your TV is eligible and you still don't see Samsung Gaming Hub on it, check the TV's software and make sure it's up to date. If there's still no gaming hub, contact Samsung.
How to Download Twitch on Your Samsung TV?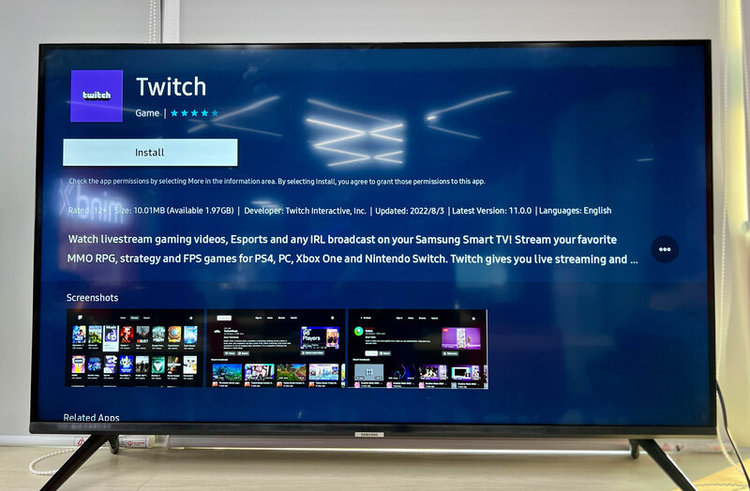 Since Twitch is part of the Samsung Gaming Hub, you need not download the app separately.
If you bought a 2022 Samsung TV, the device is highly likely to have the gaming hub and, therefore, the Twitch app.
Since the Samsung Gaming Hub is integral to using Twitch on a Tizen-powered Samsung TV, do not expect to download the app on your older Samsung smart TV outside of the native gaming platform.
How to Uninstall Twitch on Your Samsung TV?
Because Twitch is preloaded into the Samsung Gaming Hub, you cannot uninstall it from your Samsung TV.
If you select the Twitch app from the Apps section on your Samsung smart TV, the Delete option will be greyed out, indicating the app cannot be uninstalled.
Do note that all other apps (the non-preloaded ones) can be installed and uninstalled from the Samsung Gaming Hub. The Delete option for them will be available, and the text will have a white font instead of grey.
How to Troubleshoot Twitch Not Working on Your Samsung TV?
There is no specific troubleshooting process to fix the Twitch app on your Samsung TV. If the app misbehaves, fix the app like you would any other app.
Restart the TV since a basic reboot helps remedy most hardware and software-related concerns.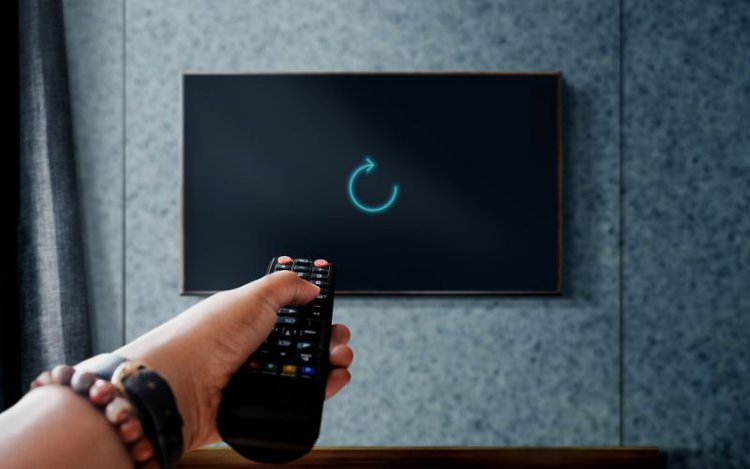 Ensure your Samsung TV OS and the Twitch app are up to date. Head into the settings of the TV and app to confirm.
From your Samsung TV's main menu, select System or Support. Then navigate to the Firmware Update or Software Update option. You need not press any button to select it.
Just highlight the option. If there is an update, the system will urge you to install the update.
Choose the Smart Hub or Apps option on your TV's main menu to update or check for updates for your Twitch app. Look for the Twitch app and move the selector to highlight it.
Like with the OS, the system will notify you if there's an update pending download. Restart your Samsung TV and check if the app is working fine.
If the issue persists, clear the Twitch app's cache. Here are the steps:
Launch your Samsung TV's home screen. Navigate to and launch the Settings app, represented by a gear icon in the bottom left of the screen.
On the Settings page, scroll down to Support and move right to choose Device Care.
On the next page, highlight and select the Manage Storage option.
Look for the Twitch app from the list of apps. Navigate to the app to highlight and select View Details.
On the next page, select the Clear Cache options. Reboot your TV to institute the changes.
Here is a video demonstrating the above:
How to clear app cache on your Samsung Smart TV
Uninstalling and reinstalling the app is another option. If none of these measures produce results, contact Twitch customer support.
FAQs
Can You Stream on Twitch on a Samsung TV?
Yes, you can stream on Twitch on your Samsung TV, provided you have the TV connected to a computer or a gaming console, such as an Xbox or PlayStation.
If using a computer, it should be an i5 processor (fourth generation or later or an AMD equivalent), have 8GB of RAM, etc.
Most importantly, you'll need a fast and stable Wi-Fi connection. A minimum of 3 Mbps is mandatory. If you're a professional gamer, you'd need at least 6 Mbps of internet speed.
If possible, an Ethernet connection is recommended due to the little to zero lag the wired arrangement provides.
Needless to say, you'll need a Twitch account in addition to a few other software and hardware paraphernalia.
Conclusion
Twitch is extremely popular, and, no doubt, people miss it on their Samsung TVs that do not support the Samsung Gaming Hub.
Since the Twitch app is available on several other devices and platforms, you can always use the game streaming app on various compatible devices.
Since Twitch works in any browser, you can launch your Samsung TV web browser and access Twitch there.
But if you miss the Samsung TV app and your TV is pending upgrade, it's a good idea to buy a Samsung TV that comes with the Samsung Gaming Hub preinstalled.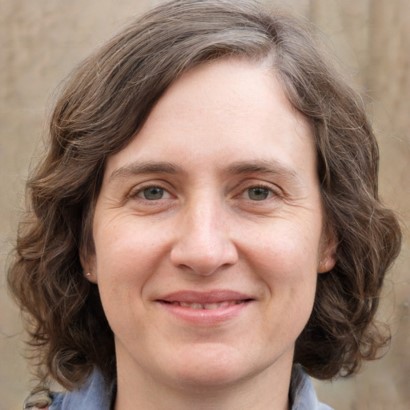 Catherine Tramell has been covering technology as a freelance writer for over a decade. She has been writing for Pointer Clicker for over a year, further expanding her expertise as a tech columnist. Catherine likes spending time with her family and friends and her pastimes are reading books and news articles.