Have you ever been lying in bed and wondered if you could install a TV above your bed? Well, now you can!
Installing a TV on the ceiling above your bed is slightly different from installing one in your living room, but it's completely possible!
Don't worry if you've never installed a TV before. We have all the answers to make your craziest TV dreams come true.
We'll tell you how high your TV should be mounted above your bed and walk you through the different mounting options. By the end of this article, your bedroom will be where all the TV magic happens.
Let's get started!
Can You Mount a TV on the Ceiling?
Yes, you can mount a TV on the ceiling.
You can absolutely mount a TV on the ceiling!
It requires a little more effort than mounting a TV on the wall to ensure the TV's brackets do not slip and fall off the mount.
To achieve a clean and professional look, you also have to consider fishing the wires through your ceiling to an available outlet.
Note that you will need a power drill, like the EnerTwist 20V Max Cordless Drill . Make sure you have one that is working correctly before beginning the installation process.
How High Should a TV Be Mounted Above a Bed?
How high a TV should be mounted over a bed depends.
When mounting a TV to a wall, it's usually recommended to mount it about 109 centimeters (or 47 inches) from the floor. Although you can apply this same rule to mounting a TV above a bed, there are other factors to consider. Be aware of how high your bed is and your eye level.
You want to ensure you can comfortably get in and out of your bed without hitting your head on the TV. You may also want to consider the interior design of your room, as a low-hanging TV will be the space's focal point.
If you have very tall ceilings, you must ensure you buy a TV mount that extends long enough so you can comfortably watch TV without titling up your head.
Although determining your eye level isn't an exact science, it's essential when mounting a TV over your bed. You want to make sure that you can see the TV when sitting up and lying down.
Most TV tilt and swivel mounts are adjustable, so you can tweak the height once it's installed. However, you may be stuck with a TV that's placed too high if the mount does not extend far down enough for you to see. This problem can be solved by roughly measuring from your ceiling until your approximate eye level.
If you're worried about the TV mount being too short, opt for a longer model. Just make sure it can be shortened if needed.
Ultimately, you'll want it to be at least 109 centimeters (47 inches) above your bed so you won't hit your head, but you may need it to be higher, depending on your height. Experiment with the height before you drill into your ceiling, and know that you can always adjust it later if you need to.
How To Mount a TV on the Ceiling?
You have three options when mounting a TV to a ceiling.
You have some flexibility when mounting a TV to a ceiling. You can either use a tilt and swivel mount, a swing arm mount, or a motorized mount. Each option has its pros and cons.
1/ Tilt and Swivel Mount
A tilt and swivel mount hangs your TV from the ceiling using a pole. As the name indicates, you can tilt and swivel the TV once mounted, allowing you to tilt it down towards your bed if you want to watch something lying down.
How to install a Tilt and Swivel TV Mount?
Once you've planned where to place your TV mount, put the mounting plate flush against the wall and use a pencil to mark where you'll drill the bolts. Make sure you're precise, so you don't accidentally drill misplaced holes into your ceiling.
Drill the bolts into your ceiling, leaving enough of the bolt hanging out so you can slide on your mounting plate. Twist it so the bolts sit inside the plate's brackets and drill the bolts tightly into your ceiling.
Secure the pole to the mounting plate using a bolt. Ensure it's tight so that it can hold the weight of your TV!
If you want to fish the TV's wires up the pole and through the ceiling, make sure to do so before proceeding to the next steps. You can also plug the TV normally, though consider that the hanging wire may be distracting.
Make sure the plastic collar is around the second pole piece before sliding it into the first one. Ensure that the wire is correctly placed inside the second pole.
Place the pole at the height you want your TV to be, and secure the pole in place using two bolts.
Screw the TV plate onto the back of your TV, making sure that the screws fit snugly into the sockets. If the screws are too long for the sockets, use washers to secure them in place.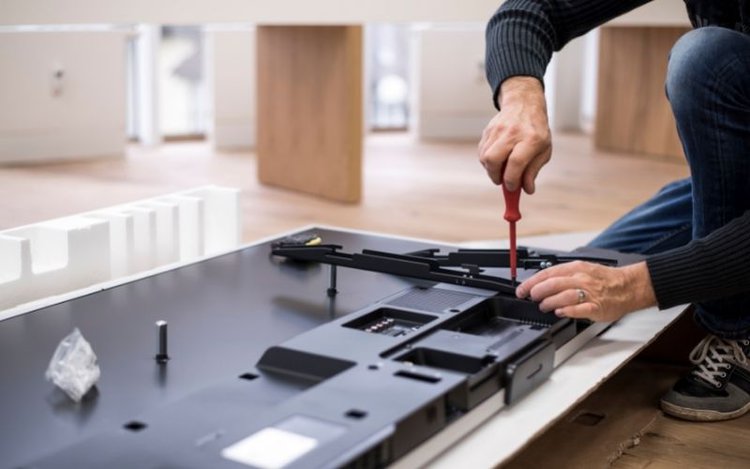 Notice that these types of mounts have a swivel mechanism on their back, allowing the TV to tilt once it's mounted.
Once the plate is firmly screwed into your TV, you can attach it to the hanging mount. Notice the two vertical holes on both the TV plate and the mounting arm (the piece of metal extending from the pole), which will allow them to attach.
Place the mounting arm in the TV plate, making sure the vertical holes are aligned. Screw in the kingpin (the very large screw), and tighten it using a socket wrench.
Make sure your TV is mounted to your liking and make any necessary adjustments.
Pros:
The installation process is relatively quick and easy.
The swivel mechanism allows the TV to tilt and turn, so you can angle it towards your eye level.
The pole is adjustable, so this is a good option for high ceilings.
Cons:
The mount cannot retract up against the ceiling, so the TV and pole will always be visible.
Watch the video below demonstrating how to install a tilt and swivel TV mount.
InstallerParts Episode 15 - Flat TV Ceiling Mount With Tilt And Swivel
2/ Swing Arm Mount
A swing arm mount has a locking mechanism that attaches to your TV, allowing it to either hang vertically or lay horizontally against the ceiling when you're not using it.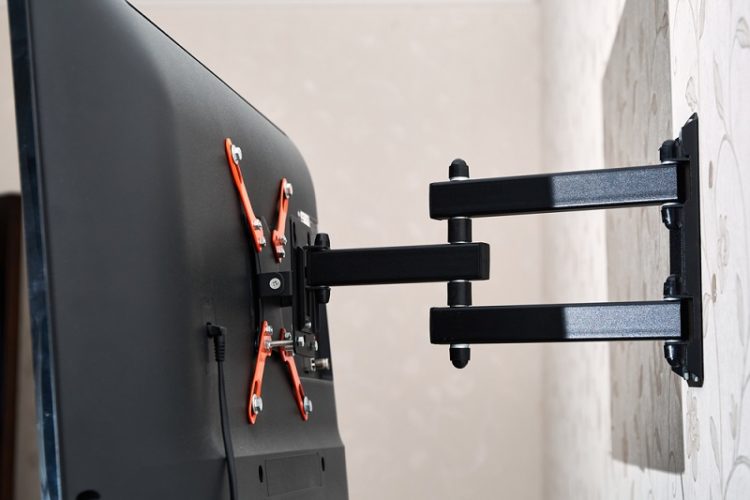 How to Install a Swing Arm Mount?
Find the mounting plate attached to the swing arm and place it flat against the ceiling. Make sure you like the placement before marking where you'll drill the screw holes. If your mount has lock and slide brackets, mark the drill hole inside the bracket where the bolt will lay so that all the holes are correctly spaced.
Check the bolts' length before drilling holes of the same depth. Drill in the bolts and check that they're secure.
Screw the mounting plate onto your TV, using washers to secure it in place if the bolts protrude from the holes.
Attach the TV's mounting plate onto the hanging mounting arm, screw in the provided bolts, but don't tighten them all the way yet.
Now you can adjust the height of the TV by sliding it up and tightening the bolts to secure it in place. Although this option allows you to adjust the height, it's only by a few inches and is not a good option for very high ceilings.
When you have the TV positioned at the desired height, tighten the bolts to hold it in place.
Check that the locking mechanism is working correctly, and you're all set!
Pros:
This mount allows you to store the TV horizontally against the ceiling when not in use.
The locking mechanism is a great way to keep your TV safe when moving in mobile homes or boats.
It only requires a few basic tools to install.
Cons:
Swing arm mounts do not allow you to radically adjust the TV's height.
Watch the video below to learn how to install a swing arm mount.
InstallerParts Episode 21 - Swing Arm TV Mount For Under The Counter
3/ Motorized Mount
Similar to swing arm mounts, motorized mounts also allow users to lower or raise their TV against the ceiling. The defining difference is that motorized mounts are electrical, so you can position your TV using a remote.
How to Install a Motorized Mount?
Once you've marked where the bolts need to go, drilled the holes, and fastened the mount in place, make sure everything is secure. Motorized mounts are heavier than their non-electric counterparts, so they need more bolts to keep them in place.
Bolt the mounting plate to your TV, using washers to tighten the screws if needed.
The mounting arm should have several rows of brackets to attach the mounting plate. This allows you to adjust the height of your TV before bolting it in place.
Every motorized mount brand will call for different instructions when hooking it up to electricity, so consult the user manual.
Once the motor is plugged in and working, you're ready to show off your high-tech TV mount!
Pros:
The remote allows you to adjust and customize your TV's angle.
Your TV can be stored flat against the ceiling when turned off.
The motor creates a seamless and luxurious watching experience.
Cons:
Depending on the model, connecting the motor to electricity can be difficult.
Watch the video below to see how to install a motorized mount.
Flip Down Ceiling Mount Video
Wrapping Things Up
There are so many options when it comes to mounting a TV above a bed. Whether you prefer the traditional tilt and swivel or swing arm mounts, or a modern motorized mount, you will undoubtedly be able to find something that fits your TV needs.
Remember that every TV mount comes with its own instructions, so always ensure you read them carefully before installation.
What's your experience mounting a TV on the ceiling above a bed?
Has this article helped you understand your options when mounting a TV to the ceiling?
Let us know in the comments below!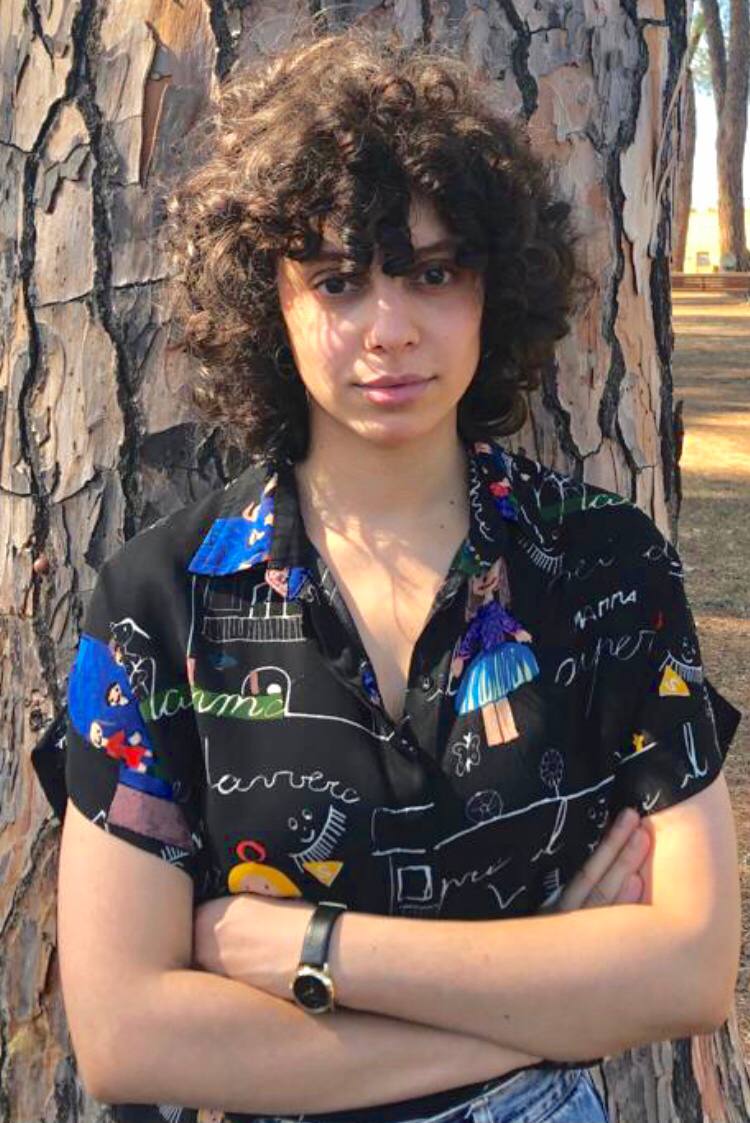 Yesenia Achlim is a technical copywriter and editor with a focus on AV equipment. She aims to break down complicated topics and make technology accessible, no matter your technical expertise. When she's not teaching you how to replace a projector lamp, you can find her reading and baking.