What To Know
Roku's simple interface and larger app icons make it more user-friendly for seniors, whereas Firestick's visually dense layout may be less suitable for those with poor eyesight or confusion.
Roku's familiar remote design caters to seniors used to traditional TV controls, while Firestick's lighter remote could benefit those with dexterity issues.
Voice commands are available on Roku and Firestick. Also, both are cost-effective with no extra subscription fees, making either a viable option for seniors' entertainment without ongoing costs.
So, you've decided it's time to upgrade your elderly mother's entertainment center. She doesn't have enough money to purchase a new TV, so the next best option is a streaming device.
You've done your research and found that Roku and Fire TV are the two most popular and budget-friendly options, but which one is best for the elderly?
In this article, we'll outline each device's features and explore which is easier for elderly people to use.
Roku vs. Fire TV Comparison Table
Roku
Fire TV
Interface
Simple with large app icons and text
Visually appealing, but more cluttered
Voice Command
Included
Remote
Shorter and more similar to a traditional TV remote
Thinner, lighter, and minimal
Variety of Content
More channels (e.g. local channels, news, sports, live TV, etc.)
Slightly fewer channels (e.g. local channels, news, sports, live TV, etc.)
Price
Moderately priced, varies between models
Subscription Fee
None for the device, though you will have to pay for any subscription-based streaming platforms

Interface
Rokus have a simpler interface than Fire TVs. The home screen only consists of the apps you've installed on the device along with a menu on the right side with the channel categories (e.g. Live TV, Featured Free Sports, Streaming Channels, etc).
Roku's apps (referred to as channels) are also larger than Fire TV's so that your elderly loved one can clearly read the name. This makes many people consider Roku to be more elderly-friendly since the channels are easier to navigate.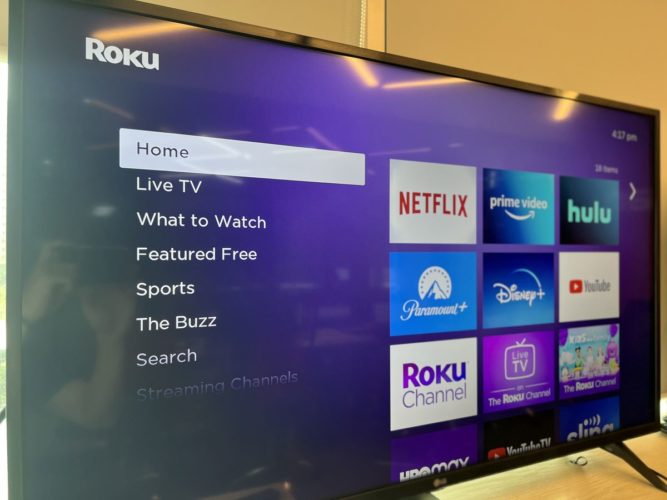 The Fire TV interface is more visually appealing but is slightly cluttered. The home screen usually features a recommended TV show or movie, which the elderly might enjoy.
The Fire TV apps can be found in the tool bar right below the recommended show, but the text may be too small for elderly eyes to read. Additionally, the number of pictures and text may be confusing for some, especially if they don't want to browse new content.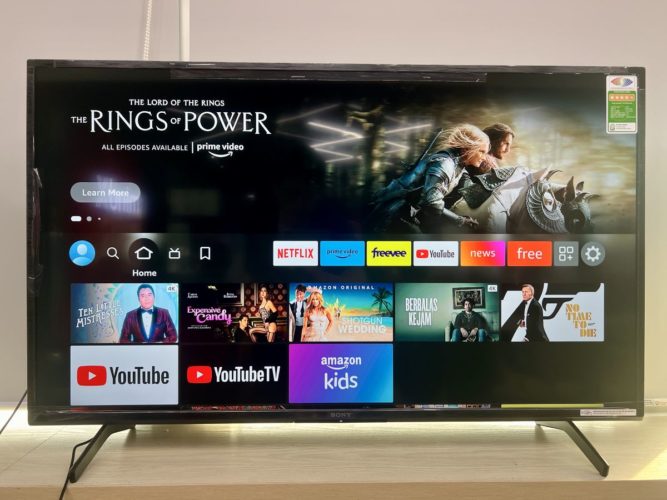 So, if your older family member or friend is short-sighted or easily confused, it may be best to stick with Roku.
If you're worried about your elderly loved one being able to use either device at all, see if they can use a smartphone, tablet, or computer. If they have no problem opening apps and websites there, then they should be able to easily navigate either streaming device.
Voice Command
Both Fire Stick and Roku include a voice command function.
However, not all models will support this feature. So, make sure you purchase one that does if this function is important for your loved one.
Voice commands allow you to open apps, search content, and play videos. This can be extremely useful if your loved one has difficulty reading or gets confused when looking at screens.
Some elderly people's voices can be difficult to understand, especially if they have lost teeth, have Parkinson's, or are suffering from another degenerative disease. This may make it difficult for the voice command feature to comprehend their commands, which can quickly become very frustrating.
Remote
While both devices' remotes are intuitive to use, some differences in design can affect their usability.
Roku remotes are shorter and have a more distinct click feel, which is similar to TV remotes. So, if your loved one is nervous about using a new remote, a Roku may be the right choice.
Fire Stick remotes are thinner, lighter, and easier to hold, which may be useful if your loved one has arthritis and struggles to hold thicker objects. It also takes less force to press the buttons, which is good for weak hands.
However, the D-pad is a simple circle without symbols. While this design is certainly sleek, it may be confusing to use if your loved one is used to traditional TV remotes.
Both Roku and Fire TV remotes have shortcut buttons that make it easy to open apps like Netflix, Hulu, and Prime Video with a single click.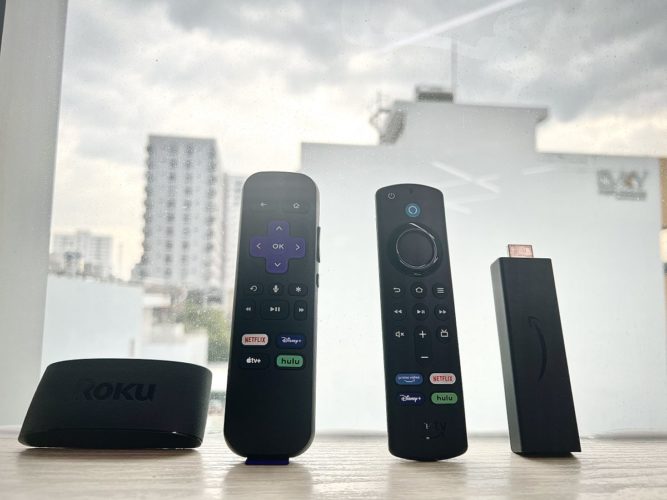 Variety of Content
Roku and Fire TV both have a decent variety of apps, including local channels, news, sports, live TV channels, streaming platforms, and so on. This will allow your loved one to watch the same TV programs they watch on satellite or cable. The only difference will be that they have to open an app to do so.
Roku has more channels than Fire TV, with over 350 of them being completely free.
Although Fire TV has fewer apps than Roku, your loved one will still have over 380 channels (both free and paid) to choose from.
If you're unsure if the streaming device will have your elderly family member's favorite channel, you can search for it on the Roku or Fire TV (Amazon) website.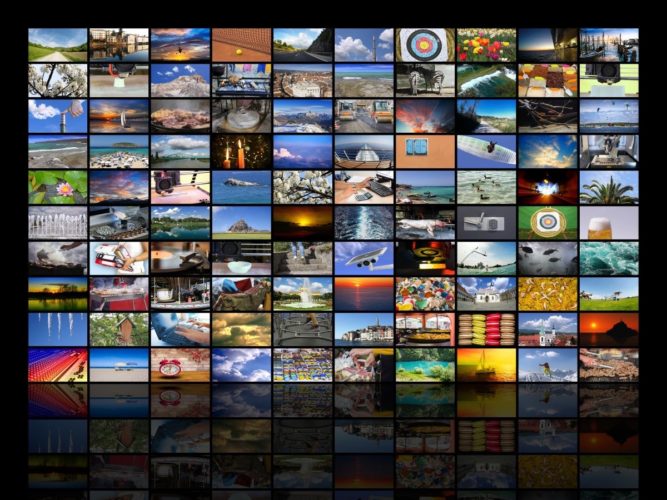 Price
Both brands offer a variety of models, and the prices will vary depending on the model you choose (Full HD, 4K, Ultra, etc.). However, you will find that Roku and Fire TV devices are very similarly priced.
They're also moderately priced, so you don't have to worry about throwing a lot of money away if your loved one decides they don't like it. The remote is included with the streaming device, and you can also purchase another remote separately if the original gets broken or lost.
Subscription Fee
There are no additional fees to use Rokus or Fire TVs. Once you've purchased the device, it's completely yours.
While Roku and Fire TV both offer many free apps, some streaming platforms (e.g. Netflix, Amazon Prime, etc.) require subscription fees. If you already have subscriptions to these platforms, you can simply log into your account once you've installed the app.
We recommend logging into your elderly loved one's account for them, as typing on the on-screen keyboard may be challenging for them.
Wrapping Things Up
Picking out the right technology for elderly folks can be challenging, especially if they're not very technologically literate. However, once you identify your elderly loved one's needs, finding a streaming stick that will work for them couldn't be easier.
For short-sighted fellows, we would recommend the Roku since the home screen is larger and easier to navigate. However, if your loved one has arthritis or weak hands, Fire TV may be better since the remote is thinner and lighter.
Both devices have a voice command function and a large variety of content for your loved one to choose from.
The great thing about streaming sticks is that they're portable, so if you need to move your loved one to a nursing home, they'll still be able to use the same interface on their TV there.
We recommend completely setting up the Roku or Fire TV and installing any apps they'd like to use for them. Don't forget to also log into their accounts in the apps.
Do you think Roku or Fire TV is better for the elderly? What's your experience with older people using streaming sticks?
Let us know in the comments below!
Yesenia Achlim is a technical copywriter and editor with a focus on AV equipment. She aims to break down complicated topics and make technology accessible, no matter your technical expertise. When she's not teaching you how to replace a projector lamp, you can find her reading and baking.