What To Know
Standby mode on a smart TV allows it to remain connected to the internet and ready for updates or voice commands, though it can be fully turned off to stop all functions.
Standby Mode Smart TVs use as little as 0.2 Watts in standby mode with smart wake enabled, but disabling smart features can reduce this consumption to an average of 0.6 Watts.
To fully disconnect a smart TV and save electricity, you can use its settings to shut down, unplug it from the wall, or employ a smart plug to cut off power.
In this article, I'll quickly uncover how much electricity a TV uses in standby mode and if turning it off with a remote contributes to your electric bill.
Let's get started!
What Is Standby Mode?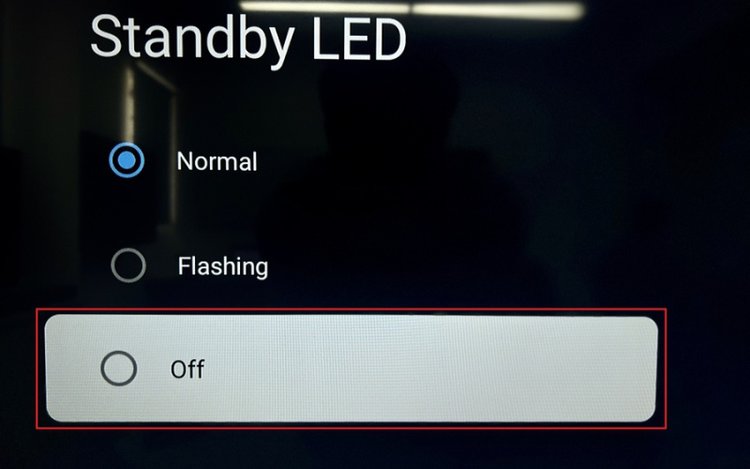 Standby mode describes when a TV is turned off but plugged in.
When you turn your TV off but leave it plugged in, you're not actually shutting it off completely. Instead, you're putting your TV in standby mode.
While in standby mode, your smart TV (e.g. Android TV) is still connected to the internet, but its display is turned off. In this state, it can still automatically install software updates, allowing you to always use the most up-to-date feature without manually installing it yourself.
The best comparison for this state is your smartphone when it's locked, as you can still receive notifications and updates without the screen being turned on.
Additionally, some smart TVs may be turned on (or woken up) via their smart wake function. For instance, you may be able to turn on your TV via voice command or through casting, by wirelessly connecting your phone to your TV.
This means that your smart TV's voice command function is still enabled and is ready to listen for the voice command that would trigger its smart wake function.
However, there is a way to shut down your Android TV, therefore turning it off completely, using its remote.
First, find your Android remote's Power button, then press and hold it until a pop-up window appears on-screen. In this window, select Shut down and wait for your TV to completely turn off.
Bear in mind that your TV will not install updates or be able to listen for its smart wake function once it's been shut down. So, you will need to update it and turn it on manually.
How Much Electricity Does a Smart TV Use on Standby Mode?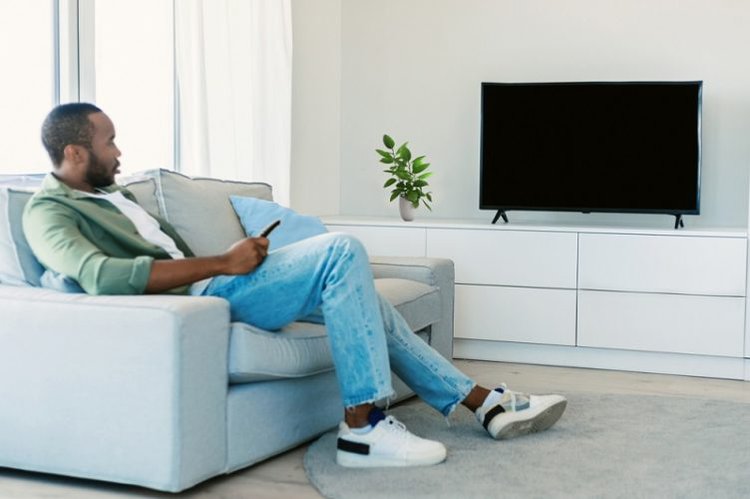 Let's learn how much electricity a smart TV uses on standby mode!
Consult the table below to find several smart TVs' power consumption when in standby mode with their smart wake function enabled.
| | |
| --- | --- |
| TV Model | Standby Power Consumption (Watts) |
| Konka 43U55A | 17.7 |
| Philips 50PFL5604-F7 | 5.5 |
| Sony XBR-55X800G | 11.1 |
| TCL 32S330 | 10.3 |
| Insignia NS-55DF710NA21 | 15.8 |
| Hisense 32H4F5 | 9.2 |
| TCL 50S535 | 20.4 |
| Vizio V505-H19 | 14.4 |
| Samsung UN43NU6900B | 0.2 |
| LG 43UM6910PUA | 0.3 |
According to the same source used to find the data listed in the above table, we can also conclude that the average power consumption for smart TVs with their smart wake function disabled is 0.6 Watts.
Considering how little power smart TV's consume when their smart features are disabled, we suggest disabling your unit's smart wake feature.
Alternatively, you can turn your smart TV off completely by following our suggestions in the next section.
How to Completely Turn a Smart TV Off?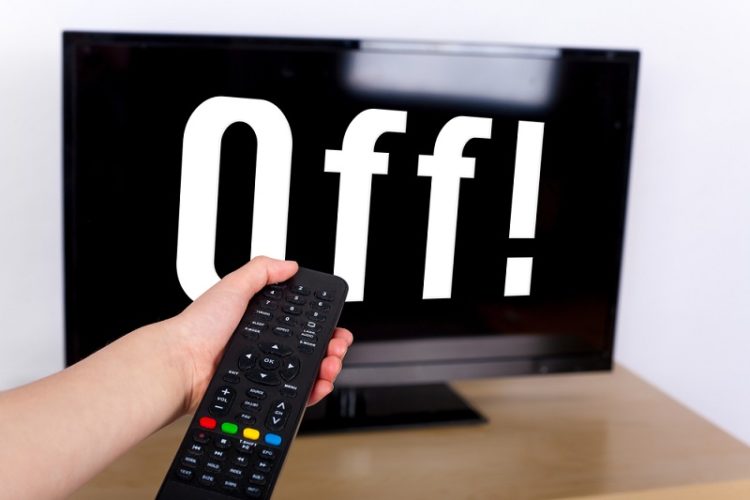 Here are a few ways you can turn your smart TV.
Are you a particularly frugal person looking to save every cent possible? If so, you may want to consider turning your smart TV off when not in use.
While smart TVs scarcely consume any power when in standby mode, they will still contribute to your electrical bill.
Turning your smart TV off will disable its smart wake feature and disconnect it from the internet, preventing updates from being installed.
While we recommend keeping your TV in standby mode when not in use, you may want to shut it off before leaving your home for an extended period of time.
Through Its Settings
Some smart TVs' Power Off functions can be found in their settings. Selecting this option will cause your TV's software to shut down and disconnect from the internet.
This process differs from brand to brand, and some TVs may not have this option.
To find out if your smart TV has the option to turn it off via its settings and how to do so, consult its user manual or the manufacturer's official website.
Unplug It from Power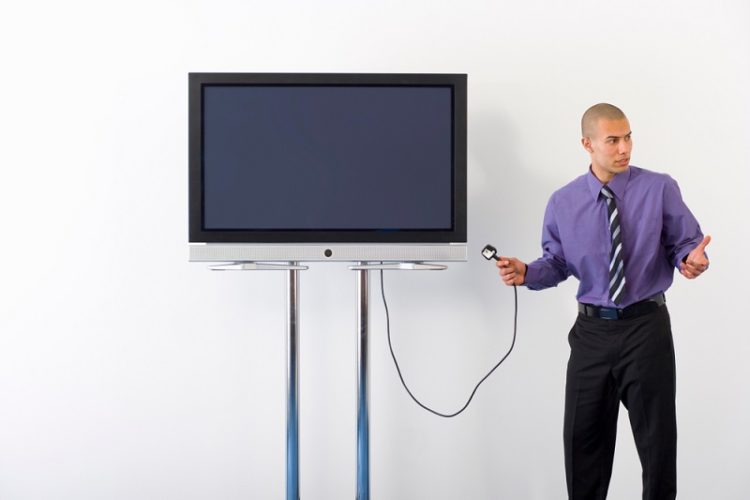 If you're going on a trip, it's a good idea to unplug your TV from its wall outlet, especially during the rainy season. Lightning could hit your home or apartment building, leading to a short circuit.
This could damage your home's electrical outlets and TV, and may even lead to smoke or fire.
So, to ensure your TV remains safe, we recommend physically unplugging it from the wall.
To do this, turn your TV into standby mode by pressing the Power button on its remote. Once the screen goes black, it's safe to unplug it from the wall.
You may also want to unplug any other appliances in your home as they're also at risk of breaking should they be struck by lightning.
Use a Smart Plug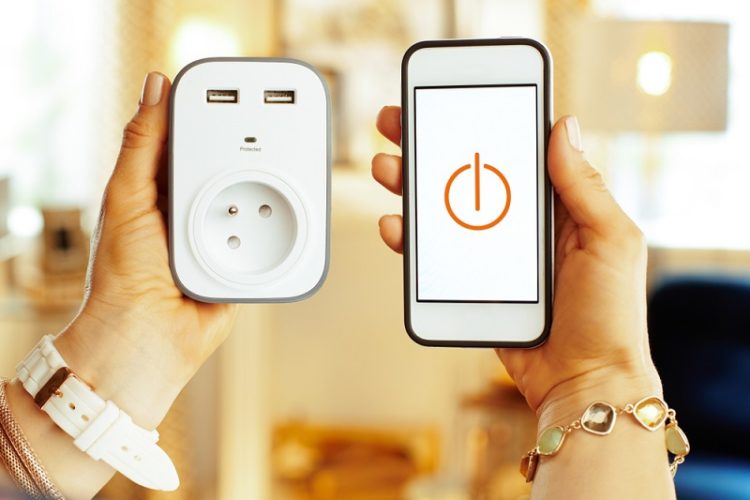 Smart plugs are a great way to disconnect your TV from power without physically unplugging it from the wall.
As the name suggests, smart plugs are high-tech plugs that you connect your TV to before plugging them into the wall. They have the ability to stop the electrical current to your TV, completely cutting it off from power.
There are several smart plugs on the market depending on where you live and your region's standard voltage. For those living in the United States, we recommend trying the TP-Link Smart Plug , which connects to an app on your phone.
Every smart plug will come with its own directions, so carefully read its user manual to learn how to set it up.
To see how to set up and use a smart plug, watch the video below, using the TP-LINK Smart Plug as an example.
TP-Link Tapo Unboxing and Setup Video: Tapo P100 Mini Smart Wi-Fi Plug
Wrapping Things Up
Smart TVs, generally, use very little electricity when in standby mode. This amount is decreased even further when their smart wake function is disabled.
Remember, when a TV is in standby mode, its display is turned off but its software is still running.
You can turn your TV off through its settings, by unplugging it, or by using a smart plug. Just don't forget to turn your TV off before physically unplugging it from the wall outlet.
We also suggest unplugging your TV before going on holiday to avoid any unfortunate electrical incidents.
Did you know how much electricity smart TVs use? Do you prefer to put your TV in standby mode or turn it off completely?
Let us know in the comments below!
Yesenia Achlim is a technical copywriter and editor with a focus on AV equipment. She aims to break down complicated topics and make technology accessible, no matter your technical expertise. When she's not teaching you how to replace a projector lamp, you can find her reading and baking.