Like most projectors, it is possible to connect your Optoma projector to a soundbar. Suppose you just got your Optoma projector but the sound is not as impressive as you expected it to be, there is a way to improve the audio effect by connecting it to an external speaker or a soundbar.
The process is quite simple and straightforward, with an audio cable or an RCA cable you will be done with the connection in no time.
Does an Optoma projector have sound?
Some Optoma projectors have sound. But the sound quality differs in each of the projectors, and the reason is that each of the projectors has a different kind of speaker.
Some of the Optoma projectors that have sound are enumerated below:
Optoma CinemaX : it has a built-in 40 watts soundbar, with two full-range drivers and two woofer drivers.
Optoma X318STe: this also has a built-in speaker. Because of the quality of sound from the speaker, there is little or no need for an external soundbar.
Optoma ML800: It is an ultra-portable LED projector. It has two 3 watts (6 watts) SRS WOW HD stereo speakers which give good sound and decent bass.
Optoma HD30HDR: it has a built-in 3W speaker which has a 10-phase volume control.
Optoma UHL55 : this is an easy-to-use projector with a built-in Bluetooth speaker that allows you to connect to several devices. It also has two 8-watts speakers, with superior bass performance.
Optoma X318ST: this is a short-throw projector with a 10 watts built-in speaker.
These are only a few of the Optoma projectors with sound. However, some others like the Optoma HD27 model have an audio-out option on the back of the device. This is a 3.5mm thick headphone jack that can be connected to your soundbar.
If your soundbar has RCA analog inputs, you will need a 3.5mm to 2 RCA jack adapter to make the connection with this type of projector.
How to connect an Optoma projector to a soundbar?
You can get a louder sound from your projector by connecting it to a soundbar. There are different external speakers. Be sure to get one that is compatible with your Optoma projector.
There are also several ways to connect your projector to a soundbar.
1. Use your laptop as a central device
One method is to first connect the projector to a laptop, then connect a soundbar to the laptop. In this setup, the laptop is the central device. To do this setup:
Turn off your devices, then connect the projector to your laptop with an HDMI cable.
Connect your laptop to the soundbar using a 3.5mm audio plug. Switch on the devices and confirm that the connection is successful.
This is one of the simplest ways to connect your projector to a soundbar, and it always works.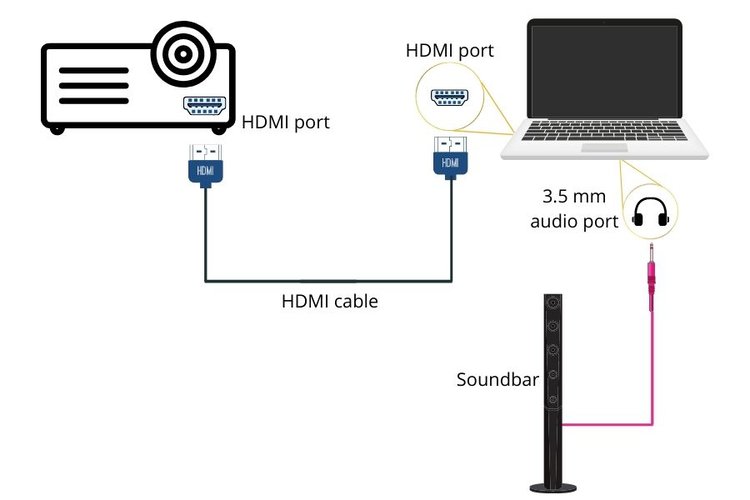 2. Your projector has audio out ports
Another method is by using an RCA audio cable. See the steps below:
Locate the left and right RCA audio outputs on your soundbar or speaker. Plug in an RCA cable into the left output of the sound source device, and another cable into the right output.
Underneath the projector, you will find its input/output ports. Plug the cable from the left output into the left RCA audio input connector on the projector, and do the same for the right output cable.
Plug in your soundbar or an amplified speaker that has a 3.5mm mini-jack connector into the audio output connector on the projector.
Turn on the soundbar as well as the projector, then select the RCA outputs as the audio outputs, on the projector.
For a better understanding of these steps, check out the first method discussed in this video.
7 Ways to Connect a Projector to Speakers
3. Using an HDMI cable
HDMI cable can transfer digital audio signals between devices, this is another method that you can use to connect your Optoma projector to a soundbar.
Note that for this to work, both the projector and the soundbar must have an HDMI or HDMI ARC port. Check out the steps below:
Turn off your projector and your soundbar.
Plug in one end of the HDMI cable to the HDMI or HDMI ARC port on the projector. Plug the other end of the cable into the same port on the soundbar.
Turn on the devices, and select HDMI connection on your projector.
Suppose you are playing content from your laptop, you will need a compatible cable to connect your laptop to the soundbar before you connect the soundbar to the projector via HDMI.
Optoma projector Bluetooth audio
Some Optoma projectors like the Optoma UHL55 have a built-in speaker that supports Bluetooth connection, while others do not.
You can connect your Optoma projector to a Bluetooth speaker even if your projector does not have Bluetooth technology. You will need a Bluetooth wireless audio transmitter to make this connection. You can get one right below.
How to do it
Make sure the transmitter is charged, then plug in the receiver-end of the transmitter (this is the pointed end) into the AUX at the back of your projector.
Turn on the transmitter and set it to "transmit" mode; simply push the button at the back of the transmitter to 'TX'. This will transmit Bluetooth signal to the projector.
Pair the transmitter with the Bluetooth speaker or soundbar. Once the pairing is completed, play content on your projector to be sure the connection is successful.
Note that, you can only pair one speaker to this transmitter and not more than that. However, for a louder sound, you can use a stereo pair speaker instead of connecting two single speakers.
Why is Optoma projector audio out not working?
There are several reasons why your Optoma projector audio out is not working. Some of them are that:
The audio cable is faulty
A bad audio cable will not transmit sound from your projector to another device. If your audio cable is bad, replace it with a new one.
The projector sound has been muted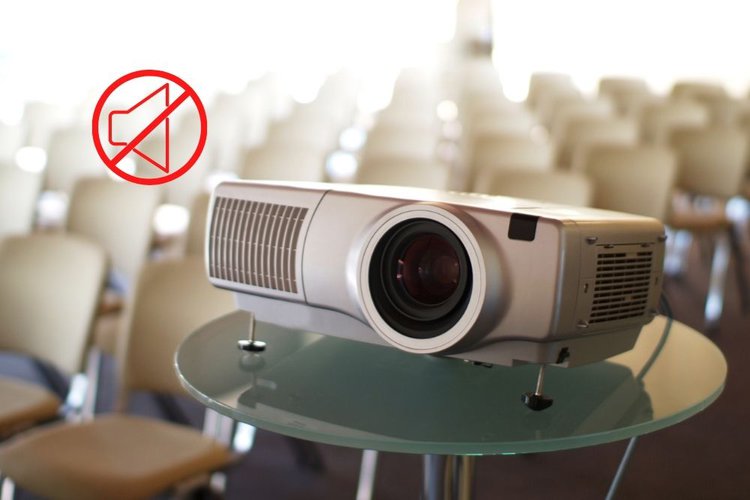 If your projector's sound has been muted, you cannot get sound out of it. Simply check the setting of your projector to be sure it is not set to "mute".
The projector's audio out is faulty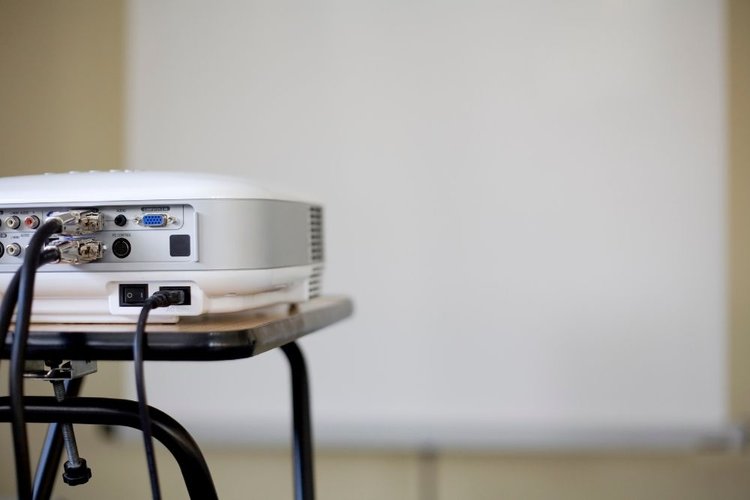 One way to find out is by plugging headphones directly into the audio out jack. Increase the volume on the projector and wait for the sound. If you do not hear sounds from the headphones, it means the audio jack is faulty. If that is the case, you may have to return the projector.
Conclusion
Optoma projectors are usually gaming projectors, although they are useful for other purposes like watching movies and making presentations.
Loud sounds make projecting more exciting. Ground-shaking audio and bass effect is an important requirement, especially when playing games or watching movies on your projector, hence the need to connect a soundbar to the projector.
Bear in mind that it is not compulsory to connect your projector to a soundbar. You can use the built-in speaker if you are satisfied with the sound from the projector; the steps for this process have been discussed in the article.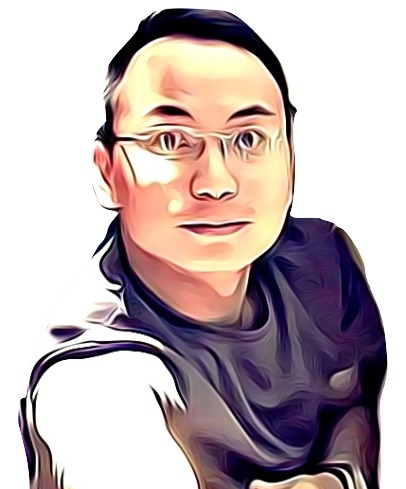 Vance is a dad, former software engineer, and tech lover. Knowing how a computer works becomes handy when he builds Pointer Clicker. His quest is to make tech more accessible for non-techie users. When not working with his team, you can find him caring for his son and gaming.