What To Know
Optoma projectors like the ML330 support Bluetooth, allowing wireless connection to compatible speakers or soundbars by adjusting the projector's Bluetooth settings.
External sound can be directed from laptops or streaming devices like Apple TV to speakers through an AUX cord or Bluetooth while using the projector for video display.
HDMI passthrough, AUX 3.5mm ports, and Optical ports on Optoma projectors offer versatile wired connections for audio output to external speakers or soundbars, ensuring quality sound for your viewing experience.
In this guide, I will demonstrate five tested methods for connecting your Optoma projector to external sound systems, such as soundbars or speakers
Let's get started!
1. Using Bluetooth
By far the most clutter-free method, some models of Optoma projectors support Bluetooth connectivity, like the Optoma ML330.
Using Bluetooth, you can easily connect your projector to a Bluetooth-enabled speaker or soundbar.
To confirm whether or not your Optoma projector supports Bluetooth, you can visit the Optoma website.
Follow these steps to connect your projector and speakers via Bluetooth:
Step 1: Plug in and power on your projector and speakers/soundbar.
Step 2: Change the connection method of your soundbar to Bluetooth.
Step 3: Using your projector's remote, press the Bluetooth button to access the Bluetooth settings.
Step 4: Switch the Bluetooth setting to the "On" position.
Step 5: Find your soundbar on the list of available devices and select it to begin the pairing process.
Step 6: Once you have successfully paired your two devices, you are ready to use the speakers/soundbar for your audio output.
2. Using Your Laptop or Streaming Device
Nowadays, along with a projector, many consumers own either a laptop or streaming device, and in most cases, both.
This is extremely useful when trying to rectify sound issues as you can simply use your laptop or device, like an Apple TV, to redirect the sound somewhere superior.
Use your Optoma projector to display the video and then, using your device, connect to an external speaker or soundbar. This can usually be accomplished using a standard AUX 3.5mm cord or utilizing the device's Bluetooth.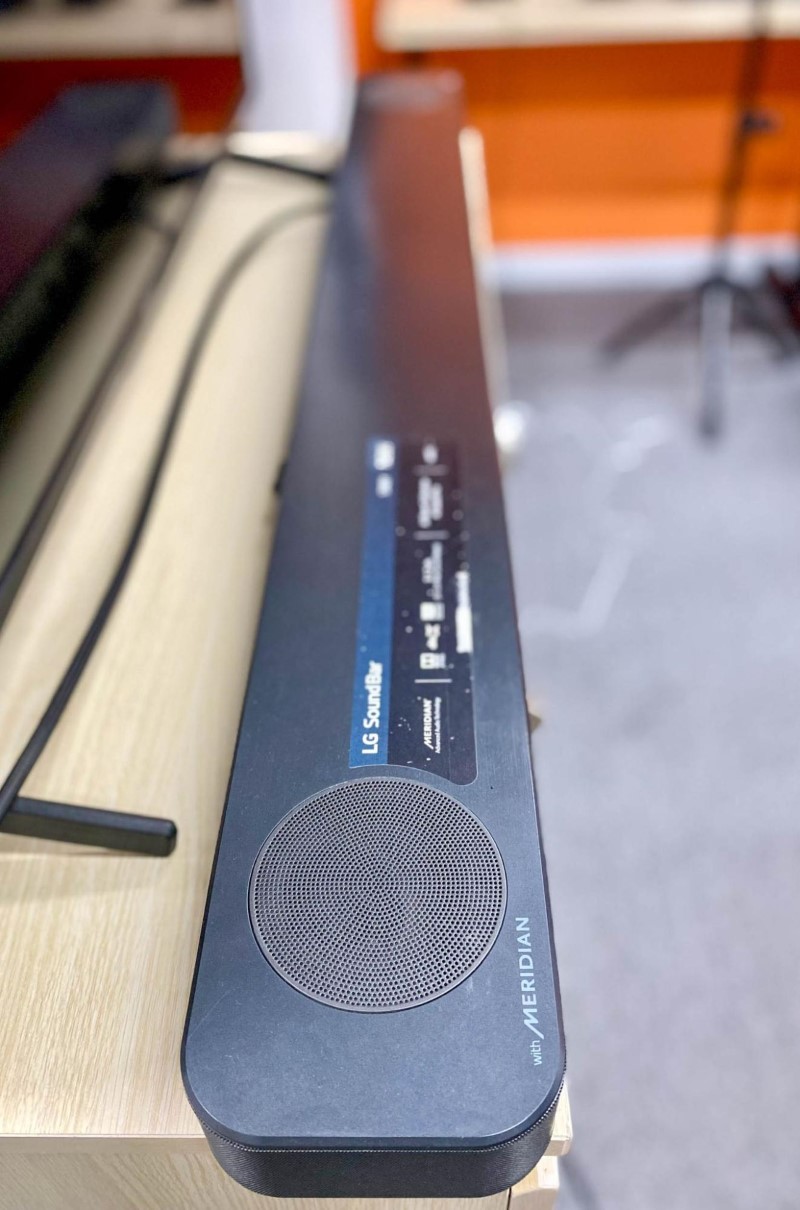 Here is a quick demonstration using my Optoma projector, Apple TV, and a soundbar:
Step 1: Plug in and power all three devices.
Step 2: Connect the Apple TV to the projector. For the best results use an HDMI cable.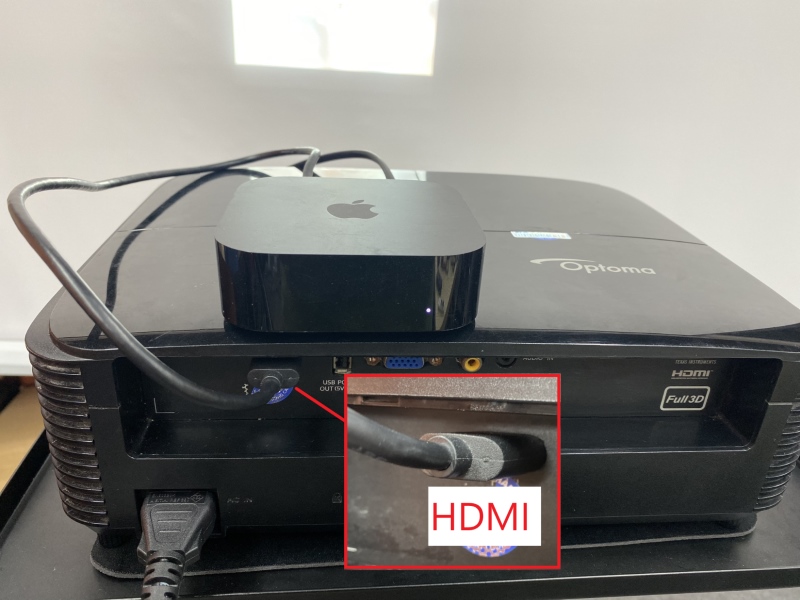 Step 3: If your project doesn't register the Apple TV after you plug it in, you may need to switch the projector's input to HDMI.
Step 4: Switch the connection method of your soundbar to Bluetooth.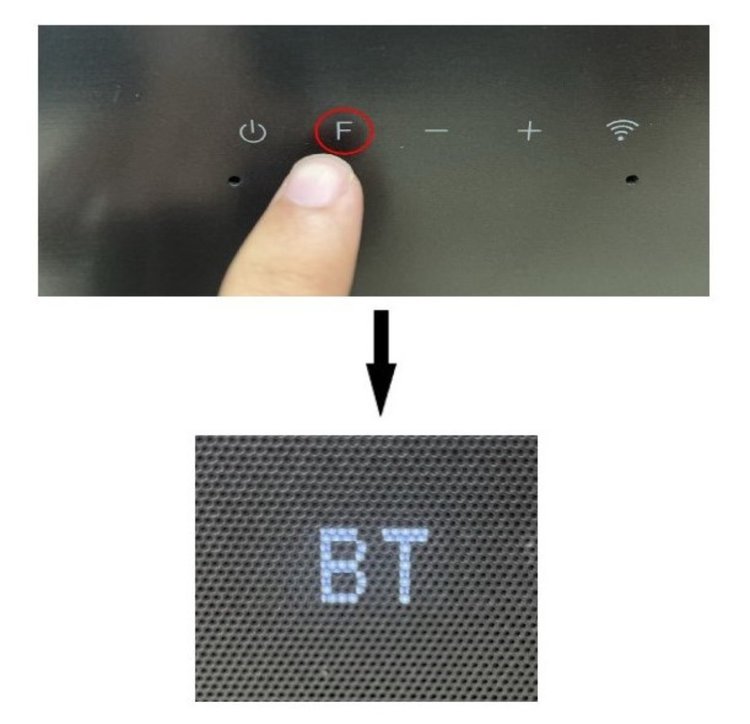 Step 5: Navigate your Apple TV menu, you will want to go to Settings > Remote and Devices.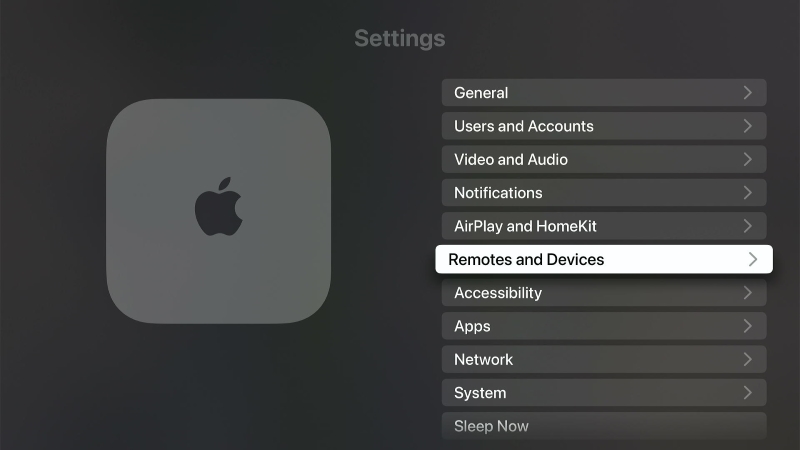 Step 6: Select Bluetooth.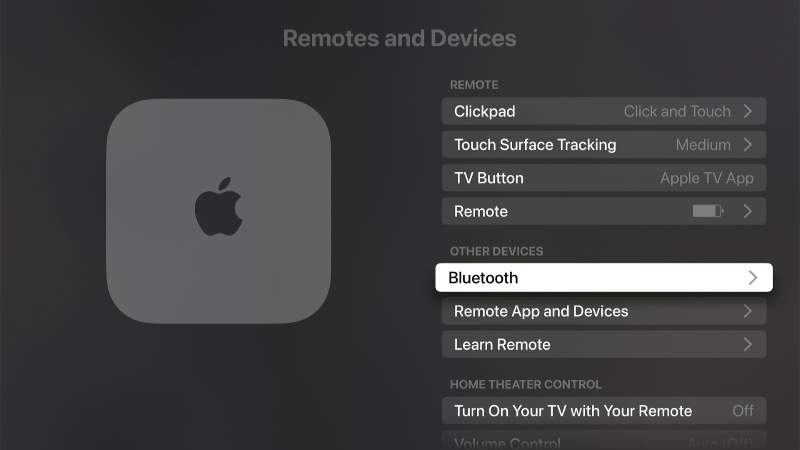 Step 7: Under the My Devices list, find and select your soundbar.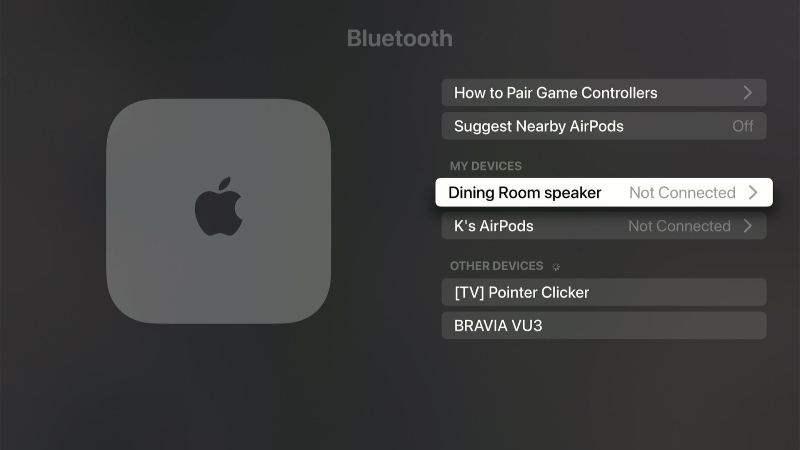 Step 8: Select Connect Device.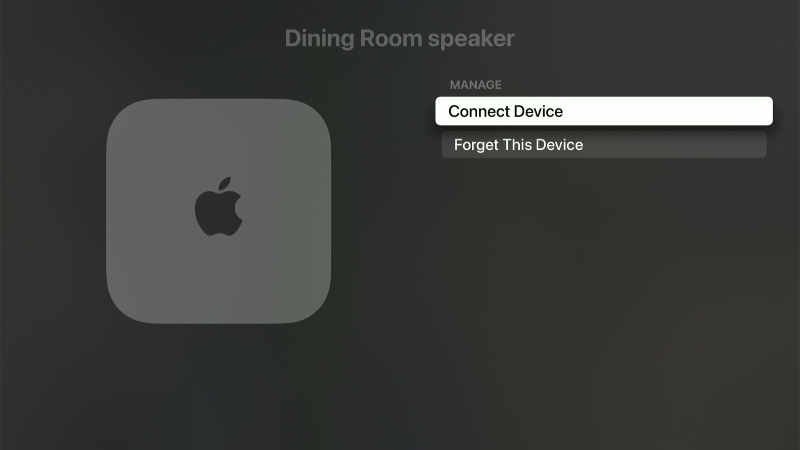 Step 9: If you have done everything correctly, you should receive a notification in the top-right corner of your Apple TV screen, as seen below.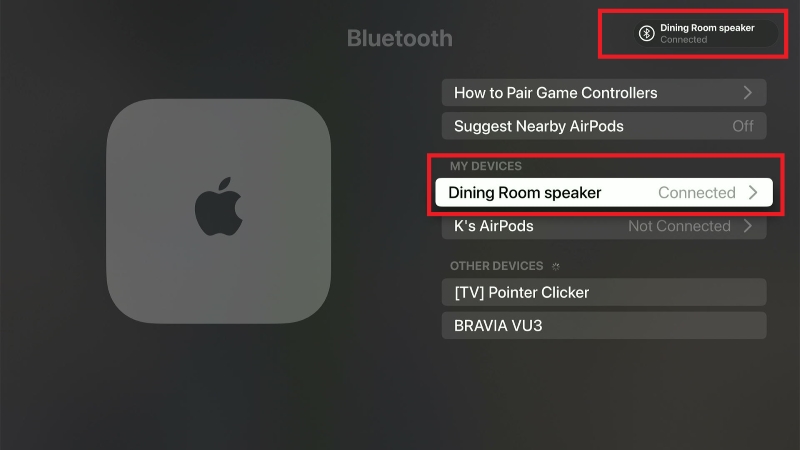 You should now be able to stream your favorite shows and movies on your projector, with the sound coming out of your speakers/soundbar.
3. Using HDMI Passthrough
Another method for connecting your projector to an external sound system is using HDMI passthrough.
For a more in-depth look at this process, check out this article which explains the entire process in greater detail.
Let's run through the steps for connecting an Optoma projector to a soundbar using the HDMI passthrough method. I will be using an Apple TV as the source device.
Follow these instructions:
Step 1: Plug in and power all three devices.
Step 2: Connect an HDMI cable from the Apple TV's HDMI OUT port to the HDMI IN port on your soundbar.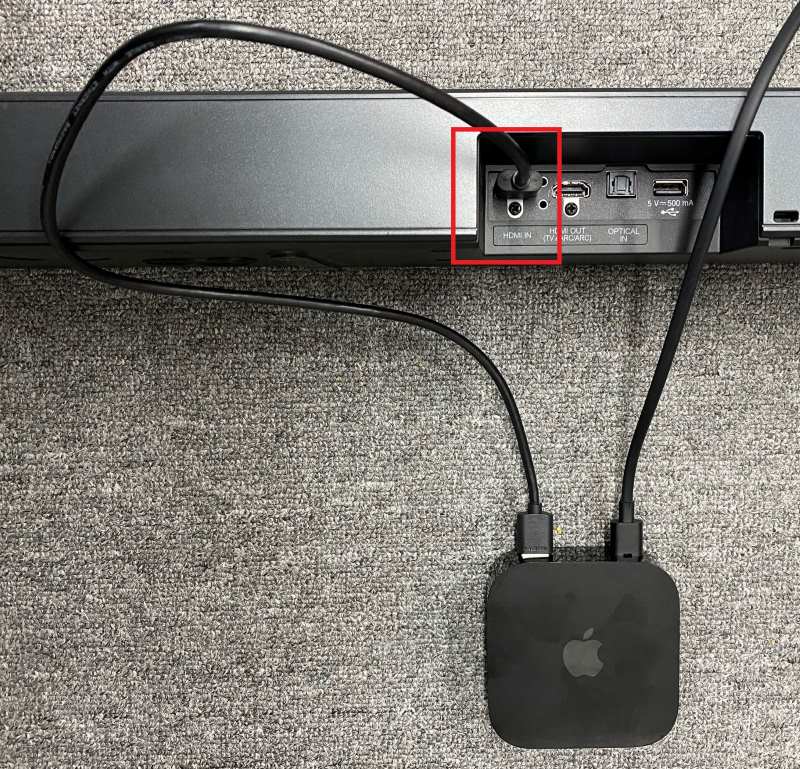 Step 3: Using a second HDMI cable, connect the HDMI OUT port (HDMI ARC/eARC port) of the soundbar to the HDMI IN port on the projector.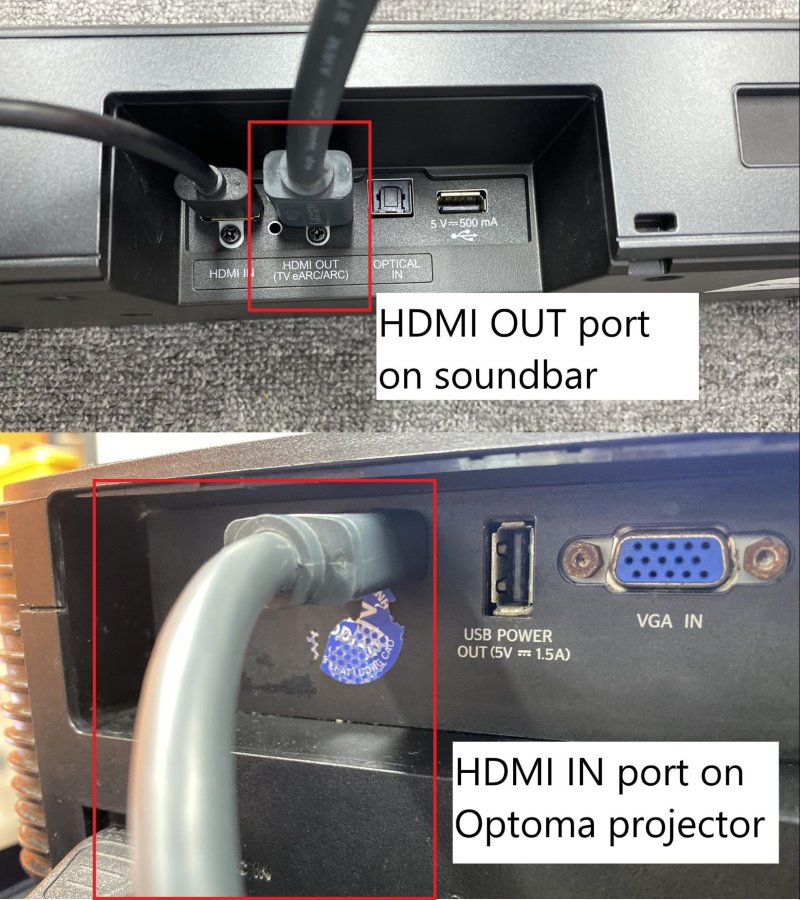 Step 4: Switch the soundbar's connection method to HDMI.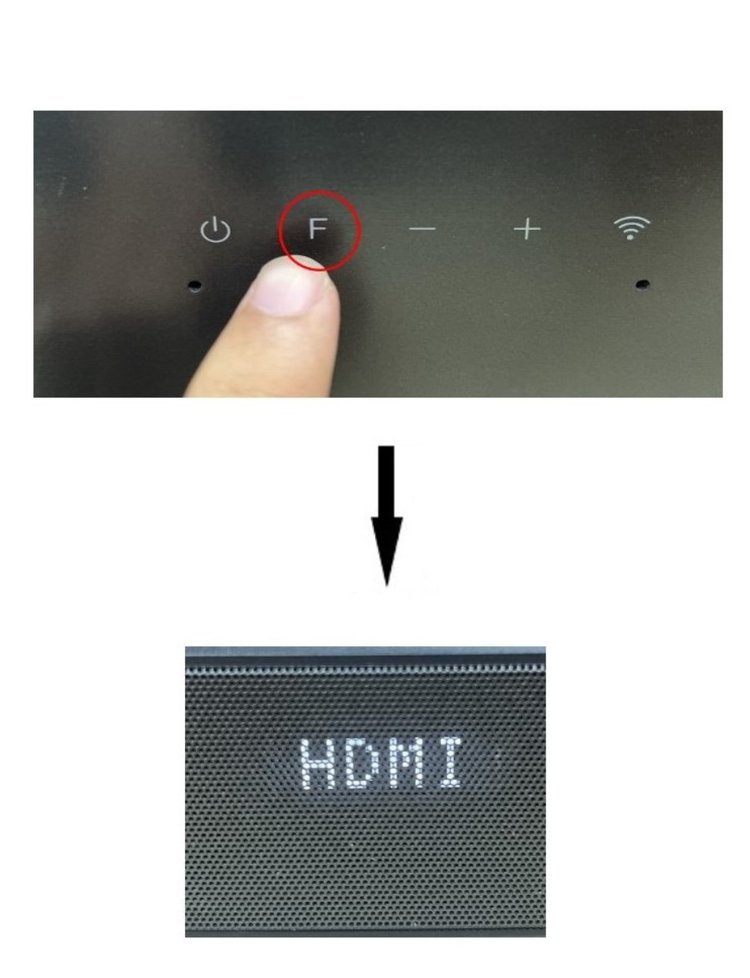 Step 5: You may also need to switch the Input setting of your projector to HDMI.
If you have followed these steps correctly, your projector should now be displaying the Apple TV screen. You are now ready to enjoy all the benefits of your projector while the audio plays from your soundbar.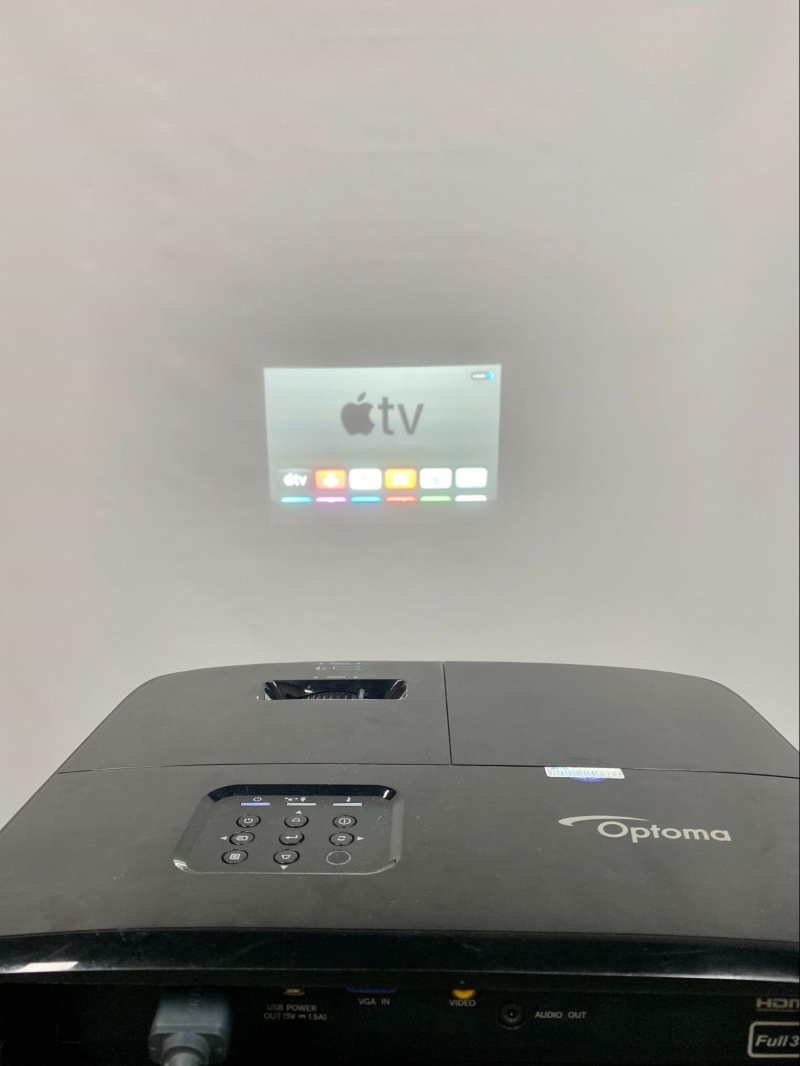 4. Using an AUX 3.5mm Port
Certain Optoma projectors will support the use of an auxiliary cable, and with any luck you can use this to direct your audio to a higher-quality, external speakers.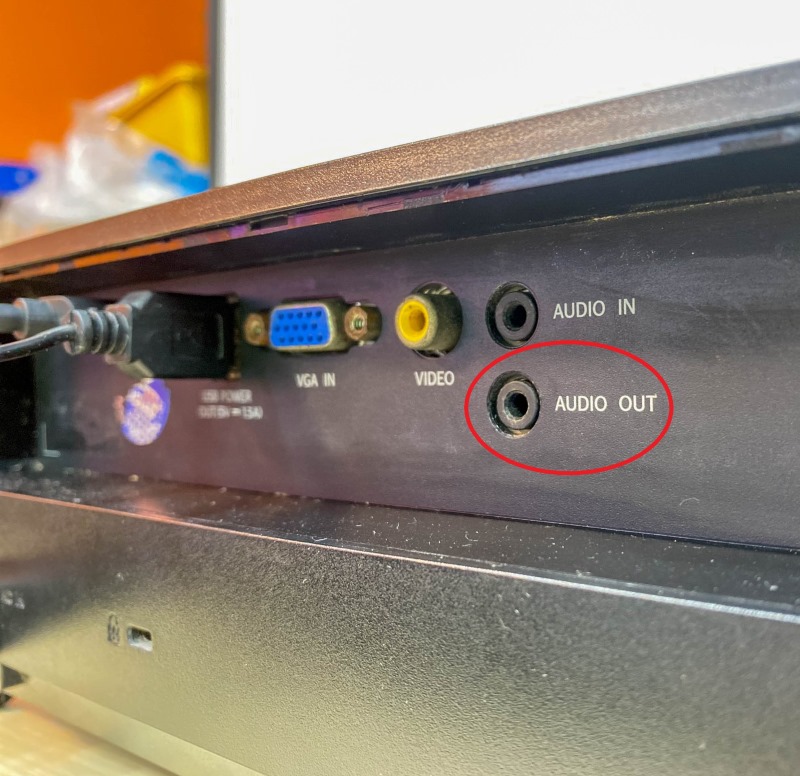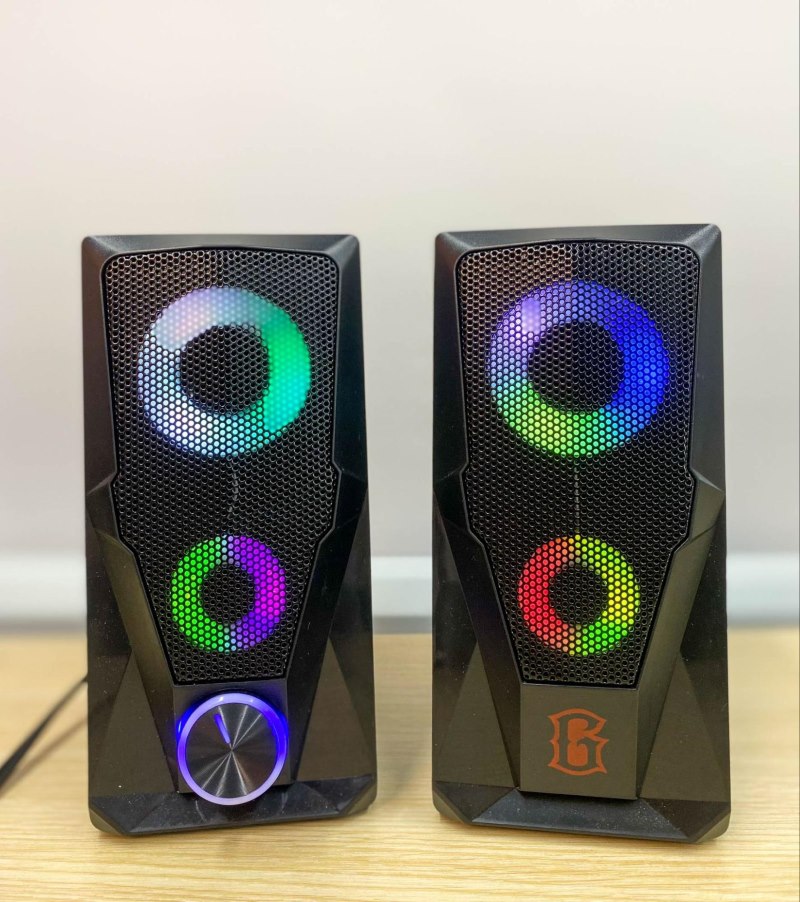 This is an extremely simple method, here is a breakdown of how to perform this technique:
Step 1: Plug in and power on both your projector and external speakers.
Step 2: Search your Optoma projector for its AUX output port and connect the AUX 3.5mm connector on your external speakers to the said port.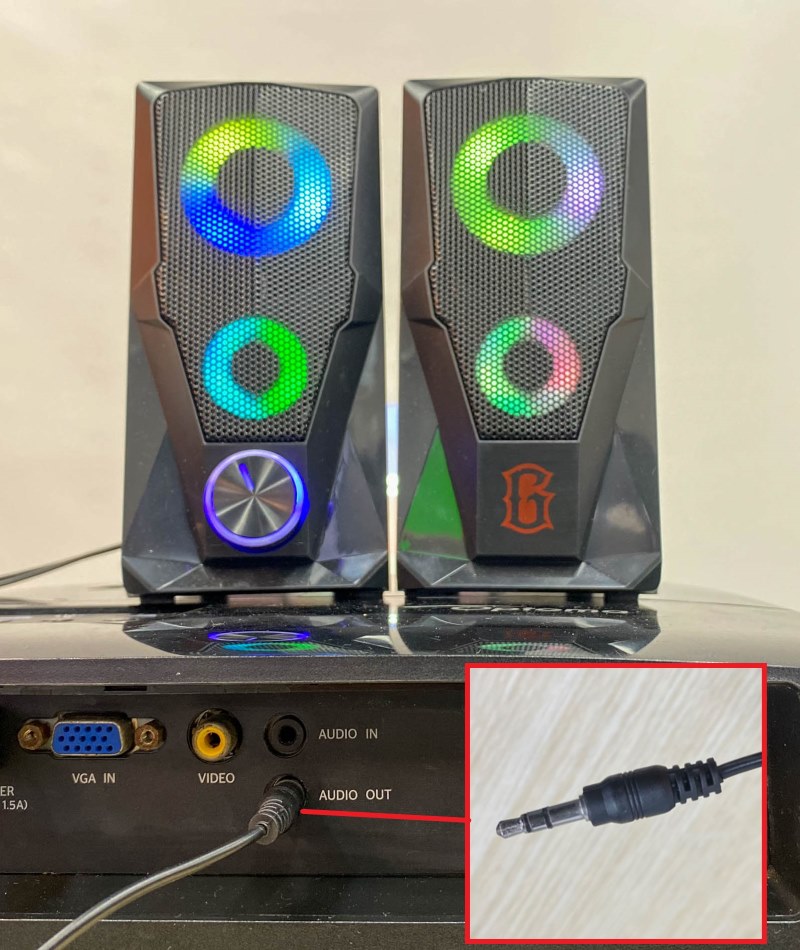 If the external speakers have an AUX audio input port instead, you can use an AUX cable to connect between the projector and the speakers.
Step 3: You will now need to connect your projector to a source device. Connect your projector to a laptop or streaming device, we recommend using an HDMI for this.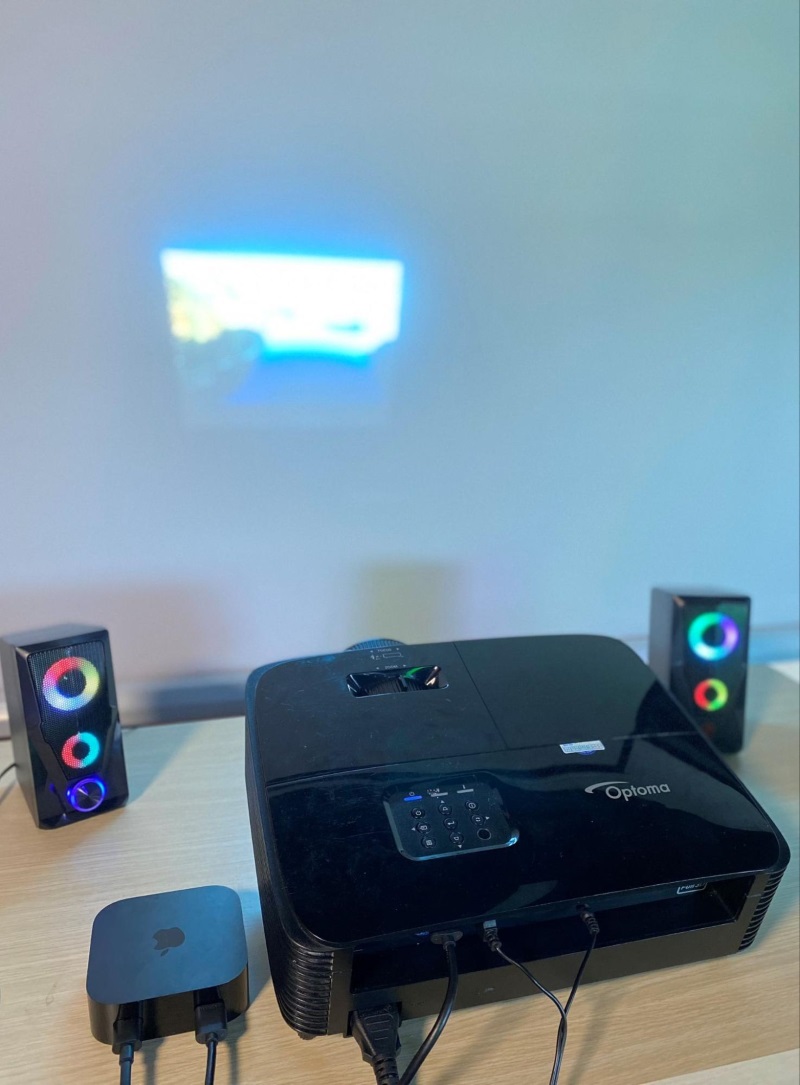 With that, your set-up should be complete and you are all ready to continue on with your movie night.
5. Using an Optical Port
As certain models of Optoma projectors come equipped with an AUX port, some newer versions come with an Optical port for audio output, such as Optoma UHD42.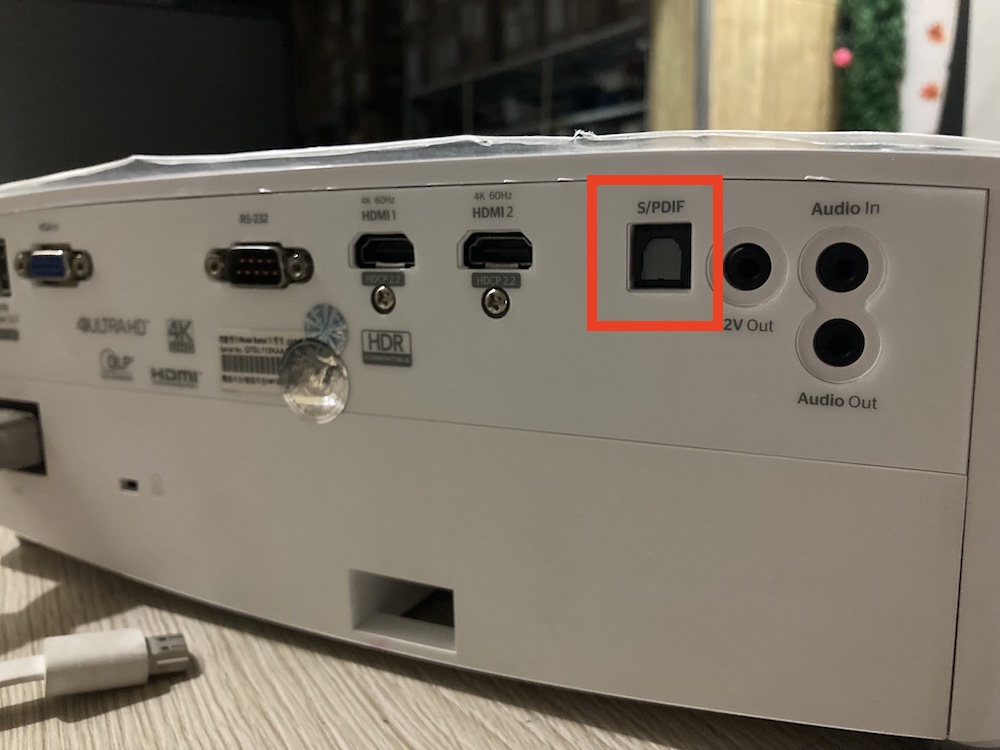 Follow the steps below to connect your projector to external speakers via Optical port.
Step 1: Turn on both the projector and whatever you will be using as your external audio output.
Step 2: Using an Optical cable, connect your Optoma projector's Optical out port to the Optical in port of your external speakers or soundbar. (Your external speakers will obviously have to support this type of technology as well)
Step 3: Once again, you will have to connect your projector to a source device, either a laptop or a streaming device. It's best to use a HDMI for this connection.
You are all ready to stream away! This will give you roughly middle-of-the-road sound quality, with AUX providing less and Optical with the ability to provide higher-resolution audio.
Troubleshooting: No Sound is Coming From My External Speakers
Sometimes, even though you closely followed the instructions in this article, you will run into the issue of zero sound emitting from your external speakers.
There are a few things you can do to try and rectify this problem:
1. Initial Solutions
The first thing you should do if you aren't receiving any sound from your speakers is check the condition of your cables and ports, as they could be damaged or loose.
Double-check that your cables, as well as connection ports, are in good condition and are securely plugged into all devices.
It is a good idea to test the audio from the source device to rule out this being the cause of the issue. You will also want to confirm that neither your projector nor source device is muted.
If you have ruled these issues out and still aren't receiving any audio from your speakers, keep reading for more solutions.
2. Soft Reset Your Devices
Some Optoma projector owners claim that they have run into this issue and were able to fix it by doing a soft reset of all their devices.
To perform a soft reset, power off and unplug all related devices and allow them to sit for at least 30 seconds before plugging them all back in.
If you have performed the reset and found that you still aren't receiving any audio from your speakers, move on to the next solution below.
3. Try Using One Source Device at a Time
It has been reported that in some cases, when there are multiple source devices being used simultaneously, it can interrupt the connection between your projector and speakers.
Let's say that you have both an Xbox One and a Chromecast plugged into your projector via HDMI cables. This could cause confusion between your projector and where it is supposed to send the audio.
Take a look at your set-up and if you aren't getting any sound from your speakers, try running only one source device at a time.
Bonus: Does an Optoma Projector Have an Internal Speaker?
Some Optoma projectors might have internal speakers. But the sound quality differs in each of the projectors, and the reason is that each of the projectors has a different kind of speaker.
Some of the Optoma projectors that have internal speakers are enumerated below:
Optoma CinemaX: it has a built-in 40 watts soundbar, with two full-range drivers and two woofer drivers.
Optoma X318STe: this also has a built-in speaker. Because of the quality of sound from the speaker, there is little or no need for an external soundbar.
Optoma ML800: It is an ultra-portable LED projector. It has two 3 watts (6 watts) SRS WOW HD stereo speakers which give good sound and decent bass.
Optoma HD30HDR: it has a built-in 3W speaker which has a 10-phase volume control.
Optoma UHL55: this is an easy-to-use projector with a built-in Bluetooth speaker that allows you to connect to several devices. It also has two 8-watts speakers, with superior bass performance.
Optoma X318ST: this is a short-throw projector with a 10 watts built-in speaker.
These are a few of the Optoma projectors with internal speakers. However, some others like the Optoma HD27 model have an audio-out option on the back of the device. This is a 3.5mm thick headphone jack that can be connected to your soundbar.
If your soundbar has RCA analog inputs, you will need a 3.5mm to 2 RCA jack adapter to make the connection with this type of projector.
Conclusion
Optoma projectors are usually gaming projectors, although they are useful for other purposes like watching movies and making presentations.
Loud sounds make projecting more exciting. Ground-shaking audio and bass effect is an important requirement, especially when playing games or watching movies on your projector, hence the need to connect a soundbar to the projector.
Bear in mind that it is not compulsory to connect your projector to a soundbar. You can use the built-in speaker if you are satisfied with the sound from the projector.
Jon Huber is an editor and technical writer who has been a freelancer since 2020. Since the beginning of his writing career, he has consistently written online articles in the tech, sports, and recreation genres. Recently, he has concentrated on scriptwriting for cartoons and puppet shows.