Nothing makes it feel more like Halloween than an appropriately eerie movie.
Whether you're celebrating this year's spooky season with the family, your partner, or solo, there are ways you can take your Halloween movie night to the next level.
Do you like your Halloween night to be cute or downright creepy? Are you itching to get out of the house to embrace the scariest night of the year or are you more of a homebody?
Whatever the case, we have tips and tricks to take your Halloween movie night from wearisome to eerisome.
Let's get started!
1. Prepare Some Spooky Snacks
Get ready for the kookiest night of the year with some spooky snacks! Not only are these unearthly appetizers perfect for munching on during the movie, but they're also fun to make!
If you have a sweet tooth, bake some cut-out cookies using your favorite Halloween-themed cookie cutters. Everyone will love decorating their creepy creation during the movie and it's the perfect activity to get the little ones involved.
If you're a savory person, head over to the snack aisle and pick up some ghoul-shaped chips or make something yourself using seasonal produce like pumpkin or butternut squash. The vibrant orange color and familiar taste of fall will instantly put you into the right mood!
Watch the video below for some spooky snack inspiration!
Five Easy Halloween Treats in 15 Minutes or Less // Presented by BuzzFeed & GEICO
2. Make Eerie Drinks
You can't have snacks without something to drink on the side! Amaze your guests' eyes (and taste buds!) with some eerie-looking drinks.
For the kids, try putting out a selection of juices and sodas for a make-your-own-drink bar! As a bonus, have them give their drink an extra spine-chilling name The scariest drink wins!
If it's chilly where you live, nothing says fall like a nice cup of hot chocolate. Whip up a batch of your favorite hot-cocoa recipe and top it off with some scarily-delicious marshmallows!
For the adults, get creative at the cocktail bar! Make some fall-themed adult beverages, by adding brightly colored orange, red, or green liquor to create a spooky take on the classic mixed drinks.
Do you want to amaze your guests? Serve your cooky concoctions in mysterious-looking goblets, skull-shaped glasses, or if you want to go the extra mile, mini-pumpkins!
If you have some extra time to prep, consider making mulled wine. It's like regular wine, but spooky! The smell of simmering wine will quickly fill your home and offer a warm welcome to any arriving guests!
If you want to take it a step further, use small Halloween-themed cookie cutters to make the floating fruit extra sinister.
Watch the video below for a few cocktail ideas perfect for any Halloween movie night.
10 Scary Delicious Halloween Cocktails
3. Decorate!
Set the scene with themed Halloween decorations!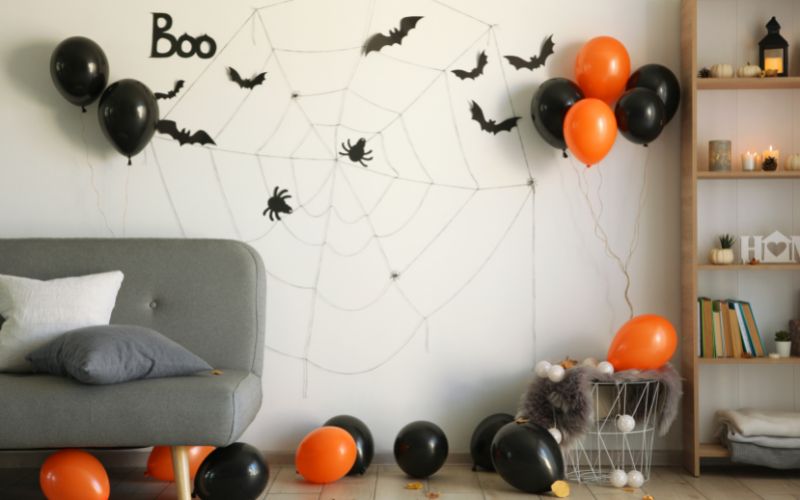 Decorating your space is the perfect way to amp up any home theater experience! You can even look for decorations to match the movie!
If you don't have time to run to the store, see this Halloween Party Decorations Kit on Amazon.
Adding a few fake cobwebs to the windows and throwing up some pumpkin cut-out banners is an easy way to Halloween-ify your space while on a budget.
If you want to transform the feel of your whole room, try using LED light-changing bulbs. These nifty bulbs screw into any compatible light fixture and allow you to change their color using a remote.
Do you want your living room to resemble a garish underworld? Try making the lights red to truly stun your guests!
Note that this option won't drastically affect your TV's image, but it could make it difficult to see the picture if you're using a projector.
4. Carve a Pumpkin
Carving a pumpkin is a great way to pass the time while watching a movie!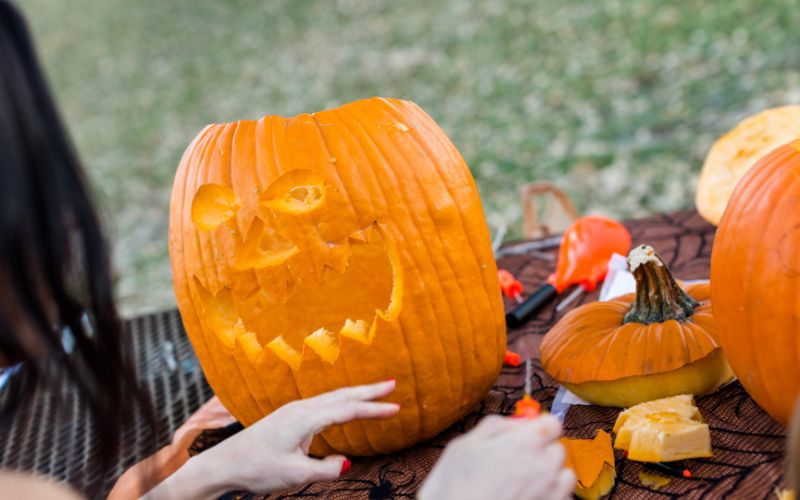 Lay out some plastic wrap and newspapers to protect your furniture and get to work! This is especially a great way to engage kids in the holiday, but we guarantee the adults will love it too!
If you want to bring it full circle, play a pumpkin-themed movie, such as It's the Great Pumpkin, Charlie Brown.
If you don't already have all the pumpkin carving necessities at home, check out this 13 Pieces Halloween Pumpkin Carving Tool Kit on Amazon.
Pro Tip: Put a cinnamon or clove scented candle into your carved pumpkin to make your home smell just like pumpkin pie!
5. Go to a Drive-In Cinema
Drive-in cinemas are a fun way to watch your favorite Halloween movies from the comfort of your car!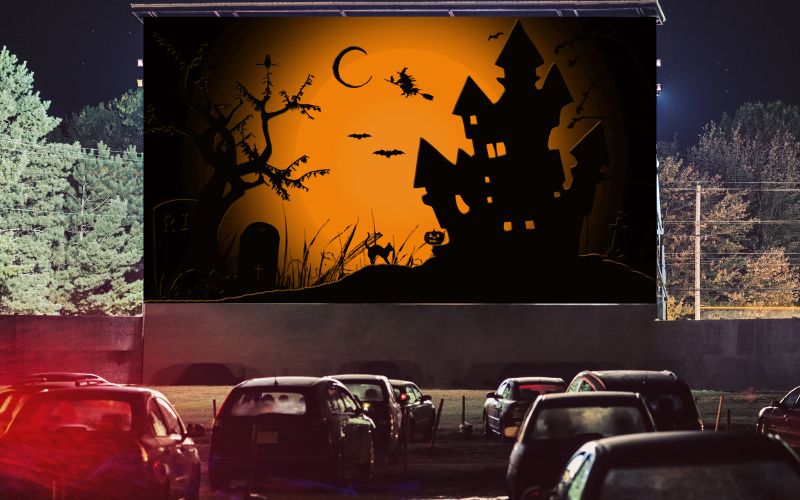 To make the evening extra hair-raising, some drive-in cinemas will even have actors dressed up in scary costumes and makeup to give you a fright while watching the movie!
This is definitely a unique way to spend your Halloween night and a perfect outing for any couples looking for a chilling date-night idea.
What makes drive-in cinemas better than your traditional movie theater! You can bring your own food! Say goodbye to spending a fortune on popcorn and a small drink at the concession stand!
Don't have a car? Don't worry!
Many drive-in cinemas also have a space in front of the screen reserved for people who want to sit on the ground or in picnic chairs instead!
6. Dress Up!
It's not Halloween without a costume!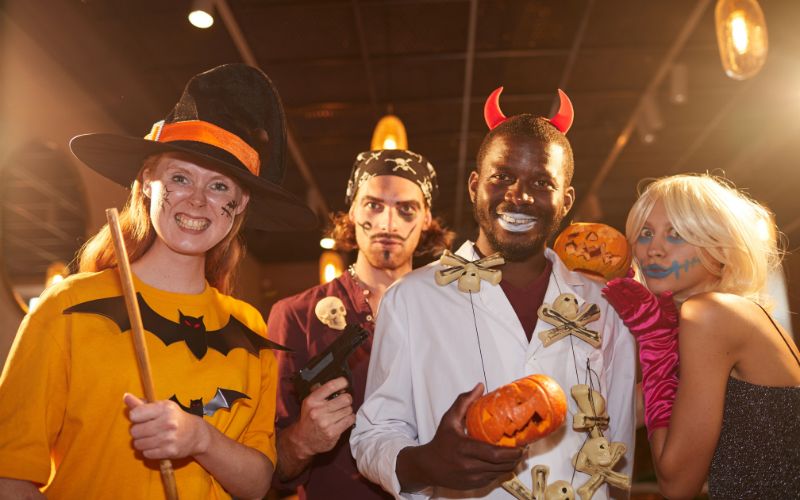 If you're planning on inviting a few friends over to watch a mutually-adored film, consider having each guest dress as a specific character. You'll love seeing all the creative costumes come through your door!
At the end of the night, you can even throw a costume contest! The winner gets a secret movie-themed prize!
Just make sure your costumes are comfortable enough to sit in!
7. Set up a Projector in Your Backyard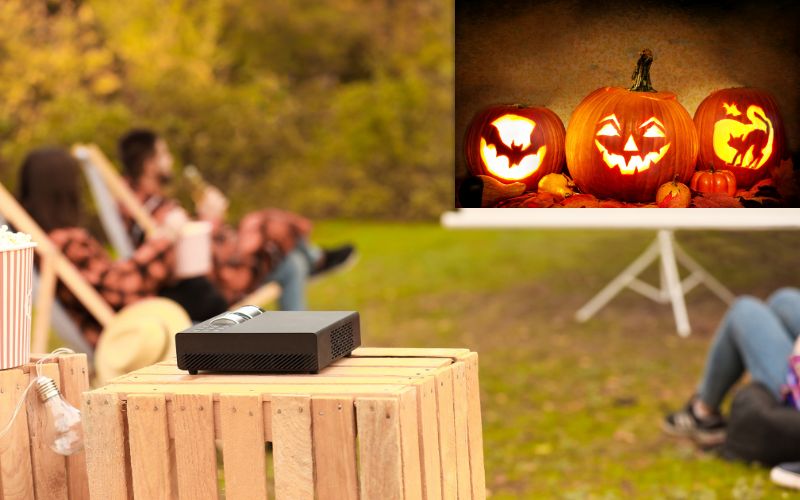 Who doesn't want to watch a scary movie under the stars? Bonus points if it's space-themed!
Place a projector screen in your backyard for a home theater experience unlike any other!
Lay out some blankets or set up a few chairs and you're ready for a perfectly spooky evening!
This is a great option if you're planning on having a large group of people over since the projector screen will be big enough to be seen by all!
While you're at it, throw up some Halloween-themed fairy lights, like this set of 3 Halloween Lights (Orange Pumpkins, Purple Bats, White Ghosts) .
8. Watch the Halloween Classics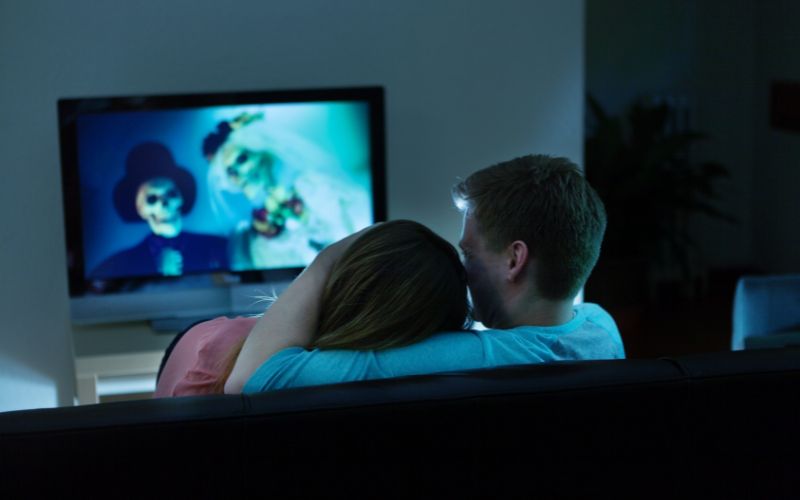 Black and white movies are already mysterious enough in general, but throw in a little horror and you've got yourself a movie night to remember!
Try watching the original vampire and werewolf movies from the 1930s and 40s and prepare to be amazed!
One upside of watching old movies is that they're easy to find for free online. Check out Old Movies – Free & Full for a great selection of classic movies that are completely free to stream.
Don't worry, you don't need a torrent!
You can also look on YouTube. You'll be surprised at how many old full-length movies you can find there!
Since they're in the public domain, you won't have to worry about the audio or video being altered to avoid being flagged for copyright.
9. Follow the Movie with Trivia
Were your guests paying attention during the movie or scrolling on their phones? You can find out with a game of trivia!
After the movie, ask your guests a list of trivia questions about the film's characters, settings, behind the scenes, and hidden gems that only the die-hard fans will know the answer to.
You can either split the group up into teams or have everyone play solo.
You can find trivia questions for virtually every movie online, but if you can't, feel free to write your own. Just make sure you know the correct answer!
If you prefer to go digital, check out the PopcornTrivia app, which has trivia covering a wide range of movies! It's available on the Google Play Store for Android users and the App Store for iPhone users.
10. Built a Fort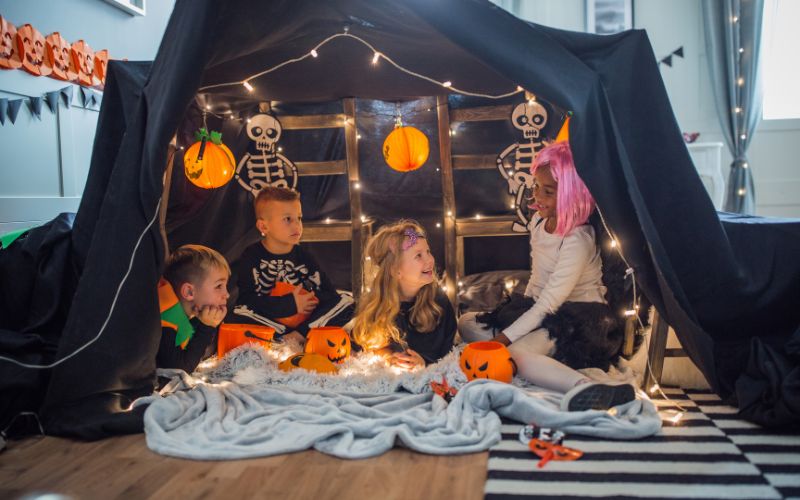 Forget the TV, projector, and drive-in theater! This Halloween movie night is going to take place in the classiest joint in town: a homemade fort in your living room.
Make a fort using couch pillows, cardboard boxes, blankets, and anything else you have laying around!
If you have kids, they'll adore building their very own fort for movie night, complete with a handwritten sign saying "Keep Out!"
If you're planning a Halloween evening with your special someone, a homemade fort can be the perfect, quirky getaway! Play a movie on your laptop and add a few electric candles to make the night spookily romantic.
Yesenia Achlim is a technical copywriter and editor with a focus on AV equipment. She aims to break down complicated topics and make technology accessible, no matter your technical expertise. When she's not teaching you how to replace a projector lamp, you can find her reading and baking.