Movie night with friends? Say no more!
Thanks to subscription-based platforms like Netflix and Hulu, spending the night binge-watching your favorite shows with your girlfriends has never been easier!
Whether near or far, a movie night is a great way to bond with your pals, making for some long-lasting memories. It's even an excellent excuse for doing something social from the comfort of your home. It's always a win-win, especially if you value quality time.
That being said, nothing beats going all-out when it comes to movie nights with friends. After all, who says you need to be going anywhere to look good? So, what should you wear to a movie night with friends?
We have some good news for you: you can wear anything! As long as you're comfortable, the sky's the limit when it comes to dressing up at home for movie night.
However, finding the middle ground between comfort and put-together can be tricky, but it can be done. So, to help you do just that, we've pulled together our favorite lovely and comfortable outfit choices you can wear for that next binging session.
Ready? Let's get right into it!
Movie Night Outfit Ideas
1. Your Classic PJs
Movie night at home? Then there's nothing quite like a classic pajama set, especially one you're already very fond of. They're comfortable, cute, and cozy, making them ideal for settling down with your friends as you start binge-watching.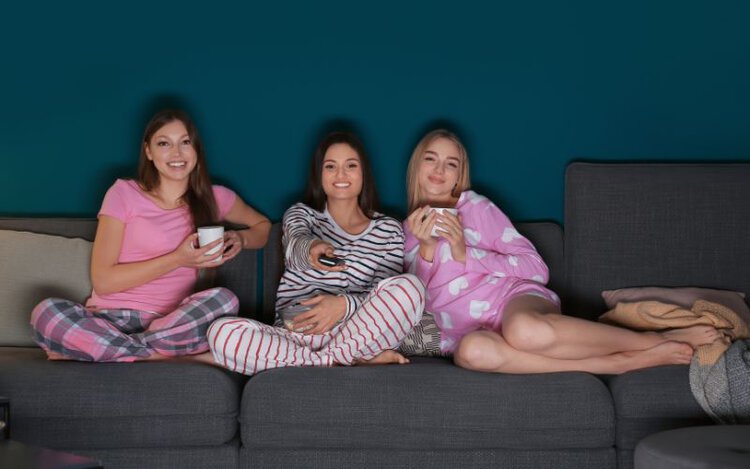 And speaking of pajamas, why not make it a pajama-themed sleepover? To take it to the next level, you can even pick the type of pajamas you and your guests can wear, such as a flannel pajama set or knitted ones.
All in all, you can't go wrong with pajamas, especially if your house gets chilly at night or if you want something that's not revealing.
2. A Lounge Dress
A luxurious-looking lounge dress may not look like the obvious choice for a movie night with your girlfriends, but give us a chance to explain, will you?
First off, a lounge dress sits right in the middle of a cute and stylish dress and a comfortable nightgown, giving you the best of both worlds! As the name implies, lounge dresses are dresses that are casual (and comfy) enough to chill and relax in.
A lounge dress adds a touch of chic and sophistication to your movie night because who says you can't dress up when you're just staying inside, right? You can even pair these with some slipper socks, and voila! You have the perfect evening look.
But if you don't have one yet, this flowy and stylish lounge dress should make you feel elegant all through the night.
Last update on 2023-05-28 / Affiliate links / Images from Amazon Product Advertising API.
3. Yoga Pants and a Crewneck Sweater
For many reasons, women's joggers are one of your best options when it comes to athleisure wear, even if you don't plan to work out. They've caught up on in-trend styles over the last few years and are very comfortable and flexible.
And if you want to add a touch more comfort, why not pair it with a nice cotton crewneck sweater? This top should help you feel right at home, especially if you need to move around a lot!
Last update on 2023-05-28 / Affiliate links / Images from Amazon Product Advertising API.
4. A Comfy Pair of Jeans
Never underestimate the power and flexibility of a good pair of jeans, especially if they're your favorite pair!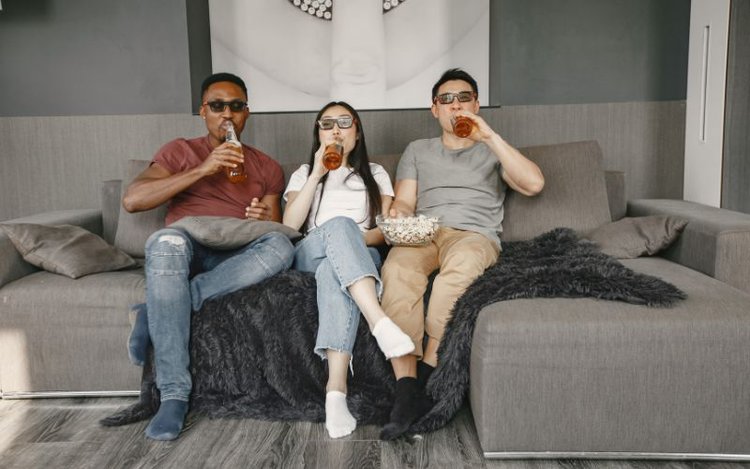 Regular jeans will work great if you've worn them down, especially when paired with a light sweater or cute blouse. You can even wear a sweatshirt or a basic tank top.
The great thing with jeans is that they can be worn with just about anything!
Last update on 2023-05-28 / Affiliate links / Images from Amazon Product Advertising API.
5. Loungewear Jumpsuit
A two-piece loungewear set or a jumpsuit is also a great movie night pick, as these are often designed to be temperature-regulating to keep you comfortable the whole time. The best thing is that this makes getting dressed very easy!
As these are often sold as two-piece sets, a good set will also give you the best bang for your buck, so you can either save your money or maybe even buy another pair?
One great example is this tie-dye loungewear set from Amazon, which adds just the right amount of whimsy to keep you stylish and comfy. It's a win-win!
Sale
Last update on 2023-05-28 / Affiliate links / Images from Amazon Product Advertising API.
6. Sweatpants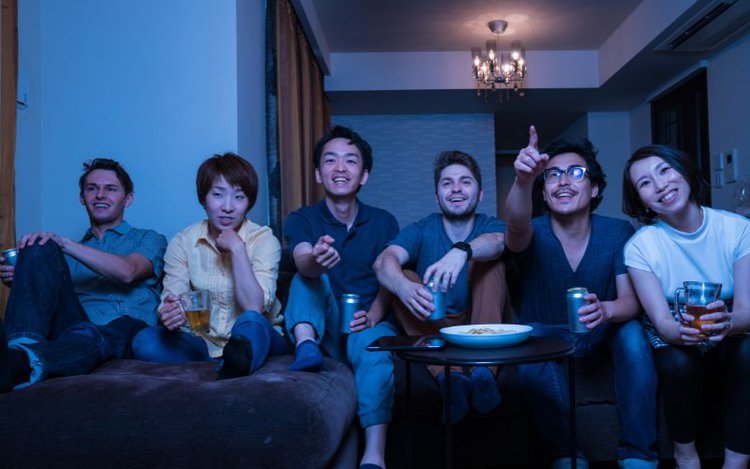 Movie night often means stretching out on the floor and getting up every now and then to get more snacks, so why not wear something that will accommodate all that moving around?
If you want something looser than yoga pants, then a good pair of sweatpants should do. These are looser than your typical yoga pants, giving you more freedom of movement for a long night of binge-watching!
One great example is these pants, which come in various colors and feature patch pockets.
Sale
Last update on 2023-05-28 / Affiliate links / Images from Amazon Product Advertising API.
7. A Capri Set
Should you want to add a touch of sophistication to your movie night outfit, we have the perfect choice for you: a capri set.
That's right! A year-round favorite by many, a nice capri set will freshen up your style while making you feel fancier. What's great about a capri set is that you can wear it all day long and during movie nights with your girlfriends.
And while there are plenty of sets on the market, this Capri Set from Hotouch is both lightweight and affordable, and even comes in plenty of different styles!
Last update on 2023-05-28 / Affiliate links / Images from Amazon Product Advertising API.
8. Onesies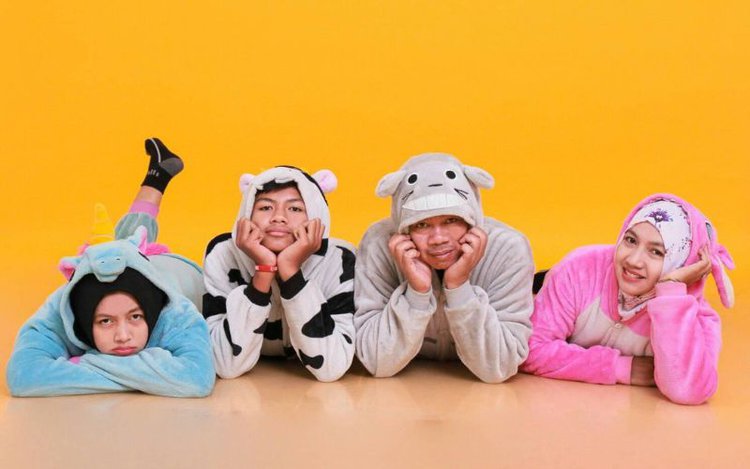 Last but not least, go for a onesie!
It might not be something you typically wear, but onesies are a great pick for movie nights, especially if all of your friends wear them!
What's particularly great about onesies is that they're super comfortable and are never revealing, so you can stay relaxed the whole night. They even come in various styles, so you are sure to find one that matches your personality.
This adult onesie from Forever Lazy, for example, comes in plenty of designs and is made from comfortable polyester so you can stay carefree while binge-watching!
Forever Lazy Footed Adult Onesie - Duckie - L
RELAXED, UNISEX SIZING - Our sizing does not follow traditional sizing because the onesies are...
SOFT, COMFORTABLE MATERIAL - Our Forever Lazy onesies are made with a high quality, 100% polyester...
ZIPPER DETACHABLE FEET AND REAR ZIPPER DROP SEAT - Our onesies feature a hidden zipper tract that...
Last update on 2023-05-28 / Affiliate links / Images from Amazon Product Advertising API.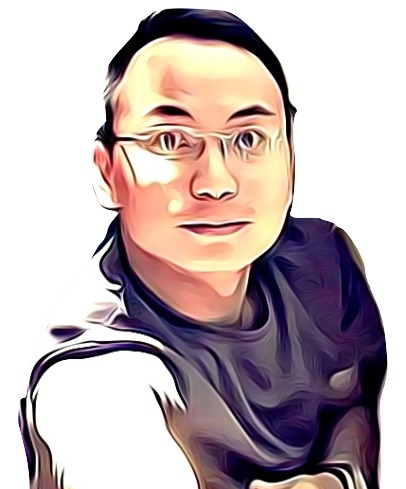 Vance is a dad, former software engineer, and tech lover. Knowing how a computer works becomes handy when he builds Pointer Clicker. His quest is to make tech more accessible for non-techie users. When not working with his team, you can find him caring for his son and gaming.