Picture this: you're sitting on your couch, contemplating cutting the cord and taking control of your TV experience. All you need are the basics – a few entertainment channels and your news channels to keep you informed. That's where Roku with cable TV channels comes in.
With Roku's effective streaming stick, you can watch any content you wish. But you wonder: is live TV free, or does it come with a subscription price tag?
Well, Roku offers a selection of free live TV channels to help you stay updated without spending a dime. You don't have to worry about additional antennas either – the streaming stick works well without that.
However, when attempting to use certain apps on your Roku, such as CBS, you will encounter a login prompt similar to the one experienced by this user. Don't worry; it just means the app is an exclusive channel and requires a paid subscription.
In this article, we will guide you through everything you have to do to have a seamless experience using the TV provider for Roku.
Let's get started!
Can I Watch Cable TV Channels for Free on Roku?
Yes, you can watch cable TV channels for free on Roku.
Over 350 live TV channels are available on Roku, all free of charge. Surprisingly, the number exceeds the number of channels generally included in basic cable plans.
Follow these easy steps to access the Live TV Channel Guide on your Roku device to watch these free cable TV channels:
Step 1: Press the Home button on your Roku remote to access the Home menu screen.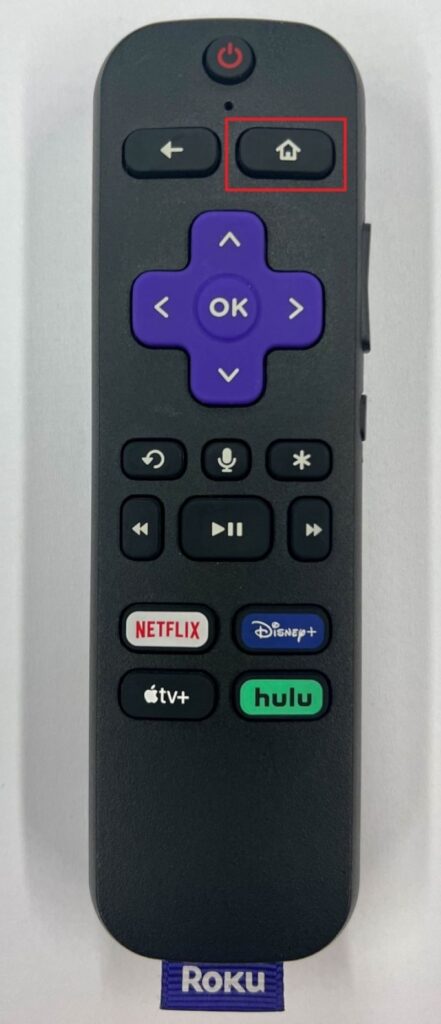 Step 2: Navigate to Live TV.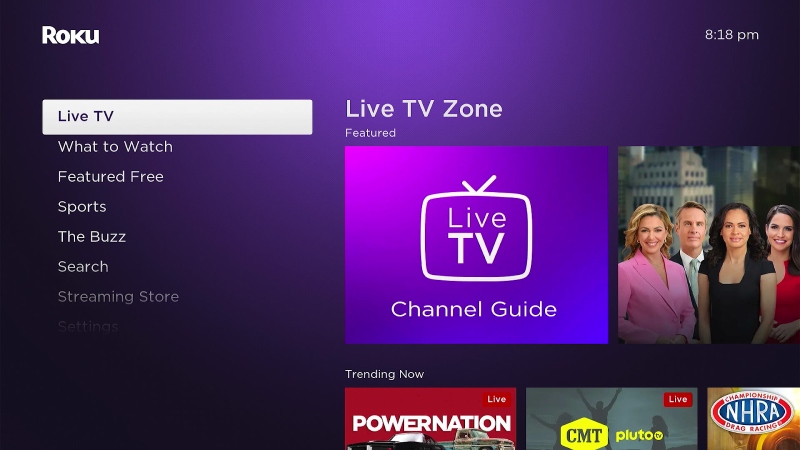 Step 3: Select Live TV Channel Guide.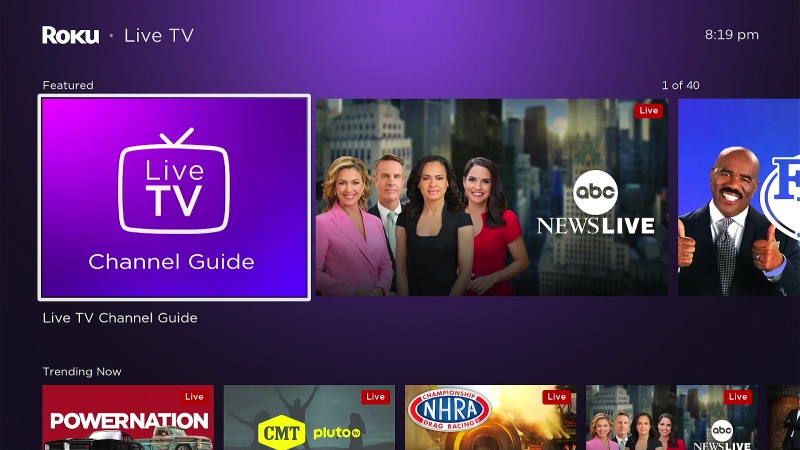 Now you can see the free cable TV channels list as shown below.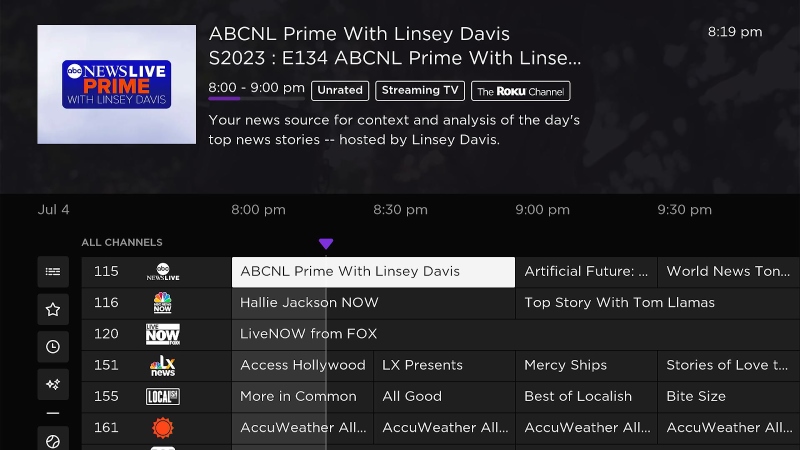 What Does It Mean When My Roku Asks for a TV Provider?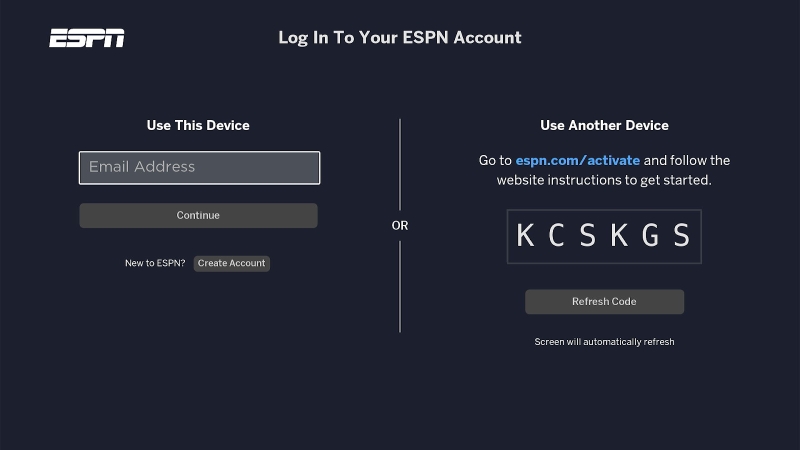 Some Roku users have encountered an unexpected prompt – a request for a TV provider login.
This happens because specific channels like ESPN, NBC, or ABC require authentication and a subscription to your TV or cable provider. This authentication process grants access to their content on your Roku device, ensuring a seamless streaming experience.
Now, it's imperative to understand that Roku isn't a TV or cable provider; it functions as a tool to facilitate your streams. It provides a versatile platform that allows you to access content from different streaming services.
To enjoy these offers on Roku, you'll need to follow a straightforward authentication process through your cable or TV provider, as shown in the image above.
33 TV providers offer streaming options through the Roku Channel Store with a TV or cable subscription, and more TV providers might be updated in the future. Check them out below:
| | |
| --- | --- |
| NO. | TV Providers |
| 1. | A&E |
| 2. | BTN |
| 3. | HBO GO |
| 4. | History Channel |
| 5. | CNN GO |
| 6. | Lifetime |
| 7. | Comedy Central |
| 8. | MTV |
| 9. | ENCORE Play |
| 10. | Nat Geo TV |
| 11. | EPIX |
| 12. | NBC |
| 13. | FOX NOW |
| 14. | NBC Sports Live Extra |
| 15. | Watch Travel Channel |
| 16. | Fusion |
| 17. | NICK |
| 18. | FX |
| 19. | Nick Jr. |
| 20. | Spectrum TV |
| 21. | Lifetime |
| 22. | STARZ Play |
| 23. | Play |
| 24. | Tennis Channel |
| 25. | Watch ABC |
| 26. | Nick |
| 27. | FX |
| 28. | USA NOW |
| 29. | Showtime Anytime |
| 30. | Time Warner Cable |
| 31. | Watch Disney XR |
| 32. | Watch Disney Jr. |
| 33. | Watch HGTV |
Roku offers a significant advantage when it comes to accessing channels with lower subscription fees compared to traditional cable TV.
For instance, a popular channel like ESPN, which might cost around $9.42 per month on traditional cable, could be as affordable as $6.99 on Roku.
This cost-saving opportunity allows you to continue enjoying your favorite channels while potentially reducing your expenses.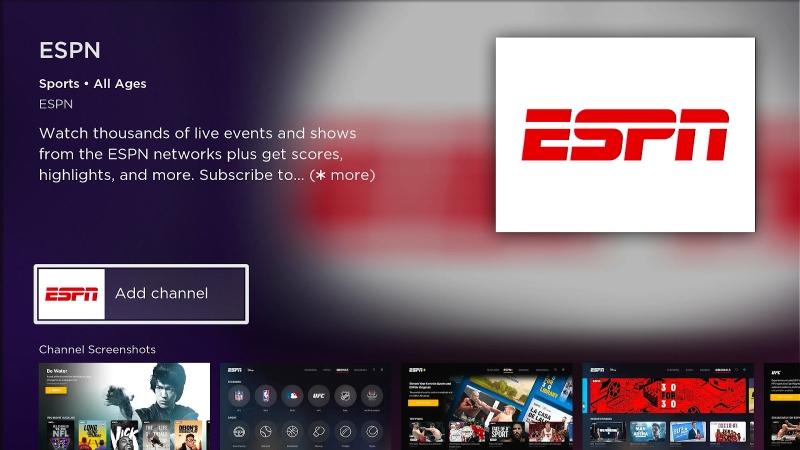 How Do I Find and Add a Cable TV Channel to My Roku?
Step 1: Press Home on your Roku remote to access the Home menu screen.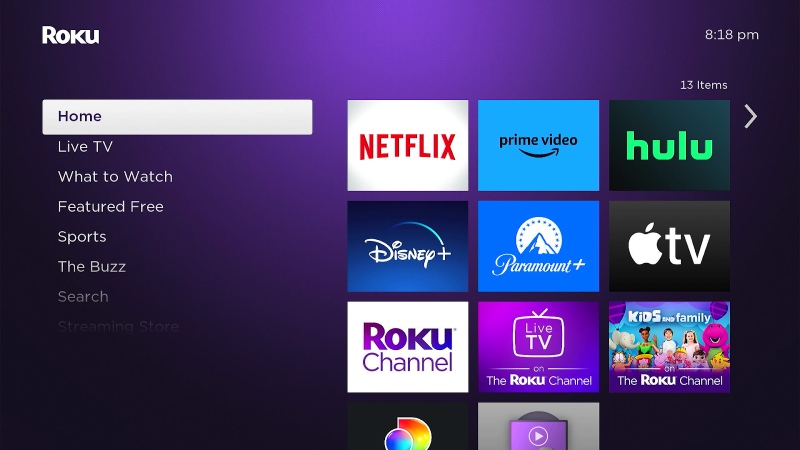 Step 2: Scroll down and select Streaming Store.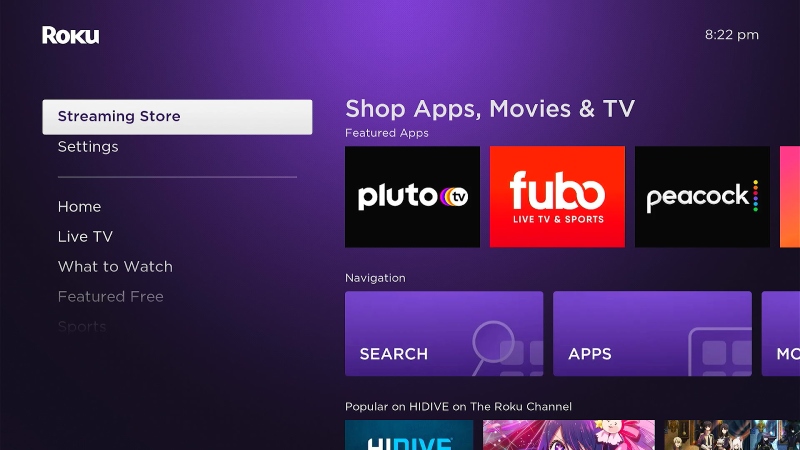 Step 3: Navigate to Search.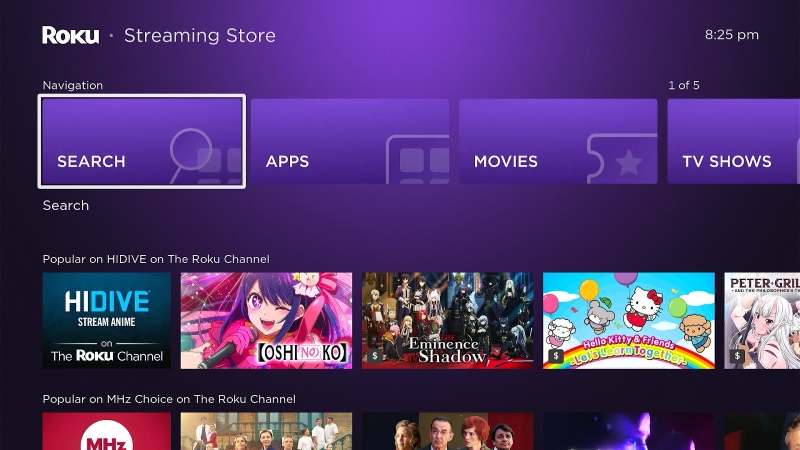 Step 4: Input the TV channel you want to add.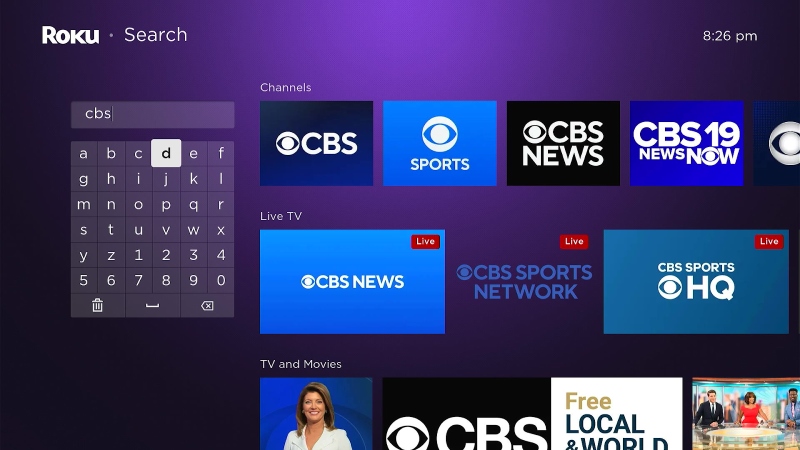 Step 5: Once you found the TV channel, select Add channel.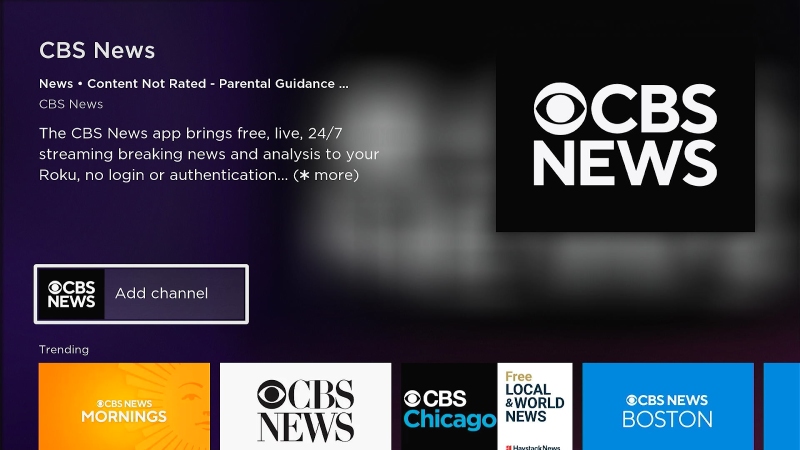 How To Set Favorite or Hide a Cable TV Channel
Set Favorite a Cable TV Channel
Step 1: In the Live TV Channel Guide, navigate to the channel you want to add to your favorite list.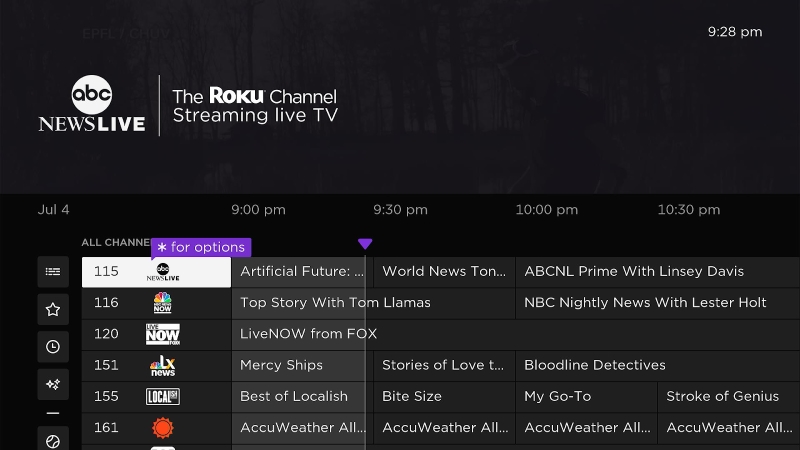 Step 2: On your remote, press the Star button as below.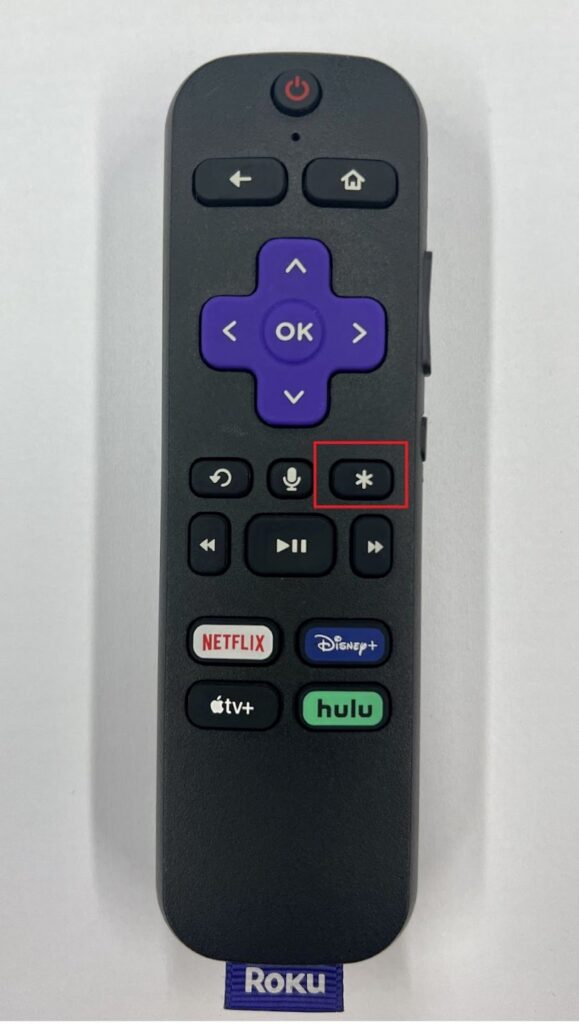 Step 3: Select Favorite this channel.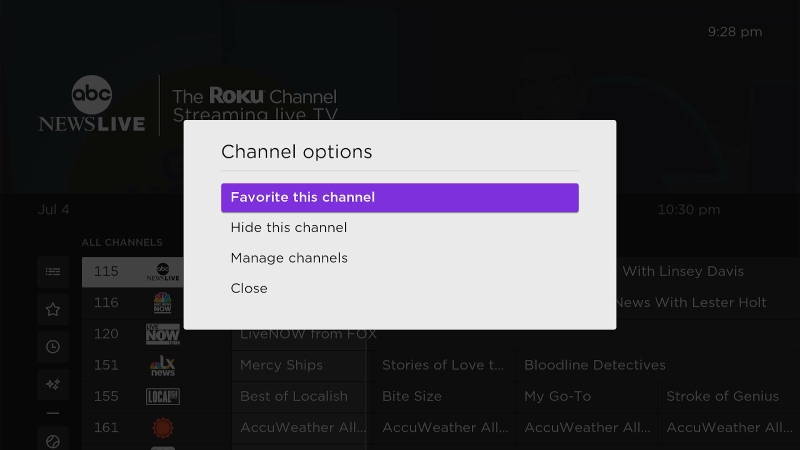 Step 4: Press Close to save it.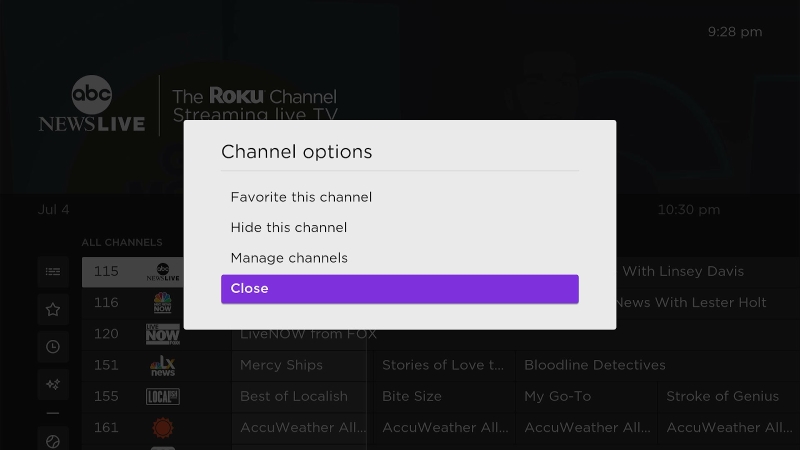 Now you can see all your favorite channels in the Favorites section of the Roku Live TV channel guide, as shown below. This will save you time for your next viewing instead of having to find them.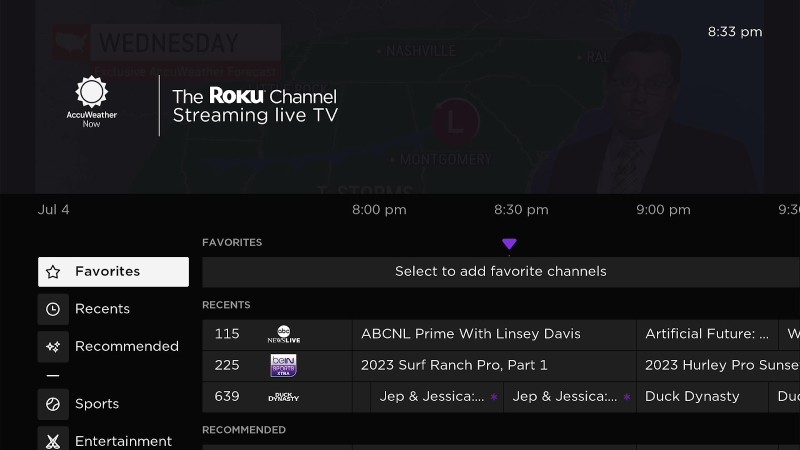 Hide a Cable TV Channel
Step 1: Select the channel you want to hide, then press the star button on the Roku remote.
Step 2: Select Hide this channel.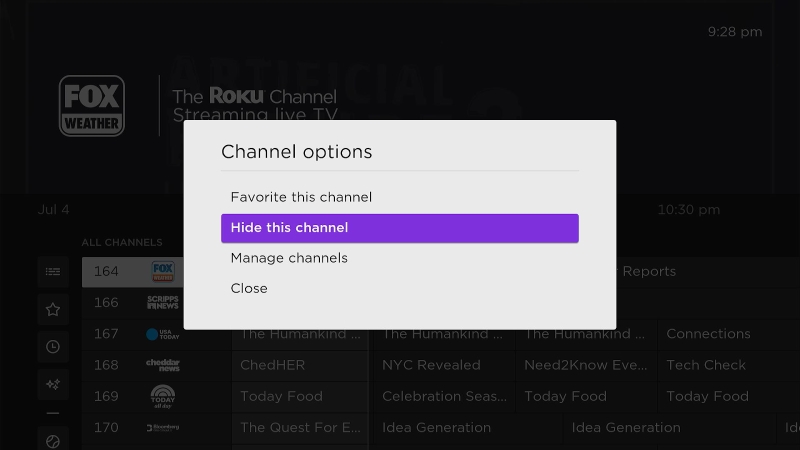 Step 3: Press Close to save it.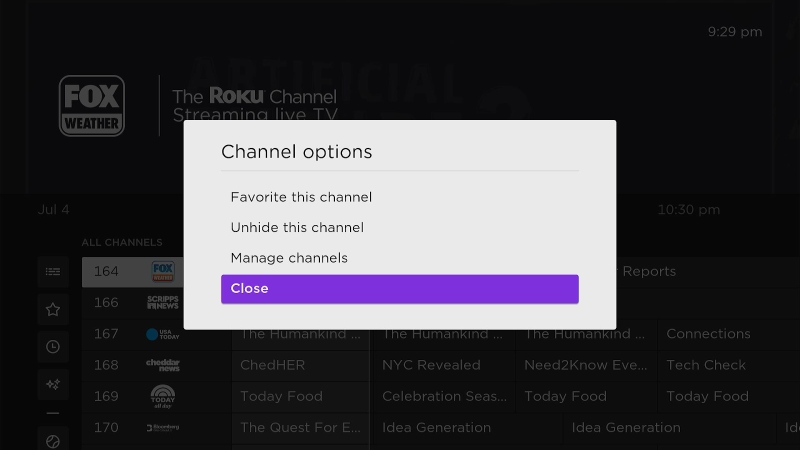 Does Roku Offer the Same Channels as a TV Provider?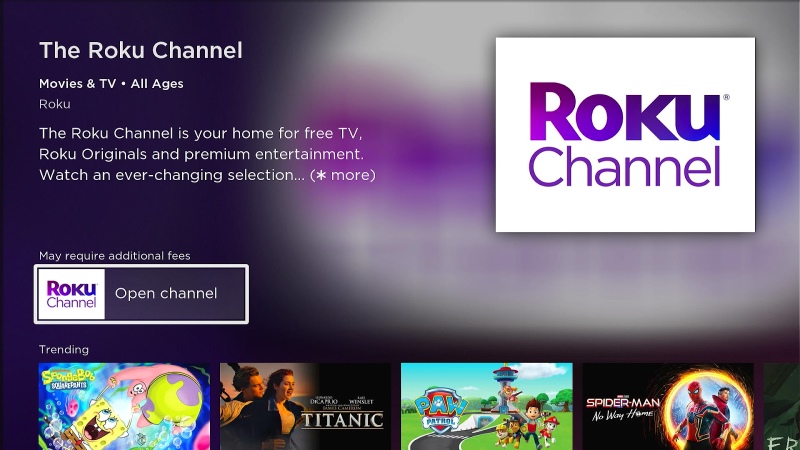 Roku offers as many channels as any TV provider. It can even offer more!
We've summarized the channels Roku can offer below:
1. Roku Free Channels
These are the channels that come with Roku itself. You can get numerous channels for free, but we'll name a handful of popular ones below. Some of them may be familiar or will catch your eye!
The Roku Channel
Pluto TV
The CW
PBS Kids
CBS News
NewsON
2. Subscription Channels
These subscription channels will be the most familiar to you! With Roku, you can access your subscriptions to channels like Netflix, Hulu, and DisneyPlus. This integration allows you to enjoy your favorite content seamlessly without needing additional devices or subscriptions.
3. Cable Channels
You can still watch authenticated cable channels with Roku. There aren't any additional fees to do so! Launch the channel, then input your satellite or cable information when prompted.
4. Rent or Buy Channels
If you're the type to rent or buy movies from Apple TV and Prime Video, don't worry. Roku allows access to those, too!
Conclusion
With over 350 free live channels, Roku with cable TV provides an immersive experience. The good news, then? You don't have to use antennas with them.
In contrast to traditional cable TV, Roku offers a seamless platform to enjoy various streaming services at cheaper subscription costs. Some channels may require a TV provider login for authentication.
A different option for operating your Roku device and using app features like the Options menus is the Roku Mobile app. With Roku, you can personalize your TV experience to your tastes while saving money.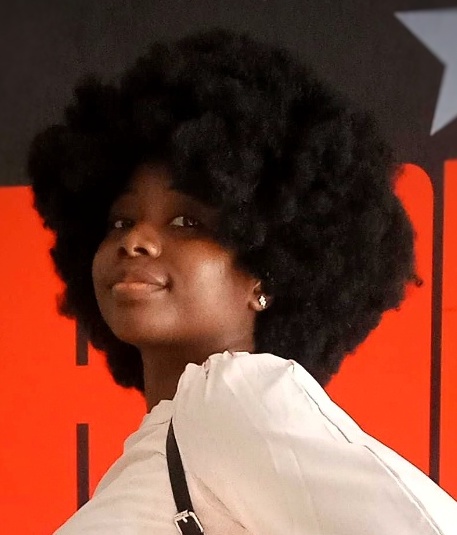 Gabriella 'Diogo is a content writer with a vested interest in tech hardware and equipment. She shares her knowledge and processes in an easy-to-grasp, lighthearted style. When she's not testing or researching device performance, you'll find her writing short stories or rewatching episodes of her favorite sitcoms.