Sometimes, one screen isn't enough. What if you're a gamer or a movie-lover, and you just want to have two TVs in your room?
Or what if you have a shop, and you want to have the same display on each corner of the room?
The thing about connecting two TVs is they're not very common, especially in households. But, that doesn't mean it's not possible, or that you have to hire somebody to do it for you.
Connecting 2 TVs can be quite simple.
Since connecting two screens can be daunting to someone who doesn't understand anything about cables, we've come up with a guide on how to set this up using an HDMI cable in the simplest way possible.
This way, it becomes a lot less stressful, and you can start viewing these displays in a few minutes.
Let's begin.
Can You Connect 2 TVs Together With an HDMI Cable?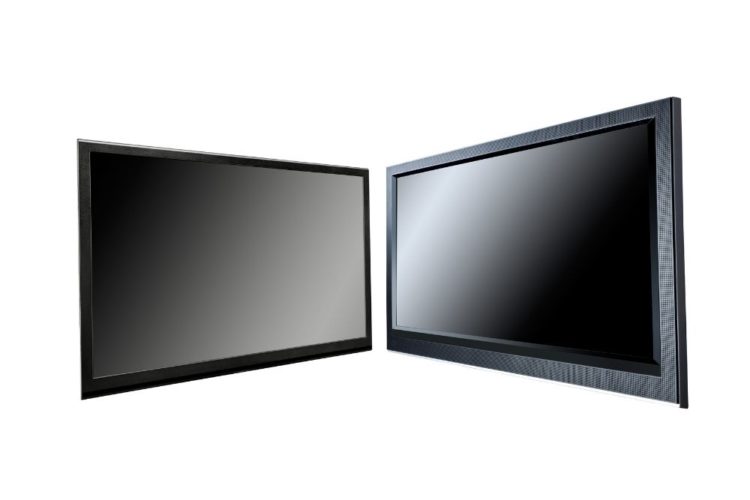 Yes, you can.
HDMI cables are a popular cable choice for connecting different devices that will be sending audio or video signals to or from each other.
To make these connections possible, you need to have two things: a receiver and an HDMI splitter.
A receiver is a device that can receive audio and video signals from several devices. If you think about it, your TV is a type of receiver too.
On the other hand, an HDMI splitter is an accessory you need to connect your receiver and your two other displays.
Note: if the other TV is going to be the source of audio and video, you won't be needing an HDMI splitter.
The great thing about HDMI splitters is that they also act as an adapter. Some receivers only have one HDMI output port, so feeding signals to 2 or more devices isn't possible.
But, with an HDMI splitter, you can transmit signals from the receiver to several screens. The number of screens you can use depends on the number of HDMI outputs the splitter has.
How to Connect 2 TVs Together With an HDMI Cable?
When you have your receiver and HDMI splitter, you can now set up the 2 TVs together to show one display.
Doing it right: How to split one HDMI output to TWO TV inputs.
Here are the steps:
First, connect the HDMI cable of the splitter to the receiver's output port. The other end of the cable should be connected to the splitter's input port.
Next is to connect the HDMI cables of each of your screens. These cables should be connected to the HDMI output port.
Connect the other end of those tables to their respective TV screens.
Turn on the receiver. Some HDMI splitters will have a light indicating that it's turned on or showing how many cables it was able to read. In this case, it should read 3 cables.
Turn on your TVs. It should automatically show the same display coming from the source (could be a laptop, cable box, another TV).
And that's how you connect 2 TVs together, with an HDMI cable. Follow the same process if you want to connect more than 2 TVs.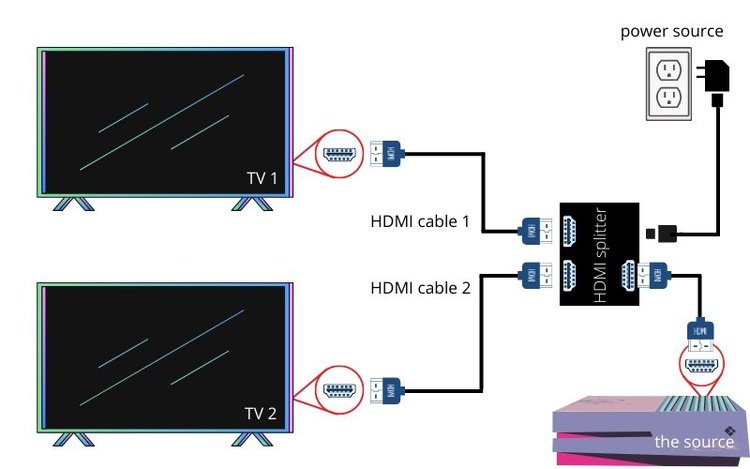 What Will Happen if I Connect 2 TVs Using an HDMI Cable?
When you connect two TVs using an HDMI cable, they will show the same display as seen from the source.
In other words, they will mirror the display of another screen.
For example, you have a laptop feeding audio and video signals to 2 TVs in your store.
Through the HDMI splitter where the 2 TVs are connected, your laptop can control what is displayed on those screens.
If your connections are right, these displays will show the moment you turn on the displays.
But if the displays don't show, make sure that you've chosen 'HDMI' as the source of the TVs display.
Unfortunately, if you're using an HDMI splitter, you won't be able to have separate displays on each of your TV screens. After all, the point of using a splitter is that you feed the same signal to all your screens.
If that's not what you want, then you can just revert to controlling each screen separately.
Can You Connect 2 Monitors With an HDMI Cable?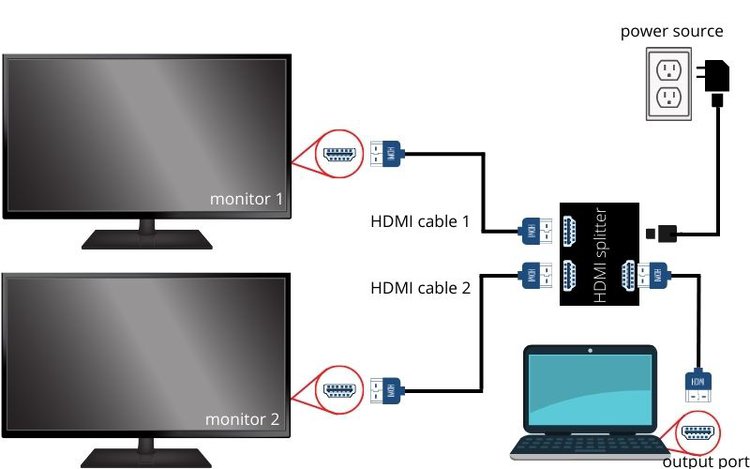 You can do this too.
Similar to TVs, desktop monitors can also receive audio and video signals from another device. The most common setup is a laptop feeding a display to one or two monitors.
In this case, you can choose to extend your screen, which is not an available feature if you're using two TVs.
How to setup Multiple Display on a Laptop
You'll also need an HDMI splitter for this one.
To connect your laptop, you have to connect a USB cable or an HDMI cable to the splitter. The cable from the splitter should be inserted into the output port of your laptop (if you're using HDMI).
This will automatically turn on your splitter.
Then, connect the other HDMI cables to your other screens. Insert them into the output ports of the HDMI splitter.
From your laptop's home screen, right-click and choose 'Display Settings'. From there, you will see the arrangement of your screen.
You can arrange this based on your setup. But if you plan on extending your screen, it's best to have your laptop on the leftmost side for ease of use.
When you've arranged the displays, scroll down to the 'Multiple displays' section. Click the dropdown menu, and choose 'Extend desktop to this display' if you want to extend your screen to the other monitors.
If not, you can choose to mirror your displays.
Conclusion
You can connect two or more TVs using an HDMI cable. All you need is an HDMI adapter and a receiver.
A receiver is any device that will transmit signals from other audio and video devices to the other devices connected to it.
To connect the TVs, connect their HDMI cables to the output ports of the splitter, and it should automatically mirror the display of the source.