What To Know
Devices like Windows, Android, and macOS systems enable simultaneous Wi-Fi connection and hotspot sharing. However, iPhones only allow sharing via cellular data.
The number of devices that can connect to a mobile hotspot ranges around 10 for Android phones and 8 for Windows.
This article clarifies the distinction between Wi-Fi and mobile hotspots and explores whether they can function simultaneously.
Harness your device's capabilities to its fullest potential by understanding this synergy.
Let's dive deeper into the topic
Depending on the device and its platform, you can or cannot use Wi-Fi and share the hotspot simultaneously.
On Windows and Android devices, it's possible. macOS also offers that functionality. The iPhone, however, is out of bounds.
Using Wi-Fi and Sharing Hotspot Simultaneously on an Android
A few years ago, using Wi-Fi and enabling hotspot on the same Android device was impossible without rooting. The feature is now native to the latest Android devices.
Tap the hotspot icon in the Quick Settings panel to use Wi-Fi and share a hotspot simultaneously on an Android.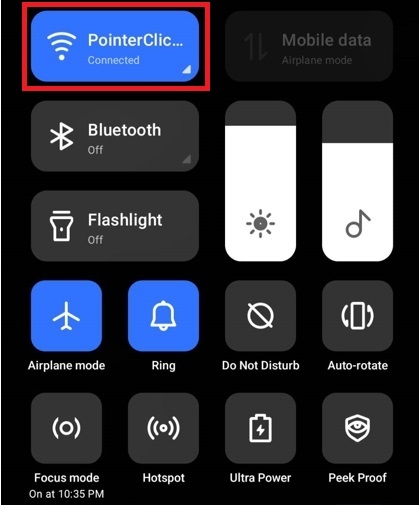 Alternatively, go to the device's Settings section. Tap on Network & Internet and then Hotspot & tethering.
Next, tap on Wi-Fi hotspot and enable the Use Wi-Fi hotspot option.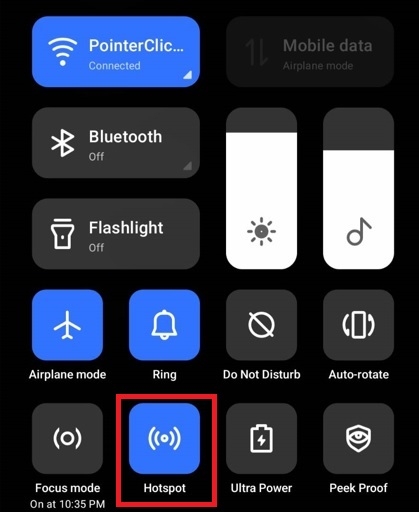 Based on your Android device and the Android version it's on, the steps above may vary slightly. Some may even not let you enable hotspot with Wi-Fi on.
In that case, you may have to download third-party apps to enable the feature. Based on the app, the functionality could be free, place a cap on data, or may not work seamlessly.
Using Wi-Fi and Sharing Hotspot on Windows
To turn on the hotspot feature on your Windows computer while it's connected to the internet via Wi-Fi, follow these steps (applicable on Windows 11):
1. Open the Settings (gear icon) window.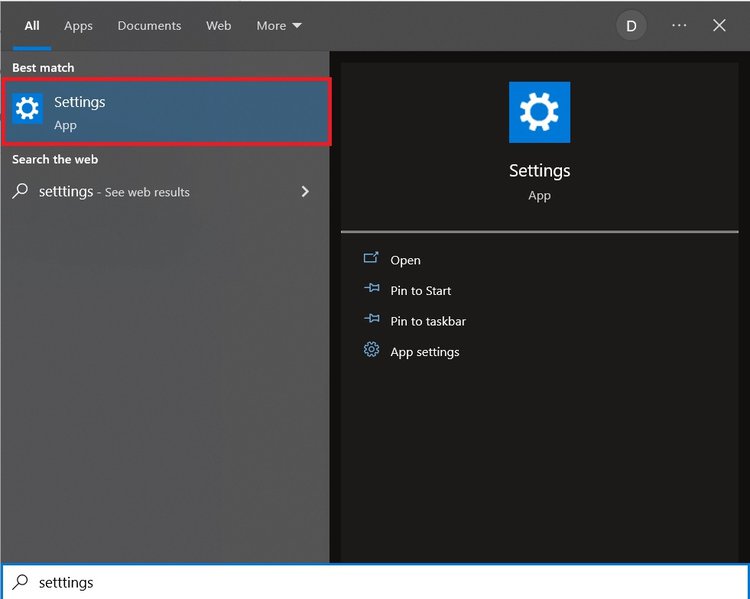 2. Navigate to Network & Internet.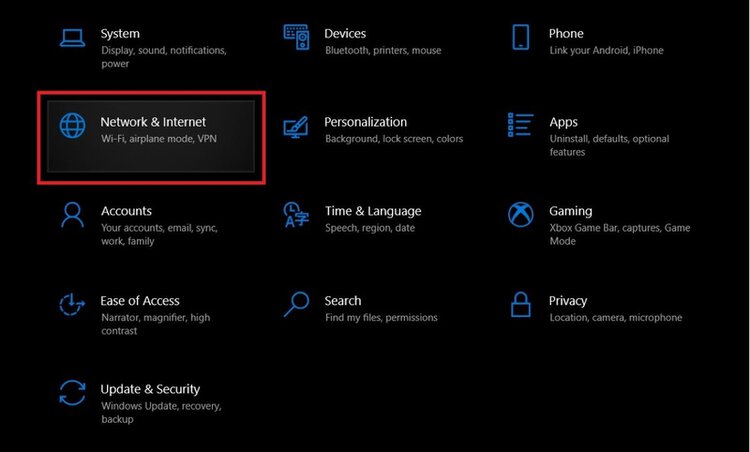 3. Click the Mobile hotspot option on the left panel.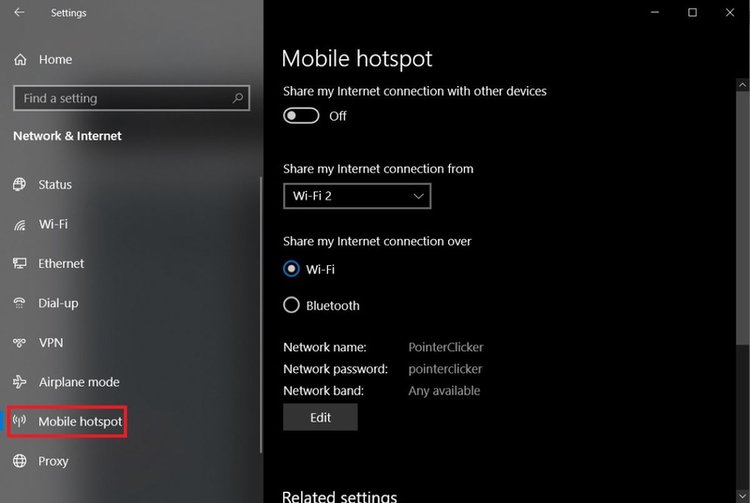 4. Toggle on the switch under Mobile hotspot as shown below.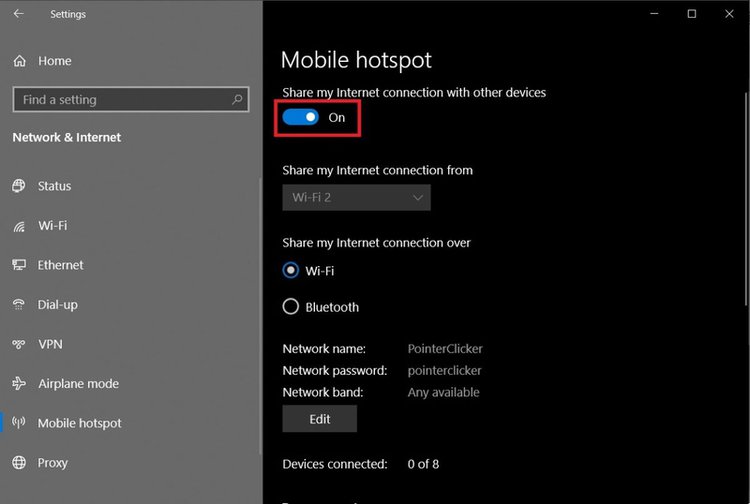 The hotspot will be secured with a random password. You can change the same by clicking the Edit button.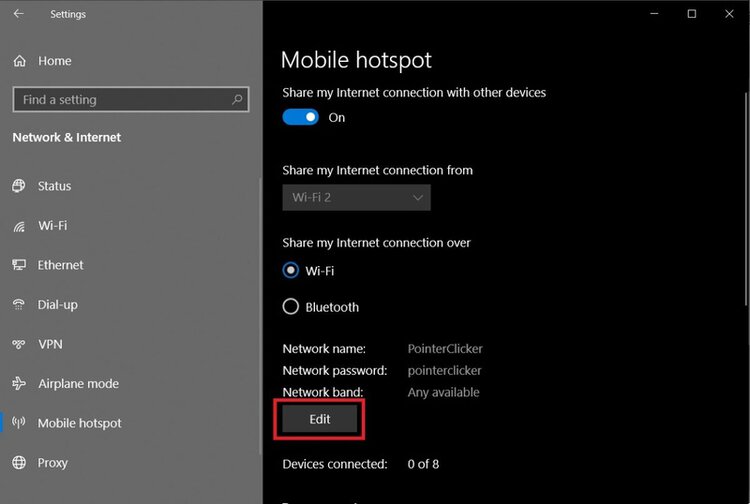 When enabled, you can check the number of devices connected to the hotspot under Properties.
Do note that the steps to enable the hotspot could vary if your computer uses another version of Windows—more on that later.
Other Key Settings:
You can choose to share the internet via hotspot over Wi-Fi or Bluetooth. Choose the option from the drop-down box to the right of the Share over option on the Mobile hotspot window. Choose the Wi-Fi route since it's snappier than Bluetooth.
If your router supports the 2.4 GHz and 5 GHz bands, choose the network band to make available to the destination device. Click on the Edit button adjacent to the Network properties option under Properties. Set the band to 2.4 GHz, 5 GHz, or Any available from the drop-down list below Network band. 5 GHz is fast, but your device must support it to leverage that speed.
If your PC is running Windows 10, you must set up network information before sharing.
After turning on the Share my Internet connection with other devices option under Mobile hotspot, click the Edit button on the same window.
Type your choice of network credentials (network name and password) and specify the network band. Next, click on the Save button.
Sharing Wi-Fi Using a Mac
Like Windows and Android, Apple laptops also let users share their internet connection with other devices. Mac devices have had the feature for quite some time, in fact.
To enable the feature, open the System Preferences app from the Applications folder. To access the folder, open Finder (found in the Dock) and click the Applications menu to the left of the window.
An easier way to access System Preferences is to click on the Apple logo in the top left of your Mac home screen. System Preferences should be the second option in the drop-down menu.
The setting offers multiple panes to alter your Mac's settings. Once in System Preferences, follow these steps:
Click the Sharing option and then Internet Sharing found in the left sidebar.

Share the internet sourced through Wi-Fi, Ethernet, Thunderbolt Bridge, etc., by clicking on the drop-down menu next to the Share your connection from: option.
In the To computers using option, choose the mode of sharing (Wi-Fi, Ethernet, iPhone USB, etc.).

Next, click on Wi-Fi Options… to choose the network name, channel, security, and password. Your Mac should now be ready to share the internet with other devices.

Save the settings and enable Internet Sharing.

A dialog box asking for your confirmation to turn on internet sharing will pop up. If you wish to enable the feature, click Start. If not, click Cancel.
After you enable Wi-Fi sharing, the Wi-Fi icon in the menu bar will comprise an arrow pointing upward.
Here's a video demonstrating the steps above:
How to share internet connection from Mac
If your Mac is connected to the internet through Wi-Fi, you cannot share it over Wi-Fi. You'll have to use Bluetooth instead. The Wi-Fi sharing path is possible only if your Mac is using Ethernet.
Sharing Wireless Internet Using iPhone
Unfortunately, there's no way to enable Wi-Fi and share the internet via a hotspot on an iPhone. You can only share cellular data through a hotspot on the device.
If you'd like to know how, watch this video:
iPhone iOS 14: How to Turn On Wifi Hotspot and Share the Internet Connection
Why Connect to Wi-Fi and Use the Connected Device as a Hotspot?
Generally, the need to connect to Wi-Fi on one device and use the device as a hotspot to share or extend the connection to another device doesn't arise in a home network. In commercial environments, the need may arise.
For example, if a hotel limits the number of devices that can connect to its Wi-Fi at once, and you want to connect more devices than the offered threshold, turning a device into a mobile hotspot helps sidestep the restriction.
Some hotels may even charge for Wi-Fi per device. Enabling the hotspot setting on the primary device will help save money on hotel internet.
Also, if your Wi-Fi router is relatively far from your non-mobile device, such as a desktop computer, your smartphone, with its Wi-Fi and hotspot enabled, will serve as a Wi-Fi repeater or signal extender.
FAQs
How Many Devices Can Connect to a Mobile Hotspot?
The maximum number of devices connecting to a mobile hotspot is usually around 10. It depends on the device and its platform.
On Android, the upper limit is set to 10. You can reduce that limit on the Wi-Fi hotspot settings window. Tap on Manage devices and then Device limit. Select the number.
Again, the steps may vary depending on the version of Android you're using and the device itself.
On Windows, the maximum is set to 8 by default. However, by making some changes to its registry, that limit can be extended or even set lower.
Unfortunately, there's no built-in method to increase or decrease that 8-device threshold in Windows.
Can I Ethernet My Computer and Use It as a Hotspot?
Yes, you can connect your computer to wired internet and enable its hotspot settings when there's no router in the house, and you'd like your smartphone or tablet PC to use some of that internet.
If your computer doesn't have an Ethernet port, use a USB to Ethernet adapter, like this TP-Link (UE306) USB to Ethernet Adapter . Plug the USB male connector into your computer's USB port and the cable into the adapter's female Ethernet jack.
Conclusion
Sharing a Wi-Fi connection to a device using another device's hotspot feature may seem redundant or unnecessarily complicated, as almost every device that can use the internet has wireless capabilities built-in.
But there still are some devices that may need to be added for different reasons. Even if they do support Wi-Fi, the router's settings may prevent access to them. As mentioned earlier, a hotel's Wi-Fi limits on the number of devices supported could be a hindrance.
Luckily, there are workarounds on Android, Windows, and macOS for the restriction. You can also use third-party software, such as Connectify Hotspot and mHotspot, to use your device as a hotspot on a Wi-Fi connection if the native options don't work.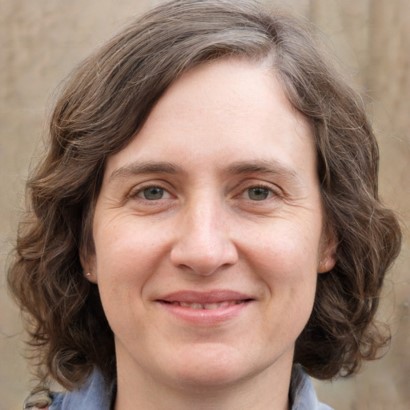 Catherine Tramell has been covering technology as a freelance writer for over a decade. She has been writing for Pointer Clicker for over a year, further expanding her expertise as a tech columnist. Catherine likes spending time with her family and friends and her pastimes are reading books and news articles.