When it comes to monitors and their refresh rates, the most common thought that would go through your mind would be the smooth experience of 144Hz and more. However, you may be wondering what VGA could do on the face of it being analog and not digital; that said, could VGA at least support 75Hz?
The most advanced version of the VGA cable, the QXGA, can comfortably support 75Hz even at the maximum resolution, which is 2048×1536. Standard VGA cables can support 1920×1080 at a refresh rate of 60Hz and not higher. However, standard VGA cables go up to 70Hz at lower resolutions.
What Is A Refresh Rate?
A monitor's refresh rate determines how frequently an image on the screen can be updated. Video is essentially a collection of static pictures that change so fast that they appear to move. The smoother the video appears to be, the faster these images change.
The screen's refresh rate is measured in hertz (Hz), which measures how many times something happens in one second. As a result, a hertz (Hz) refresh rate displays a new image on the screen every second. With a refresh rate of 75 Hz, you may see 75 different pictures in a single second.
As long as the frames per second match, a faster refresh rate results in a smoother and more lifelike video. (Have you ever wondered how many pictures the human eye can process each second? It turns out that it can go up to 500 Hz.)
What Is The Maximum Refresh Rate Supported By VGA?
Standard VGA was based on the NTSC standard and provided a 640×480 resolution at 60Hz. Although several PAL compatible cards delivered 800×600 at 50Hz on a regular TV, (Super) SVGA at 800×600 was commonly operated at 60 Hz.
I obtained 1024×768 at 85Hz when messing with my AOC C32G2ZE 32'' Curved gaming monitor's limitations. As much research as I conducted into this matter, I found that standard VGA cable could comfortably support 1920×1080 resolution; however, the VGA analog signal capped it at 60Hz (60 frames per second).
As I tinkered with different resolutions, I could not go higher than 85hz past the 1024×768 resolution scaling.
Additionally, according to Wikipedia, the QXGA supported version of the VGA cable has claimed to reach a maximum resolution of 2048×1536 and could even run at 85Hz. Without a doubt, this could only be accomplished with a monitor and video card that can support that resolution and frame speed for that version of VGA cable .
If you do not have the right hardware and rather have the best quality VGA cable, your cable would only display the limitations of what your hardware can handle visually. If you have a monitor that is capped at 60Hz, you will not exceed 60 frames per second in its everyday use.
If you are new to the gaming environment and wonder why your top-of-the-shelf graphics card is not giving you the high-end frames you would expect it to give you, it would be because of your monitor or cables limitations. Not even all HDMI cables can go beyond 60hz or 60 frames per second.
If you wonder if your standard VGA cable can support 75hz at 1920×1080 (1080p), the answer is no. In fact, standard VGA cables were even meant for lower resolution scaling but still support 1920×1080 capped at 60Hz.
Even if you have a powerful graphics card and a 144hz supporting monitor, because VGA visually transmits through an analog signal and not through a digital signal, you will not be able to experience your hardware's full potential. Most monitors are manufactured for digital display sources, such as HDMI, DVI, USB, and a DisplayPort.
What Is The Difference Between 75Hz And 60Hz?
When comparing refresh rates of 60 Hz versus 75 Hz, the conclusion is obvious: 75 Hz is superior. A refresh rate is the number of times a screen can update in one second.
Higher refresh rates have been linked to higher video quality, less eye strain, and even better gaming experiences. While 60 Hz has been the basic minimum for decades, a 75 Hz monitor is a cost-effective improvement.
Refresh Rate Vs. Frame Rate
What is frame rate if the refresh rate is the number of images displayed on your screen each second?
Frame rate, which is measured in frames-per-second (fps), defines how many pictures are presented on the screen each second. The distinction is in the source: the refresh rate is decided by the display, whereas the computer's processors determine the frame rate.
To fully benefit from a monitor's fast refresh rate, the computer's central processing unit (CPU) and graphic processing unit (GPU) must be capable of producing enough frames per second. On the other hand, a high-performance graphics card might be rendered ineffective if combined with a display with a reduced refresh rate.
What Are The Benefits Of A Higher Refresh Rate?
A greater rate yields smoother video, less strain on the eyes, and enhanced competitive gaming performance when it comes to your monitor refresh rates. Even if the increase is small, from 60 Hz to 75 Hz, there is a perceptible boost in media quality.
Smoother Navigation
So much of today's employment involves examining and processing data. A smoother display improves eye comfort and the ability to grasp what's on the screen rapidly. A faster refresh rate improves the working environment by decreasing motion blur in text, images, data, and even your mouse.
More Crisp And Clear Video
Higher refresh rates produce more realistic onscreen media. More photos per second can help minimize motion blur, impacting video quality and gaming experiences.
So, how much better does it get to go from 60 Hz to 75 Hz? It's 25% better, so you can anticipate a considerable boost in media quality without upgrading to a high-performance monitor.
Easier On The Eyes And Improves Gaming Performance
A more natural and clearer motion on screen can significantly improve eye health. Indeed, with lower refresh rates, you may notice a flicker, which can create a variety of eyesight difficulties and obstacles.
A high-quality display is an important component of good ergonomics – both at work and at play. A greater refresh rate on your display will help to protect your eyes. Even a minor change, such as 60 Hz vs. 75 Hz, can significantly impact over time.
Though gaming displays are available, it is not always viable to have a high-end monitor only for entertainment. Raising the bar by merely 15 Hz, on the other hand, may make a huge impact on both game pleasure and performance.
Enhance motion resolution.
Reduce ripping and ghosting.
Improved responsiveness.
These three characteristics, when combined, may make games a lot more enjoyable to play and even enhance accuracy in fast-paced games. Even ardent gamers believe that high-performance displays aren't really required for anything other than gaming unless it's a dedicated gaming setup.
Can You Overclock Your 60Hz Monitor To 75Hz?
Monitor overclocking is a real phenomenon. And it's magnificent. Monitor overclocking, unlike GPU or CPU overclocking, is often quite stable. If your monitor is capable of being overclocked, it will operate at a higher refresh rate.
Like most people, you most likely have a 60 Hz display. In most situations, 60Hz displays can be overclocked to 75Hz or higher. Below you will find a video tutorial on overclocking your 60hz monitor.
How to Overclock your 60Hz Monitor (Sometimes up to ~80Hz)
Can All Displays Be Overclocked?
In a nutshell, yes and no. Most displays can handle at least a few Hz. You should have no issue reaching 75-80 Hz. Above that, it's all down to the luck of the draw.
TN panels, on average, outperform IPS and VA screens in terms of overclocking. TVs, on the other hand, do not always cooperate with overclocking.
Conclusion
When it comes to VGA cables, note that they have come a long way and still hold their ground when used for office and standard work practices. However, the world has moved past analog signals and focuses solely on digital enhancements for HDMI and DisplayPorts.
Obtaining more than 60Hz comes with many benefits, from visual health, eye comfort, and gaming enjoyment and performance. If you have a VGA cable that supports QXGA resolutions, then you may have up to 85Hz to achieve with a monitor that can support it, and there are ways to overclock your monitor to achieve those refresh rates.
However, standard VGA cables can only reach up to 70hz on lower resolutions and can only maintain 60Hz on a standard 1920×1080 (1080p) resolution.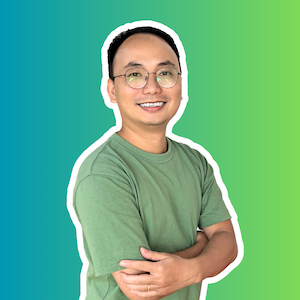 Vance is a dad, former software engineer, and tech lover. Knowing how a computer works becomes handy when he builds Pointer Clicker. His quest is to make tech more accessible for non-techie users. When not working with his team, you can find him caring for his son and gaming.