In the last few years, the technology used in TVs and monitors has made a significant leap, leading to higher refresh rates and clarity in gaming or watching movies.
And if you're someone who has recently made the jump to a high-end TV or monitor set-up, then you might already be excited to try it out.
But wait, before you sit back and relax (or grab your favorite controller), are your cables enough?
And how do you know what speed your HDMI cable is?
To find out the speed of your HDMI cable, you need to look at the number either printed on the cable itself or its packaging. The fastest HDMI cable is currently HDMI 2.1, capable of transferring 48Gbps of data (or full 4K resolution capped at 120Hz/fps).
Before you go out and buy the most expensive HDMI 2.1 cable you can find, there are a few other considerations that should influence your purchasing decision, or if you need to purchase a new one in the first place.
And to help you, this article will go over HDMI, HDMI bandwidth speeds, and how to find the best HDMI cable for your set-up.
What is HDMI?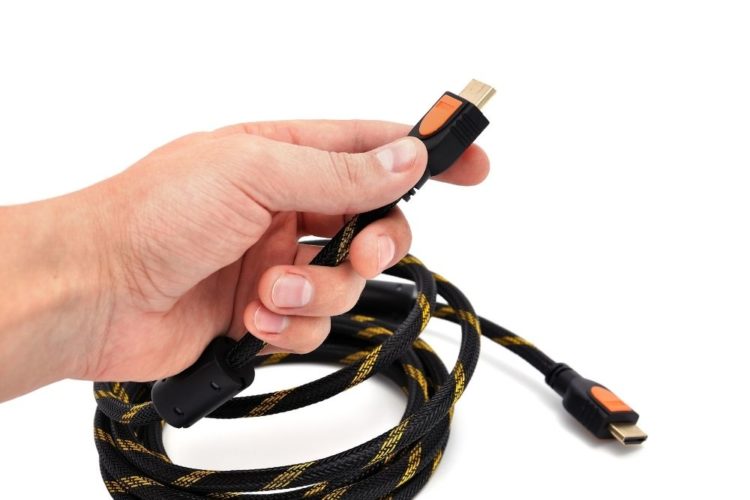 As the current global standard for connectivity, High Definition Multimedia Interface (often abbreviated as HDMI) is made to guarantee consumers get nothing but the highest quality in audio and video.
Using a single HDMI cable, anyone can connect different home entertainment system components and experience high-definition audio and video.
These days, the majority of homes use HDMI in their homes, but where did it start?
HDMI was first introduced back in 2002 by Hitachi, Silicon Image, Sony, Philips, Thomson, Toshiba, and RVA to solve the pitfalls of home entertainment technology.
Before HDMI, cables like VGA often did a poor job of delivering audio and video and were not even capable of transmitting both at the same time.
As a result, HDMI was created, quickly meeting the need for consumer-friendly cables transmitting higher audio quality and video resolutions.
Come 2006, digital video output became more common, and HDMI would fully take off and become the new standard.
Since then, HDMI has become the go-to option and has gone through numerous iterations, with each new version improving upon the last.
These days, most devices use HDMI ports, and over 8 billion HDMI cables (and counting) have been sold worldwide.
What are the Different HDMI Cable Speeds?
Given that HDMI has gone through several iterations and improvements since its initial inception, there are different versions with varying speeds.
Here are the types of HDMI cables and their different speed capabilities:
| | | |
| --- | --- | --- |
| HDMI Names | HDMI Versions | HDMI Speed |
| Standard HDMI Cable | 1.0 and 1.2a | 5Gbps |
| High-Speed HDMI Cable | 1.3 and 1.4a | 10Gbps |
| Premium High-Speed HDMI Cable | 2.0/a/b | 18Gpbs |
| Ultra High-Speed HDMI Cable | 2.1 | 48Gbps |
1. Standard HDMI Cable
The first option is the standard HDMI cable, optimized for the 1.0 and 1.2a versions of HDMI.
Resolution-wise, standard HDMI cables can transmit up to 720p and 1080i and have a bandwidth capacity of 5Gbps.
Because of this, it's often used in common HDTV broadcasts, satellite TV, and cable.
Standard Automotive HDMI Cable
Essentially, this type of HDMI cable has the same capacity as the standard cables, although it's now been optimized explicitly for connecting portable DVD players and other devices (like in-car video displays) in a car.
Because of this, these cables feature extra shielding to suppress any interference coming from car wiring.
2. High-Speed HDMI Cable
This type of HDMI cable was first introduced for HDMI versions 1.3 and 1.4a. As such, it's capable of transmitting resolutions between 1080p and 4K, with a refresh rate of 30Hz.
Bandwidth transfer speeds are increased to 10Gbps, and it also provides support for Deep Color and 3D.
High-Speed Automotive HDMI Cable
This cable is similar to the standard high-speed HDMI cable. Still, it features extra shielding to optimize it better for automotive (in-car) environments.
3. Premium High-Speed HDMI Cable
Increasing bandwidth support up to 18Gpbs, premium high-speed HDMI cables are capable of 4K/UltraHD resolution video output.
This includes 1080p/120Hz and 4K/60Hz, optimized for HDMI version 2.0/a/b.
4. Ultra High-Speed HDMI Cable
Last but not least is the ultra-speed HDMI cable, optimized for the latest HDMI version: 2.1.
Because of this, it supports up to 48Gbps, has less EMI interference, and transmits up to 8K and 10K video resolution, capped at 60Hz.
Aside from this, there are also HDMI cables with built-in Ethernet, specially made for connecting to broadband routers and reaching speeds of up to 100 Mb/sec.
How to Test HDMI Cable Speeds?
Usually, there is no need to test cable speeds, as high-speed HDMI cables come with labels so that anyone can tell them apart.
However, if you still want to run your tests, then cable testers will come in handy.
One great example is the Signstek UNI-T UT681 Handheld HDMI Cable Tester , which only uses a 9-volt battery and can test up to 19 wires.
Plug both ends of your cable in the intended ports and check if the lights are similar on both sides.
If it is, then your HDMI's speed is the same as what's advertised. If not, then you will need a replacement.
However, if you don't want to go through this process, buying a good HDMI cable from a reliable brand is highly recommended.
Do I Need to Buy New HDMI Cables?
If you recently bought a high-end 4K TV, you might be wondering if you'll need a new HDMI cable to go along with it.
However, chances are, you don't have to. Given that you already have at least HDMI version 2.0, then it should work just fine.
Furthermore, brand-new TVs also come with the appropriate HDMI cables, while 8K models that support high refresh rates aren't the standard yet.
In most home settings, a 4K TV will work just fine with your HDMI 2.0 cable. And if your TV isn't 4K, then there's no need to worry at all.
If you don't have a high-speed HDMI cable yet, however, then there are plenty of affordable choices in the market.
One example is the Monoprice High-Speed HDMI Cable , which features 4K and HDR support at up to 60Hz. It also comes with a lifetime warranty.
There's also the Belkin HDMI 2.1 Ultra High-Speed cable, which future-proofs you as it supports 8K resolutions, 4K at 120Hz, and even features a braided jacket for extra stability.
Utilitywise, this cable is best used in gaming settings.
Final Thoughts
With so many HDMI options available today, finding one that provides the appropriate speed and support for your home entertainment preferences can be overwhelming.
Luckily, high-speed cables made by reliable manufacturers come with labels to help you differentiate them.
Furthermore, most of the cables you can buy in stores these days are High-Speed, so finding one that supports standard 4K resolutions for higher visual clarity should be no problem.