If you're anything like me, you wear your Apple Watch around the clock (pun intended!). So, naturally, you've done your best to make it as personalized as possible. You've bought several wristbands to match your outfits and jewelry, and adjusted the watch face to fit your personality. (I use the Artist face since I think it goes best with my general vibe.)
But, there has been one component you haven't quite figured out how to customize yet: your Apple Watch name.
Don't worry. I've got you covered.
In this guide, I'll teach you how to change your Apple Watch name and give you 20 endearing and funny Apple Watch name ideas that will flaunt your unique personality.
Let's get started!
How to Change Your Apple Watch Name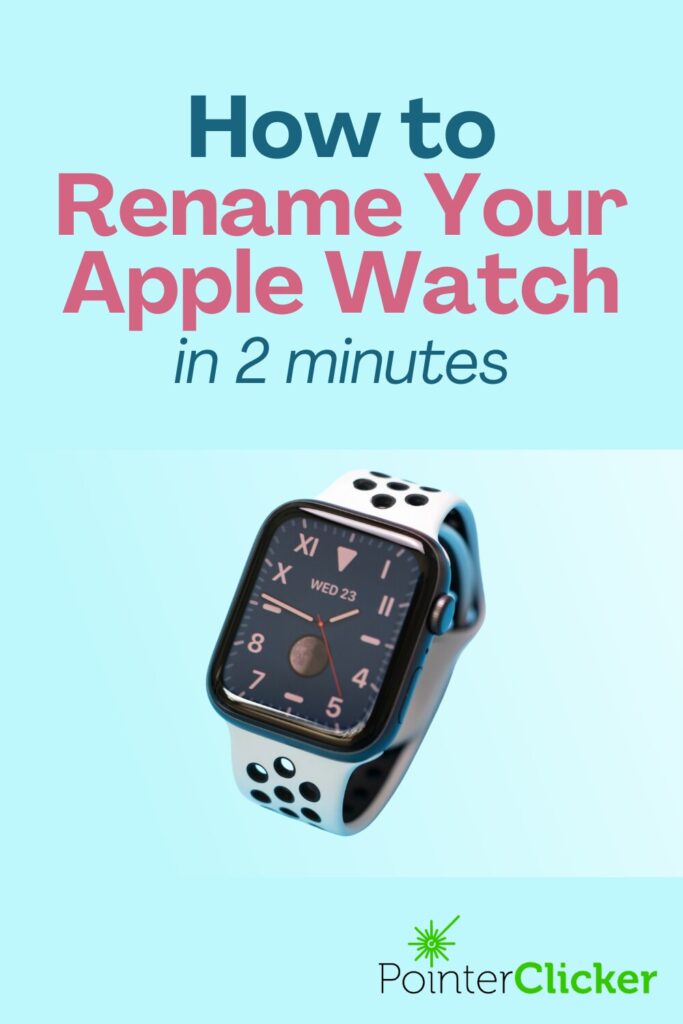 Before finding the perfect name for your Apple Watch, you have to know how to change it. While this process only takes a minute, you will need to use the iPhone your Apple Watch is connected to.
Once you have your iPhone in hand, follow the steps below to change your Apple Watch name!
Step 1: On your iPhone, head to the Watch app.
Step 2: Go to the My Watch section.
Step 3: If you only have one Apple Watch, proceed to the next step. Otherwise, tap All Watches at the top of the screen and select the Apple Watch whose name you want to change.
Step 4: Go to the General tab.
Step 5: Open the About section.
Step 6: Head to Name.
Step 7: Type your new Apple Watch name into the text box.
Watch the video below demonstrating how to change your Apple Watch name.
How to Change Name of Apple Watch (tutorial)
20 Cute and Funny Apple Watch Name Ideas
You usually consider yourself to be the creative type, but after a few days of light brainstorming, you still can't find a suitable, yet funny, name for your Apple Watch.
Fear not, I've come up with several adorable and punny names that will lend your Apple Watch a personality that's as quirky as you are!
1. Hey, Watch It!
I know I'm not alone in being an unusually clumsy person and bumping my rings and pricey Apple Watch into everything from walls to table corners to other people.
If your Apple Watch has its fair share of scratches from being constantly run into hard objects, you may feel that it just wants to scream at you, "Hey, watch it!"
Of course, this is also a clever pun as it refers to your Apple device's time-telling capabilities while also reminding you to handle it with care.
2. Ye Old Sundial
Apple Watches are one of the most advanced digital wristwatches to date, boasting a wide range of built-in apps that can do everything from keeping track of your heartbeat to checking your email. However, sometimes we need to look back to the first ever time-telling device to appreciate how far it's come.
Sundials are every modern clock's common ancestor, and if you're a history buff like I am, you'll appreciate having an Apple Watch name that nods to the invention that started it all. Not to mention "Ye Old" makes this name sound extra old-timey.
3. iTell the Time
Your Apple Watch does more than give you the hour, but let's face it, you glance at it about a million times a day to make sure you're not running late for your next engagement.
So, in essence, one of its main purposes is to "tell the time." And, if you enjoy personifying your devices, the "i" will make it seem as though it's actually talking to you while also referring to Apple's classic "i" names (e.g. iPod, iPhone, etc.).
4. I'm On the Clock
If you use your Apple Watch from dawn to dusk, it's fair to say it's done its fair share of overtime. Even when you're sleeping, your Apple Watch is still working as it's actively measuring your heart rate, updating, and displaying any notifications you may receive. Not to mention, it's also a literal clock.
So, it's not wrong to say your Apple Watch is "on the clock" 24/7, 365 days a year. This playful name reflects that while reminding you to be grateful for the wrist-worn device that keeps you on time and up-to-date with the latest events.
5. iLend a Hand
Like I'm On the Clock, this quirky name pays homage to all the hard hours your Apple Watch puts in to serve you. Whenever you need to check the time or make a call, your Apple Watch is there to lend you a helping hand in a moment's notice.
Apple's iconic "i" also personifies this name, lending it some more character. This name is also a fun play on the word "hand" which can both refer to the hands of a clock or someone's hands used to help you.
6. Time Flies
This playful name is simply a reference to the age-old saying "time flies" which serves as a good reminder of how quickly our lives move by.
If you also spend an inordinate amount of time scrolling through apps like Instagram or TikTok, this name will remind you to take some time away from your screens and enjoy life.
7. Superwatch
Apple Watches work at record speeds to fulfill your every demand. You may even say they're the watch equivalent of Superman – making them the one and only Superwatch.
If you're a superhero fan, you'll love this subtle nod to this classic action figure that also admires your watch's amazing capabilities. There's just one question that remains: What's your Superwatch's kryptonite?
8. Lil' Wrist Buddy
Your Apple Watch is perpetually glued to your wrist, and physically, is your closest companion. You may also enjoy listening to rap and love the classic "Lil'" that precedes many great rappers' stage names.
So, it's not a stretch to name your smartwatch Lil' Wrist Buddy to reference two of your life's greatest pleasures! Your Lil' Wrist Buddy is dependable, forgiving, and a lifelong friend – cherish them!
9. If I Could Turn Back Time
What do you love more than artfully crafted time puns? Cher, of course!
This name pays homage to the Goddess of Pop's famous song that both laments and cherishes the passage of time – perfect for your digital watch! It also hints that while your Apple Watch can do just about everything, it can not turn back time, which is a sad reality we all must accept.
10. Your Digital Nomad
If you're a digital nomad or frequently take trips around the world, your Apple Watch should definitely have a name that reflects your international lifestyle. After all, your Apple Watch goes everywhere you go and is literally digital, making it Your Digital Nomad.
Like you, this Apple Watch is fearless, spontaneous, and knows what it wants, so it's only natural it has a name as adventurous as you are.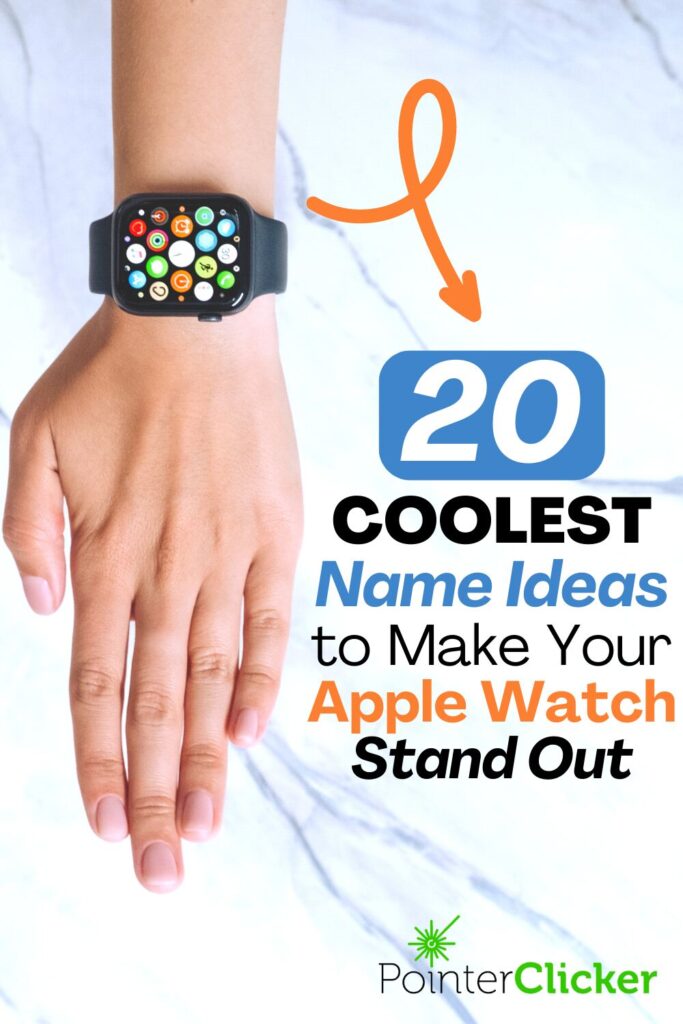 11. Tick-Tock
No, this is not a reference to the famous Chinese social media app. Instead, this name takes your Apple Watch back to its predecessors and inspires visions of grandfather clocks ticking away on the mantel. You may especially be drawn to this name if you're a more traditional person who's a little hesitant to adopt new technology and yearns for yesteryear.
Of course, your Apple Watch doesn't make that classic tick-tock sound, but this isn't about accuracy!
12. My Wrist Cyst
This slightly more medical version of Lil' Wrist Buddy is sure to prompt some uncomfortable squirms, or if you're lucky, a giggle. Again, this name is best for those who almost never tear their Apple Watch from their wrist to the point that some friends have even joked about it fusing to your skin.
At this point, you and your Apple Watch are, in all ways but physical, one being. This name will strongly suggest that someone will have to surgically remove it from your wrist to get you to part with it.
13. Tim(e) Cook
This name isn't for everyone, but I'm confident it will generate a chuckle from at least one reader. If you're a fan of Apple's CEO Tim Cook, you'll love naming your Apple Watch after him. Time Cook is the Apple CEO's name with one letter added, turning him into the perfect time-related pun.
If Time Cook isn't your cup of tea, consider using Tim Clock instead. This man has done wonders for the Apple world and deserves to have his name immortalized in your Apple Watch.
14. Cronus
Don't let that Classics degree go to waste! Show off your passion for Greek Mythology by naming your Apple Watch after the Greek god of time: Cronus!
Cronus is powerful and sees time as an all-encompassing force that controls and changes everything it touches! This name will serve as an important reminder that while you can control a good deal of your life, only Cronus controls time.
If you want to take a step further, you can even write his name in ancient Greek: Κρόνος.
15. iWork Overtime
This name is for the Apple Watch that's hustling every second of the day and keeping track of your entire life for you. As usual, the "i" is reminiscent of Apple's legendary branding, and "overtime" is a fun play on the watch's duties as one of its main tasks is to deliver the time to its user. So, you could say that your watch is working overtime, ticking along every second of the day.
16. The Time of My Life
Are you a Dirty Dancing superfan? If so, why not pay homage to this classic movie's famous song (I've Had) The Time of My Life?
This not-so-subtle nod to this iconic song hints that your Apple Watch does literally keep track of your life's time and inspires you to make the most of life. But, mostly, I hope naming your Apple Watch this name will prompt your brain to replay this song's chorus every time you read it.
17. Time Lord
Any Whovians out there will know exactly what this Apple Watch name is referencing! In case you're not a Dr. Who fan, "Time Lord" is the Doctor's alien race that produced the famous Tardis, allowing them to traverse both space and time.
While your Apple Watch can't manipulate time, naming it Time Lord is a cute way to express your #1 Whovian status for all to see. You're a part of one of the greatest fandoms on Earth (and, perhaps, Gallifrey) – flaunt it!
18. Dr. When
If you're not a Dr. Who fan, forgive the second reference to it, but I just couldn't resist!
You've heard of Dr. Who (a person whose identity is a complete mystery), but what about Dr. When? Naming your Apple Watch Dr. When is a unique way to reference your favorite BBC series since your Apple Watch deals with everything time related (and more!). Not everyone may get this reference, but you do, and that's enough.
19. iWork Like Clockwork
Of course, your Apple Watch does not literally work like clockwork, but seeing as both of these devices tell time, I think this name is highly appropriate. This name boasts your Apple Watch's supreme functionality and promise to keep "working like clockwork" until its last tick.
20. Father Time
If you've always pictured your Apple Watch as the digitized version of this modern Cronus, then this name is for you. Father Time is dependable and unstoppable, controlling the passage of time with a scythe and hourglass in hand.
So, if you want to give your Apple Watch a name that echoes importance and long-lasting guidance, then Father Time is definitely the right name for you.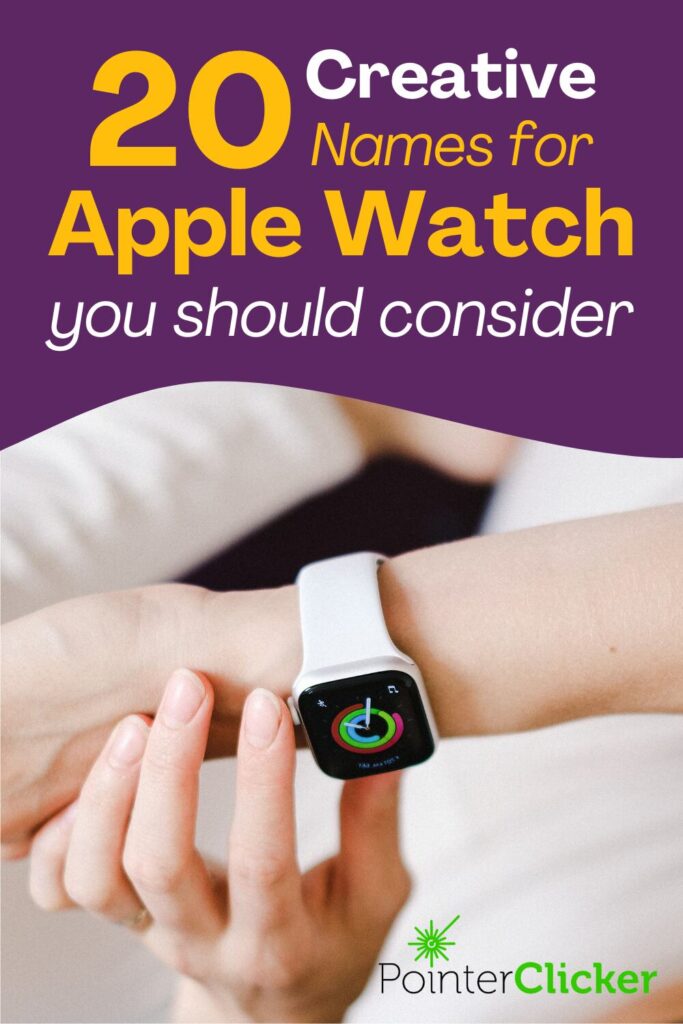 Wrapping Things Up
While changing your Apple Watch name only takes a few minutes, finding the right Apple Watch name can take hours of brainstorming. I hope my list of cute and funny Apple Watch names has inspired you to find the perfect name for your favorite digital watch that lends it a unique personality.
When renaming your Apple Watch, the sky's the limit! Whether you want a name inspired by Dr. Who or Greek mythology, the choice is yours!
So, what will you name your Apple Watch?
Let us know in the comments below!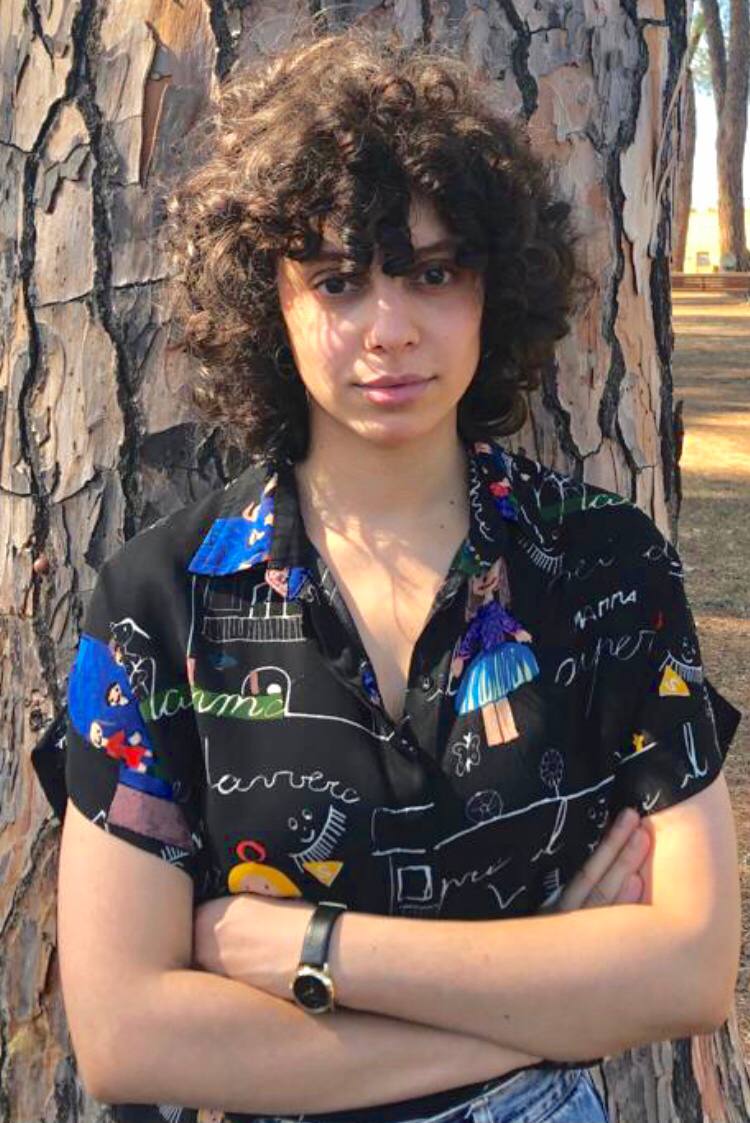 Yesenia Achlim is a technical copywriter and editor with a focus on AV equipment. She aims to break down complicated topics and make technology accessible, no matter your technical expertise. When she's not teaching you how to replace a projector lamp, you can find her reading and baking.