Nebula is a recognizable name in the smart projector market. Anker, the Chinese electronics business behind Nebula, makes an array of projectors under the Nebula sub-brand—including the Capsule, Mars, and Cosmos.
The Nebula Capsule was the first smart projector-cum-speaker of its kind to run Android (7.1), which was quite a feat for the time when the competition was either using custom, buggy software or pretty outdated versions of the Google OS.
The small, cylindrical Capsule packs in the hardware guts to emulate the capabilities or functions of a full-fledged smart television. Its connectivity suite was on point too.
And because it was Android-based, you could download apps and use the projector like a smart TV. The third-party app support also meant you could watch Apple TV on it.
But does that mean all Nebula projectors support Apple TV? Since the word "smart" is attached to them, it's safe to assume it does. But could there be some quirks that you and I may not be aware of?
Continue reading to confirm things and more.
Do Nebula Projectors Support Apple TV?
Yes, Nebula does support Apple TV since pretty much all the products/models released under the Nebula brand name run Android.
The Nebula Mars Lite is perhaps the only Nebula speaker not to use Android in any veritable form.
But you can use the HDMI port on it to connect it to your Apple TV box and watch your favorite shows and movies.
So, that means it's Apple TV-friendly too.
4 Simple Ways to Watch Apple TV on Your Nebula Projector
1. Installing Apple TV App
To watch Apple TV on your Nebula projector, head to the Google Play store on the device.
Search for the Apple TV app in the store and download/install the application like you would on any Android-based device.
After opening the app, go ahead and explore its contents: browse movies, television shows, Apple TV channels, etc.
Not to mention, you must have been signed with your Apple ID to access Apple TV content.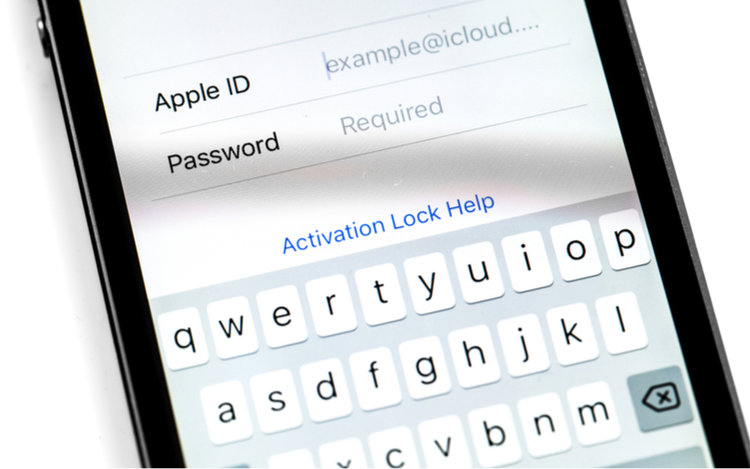 Kindly note that the Android OS implementation on Nebula projectors could be heavily customized, or it may not be as smooth and seamless as traditional Android.
If your Nebula has any such functionality concerns, you can always employ any following methods to watch Apple TV on your projector.
2. Connecting the Apple TV Box to a Nebula Projector Via HDMI
If you have an Apple TV box, you can hook it up to your Nebula projector and enjoy the content on the service.
To learn how to connect your projector to your Apple streaming box, watch this video:
Although the projector in the video isn't a Nebula, the steps shown apply to a Nebula projector.
How to Connect Apple TV to Projector | Apple TV 4k | Apple TV HD
3. Mirroring or Streaming Apple TV to Your Nebula Projector
AirPlay lets users wirelessly connect their Apple TV to other Apple devices, such as iPhone and iPad, to share content (videos, files, etc.).
Nebula, unfortunately, doesn't support AirPlay. But you could use AirScreen to connect your Apple device to the projector and watch Apple TV content on it wirelessly.
Here are the steps:
Head to the Google Play Store on your Nebula projector OS and download Nebula Manager.
Install AirScreen from within the Manager app to lend AirPlay-like functionality to your projector.
Connect your source Apple device (iPhone or iPad) to an Internet network.
Your projector must also be on the same connection. The Internet source could be your home Wi-Fi or your mobile device's cellular data. If it's the latter, turn on the hotspot on the device so that your projector can use it too.
Once the projector and your Apple devices are connected to the Internet, you may mirror your mobile device on the projector screen or stream the content wirelessly.
To screen-mirror your iPhone or iPad:
Swipe down from the top right of your iPhone/iPad to open the Control Center.
You may now open the Apple TV app on your iPhone/iPad and watch its contents on the big projector screen.
To stop the mirroring, head back to the Control Center and tap on the "Stop Mirroring" text at the bottom of the Screen Mirroring application.
If you don't want to mirror all the contents of your device, you may click on the "cast" icon on the respective streaming app.
For Apple TV, click on "AirPlay" in the app.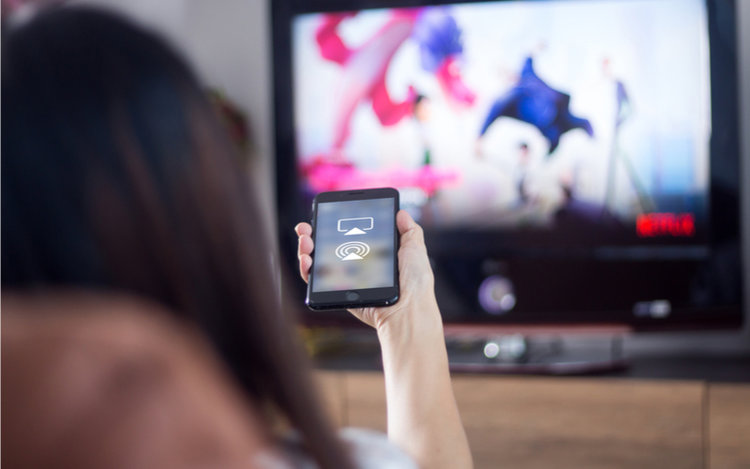 You may also connect your Mac computer to your Nebula projector and watch Apple TV content.
Like the previous setup, make sure AirScreen is installed on your projector, and both your projector and Mac computer are connected to the same Internet connection.
Bluetooth must be enabled on both devices too.
The AirPlay icon is usually situated in the menu bar of your Mac, in the screen's top-right corner.
If the symbol is missing, enable it. Here are the steps to do that:
Select or hover over the Apple icon on the top-left side of your Mac's screen and click on System Preferences.
In the window that opens, click on Displays.
Under the Display tab in the Built-in Display window, checkmark "Show mirroring options in the menu bar when available".
Once you access AirPlay on your Mac, choose your projector or the device to cast.
You could be asked to enter a code, which is usually one from a smart TV. But since we are dealing with a projector here, look for the AirScreen code on your projector screen instead.
Type in that code into the prompt window on your Mac. You may now mirror or stream videos from your Apple TV app or any other program.
To turn off the mirroring, head to AirPlay and click on "Turn AirPlay off."
The AirPlay icon in the menu bar of your Mac will be in blue, which indicates it's active.
4. Using a Third-Party Streaming Stick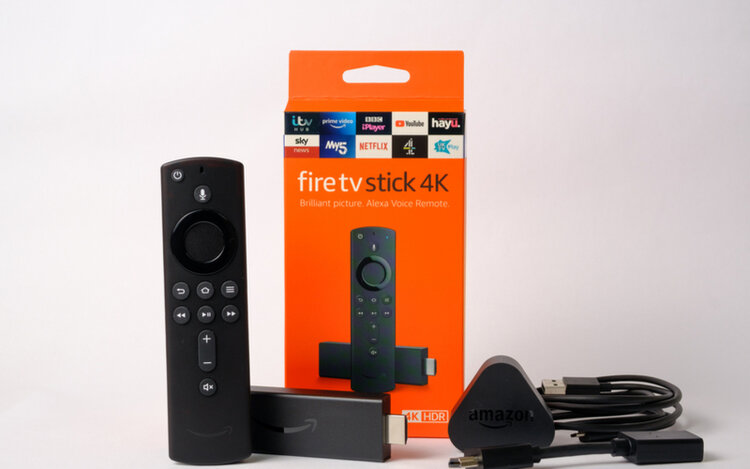 You can watch Apple TV without an Apple device, including the Apple TV box. For example, you could access Apple TV streaming services on your web browser.
There's also the streaming stick route, wherein you plug in your Fire TV Stick or Roku box into the HDMI port of your projector and download Apple TV from the respective app marketplaces of those operating systems.
To get Apple TV on your Roku, here are the steps:
Press the "Home" button on your Roku remote and select "Search".
Type "Apple" in the search box. Once the app appears in the results, choose the app and choose "Add Channel".
Install the app and press "Home" again.
You may now use Apple TV app services like any other premium subscriber.
Roku also lets you install the Apple TV app from Roku Channel Store, its proprietary app marketplace.
Kindly note some older Rokus may not be compatible with Apple TV. If your Roku doesn't support the Apple TV app, you won't see Apple TV in the search results.
Sale
Last update on 2023-10-04 / Affiliate links / Images from Amazon Product Advertising API.
Conclusion
Although Apple TV isn't the only content streaming service of its kind, it sure has its uniqueness and legion of fans.
If you're one of those subscribed to Apple TV and have a Nebula projector, you may be disappointed to learn that Nebula projectors do not support AirPlay.
Luckily, there are alternative resorts (quite a few of them) to seek solace in.
We've listed above all the various methods to connect your Nebula projector to an Apple device and subsequently the Apple TV app.
Until Anker adds AirPlay functionality to its Nebula projectors via a software update, the above techniques shall undoubtedly keep your projector wireless streaming requirements afloat.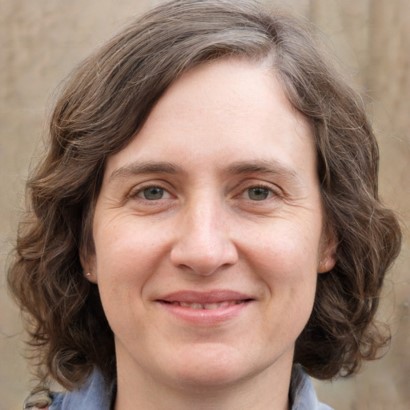 Catherine Tramell has been covering technology as a freelance writer for over a decade. She has been writing for Pointer Clicker for over a year, further expanding her expertise as a tech columnist. Catherine likes spending time with her family and friends and her pastimes are reading books and news articles.