Cable boxes, DVD players, and streaming devices are popular entertainment options for TV users today. However, free over-the-air TV hasn't gone out of style completely.
I mean, who completely gives up a free option?
So, cable packages are getting more expensive, and you're not ready to renew your subscription. In this case, free over-the-air channels are a great place to watch great shows and keep up with the news.
Since most Samsung TVs don't have built-in antennas, you'll need to purchase an external antenna and connect it to your TV. If you are facing issues with your TV antenna, this article is for you.
You're probably wondering: Why is my antenna not working? What kind of antenna is best for my TV?
Don't worry: we have answers. Keep reading to learn all you need to know about Samsung TV antennas.
Samsung TV Antenna: Air or Cable?
When it comes to watching television, there are two main options: OTA (over-the-air) TV or cable TV.
Like the bad boys they are, Samsung TVs support both air and cable television. You can use either one or both of them.
However, it's necessary to understand the differences between the two options before buying an antenna or choosing a cable subscription package. So, let's explain each option in detail.
1. Air Television
Air (over-the-air) TV refers to TV channels broadcast on public airwaves. It is a free service that allows you to access local channels such as ABC, CBS, NBC, and Fox.
TV antennas pick up these channels; the channels you receive depend on your location and the kind of antenna receiver you have.
To watch OTA TV, you'll only need to buy an antenna. However, if you own any of the few 2020 – 2021 models with built-in antennas, you'll get local channels at zero extra cost.
Samsung TVs with built-in antennae include the Q800T, Q900T, Q950TS (65, 75, and 85″), QN90A (55, 65, 75, and 85″), QN800A (65, 75, and 85″), and QN900A (65, 75, and 85″).
2. Cable Television
Cable television does not transmit signals over public airwaves. Instead, it charges a subscription fee to provide access to a wide range of premium channels like HBO, Showtime, and Starz.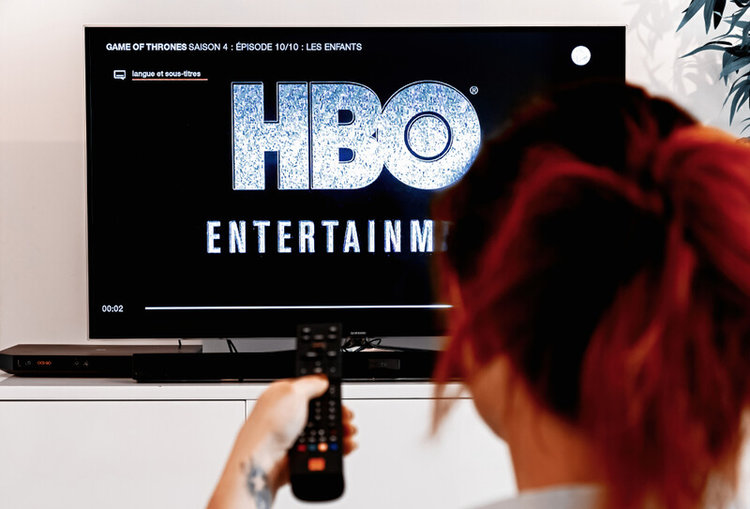 To access these cable channels, you need to have a cable box and a subscription with a cable service provider (i.e., Xfinity or T-Mobile).
The choice between OTA or cable television depends on your viewing preferences and budget.
OTA television is excellent if you're content with the programs available on the free local channels. There's just one problem: users have complained that their Samsung TVs do not recognize their antennas!
The following section explores why this happens and provides solutions to get your favorite shows back on the screen.
Why Doesn't My Samsung TV Recognize Its Antenna?
So, you've just purchased and installed a new antenna, but your Samsung TV screen remains blank. The reviews guaranteed a flood of clear channel broadcasts, but you've got nothing so far.
What this means is that your TV is not recognizing the antenna. Below are potential reasons for this occurrence:
1. Connection Problems
A loose connection is the most common reason for TVs not recognizing an antenna.
Your antenna receives electromagnetic signals and transmits them to the Samsung TV via coaxial cables. If the coax cable isn't connected securely to the TV or antenna, your TV will not recognize the transmission.
Another contributor to connection issues is faulty cables. Coaxial cables can break or degenerate when mishandled.
Usually, we'll consider the possibility that your cable is plugged into the wrong port. However, this mistake is highly unlikely—most Samsung TVs have only one antenna input port (F Connector), and the coaxial cable is too distinctive to fit into any other port.
Note: The F Connector on your TV is labeled "ANT IN."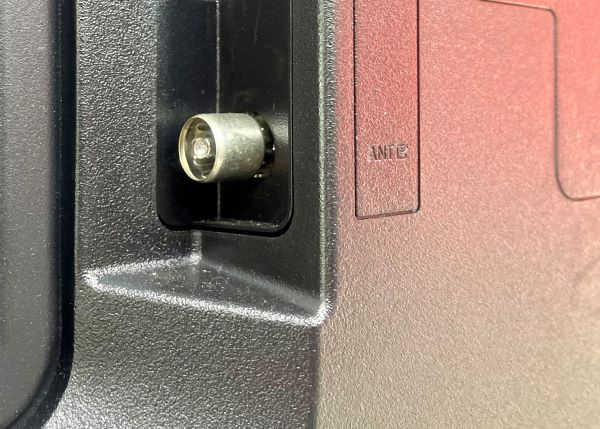 2. TV Settings
There are a few TV settings that you'll need for your TV to recognize the antenna.
Your Samsung TV has input setting options that dictate what source it displays from at any moment. If you set your input source to HDMI (or other sources), the TV won't be able to communicate with the antenna.
To display OTA content from your antenna, you need to set your input source to "TV."
Channel broadcasts won't just trickle through the coax cable and generate pictures on your screen.
The "Auto-Program" feature on Samsung TVs allows you to scan for channels the TV receives via the antenna input port. If you don't activate this feature, your TV will not recognize the antenna.
3. Poor Signal Reception
If you've checked all the items above, but you're only getting snow (TV static or white noise) on the screen, you're probably dealing with poor signal reception.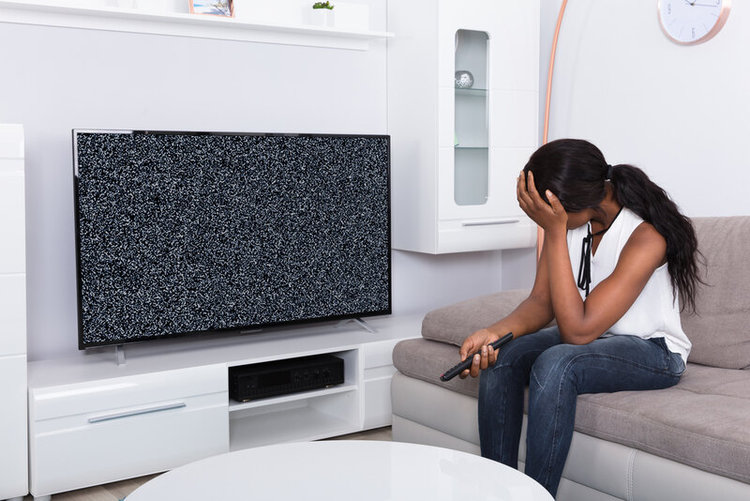 Poor reception can occur due to any of the reasons below:
Antennas come in different types and should be installed in different ways. Your antenna may contribute to what signals you can (or cannot) receive.
TV signals travel through the air as electromagnetic waves. If there are large objects (like buildings, hills, power lines, or trees) in their path, they either become weaker or get cut off entirely.
If you're in a remote location (like a mountainous or sparsely populated area),
TV transmission towers may not properly cover your location. We call these areas reception black spots because signals are either weak or undetectable.
Electromagnetic interference from electronics like Wi-Fi routers and microwave ovens may cause your TV not to receive signals from the antenna as well. Also, metallic furniture or windows can intercept and block TV signals from reaching your indoor antenna and TV.
Outside the house, harsh weather can also interfere with your TV signals. You'll notice that reception gets worse during storms or severe rain. This is because the moisture absorbs the signals and scatters them.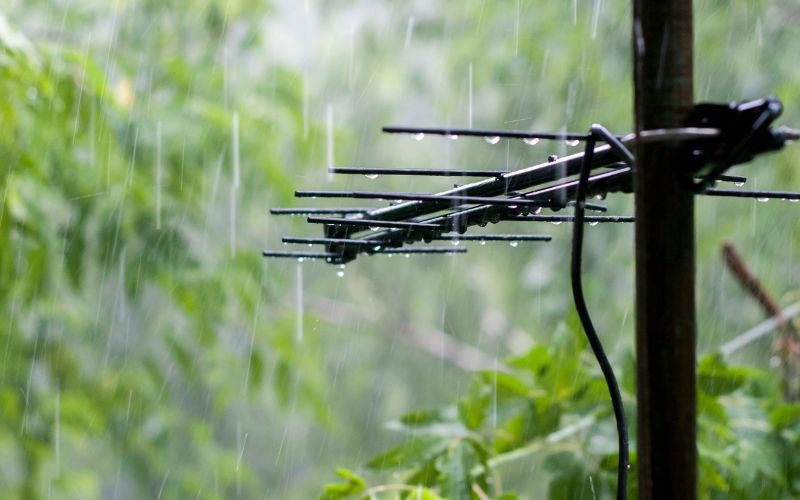 How To Make Samsung TV Recognize an Antenna
Want to enjoy OTA channels on your Samsung TV? Below are ways to ensure your TV recognizes your antenna.
1. Check Connection
Ensure that the coaxial cable securely connects to the TV and the antenna. If the connections are loose, tighten them or replace the coaxial cable.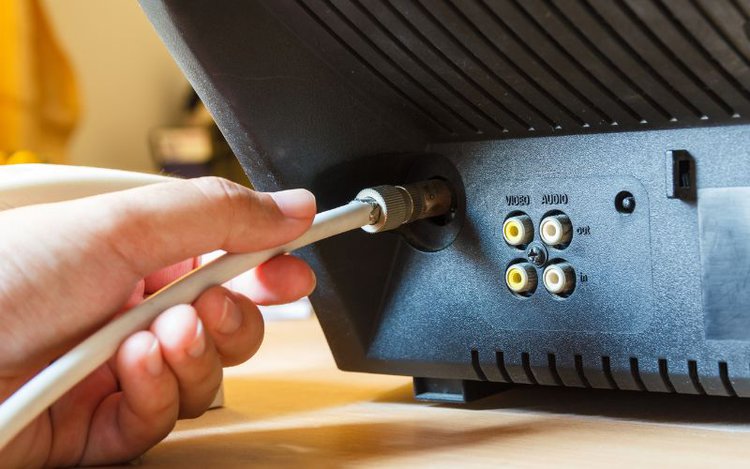 To ensure your coaxial cable lasts long, always keep it away from moisture and foot traffic.
2. Adjust TV Settings
After plugging the coaxial cable into your TV's 'ANT IN' port, ensure the TV is on the correct settings for the antenna TV. Follow the steps below.
Change Source Input
Press the "Source" button on your remote.
Select "TV" as the input source.
Scan for Channels
How to Setup Antenna on Samsung TV| Over the Air | DTV | Cut the Cord |Smart TV |
Press the Settings ⚙️ button on your remote.
Scroll down the settings list and select "Broadcasting."
Press "Auto Program" and select Start.
You'll see a prompt to choose between 'Air,' 'Cable,' or 'Both.' Choose Air.
Wait till the scanning process is complete. It usually takes a minute or two.
3. Reposition Your Antenna
If you're dealing with poor reception, below are suggestions to help improve it.
We advise you to use an outdoor antenna, especially in a location with poor coverage. Mount it in a clear zone (i.e., a rooftop) with little or no obstructions, so it can pick up strong signals.
If you're using a directional outdoor antenna, it should point in the direction of the broadcast tower. The large/wide portion of the antenna is the back, while the narrow side is the front.
Find out which transmission tower provides the best coverage for your location and point your antenna in that direction.
How to Correctly Point a TV Antenna for Best Reception
For people using indoor antennas, it's best to place them near a (non-metal) window so that concrete walls and other materials don't weaken their signals.
Also, ensure that your antenna is not close to metallic fixtures or other household electronics.
Why Indoor HD TV Antennas Do Not Work Well
4. Prevent Interference
Household appliances and devices with an electric motor can cause electromagnetic interference. Keep your antenna and TV a good distance away from these electronics. You can also power off any device you aren't using at the moment.
How To Get Local Channels on Samsung TV Without an Antenna
If you still have trouble with your antenna and want other options, here's where we get into it!
There are several ways to get local channels on a Samsung TV without an antenna. You can use cable or satellite TV, streaming services, and other options we'll explore below.
Let's go!
1. Streaming Services
Several streaming services (such as Hulu and YouTube TV) now offer packages that include local channels. These services require a monthly subscription, but they are a convenient way to access local channels without a TV antenna.
2. Smart TV Apps
Samsung TVs come with a built-in app—the Samsung TV+ app—that allows users access to local channels. However, the app is only available in 23 countries, so it may not be available to you, depending on your location.
You can change your location settings if your current location is not on the list of supported countries.
Alternatively, you can explore other third-party apps that offer free access to local channels. For example, "Pluto TV" and "Plex TV." You'll find them on the TV's home screen or in the App Store.
3. Live TV Streaming Devices
You can connect streaming devices like Amazon Fire TV, Apple TV, and Roku TV to your Samsung TV. These platforms provide access to local channels through streaming services like Sling TV and DirecTV.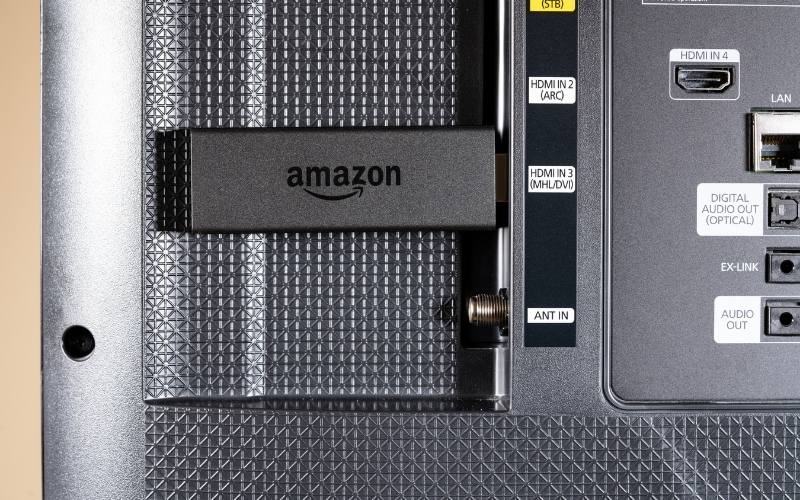 4. Cable or Satellite TV
If you have cable or satellite TV, you can still access local channels without an antenna. Many cable and satellite providers offer packages that include local channels.
What is The Best Antenna For Samsung TVs?
You must consider certain factors when looking for the best antenna for a Samsung TV. These factors include antenna type, range, compatibility, and budget.
Let's explore each factor in detail.
1. Type of Antenna
Antennas come in different types. You'll find indoor and outdoor antennas; directional and omnidirectional antennas.
Indoor antennas are the easiest to set up. However, they don't pick up as many channels as outdoor antennas.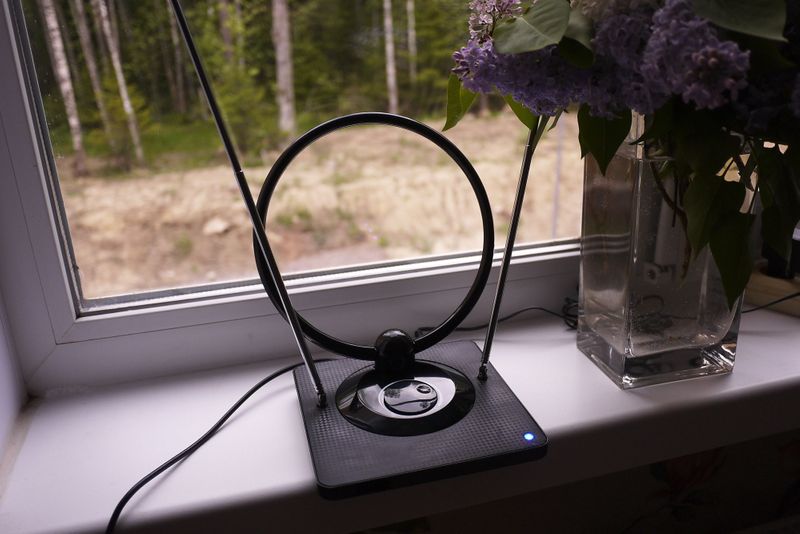 Directional outdoor antennas are the most common among TV users. Their set-up requirements allow for great reception; you can point a directional antenna toward the transmitter you prefer to receive signals from.
Omnidirectional outdoor antennas pick up a wider range of channels because they receive signals in all directions. However, some of them require professional installation.
2. Range
The range of an antenna refers to its capacity to receive signals even when it's far away from a transmission tower.
Outdoor antennas have a better range than indoor antennas. They do not have to deal with interference from furniture, walls, and other appliances.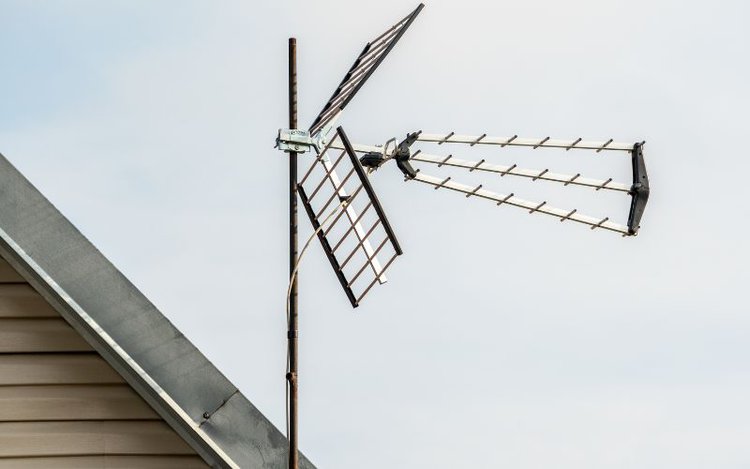 Among outdoor antennas, directional antennas have a better range. Because their receivers focus in one direction, they can pick up signals farther away.
3. Compatibility
Analog antennas are more compatible with older analog TVs. Ensure you choose an antenna that is most compatible with your Samsung TV.
Digital TV antennas are designed to receive high-quality OTA digital signals. We recommend you use them for your HD and 4K Samsung TVs.
4. Cost
Antennas vary in price, so you'll have to consider your budget when choosing an antenna. Indoor antennas are relatively less expensive than other kinds, while omnidirectional antennas typically cost more.
Based on the factors above, we have recommendations for you! Check these out:
The Antennas Direct Clearstream 2Max
Last update on 2023-09-14 / Affiliate links / Images from Amazon Product Advertising API.
This outdoor multidirectional antenna has a 60+ miles range. It is designed with UHF/VHF elements that enable it to sustain reception and range in remote locations.
The Channel Master EXTREMEtenna
Last update on 2023-09-14 / Affiliate links / Images from Amazon Product Advertising API.
This outdoor, long-range antenna can pick up channels 80 miles away. It has a 180° multidirectional reception span and is built for longevity.
The Top 3 Outdoor TV Antennas from an Installer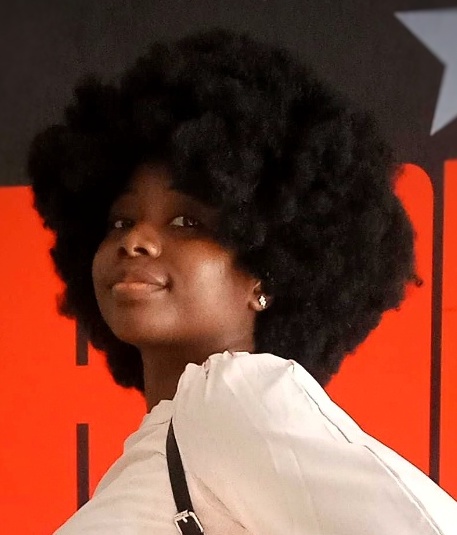 Gabriella 'Diogo is a content writer with a vested interest in tech hardware and equipment. She shares her knowledge and processes in an easy-to-grasp, lighthearted style. When she's not testing or researching device performance, you'll find her writing short stories or rewatching episodes of her favorite sitcoms.