There's a lot of information about laser pointers out there, but we typically don't have the time to go through it all.
It's easier to assume that a red laser works well for everything. And that the only use for a laser pointer is when you have a business presentation scheduled.
Truth is, you can use it in creative ways, and you'd be surprised by how you can utilize it outside its typical application.
And yes, laser pointers , regardless of whether you're using one that's less than 1mW or a Class 3R that's 5mW, are still mechanical devices. Like all gadgets, they're subject to wear and tear.
There will come a time when your laser pointer is no longer as bright as it should be. And when that happens, what should you do?
Read on to find out more!
When Your Laser Pointer Begins to Dim
Whether it's from constant use or, heaven forbid, you dropped your pointer; sometimes you notice it isn't working the way it used to be. Several symptoms indicate you may need to check your laser pointer's condition.
In some instances, you'll notice that your laser pointer's bright when you first turn it on, and then the beam begins to fade. Sometimes you'll get to the point when it barely lights up anymore.
Yes, your laser pointer may begin to dim. It doesn't necessarily mean, though, that you should automatically buy a new one.
Before you get to that point, there are a couple of things that you can try.
Why does my laser pointer go dim?
There are several possible reasons for your laser pointer going dim. Typically, these three things are the most common causes:
Your batteries have outlived their lifespan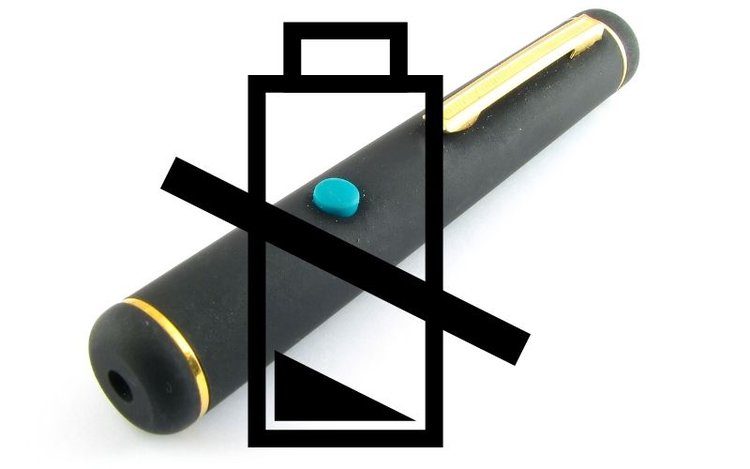 When you notice that your laser pointer doesn't shine its light as brightly as before, it may be because its battery has run out of juice.
There isn't a standard length of time regarding how long laser pointer batteries are supposed to last. It mostly depends on several factors like how long and how frequently you use it.
If you're the type who uses your laser pointer regularly, you may find yourself having to replace its batteries more often.
The type of battery your laser pointer runs on is another consideration. High-quality batteries typically last longer than poorly made ones.
Even the color emitted by your laser pointer can affect battery life. It takes more energy to create a green light than a red one. As a result, green laser pointers tend to use up batteries faster.
Clean your laser pointer's lens
It is common for our things to get dusty the longer they're exposed to the environment, and your laser pointer is no exception.
Keeping your laser pointer in open areas, such as your desk or a shelf, exposes it to dust particles. If you regularly use it for work and have a habit of putting it in your breast pocket, it'll likely gather dirt or lint as well.
Some people have containers for the specific purpose of storing their laser pointers. It may be a small thing, but it can help you avoid a lot of inconveniences in the long run.
The crystal is damaged
Having a damaged or misaligned crystal is a possibility if you've dropped your laser pointer. The impact may have caused its internal parts to shift, resulting in less-than-perfect optics.
Most of these are workable. You'll still need to be open to the possibility that you need to swap your laser pointer with a new one, but it doesn't necessarily need to be your first course of action.
How Do You Fix a Dim Laser Pointer?
Below are a few steps that you can try to fix a dim laser pointer. See if you can address these before deciding to replace your laser pointer.
First, check the batteries
You may be thinking this is common sense, but you'd be surprised how many people would skip this and automatically assume something else is causing the dimness.
If you use your laser pointer frequently, having depleted batteries is a common occurrence. For laser pointers that combine with another device, such as a presentation clicker, check whether it has an on/off switch.
One way to save battery life on these types of laser pointers is to take out the battery when you're not using it. It's a bit inconvenient, but it'll prevent your batteries from dying — and thus resulting in your laser pointer not working — when you need it.
Sometimes, the batteries are loose. A telltale sign is that you can hear a sound when you give your laser pointer a slight shake. If this is the case, you can try putting a folded piece of paper in the battery chamber to make the space tighter.
Once you've replaced the batteries or used something to make the extra space in the battery chamber, close everything up and test your laser pointer. See whether the light remains bright over a couple of minutes. If it does, it should continue doing so.
Check the lens
If, after replacing your batteries, you encounter the same thing, look in a different place. The next part we'll check is your laser pointer's lens.
Scratches on the lens means it's damaged. You can also tell it's scratched because it'll show when using your pointer on a nearby surface.
A speckled lens means it's dirty — and you can easily clean your laser pointer's lens. Here's what to do:
Take your batteries out. You do not want to risk accidentally turning your laser pointer on while cleaning it. The beam may hit you directly in the eyes, causing damage to your sight.
Blow on the lens. It's best to use an air duster or anything that holds compressed air for this. If you don't have one, a turkey baster works just as well. Whichever you're using, aim it at the lens and blow some compressed air on the surface. It should remove any dust or other particles there.
Clean the lens. Next, cut a tiny portion of your lens cleaning wipes and fold it over a cotton swab to clean the lens surface. Do not use the cotton swab directly on the lens — it may cause more damage than good. It may leave microfibers on your lens, making it worse than before you began cleaning it.
A brush will be a good alternative to lens wipes. As its name implies, manufacturers designed it specifically for this purpose, so you can be sure it won't cause additional damage to your laser pointer.
Reesibi Electric Cordless Air Duster - 40000 RPM Portable Air Blower 6000mAh Compressed Air Duster Alternative to Air Can Gas Cleaning for Keyboard...
Care Touch Lens Wipes for Eyeglasses | Individually Wrapped Eye Glasses Wipes | 400 Pre-Moistened Lens Cleaning Eyeglass Wipes
Celestron LensPen - Optics Cleaning Tool, Black (93575)
Reesibi Electric Cordless Air Duster - 40000 RPM Portable Air Blower 6000mAh Compressed Air Duster Alternative to Air Can Gas Cleaning for Keyboard...
Care Touch Lens Wipes for Eyeglasses | Individually Wrapped Eye Glasses Wipes | 400 Pre-Moistened Lens Cleaning Eyeglass Wipes
Celestron LensPen - Optics Cleaning Tool, Black (93575)
Last update on 2023-03-30 / Affiliate links / Images from Amazon Product Advertising API.
After doing these steps, put in the batteries and try out your laser pointer. If the light comes out brighter, keep it on for a while longer. It's just to check whether the quality of the beam holds. If it does, you're good to go!
Your last stop: The crystal
Replacing the crystal takes more mechanical skill, so it's worth thinking over before diving head-on. If you feel you're comfortable opening up your laser pointer, it's worth a try. You can attempt to realign your laser pointer's crystal using the following steps:
Take out the batteries of your laser pointer.
Use a small screwdriver to undo the screws that hold your laser pointer together.
Once you've got it opened, carefully realign the crystal with the infrared diode.
Test the components to see if they're working before putting everything back together.
If they are, replace the screws. Make sure they're secured tightly before using your laser pointer again.
Remember, though, that it may still not work out. So if your laser pointer wasn't very expensive and you don't necessarily need to resolve the issue right away, you may want to consider investing in a new one.
You can watch this video for more details:
💥 How to Repair 532nm DPSS Laser / Crystal alignment / general repair / green laser module
Conclusion
Laser pointers are used in various areas these days. And with continuous use, it's not surprising that you run into challenges along the way.
Devices wear out after some time, and laser pointers are no exception. Your batteries have outlived their lifespan, you may need to clean your laser pointer's lens, or the crystal is damaged.
No matter what the reason is, if you notice yours doesn't emit light like it used to, don't panic. There are several things you can do to resolve it, as long as you're willing to try.
Some fixes are simple. You'll never know what headaches you can avoid just by replacing the batteries or cleaning the lens. You may not always resolve it — in the end, sometimes replacing your laser pointer is the best option — but it's always good to know that you have options.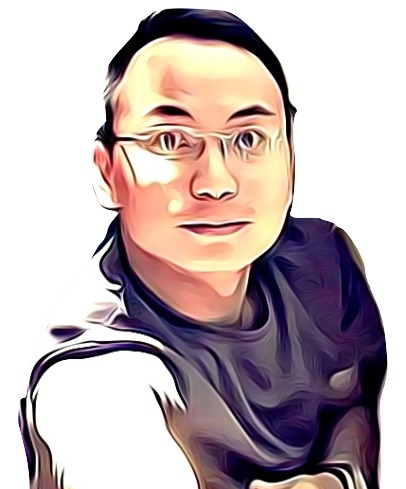 Vance is a dad, former software engineer, and tech lover. Knowing how a computer works becomes handy when he builds Pointer Clicker. His quest is to make tech more accessible for non-techie users. When not working with his team, you can find him caring for his son and gaming.