What To Know
4K video playback on YouTube requires a compatible device and a fast internet connection with at least 15 Mbps bandwidth.
Common barriers to watching 4K on YouTube include device incompatibility, insufficient processing time for 4K videos, power-saving modes, incompatible browsers, and slow internet speed.
To enable 4K viewing on YouTube, ensure your device supports 4K resolution, disable power-saving modes, use Google Chrome, and have a high-speed internet connection.
In this article, I'll quickly guide you through the common hurdles and solutions for enjoying 4K videos on YouTube.
Let's get started!
Can You Watch 4K Videos on YouTube?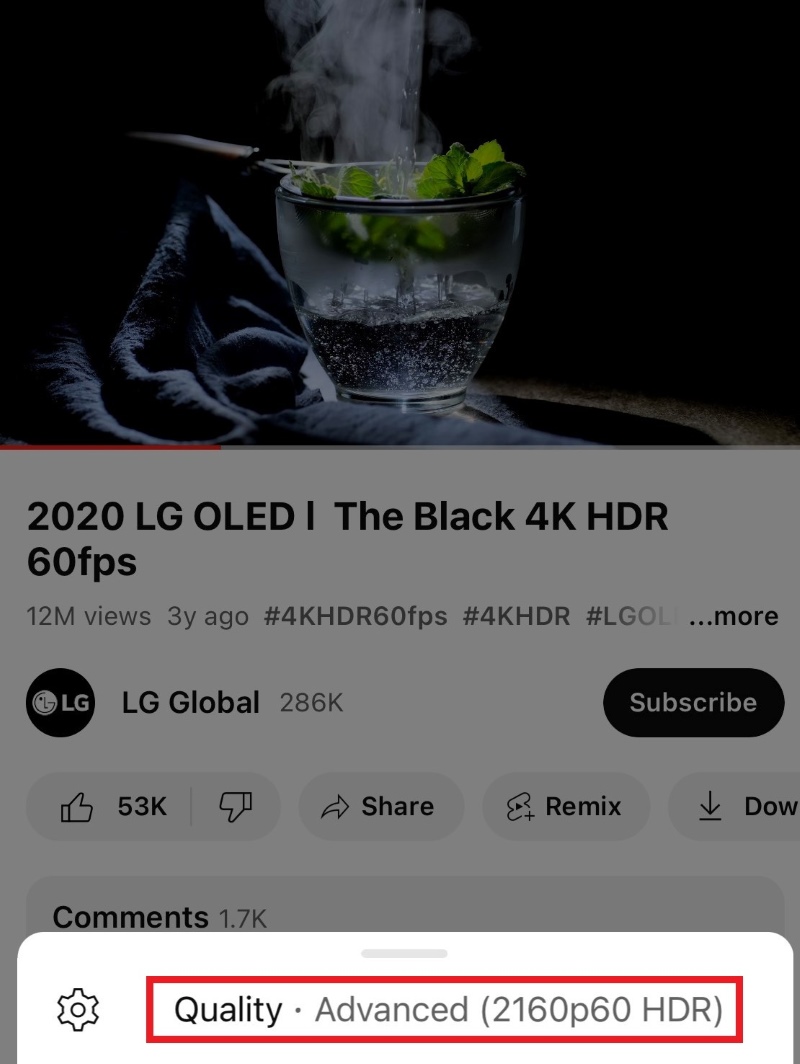 Yes, you can watch 4K videos on YouTube but only on eligible Smart TVs, smartphones, and Android TVs. You must have a device that supports 4K and be connected to fast unlimited internet.
Also, the hardware and operating system must be compatible. You can also watch 4K videos with a Chromecast Ultra but with an HDCP 2.2 4K display capability.
4K playback requires a superfast internet connection than HD and SD, particularly if streaming. You need at least a bandwidth of at least 15 Mbps.
Reasons Why You Can't Watch 4K On YouTube
The most likely reason why you may be unable to watch 4K videos on YouTube is that the video you are trying to play is not available in 4K video quality. A 4K video has to be uploaded as a 4K video for it to be viewed as 4K on YouTube.
Here are other likely reasons:
Your Device Does Not Support 4K
The most obvious reason why you can't watch 4K videos on YouTube is that your phone, TV, or monitor does not support 4K resolution.
Incomplete Processing Time
When processing videos, YouTube copies the content into various resolutions, which are often displayed from the lowest resolution to the highest, which is 4K at the moment.
Due to the bulkiness of 4k videos, it usually takes YouTube longer to process them and therefore may take time for the 4K quality option to show on new videos.
If searching for a new video, and you can't see the 4K quality option yet, give it a bit of time for processing to be complete so that the option can be available.
Power-Saving Mode
Some smartphones and monitors cannot play 4K videos when in power-saving mode. The power-saving mode automatically reduces the screen's resolution so that less power is used up.
This means 4K videos will not play at their native resolution but will be degraded to say 1080p or 720p.
Incompatible Browser
If you are using any other browser apart from Google's Chrome to watch 4K videos, and it's not playing, then you may have to change your browser.
Some browsers such as Apple's Safari do not support the VP9 video codec, the video coding format which YouTube uses for all its 4K videos and HDR content.
Firefox, too, will only play 4K content if using Linux and Windows operating systems because the VP9 codec is enabled but not on iOS.
However, if you are a tech pro, you can enable VP9 on Firefox by switching to true in about: config from the media.mediasource.webm.enabled setting. Take note that this change may impact battery life and performance and should therefore be done as a last resort.
The incompatibility with browsers comes about because of the clash between Google and Apple not wanting to support each other's video coding and decoding formats. YouTube has resisted Apple's H.265, and Apple has similarly resisted supporting YouTube's VP9.
That is why you may be able to watch 4K on every other platform using your iPhone or Mac PC, but struggle to watch on YouTube.
Slow Internet Speed
As mentioned earlier, you will need a faster connection to watch or stream 4K movies.
If you've been experiencing a lot of buffering, then it's likely that your internet speed is slow. You can only watch SD or HD at slow speed, but not 4K.
How to Watch 4K Videos on YouTube
Now that you are aware of the possible reasons why you can't watch 4K YouTube videos on your device, let's now discuss how you can resolve these problems.
Confirm that your phone supports 4K resolution
The first thing you want to do is check that your device can display 4K. As mentioned in the previous chapter, 4K videos can only play on native 4K devices.
Check the specifications on your display either on the device display settings or by searching on Google. A quick way to tell if your device is 4K is if you can record or upload 4K content.
Disable power-saving or performance mode
High-resolution screens require more power. That is why when you turn on the power-saving mode on some smartphones, the screen resolution decreases.
If this is the case, turn off the power-saving mode on your smartphone or monitor to allow for a full-resolution display so that you can play 4K content on YouTube.
Use Google Chrome browser
You will almost always not encounter any problems playing 4K videos on android smartphones as long as your phone's display is 4K. However, if using an iOS or a macOS device, particularly on the Safari browser, it's going to be nearly impossible to see the 4K quality option.
To fix this, switch to Google Chrome. Chrome supports VP9 video codec, the video coding format used by YouTube for its 4K content, as well as HDR.
Enable YouTube 4K option on Android (Root)
Another simple fix is to increase the resolution of the Android phone to 4K. To do this, however, you'd need to use the BuildProp Editor app to make some modifications to the "buil.prop" file. You can download the app from the Google Play Store.
To increase the resolution to 4K:
Download and open the BuildProp Editor
Tap the menu button and click New
Add sys.display-size under the Name field and add 3840×2160 under the Value field on the pop-up dialogue box.
Hit save and Forcefully stop the YouTube app, clear cache, and restart your smartphone
You can now find and watch 4K videos
Check your Internet Speed
Check your internet speed. If it is slow, therein lies your answer to not being able to play 4K on YouTube or streaming videos that are pixelated or with lots of buffers.
So, even if your device is compatible and can support 4K videos, you may need to increase your bandwidth. Google recommends a speed of 20 Mbps to play 4K.
The table below shows Google's recommended internet speed for their different formats:
| | |
| --- | --- |
| Video resolution | Recommended internet speed |
| 4K | 20 Mpbs |
| HD 1080p | 5 Mbps |
| HD 720p | 2.5 Mbps |
| SD 480p | 1.1 Mbps |
| SD 360p | 0.7 Mbps |
You must consistently watch 4K at high speed. Otherwise, YouTube will drop the resolution to 1080p. Also, if more than one person in the household is streaming simultaneously, you may need an even faster connection.
So, for instance, if two of you want to stream a 4K show on YouTube TV simultaneously, you would need to switch to an internet speed of 20 Mbps.
Conclusion
You can watch 4K videos on YouTube. However, certain criteria have to be met for you to watch them smoothly.
First and foremost, your device must have 4K screen specs and consistent high-speed internet, and the 4K content must be available.
In addition, you must turn off the power-saving mode if using a smartphone. Failure to do all these, you will be unable to watch 4K videos on YouTube.
We hope this tutorial will help you fix the issues you have so that you can enjoy watching your favorite 4K videos on YouTube.
Meet Vance. He's a proud dad, a seasoned Electronics Engineer, and an avid tech lover. His proficiency in electronics and troubleshooting skills were instrumental in crafting Pointer Clicker. Vance is passionate about simplifying tech for those who aren't well-versed in it.