What To Know
For selling projectors, consider general marketplaces such as eBay, Craigslist, Facebook Marketplace, and Kijiji, in addition to specialized sites like SellMyProjector.com and US Audio Mart.
When choosing a platform to sell your projector, factors such as the platform's fees, shipping requirements, and the likelihood of reaching your target audience should be considered.
In this piece, I'll guide you through the best online platforms for selling your projector, considering factors like market reach, fees, and convenience.
Whether it's an upgrade or a declutter, finding the right place to sell your projector can be simple and profitable.
In the end, we're sure you'll find at least one worth looking into further.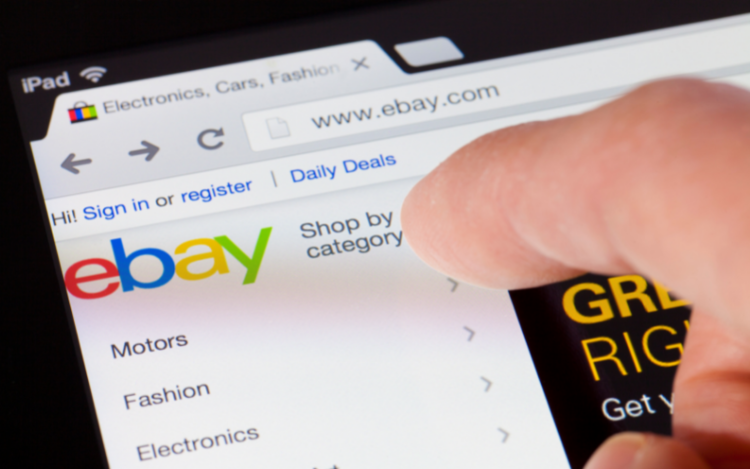 eBay is one of the biggest names in online sales, and for a good reason.
The website has been around for decades and uses an auction format that ensures that you get the highest possible amount for your projector.
If you've been wondering, "Where can I sell my projector?" there's no doubt that eBay crossed your mind.
We're here to confirm it.
It's a great platform for selling your old projector and has only one major con – in most cases, eBay charges a listing and selling fee, which can cut into your profit.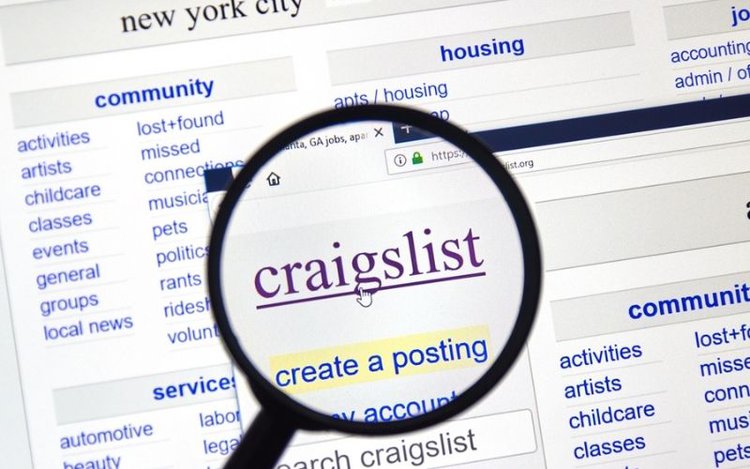 Craigslist is one of the first websites to mind when most people think of selling items online.
It has existed for years, is popular, and it's completely free to list and sell items on Craigslist.
Additionally, most Craigslist transactions are local, making the process quick and simple.
You can meet up with a buyer and sell them your projector as soon as you agree on a price.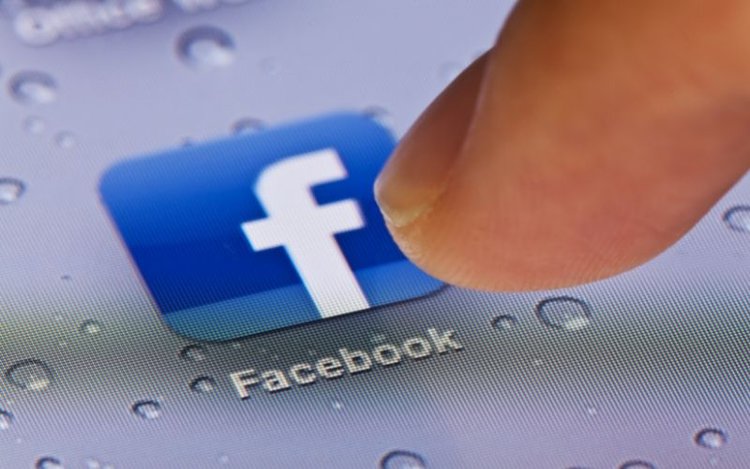 Facebook is one of the biggest social media platforms globally and has an in-built audience for your old projector.
Since most people have Facebook accounts, you're sure to find someone on Facebook Marketplace who will be willing to offer you a good deal for your projector.
All you have to do is go to Facebook and click the "Marketplace" tab on the left sidebar.
Alternatively, you can click the "Buy and Sell Groups" button on the left to look for local groups where you can advertise your projector.
Some groups have their own rules you have to follow and certain criteria for membership.
However, if you find a group devoted to electronics or projectors, the niche may be worth the extra hassle.
Additionally, you probably already have a Facebook account, making this one of the easiest ways to get rid of an old projector that is no longer useful.
It's free to sell on Facebook Marketplace, making this one of your best options for selling a projector.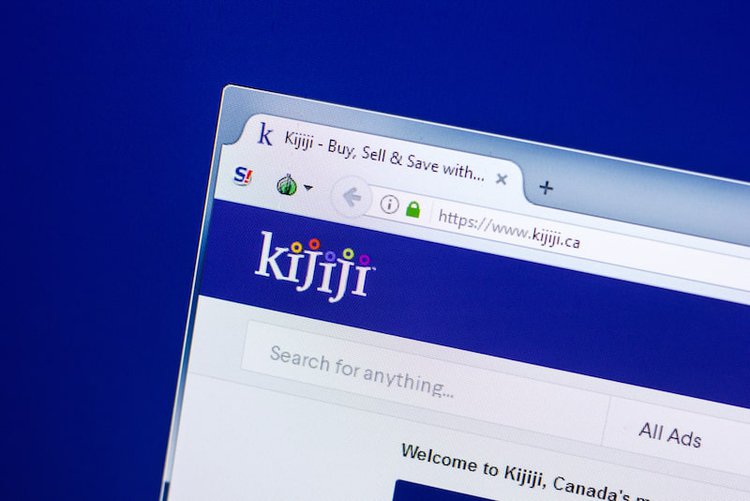 If you're in Canada, Kijiji is the way to go when it comes to selling your projector.
It's a much safer option than Craigslist since all users have to register and follow strict guidelines.
While most transactions are done via cash, there is an option for mobile payment as well, and the website has many built-in features to help you promote your listing.
While Kijiji is primarily known as Canada's version of Craigslist, the marketplace is also becoming increasingly popular in the U.S.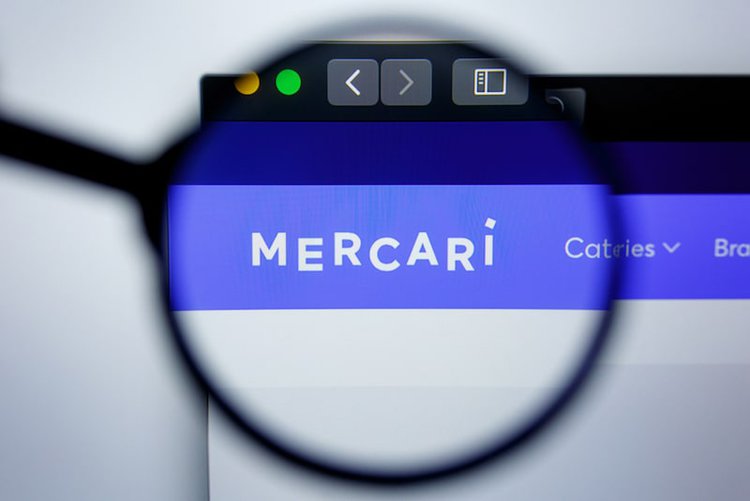 While Mercari is primarily known for clothing, the marketplace allows sales of just about anything. In fact, there's an entire section devoted to projectors and screens.
Fans of Mercari praise it for only selling shippable items, claiming that the lack of in-person meetups makes the website much safer than marketplaces like Craigslist.
Mercari's rating system is also another safety feature that users appreciate.
Sellers should note that while listing items on Mercari is free, they have to pay the platform a 10% flat fee once an item sells.
They need to keep this and shipping costs in mind when pricing their projectors.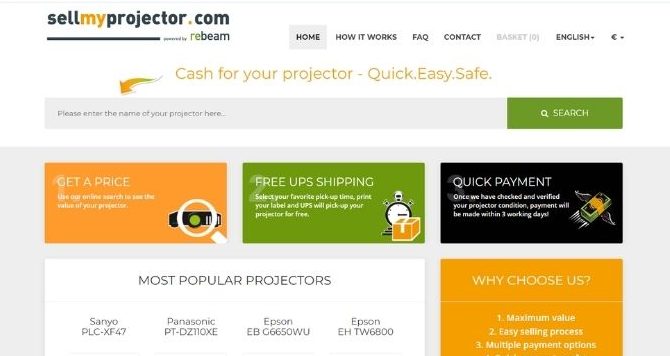 If you're looking for a specialist website, you can't ask for something more appropriate than SellMyProjector.com.
This website makes selling your projector extremely simple and straightforward – all you have to do is use the online search option to value your projector and then send it in.
SellMyProjector specializes in projectors and offers you a fair price.
You may have to sell your projector for less than it is worth on other websites, but with SellMyProjector, you know you'll be getting the best value for your projector.
The service also includes free UPS shipping, making the entire process ridiculously easy.
All you have to do is agree to a pick-up time and wait for UPS to pick up your projector for free.
Once the service has checked the condition of your projector, you'll get the payment within three working days.
You can choose between a bank transfer, PayPal, and a cheque.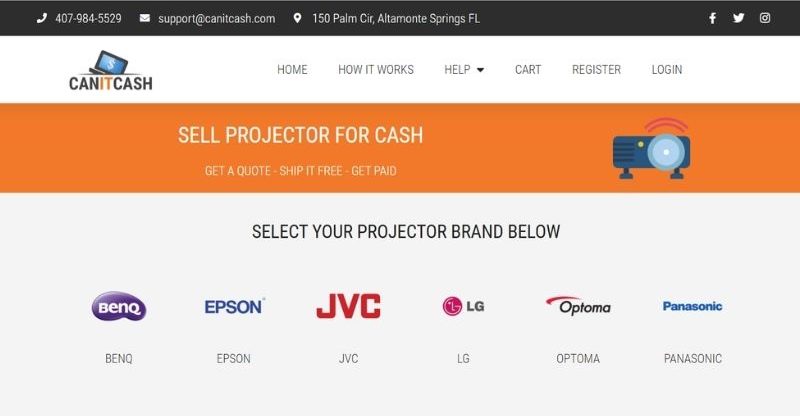 CanItCash is another popular and simple website that lets you sell your electronics for cash.
It has an efficient system that gives you an instant quote based on the projector's condition, and you can print or request a prepaid shipping label.
Shipping is completely free, and once the experts at CanItCash verify the condition of your projector, they can pay you via PayPal, Venmo, Cashapp, cheque, and many other options.
One of the best parts of this is that they guarantee the same or next-day payments once they've received your projector!
If you're someone who has considered selling your Projector to a pawn shop but has never gone through with it, PawnGuru may be the platform that gets you into it.
The website makes pawning your items extremely easy, and all it requires is some basic information about your item, including the type of item it is, the condition it is in, and a good picture.
Once you post your picture, local pawn shops can message you by sending in cash offers.
If you're interested in an offer, you can take your item to the pawnshop and get paid.
Instead of having to go from pawn shop to pawn shop hoping to get the best price, PawnGuru lets the pawn shops come to you, making selling your projector as easy as can be.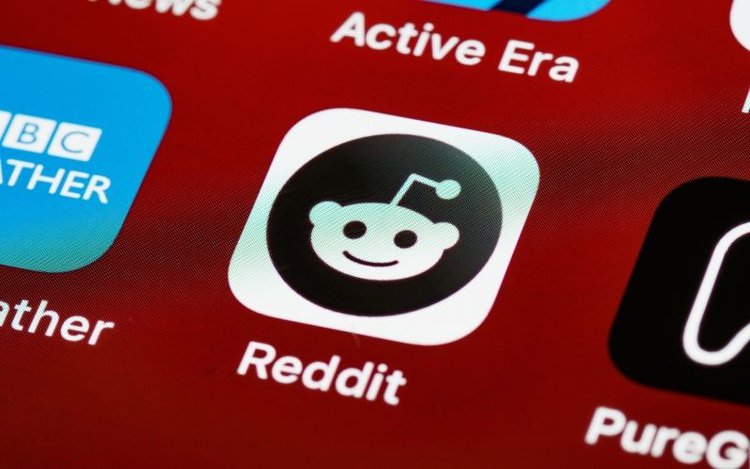 While not the most conventional of marketplaces, the subreddit r/AVexchange is a great place to sell the projector you're no longer using.
The subreddit advertises itself as "a place to put all your used or unused Audio or Video gear," and with more than 40.7K members, there's sure to be someone interested in your projector.
OfferUp isn't as big as Facebook Marketplace or as well-known as Craigslist
However, it is the largest mobile marketplace in the U.S. and boasts over 90 million app downloads.
It's free, available on iOS and Android, and is considered safer than websites like Craigslist because buyers and sellers can receive ratings.
Additionally, you can communicate with buyers on the app and don't have to give out your personal contact information.
US Audio Mart is America's largest free AV classifieds website and allows people to sell audiovisual equipment.
There's an entire section on Display Devices, and the website allows users to sort by states, prices, zip code, radius, keywords, and more.
AudiogoN advertises itself as "the high-end audio community" and allows users to buy, sell, or browse audio-related items.
While the website claims to be limited to audio, there are plenty of projectors available for sale.
You can add your projector to the mix and sell it to a community of AV lovers who know how much the product is worth.
Conclusion
You now have plenty of options to choose from.
When selecting specific marketplaces and websites, make sure to do your due diligence so that you can price your item with factors like shipping or the website's cut in mind.
There are many different routes you can take when selling your projector online.
You can opt to advertise on established platforms like Facebook Marketplace, eBay, Craigslist, and Kijiji, or you can try specialist projector websites like SellMyProjector.com.
The choice depends on your target audience, how quickly you want to get rid of the projector, how much money you're expecting, and whether you want an in-person exchange or prefer to ship the item.
We would advise advertising on multiple different platforms so that you have the highest chance of selling your projector.
Once you've reaped some cash from your sale, take a look at our other posts to see which projector you should invest in next!
Meet Vance. He's a proud dad, a seasoned Electronics Engineer, and an avid tech lover. His proficiency in electronics and troubleshooting skills were instrumental in crafting Pointer Clicker. Vance is passionate about simplifying tech for those who aren't well-versed in it.