What To Know
If you lose your Samsung TV remote, you can use the TV's physical control panel buttons for basic functions like power, volume, and channel control.
The SmartThings app allows you to control your Samsung TV from a smartphone or tablet; ensure both devices are on the same Wi-Fi network for setup.
Other alternatives include using a universal remote, a wireless keyboard and mouse, or purchasing a compatible replacement remote from online retailers.
Have you just lost your Samsung TV remote and in need of a replacement? No worries!
We've got easy and quick solutions to keep you in control of your TV viewing experience.
1. Use the Control Panel Buttons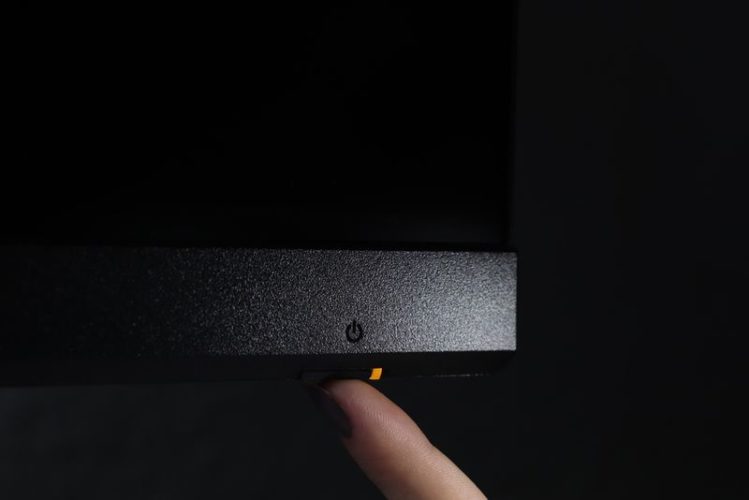 Your TV should have a set of buttons on the front or side of it.
These buttons can be used to control its power, volume, channel, input, and so on. Some TVs will have more buttons on their control panels, while other newer, slimmer TVs will have fewer.
Some new TVs also have touch-sensitive buttons, which you may not have noticed. So, go up to your TV and tap your finger along the bottom bezel to see if you activate any buttons.
If you're lucky, you'll be able to use these buttons to select items on-screen, which will come in handy if you need to connect another device to your TV that requires you to press "Yes" or "Ok" to start the pairing process.
At the very least, you'll be able to surf your TV's channels and adjust the volume, which should hold you over until you find an appropriate replacement or until your old remote is found.
2. Install the SmartThings App on Your Smartphone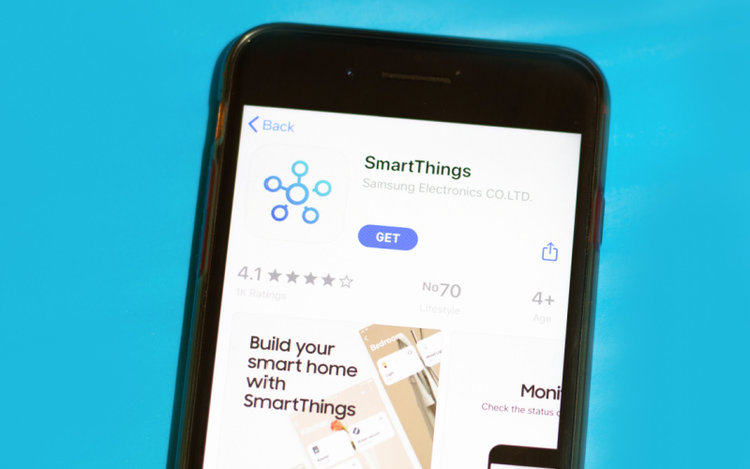 You're bound to lose your remote sooner or later in your life. They tend to fall into couch cushions and are, let's be honest, not very valuable.
Luckily, Samsung has developed an app that allows you to control your TV from the most valuable pieces of technology in your home: your smartphone and tablet.
The SmartThings app displays a virtual remote control on your personal device's screen, allowing you to navigate your Samsung TV just like you would with a traditional remote.
Additionally, this app connects to your TV wirelessly via Wi-Fi, so you don't have to worry about having extra cables in your living room.
Please note that this option is only available for Samsung smart TVs.
Let's learn how to control your Samsung TV using the SmartThings app on your smartphone or tablet!
Step 1: Connect your phone to the same Wi-Fi network as your TV.
You can go to your phone's Wi-Fi/Network settings to check that you're connected to the correct network. It's also a good idea to turn off your phone's mobile data, to ensure it's using your home's Wi-Fi.
Note: Without your TV remote, you probably won't be able to navigate to its settings to check which Wi-Fi network it's connected to. So, you may have to go off of memory or try connecting your phone to different networks in order to successfully pair your devices.
Step 2: Install the SmartThings app on your phone or tablet. Android users can find the app on the Google Play Store. Apple users can download the app from the App Store.
Step 3: Once the app is installed on your phone, launch it.
Step 4: You will be asked to sign into your Samsung account. Ensure you sign into the same account you use on your Samsung TV.
Step 5: Once you've signed into your account, tap Devices found on the bottom of the screen.
Step 6: Add a device to your SmartThings app by tapping the Add (+) icon, found in the top-right corner of the screen.
Step 7: Tap Scan Nearby and wait while your phone searches for your TV. Your TV must be on and connected to Wi-Fi to be discoverable.
Step 8: Once your SmartThings app has found your TV, tap on its name to begin the pairing process.
Step 9: An 8-digit pin will be displayed on your TV screen. When prompted, enter this pin into the app.
Step 10: If your phone has successfully paired to your TV, you will see a confirmation message on your TV screen. Press your TV's OK button found on its control panel to begin controlling it with your phone.
If your TV doesn't have an OK button, you may need to connect another device to it to complete this final step.
Samsung India has a great video outlining this process from start to finish. Watch it below!
Note: The video advises you to log into your Samsung account on your phone before installing the SmartThings app. However, we've found that there is an option to log into your Samsung account in the app, so you don't have to fuss with your phone's account settings.
How to connect your Samsung TV to the SmartThings app.
3. Use a Universal Remote
Most Samsung TVs have an infrared sensor, which receives commands from an infrared remote. This means that your TV is compatible with any universal infrared remote.
So, you should be able to pair a universal remote to it. You may already have one lying around your house that you can use!
If you don't already own a universal remote, we suggest using the Philips Universal Remote Control which boasts compatibility with Samsung smart TVs.
Philips Universal Remote Control Replacement for Samsung, Vizio, LG, Sony, Sharp, Roku, Apple TV, RCA, Panasonic, Smart TVs, Streaming Players,...
Stylish Finish And Ergonomic Design – This Universal Remote'S Brushed Electric Blue Finish Adds...
Multi-Device Control - Operate Up To 3 Different Audio And Video Components Such As Tvs, Blu-Ray/Dvd...
Best Remote Code Library – This Universal Remote Works With All Major Brands And Supports...
Last update on 2023-12-07 / Paid Link.
All universal remotes come with specific pairing instructions in their manuals. The pairing process usually only takes a minute or two, and often involves typing a code into your remote.
Please note that universal remotes rarely support voice control. So, you may have to enter commands manually and use the D-pad to type.
However, this is a moderately priced alternative to your original Samsung remote. This is also a great way to continue using your TV while you wait for a compatible replacement.
4. Use a Wireless Keyboard and Mouse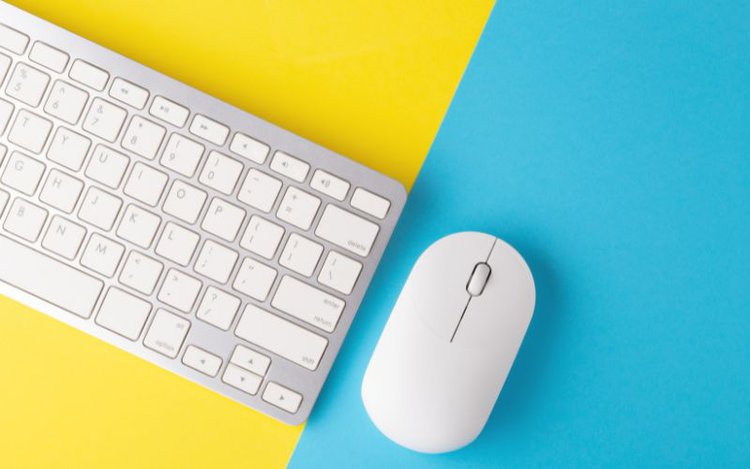 Wireless keyboards and mice work with a dongle that plugs directly into your TV's USB port. This means you won't have to use a remote to navigate to your TV's Bluetooth settings.
Additionally, this will keep your TV setup cable-free, as you won't be restricted by the length of a wired keyboard's cable.
Wireless keyboards are also a great option if you hate typing using your TV's on-screen keyboard.
Please note that some users have found that their wireless keyboards cannot control the Samsung TV's volume. So, you may need to adjust the volume using the buttons on the TV's control panel.
There are tons of wireless keyboards on the market, though we recommend the Logitech K400 Plus Wireless Touch TV Keyboard since it's lightweight and has a built-in touchpad.
Last update on 2023-12-07 / Paid Link.
Let's learn how to connect a wireless keyboard to your TV!
Step 1: Turn your keyboard on and ensure it's fully charged.
Step 2: Plug the keyboard's dongle into your TV's USB port.
Step 3: Start navigating your TV with your snazzy new wireless keyboard!
If you're a visual learner, watch the video below demonstrating how to use a wireless keyboard on a TV.
How to Connect Logitech Wireless Keyboard and mouse to LG Smart TV
5. Purchase a Compatible Replacement
If none of the above solutions sound appealing to you, it may be a good idea to purchase a compatible replacement remote.
If your TV works with a specific remote, you can find and purchase it on Amazon by searching for your TV's model number followed by "remote replacement."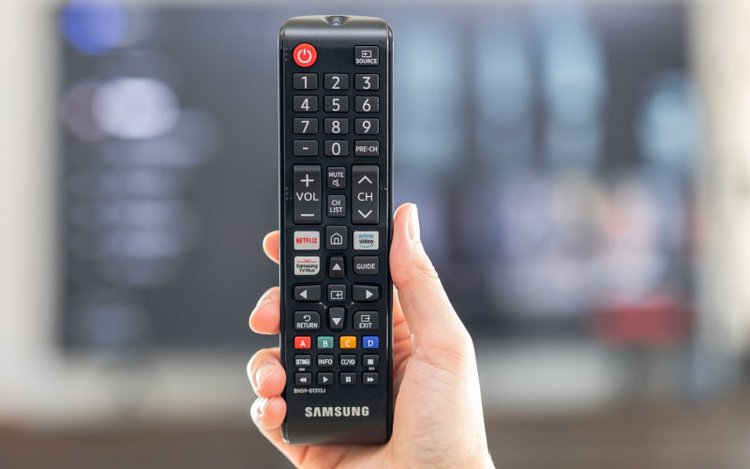 This may be the only option for users who want to use a remote with smart features, such as shortcut buttons and voice command.
Samsung smart TV remote replacements tend to be reasonably priced and are easy to pair with your TV. You will not need your old remote to complete the pairing process.
If you're worried about losing your TV's replacement remote, consider investing in a Silicone Protective Case Cover for Samsung Smart TV Remotes. This stylish cover features a quarter-sized compartment big enough to store an Apple AirTag, so you can easily track your remote with the accompanying app should you ever misplace it.
Last update on 2023-12-07 / Paid Link.
If you're interested in purchasing a compatible replacement but aren't sure which remote your TV uses, consult your TV's user manual or contact Samsung customer care for additional information.
Good luck!
Yesenia Achlim is a technical copywriter and editor with a focus on AV equipment. She aims to break down complicated topics and make technology accessible, no matter your technical expertise. When she's not teaching you how to replace a projector lamp, you can find her reading and baking.