What To Know
Sony TVs are produced globally with hubs in Asia (Japan, China, Malaysia), North America (Mexico), South America (Brazil, Ecuador), and Europe (Spain, Slovakia, Russia).
While some Sony TVs are made in Sony-owned plants, others are assembled in OEM plants in various countries using components imported from outside, and LG Display supplies OLED panels for Sony.
To identify a Sony TV's manufacturing country, one can check the information label on the TV or the product's online listing details.
Wondering where Sony TVs are manufactured or who's behind their production?
You're not alone.
Dive into this article to unveil the multinational journey of Sony TV manufacturing from Japan to various global hubs.
Discover not just the origin but also the intricate partnerships shaping every unit.
Where Are Sony TVs Made?
Sony is a Japanese multinational with manufacturing hubs across continents and countries.
In Asia, Japan, China, and Malaysia are the primary manufacturers. Japan is where it all started before production facilities were set up in other parts of Asia and the world.
The Japan-made Sony TVs are primarily for the domestic market. Contrary to general assumptions, Malaysia, and not China, is home to the biggest Sony TV manufacturing facility outside Japan.
Sticking to Asia, it's worth noting that Sony had signed a deal with Foxconn to make its India-bound televisions in Tamil Nadu (India), home to Foxconn's India plant.
Mexico makes most of the Sony TVs manufactured in North America. Since Sony has no TV production plant in America, almost all Sony TVs made available in the U.S. and Canada are assembled in Mexico.
Sony TVs are made in Brazil and Ecuador, representing the Japanese MNC's South American operations. Spain and Slovakia make your Sony TVs in Europe. Russia also makes Sony TV units for the European market.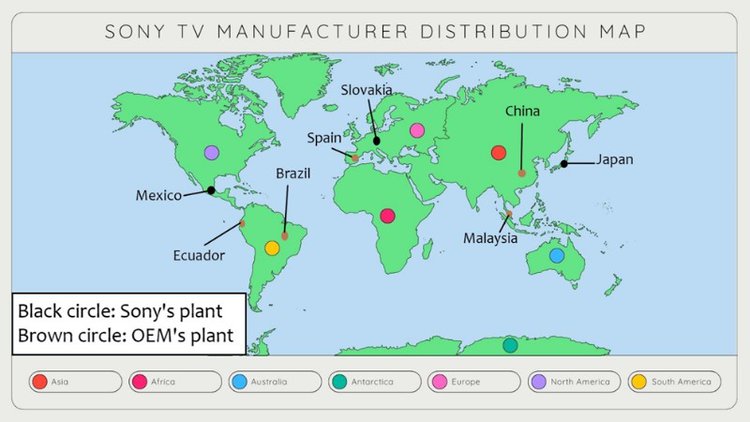 Do note that Sony has had to quit production or shutter manufacturing facilities in certain regions for cost-cutting measures or as part of its business strategy.
Therefore, if Sony TVs are no longer made in some of the countries mentioned above when you read this piece, it's pretty plausible.
Who Are the Manufacturers?
The Sony TV manufacturing operations in Japan, Slovakia, and Mexico are carried out in Sony-owned manufacturing plants.
Sony televisions are made in OEM (original equipment manufacturer) plants in China, Malaysia, Spain, Brazil, and Ecuador, with components imported from outside.
An OEM makes and supplies parts that go into another company's product. For example, HTC started as an OEM before making its products and selling them directly to consumers with the HTC branding.
In this context, LG Display is Sony's OEM partner, supplying display panels for the latter's OLED TVs.
Sony works with multiple OEMs that make various parts, which Sony assembles to make their TVs.
Most of Sony TV's product research and design works happen in Japan, Mexico, and Slovakia. The TV's components are typically made and assembled in other regions.
Sony OLED TVs: Suppliers and Partners
LG makes OLED panels for Sony TVs, besides its own televisions. In other words, if you compare a Sony OLED TV and an LG OLED television, you're theoretically gazing at the same display technology.
Sony, however, could prescribe specific changes to the display LG makes for them. For instance, the panel's brightness levels, color gamut, size, etc., could be Sony-customized.
Why doesn't Sony make its OLED panels? Because it won't be cost-effective and efficient to make the display boards in-house.
LG Display specializes in OLED display manufacturing. It possesses expertise and experience that even big companies like Sony can only partially replicate.
Sourcing the panels from LG Display instead of making them makes business sense, as a result.
Sony used to make OLEDs themselves years ago. Its OLED panel unit later merged with Panasonic. Currently, Sony has no independent TV panel technology.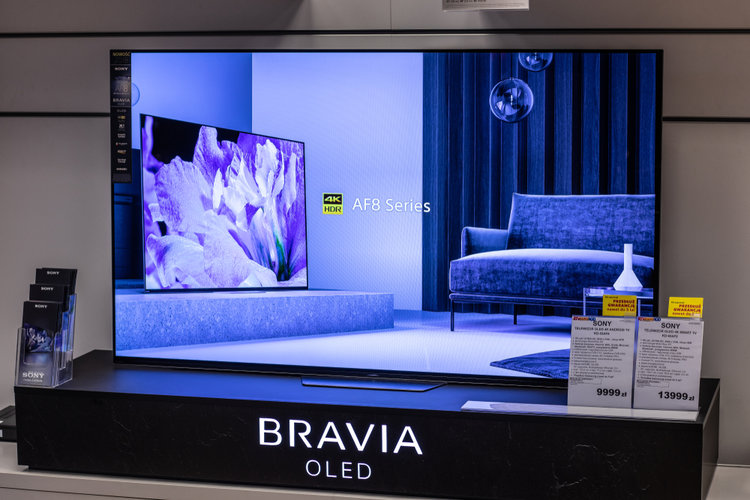 LG Display has OLED panel manufacturing plants in Paju (South Korea) and Guangzhou (China). Besides Sony, it makes OLED panels for several other brands, which include LG (its sister business), Panasonic, Vizio, Hisense, Toshiba, etc.
Samsung is conspicuously missing from LG Display's vendor list since the former focuses more on its QLED TVs and, more recently, QD-OLEDs.
Sony also has a QD-OLED TV, the A95K—the panel supplied by Samsung Display.
Samsung makes OLED panels but relegates them to its Galaxy phones and smartwatches instead.
How To Know Where Your Sony TV Was Made?
There are a few sure-shot ways to find out where a particular Sony TV is made.
Information Label
Check the information label behind your Sony TV to learn where it's made. The label is usually found stuck on the back of the device.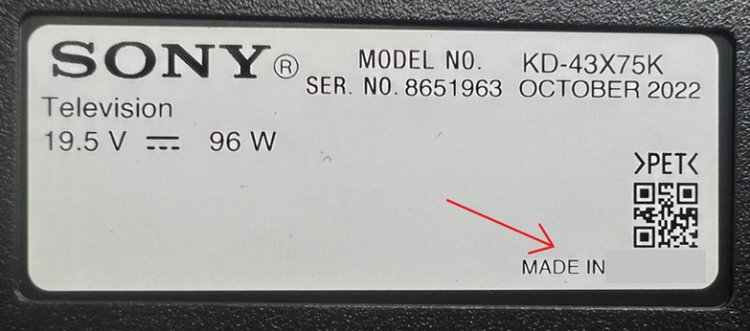 Do note that Sony TVs released in and before 2019 were region-locked, making certain media and apps available to users only in the region the TV was bought or made.
Users could also choose from only a limited number of languages for the user interface. That limitation is currently no longer in place. So, where your Sony TV is made doesn't matter anymore.
Check Online
If the information label doesn't provide the manufacturing country, check your TV's product listing online and peruse its listed specifications.
Sites like Amazon will provide you with the information. Head to the TV's "Technical Details" section under "Product information." The country's name will be mentioned next to "Country of Origin."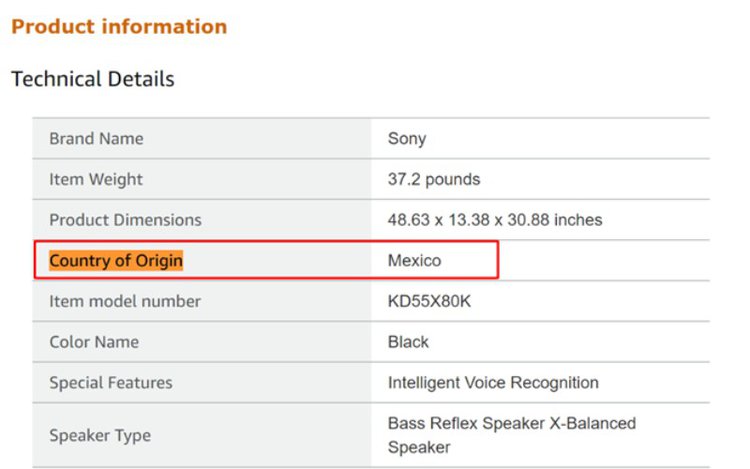 You may also check the TV's user manual for specific information.
Conclusion
Like most multinational corporations in the global economy, Sony too has a retail and manufacturing presence in different parts of the world.
Its production facility spread across the map may not be as robust as some of its competition, but it's significant nonetheless. The strategic positioning also helps ensure high production quality.
Samsung leads the TV business by a distance. LG is another big name in the TV manufacturing space. And, as stated above, LG Display makes OLED panels for Sony TVs and other brands.
Needless to say, the consumer electronics space is quite complementing and accommodating of each other that way.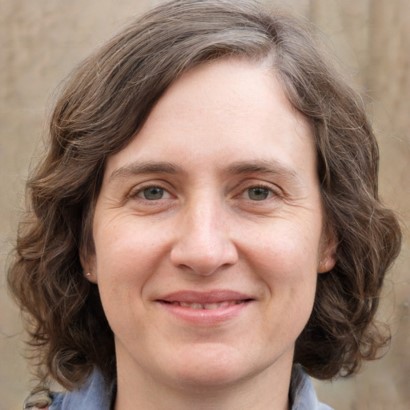 Catherine Tramell has been covering technology as a freelance writer for over a decade. She has been writing for Pointer Clicker for over a year, further expanding her expertise as a tech columnist. Catherine likes spending time with her family and friends and her pastimes are reading books and news articles.