Celebrations such as Halloween parties were some of the things that gravely changed due to the pandemic. And it seems inevitable that they are still going to be limited this year.
Just because strict social distancing protocols are in place doesn't mean you can't have fun, though. You can still celebrate the spirit of Halloween while staying at home.
One of the biggest trends for the spookiest day of the year is Halloween projectors. You can go all out with front yard decorations, but digital projections of scary images or scenes on your windows will likely amuse and scare your neighbors.
While there are plenty of Halloween projectors available on Amazon, you can build your own and add a personalized touch to it.
If you want to learn how to make a DIY Halloween projector, read on.
How to build a Halloween projector?
Before we start, below are the things you will need:
Laptop or computer
Props (optional)
If you don't own a projector, you can always borrow from a friend, colleague, or neighbor before considering purchasing one.
Building a Halloween projector is easy. You don't even need to be crafty. You just have to let your imagination go wild.
Follow these simple steps, and your digital decorations will be ready in less than an hour.
Prepare your see-through projection screen.
For your digital Halloween display, you will need a see-through projector screen for the image or clip to be visible through your window.
You can buy a specialized projection screen on Amazon , which creates the perfect hologram effect. It already comes with mounting hooks and can be used in a doorway, window, or any open space.
What can I use for a Halloween projector screen?
You can also use items that are readily available in your home. You can use a transparent shower curtain or several pieces of white printer paper.
When using a shower curtain, attach it to the rail or use clamps to secure it in place. If you're using white printer paper, tape them up together, and stick them to the wall.
If you want to create a bigger projection screen for an outdoor Halloween display, either in your lawn or garage, you can do so by using the following materials:
If you do not have a clothes rack, you can create the frame of your projection screen using PVC pipes, which are available in your local hardware store. You will need solid core 1.5-inch PVC pipes, 90-degree elbows, and four-way tee fittings that fit 1.5-inch pipes.
Cut the PVC pipes into your desired lengths, and assemble the frame. The 90-degree elbows go on the upper corners and the tee fittings on the bottom and the feet of the frame.
Gray or white bridal mesh fabric
You can also use any semi-transparent fabric, fine gauze, mosquito netting, or scrim.
When choosing one, shine a flashlight through the back of the fabric and see how well it displays on the other side; it should show the beam clearly but shouldn't be too see-through either. Mesh-like fabrics are a good choice because they capture light well while being discreet.
Once the clothes rack or DIY frame is ready, attach the bridal mesh fabric and secure it with clamps or tape. Make sure to stretch it out evenly to avoid wrinkles.
Pick your Halloween projection clip or loop.
You can use any clip or loop. Your imagination is your only limit.
Some of the more popular ones are ghost holograms, laughing or flying witches, zombies, and even funny clips from movies.
You can easily find videos you can use on Youtube.
Below are some Halloween projection loop ideas:
Friendly Ghost Projection Halloween Decoration for Kids
🎃Friendly Ghost Projection Halloween Decoration for kids and your Haunted Mansion!🎃
Zombie window projection loop
Zombie window projecton loop
Haunted House Projection – Spirit Bride Enter (2hr Loop)
Ghostbusters Halloween Projection Show 2021
Ghostbusters Halloween Projection Show 2021
If you like creating animations, you can create your own projection loops. You can also buy them from companies selling digital decorations in DVD or downloadable formats.
Set up your projector.
If you will set up your screen on a window, change your unit's projection orientation to rear projection via the Setup submenu. You don't want horizontally flipped images projected on your screen.
This may be easily overlooked if you use clips or loops featuring ghosts and similar effects but is noticeable if you use videos that include words, for instance, "Happy Halloween."
Position your projector properly to avoid ripples and shadows in your projections. If you will be using see-through curtains, leave them loose to give your projection image or clip more depth.
Test your image or clip projection repeatedly until you get the best angle. You can also try adding props to make your Halloween display look even more realistic.
For a quick video tutorial, watch this:
Halloween Ghost Hologram Projection DIY
What makes a Halloween projector the perfect decoration?
In the past years, houses used to be filled with decorations such as jack-o-lanterns, giant spiders, fake webs, and hanging ghosts. Nowadays, though, more and more people have gone digital with Halloween projections, and for many reasons.
Halloween projections aren't only fun. They are also budget-friendly. If you already have a projector at home, then you are almost good to go.
Traditional Halloween props are messy and time-consuming to set up, plus they require cleaning up. Halloween projections, on the other hand, take little time to set up and pack up.
A projector is also versatile. You can change the theme of your display and use it for other special occasions and holidays such as Christmas and New Year.
A projector also allows you to have creative and unique displays not just of spooky images but also creepy clips or even horror movies. Forget about pumpkins and plastic skeletons; impress your neighborhood with realistic ghost apparitions in your windows.
Conclusion
Spooky window projections take Halloween decorations to a whole new level. You can still fill your front yard with standard decor for kids to interact with, but using a Halloween projector will bring horror nights to life.
There is nothing scarier than a ghost suddenly materializing out of thin air. It will not only send your Halloween guests screaming but will also impress them with your realistic spectral display.
Just because it's a pandemic Halloween doesn't mean we can't have fun, so get creative with your displays and level up your home decor with a DIY Halloween projector.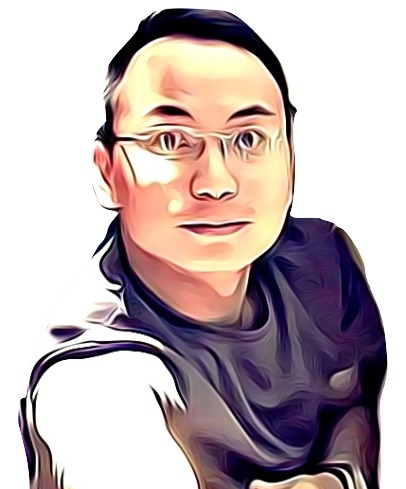 Vance is a dad, former software engineer, and tech lover. Knowing how a computer works becomes handy when he builds Pointer Clicker. His quest is to make tech more accessible for non-techie users. When not working with his team, you can find him caring for his son and gaming.