Portable projectors make it possible for people to watch their favorite TV shows and movies from anywhere they like. Fortunately, this also means their bedroom.
Mounting a projector on a bed is great news for those who frequently struggle with insomnia or boredom. It means people no longer have to walk from their bedroom to their living room to watch their favorite shows on the big screen.
There are several ways you can mount your projector in your bedroom. Something that not a lot of people have tried is to mount the projector on the bed.
Now, you might be asking yourself;
"How do you mount a projector on a bed?"
In this article, we guide you through the steps of mounting a projector to a bed. We also give you tips and tricks on setting up your projector for the best viewing experience.
How Do You Mount a Projector on a Bed?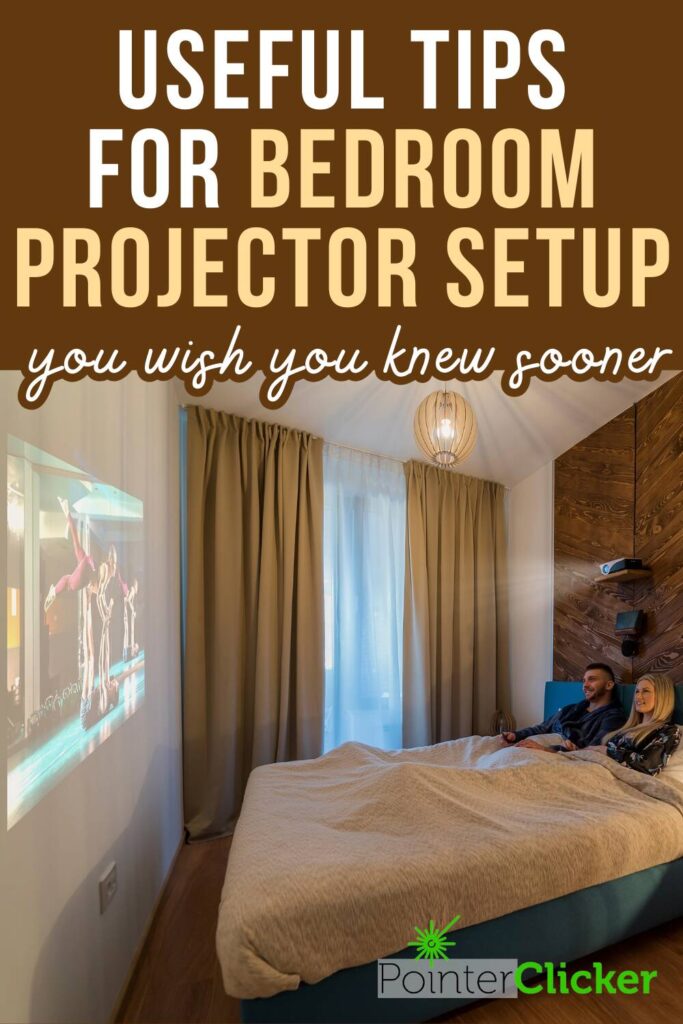 The method you will use to attach a projector to your bed depends on the type you own. Portable projectors like the BenQ GV30 are the go-to choice for most people.
This type of projector makes it easier to attach the equipment to your headboard or bed canopy.
However, what do you do if you have a full-sized projector? We discuss these options in further detail below.
1. Mounting a Portable Projector to a Headboard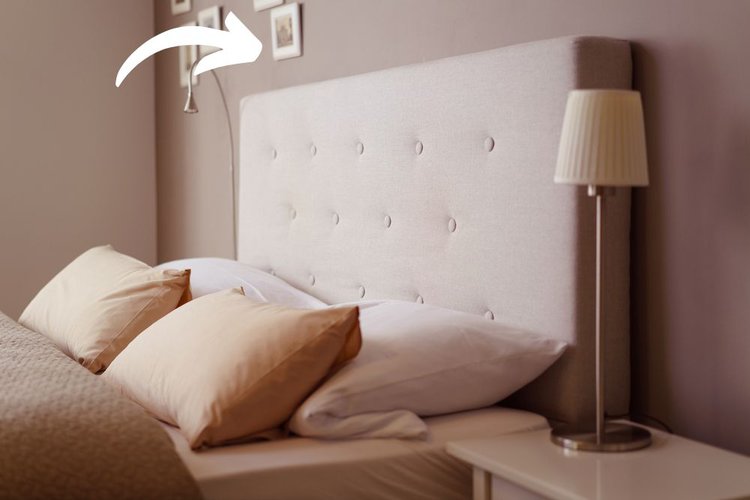 Headboards are made with varying materials and designs. So, the process by which you mount your portable projector will also vary.
If your headboard has a wide top rail, you can simply place your portable projector there. Then, you can start watching all your favorite shows in your bedroom.
To elevate your projector while in use, you may also want to invest in a small projector tripod like the SoeKoa tripod .
On the other hand, if your headboard's top rail is narrow, you may need to make or buy a portable projector bracket that you can attach to your headboard.
2. Mounting a Full-Size Projector to a Headboard
Due to its shape and size, mounting a full-size projector to your headboard can be tricky. You can still place it on your headboard's top rail if it's wide enough.
However, if your headboard is narrow, you may need several other tools to achieve this goal.
a. Wall Shelf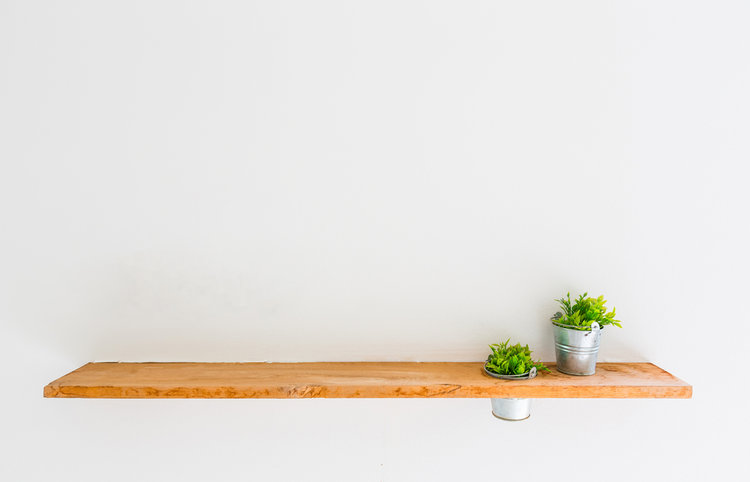 A small wall shelf can be used to store your projector above your bed's headboard. However, you'll need to drill it into your headboard – that's if your headboard is wooden.
If it's made of another material, like metal, you may want to try using another method on this list, e.g., using a tripod or an S-Bracket.
Wall shelves are much stronger than small portable projector brackets. They can carry weights of 3 to 10lbs, so it's an appropriate choice for full-sized projectors.
You can attach the wall shelf to the top-most area of your headboard, or you can also connect it to the wall directly above your headboard. Doing this prevents you from banging into it accidentally.
b. L-Brackets
An L-bracket looks how you'd expect it to: Like the letter "L."
It works similar to how a wall shelf would work. The only difference is that you won't need to drill this into your headboard or wall.
L-brackets are shaped to allow you to clip them to the backside of your headboard. The L-brackets should remain relatively secure once you push your bed against the wall.
All that's left to do is set up your projector and watch your favorite movie.
The great thing about L-brackets is that they don't have a limit on how far their arms can spread. So, regardless of how wide your projector is, you can still use these brackets to hang your projector from your headboard.
L-brackets are also great for people who don't have any measuring tools they can use to get the right measurements of their equipment.
In other words, they can fit more projector models than most brackets and stands. They also tend to be a lot cheaper.
3. Mounting a Full-Size Projector to a Bed Canopy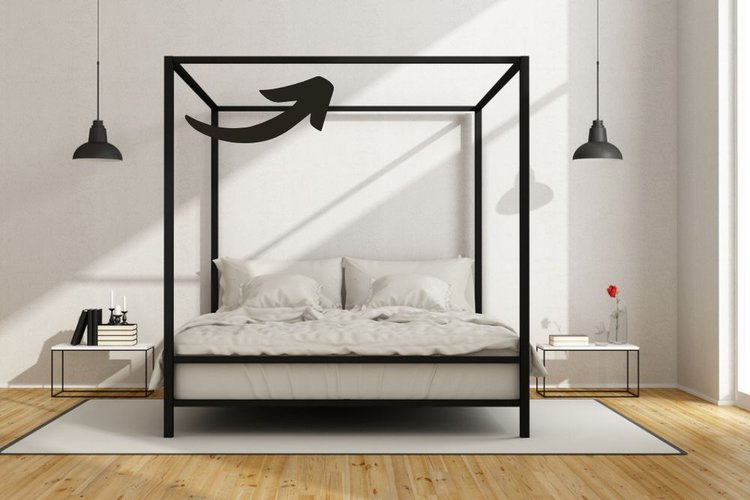 If you have a bed canopy, then there is another way you can mount your projector to your bed. This is with the use of a truss ceiling mount .
A truss ceiling mount can easily slip onto your bed canopy, allowing you to hang your projector from your bed with little trouble.
We highly recommend the QualGear Pro-AV Truss Ceiling Kit for bedroom canopies. They're secure, easy to install, and come at a relatively affordable price.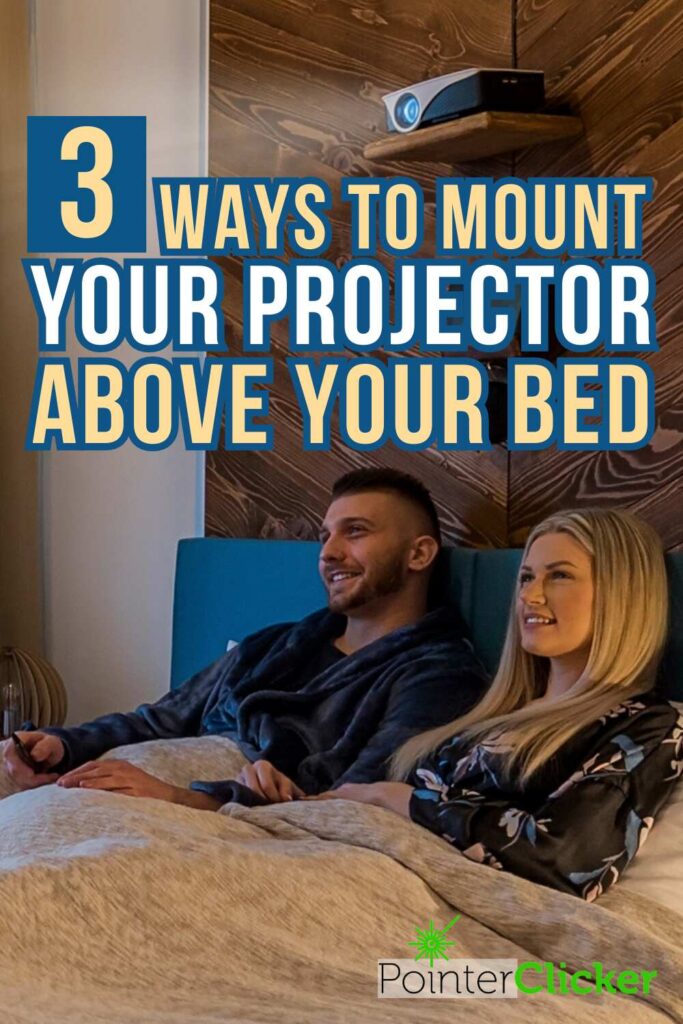 How Do I Project Images on My Bedroom Ceiling?
If your goal is to watch your favorite TV shows and movies while lying flat in your bed, the earlier methods should still work for you.
However, one other method that's proven effective for many users is the one we're about to teach you right now.
1. Using a Projector Tripod
Projector tripods come in all shapes and sizes. We used a medium-sized stand for this example, the WeWatch PS101 .
This little gadget can carry up to 7lbs, making it a great companion for your projector.
You simply mount your projector onto the tripod. After that, you adjust the tilt so that the projector is facing your ceiling.
All that's left for you now is to plug your projector into a power source and turn it on.
2. DIY S-Bracket
An s-bracket supports objects like phones and portable projectors, holding them in place while they're in use.
They can be made of absolutely anything, as long as they're sturdy enough. You can make your own or you can buy one from the store.
The great thing about s-brackets is that you can hang them over a thin edge or surface and they will stay secure – unless the weight of the item it's carrying is too heavy.
A do-it-yourself S-bracket is an excellent option for those using a portable projector. You can make an S-bracket from either metal or plastic.
In our opinion, metal would be much better as it's much sturdier than plastic and should last you a long time.
In one of the examples we found, the user manipulated a small piece of a metallic grid to make their S-Bracket. Metallic grids can be easily found in department or hardware stores. You can also buy big rolls of them from online stores like eBay or Amazon.
The great thing about metallic grids is that they're pliable but sturdy. So, you don't need to do any type of smelting or shaping to form it into an S-bracket.
You can find a detailed guide on how to DIY an S-bracket here.
How Do I Set Up My Projector for Bedroom Viewing?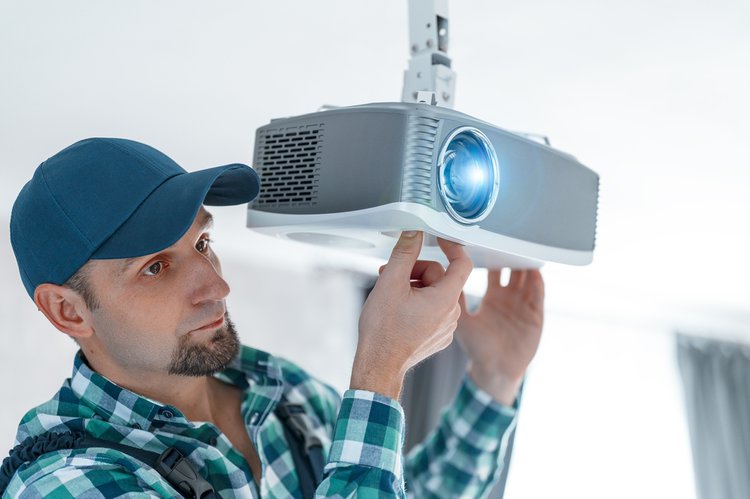 Mounting is only one of your problems when trying to hook up your projector to your bed. You also have to think about the wiring.
It's easy if you have an outlet near your bed. Then all you'll have to do is plug and play.
However, powering the projector can be a little tricky for those who don't have an outlet near their bed.
You can use extension cords to connect your projector to a power source. However, this can be a fire risk in many homes. Plus, depending on which state you live in, it can also be against building codes.
So, what's the safest thing you can do?
Install a Power Kit
Power kits can be handy, especially if you don't want to install a new outlet from scratch. Something like the On-Q in-wall power kit is an excellent choice, as it comes with all the wiring and hardware for the project.
It's the easiest option for those who want to take the DIY route. The On-Q Power kits come with pre-cut wires, so all you need to do is attach them to the appropriate outlet, and you're good to go.
Connecting the electrical components of your power kit can be intimidating. Luckily, most power kits come with a detailed installation manual. So, you have something guiding you every step of the way.
Note: If you're not confident with your DIY skills, it's best to contact an electrician to ensure the work is done right.
Now, if you got the On-Q in-wall power kit as we suggested, here's a brief guide that will help you out with installation:
On Q: Installing the Legrand In-Wall Power Kit
FAQs About Projectors in the Bedroom
Can You Mount a Projector to the Foot of Your Bed?
It's possible to mount your projector to the foot of your bed using the methods we mentioned above. However, we don't recommend that you do this.
Especially if you're a fussy sleeper, you could very easily kick your projector while asleep. The last thing anyone wants to wake up to is a broken projector on the floor.
A much better idea would be to buy a projector tripod to hold your projector while you're using it.
You may also try mounting it on the wall directly above your bed's headboard. If you have a shelf above your headboard, this would also be a great option.
TV vs Projector in the Bedroom: Which Is Better?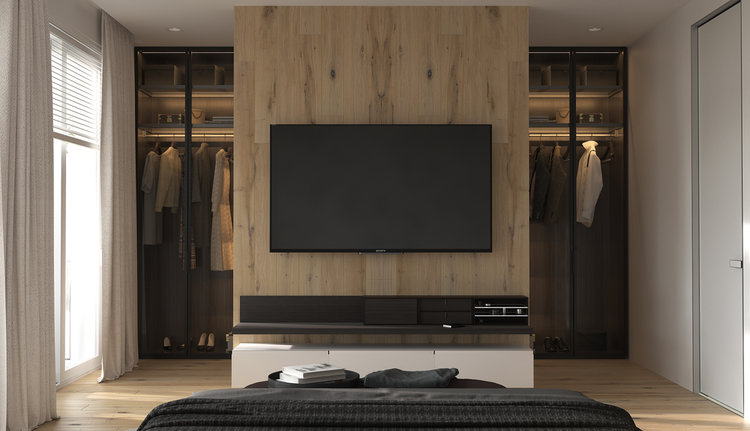 That depends on your preferences and needs. Some people enjoy watching their favorite TV shows and movies in larger forms. In this case, a projector would be a great choice.
There are also some people who enjoy the simplicity of small-screen entertainment. For those individuals, a TV would perfectly suit their needs.
If your bedroom is larger than most, a TV may not suffice. In this case, we recommend getting a projector so you can enjoy a more memorable movie experience.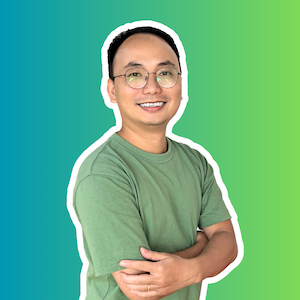 Vance is a dad, former software engineer, and tech lover. Knowing how a computer works becomes handy when he builds Pointer Clicker. His quest is to make tech more accessible for non-techie users. When not working with his team, you can find him caring for his son and gaming.