You're projector's specs boasted two 5-Watt speakers and promised that their sound could be heard from several feet away. However, when you connected it to your laptop to watch a movie, you could barely hear its soundtrack, let alone the audio.
Alternatively, maybe you found that the projector you bought didn't have built-in speakers at all! Many high-quality projectors, like JVC units, don't have speakers as they're meant to be connected to a sound system.
You're realizing you may need to connect your projector to an external audio device, and that a soundbar may be the best option since it produces high-quality sound and is easy to connect.
However, many modern soundbars use HDMI ARC or eARC, but do projectors even support this feature?
Yes, many projector models are ARC/eARC compatible. That said, not all projectors will support ARC/eARC.
So, it's important to confirm that your unit supports HDMI ARC and eARC before investing in a soundbar.
I'll walk you through what HDMI ARC and eARC how, when and why you need them, and how to enable them on your projector.
Are you ready to connect a soundbar to your projector and create an envy-worthy sound system? If the answer is "Yes," then let's get started!
20+ Projectors That Support HDMI ARC/eARC
Refer to the list below to see if your projector supports HDMI ARC/eARC. Please note that this list is not complete and may not include some lesser-known projector brands and models.
So, if you don't see your projector here, then head to the section "How Do I Know If My Projector Has ARC or eARC?" to learn how to search your projector's settings for its ARC/eARC function.
BenQ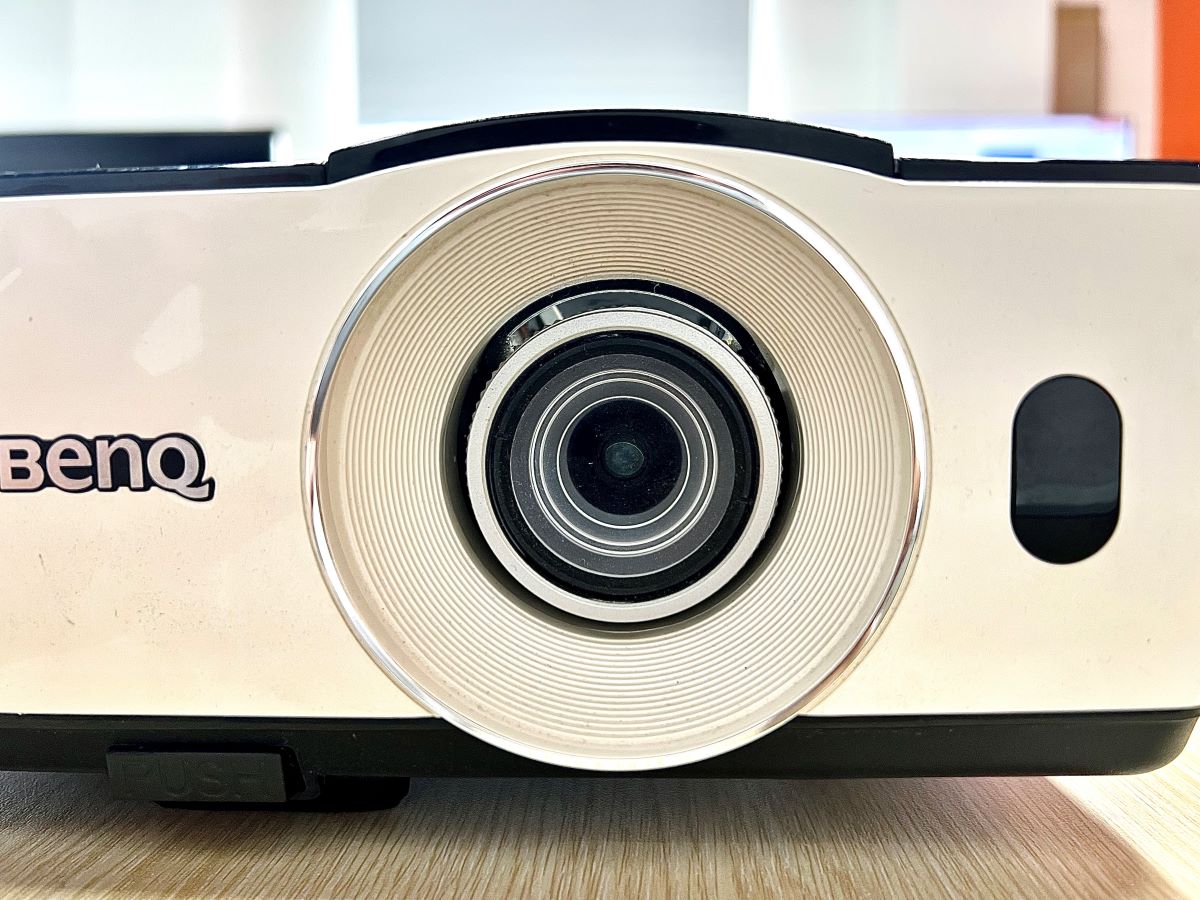 The BenQ brand, they have a list of the projector that supported HDMI eARC or ARC
Projector Model
HDMI ARC
HDMI eARC
Dolby Atmos
X3000i / TK700STi / TK700
Yes (5.1 channel)
Yes (7.1 channel)
Yes
X1300i / TH685i /GP500
Yes (5.1 channel)
No
No
TK850 / TK850i / T810/ HT3550/ HT3550i / V7050i

GS50

Yes (2 channels)
No
No
Optoma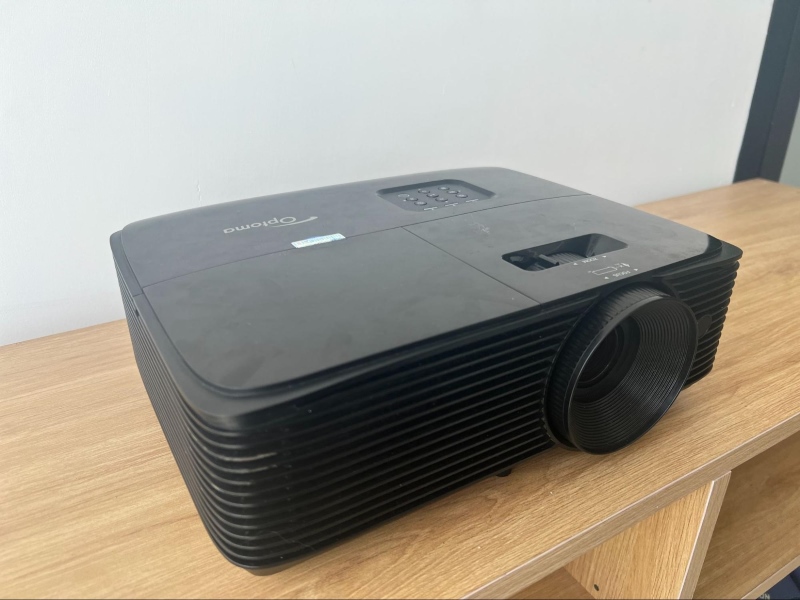 | | | | |
| --- | --- | --- | --- |
| Projector Model | HDMI ARC | HDMI eARC | Dolby Atmos |
| ZK400 | Yes (5.1 channel) | No | No |
| UHZ45 | Yes (5.1 channel) | Yes (5.1 channel) | No |
| UHZ50 | Yes (5.1 channel) | Yes (5.1 channel) | No |
| CinemaX D2 Smart | No | Yes (5.1 channel) | No |
Epson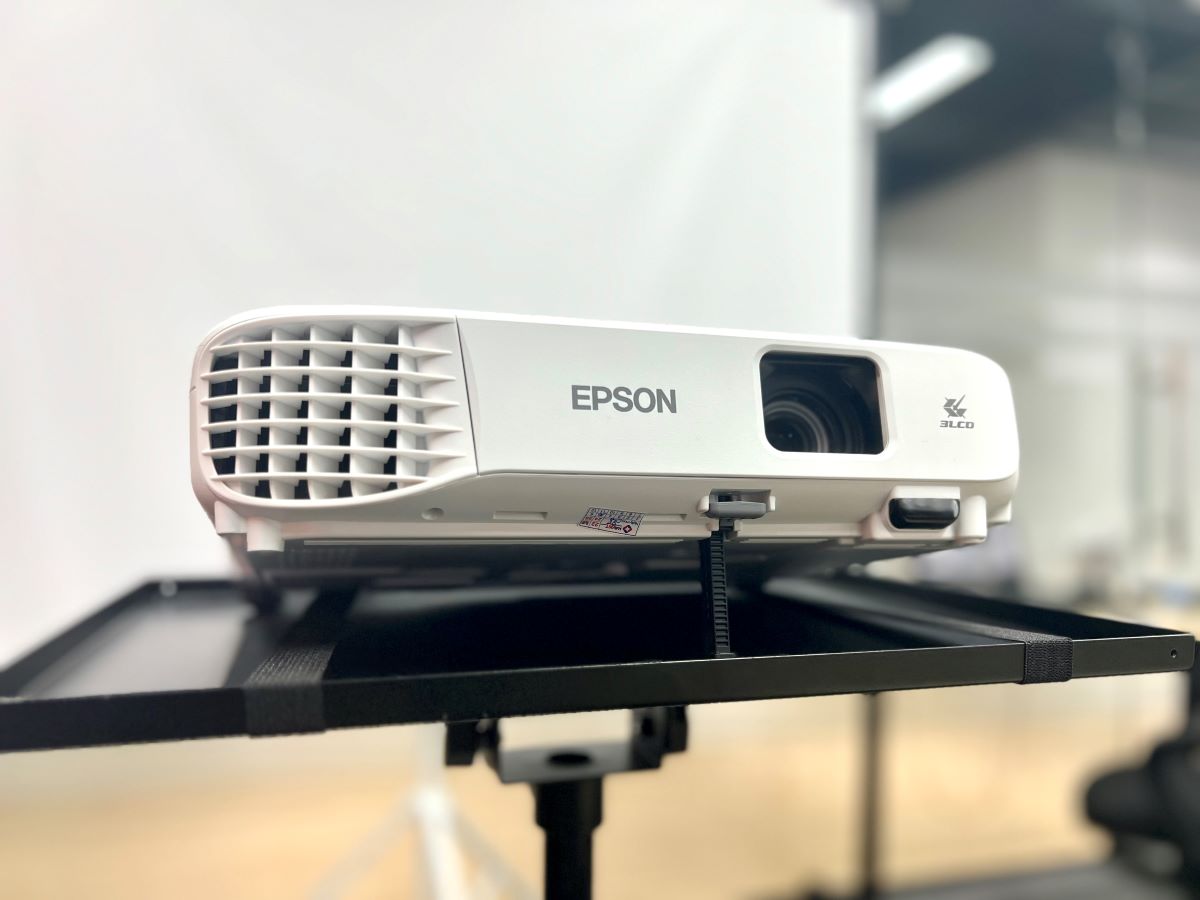 ARC vs eARC: What's the Difference?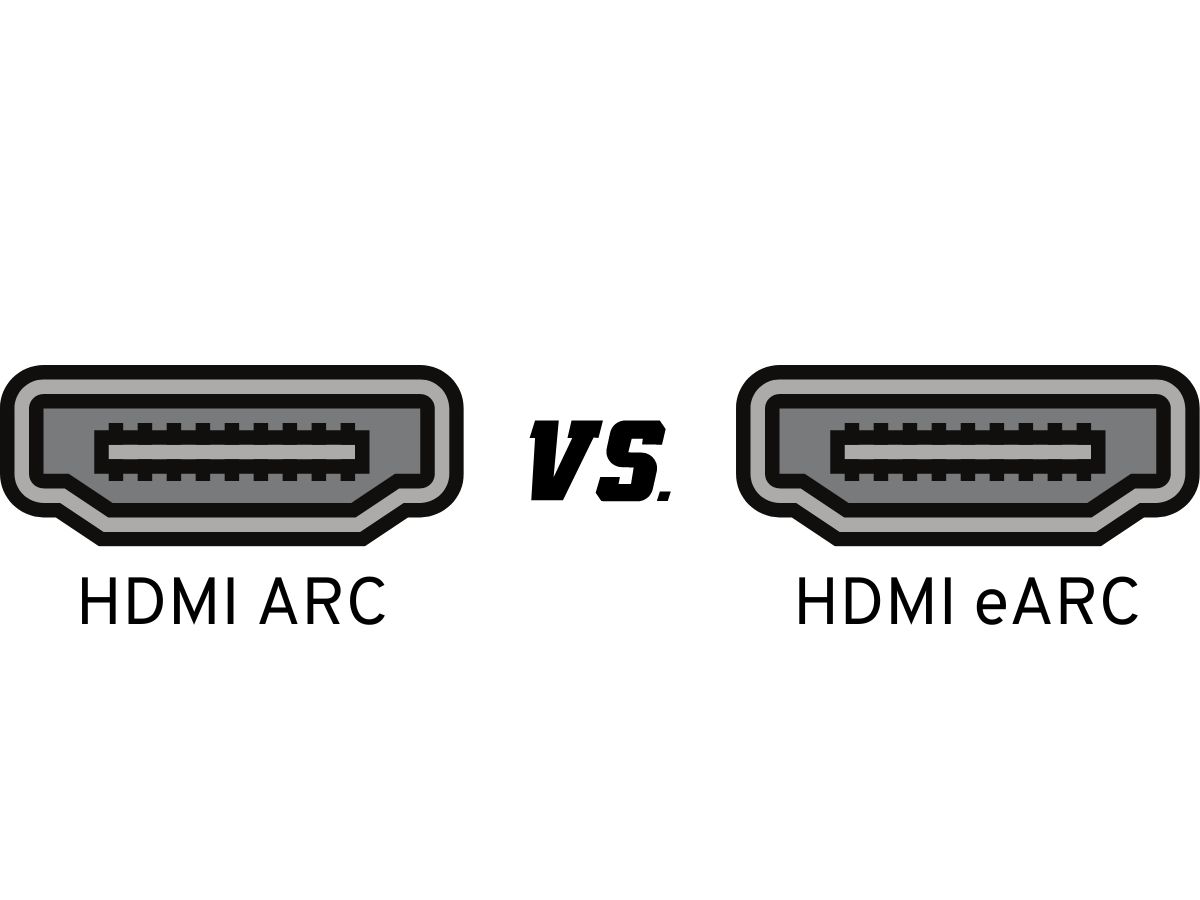 While ARC stands for Audio Return Channel, its successor, eARC, stands for Enhanced Audio Return Channel.
Both ARC and eARC are used to connect audio devices to displays. Their main difference lies in how much data they can transmit and how fast it takes them to do so.
eARC, the updated version of ARC, can transmit much more data than ARC, allowing it to support higher-quality sound. Remember, one device's sound is transmitted to another via data, with low-quality sound requiring less data transmission and high-quality sound requiring more.
Check out the table below for a more detailed comparison between these two formats.
You can connect your ARC soundbar/amplifier to an eARC projector, but bear in mind that you may not have the highest quality sound due to the ARC's data transmission limitations.
So, if you want to have the best sound quality possible, it's best to ensure all devices are eARC-compatible.
ARC vs eARC Comparison Table
Refer to this table to see the technical differences between HDMI ARC and eARC.
| | | |
| --- | --- | --- |
| Function | HDMI ARC | HDMI eARC |
| HDMI cable used | HDMI 1.4 or higher | HDMI 2.1 or higher |
| Stereo support | Yes | Yes |
| Compressed 5.1 | Yes | Yes |
| Uncompressed 5.1 | No | Yes |
| Uncompressed 7.1 | No | Yes |
| Maximum Audio Bandwidth | ~1Mbit/second | 37Mbit/second |
| TV mutes & control volume | Yes (CEC) | Yes (CEC) |
| Powering TV Powers Audio Device | Yes (CEC) | Yes (CEC) |
How Do I Know If My Projector Has ARC or eARC?
Finding out if your projector has ARC or eARC is easy. You just need to check your unit for the ARC and eARC labels.
Most manufacturers label HDMI ports according to their functionalities. If your projector HDMI port is ARC or eARC compatible, it will most likely be labeled "HDMI 1 ARC" or "HDMI 1 ARC/eARC."
How to Connect A Projector to a Soundbar via HDMI ARC/eARC?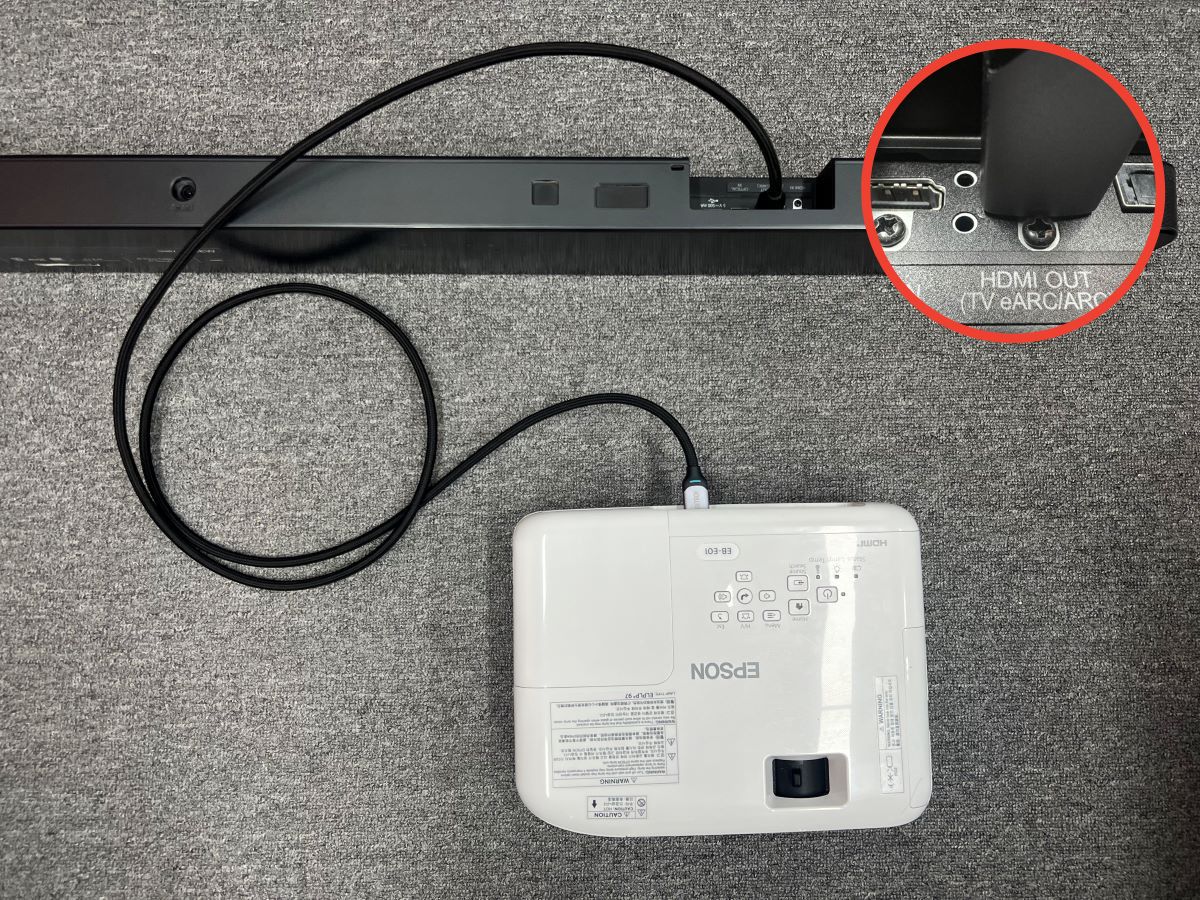 Step 1: Check that your projector and soundbar are both plugged into power and turned on.
Step 2: If your projector isn't a smart unit with built-in apps, connect a laptop or streaming device to its HDMI port. Remember, streaming devices must also be powered either via
Step 3: Now it's time to connect your soundbar to your projector. If you're setting up an eARC connection, use a 2.1 HDMI cable. Otherwise, you'll need at least a 1.4 HDMI cable to create an ARC connection.
Plug one end of your HDMI cable into the soundbar's HDMI ARC/eARC port.
Then, connect the other end of the same HDMI cable to the projector's HDMI ARC/eARC port.
More often than not, only one of a projector's HDMI ports will support ARC/eARC, so be sure to connect your HDMI cable to the correct port.
Step 4: On your soundbar, adjust its connection method to ARC/eARC. This can usually be done by pressing a button on the soundbar's control panel.
Step 5: Lastly, head to your projector and change its audio output to the connected soundbar.
How to Get Dolby Atmos With a Projector
Your soundbar sounds pretty good, but you'd love to take it one step further by getting Dolby Atmos. Projectors can be connected to soundbar systems via HDMI ARC or eARC provided that your projector has HDMI ARC/eARC ports.
Once you've confirmed your projector has the necessary ports, you can then set up Dolby Atmos using the soundbar's passthrough feature.
This setup with HDMI ARC/eARC would look like the system shown below.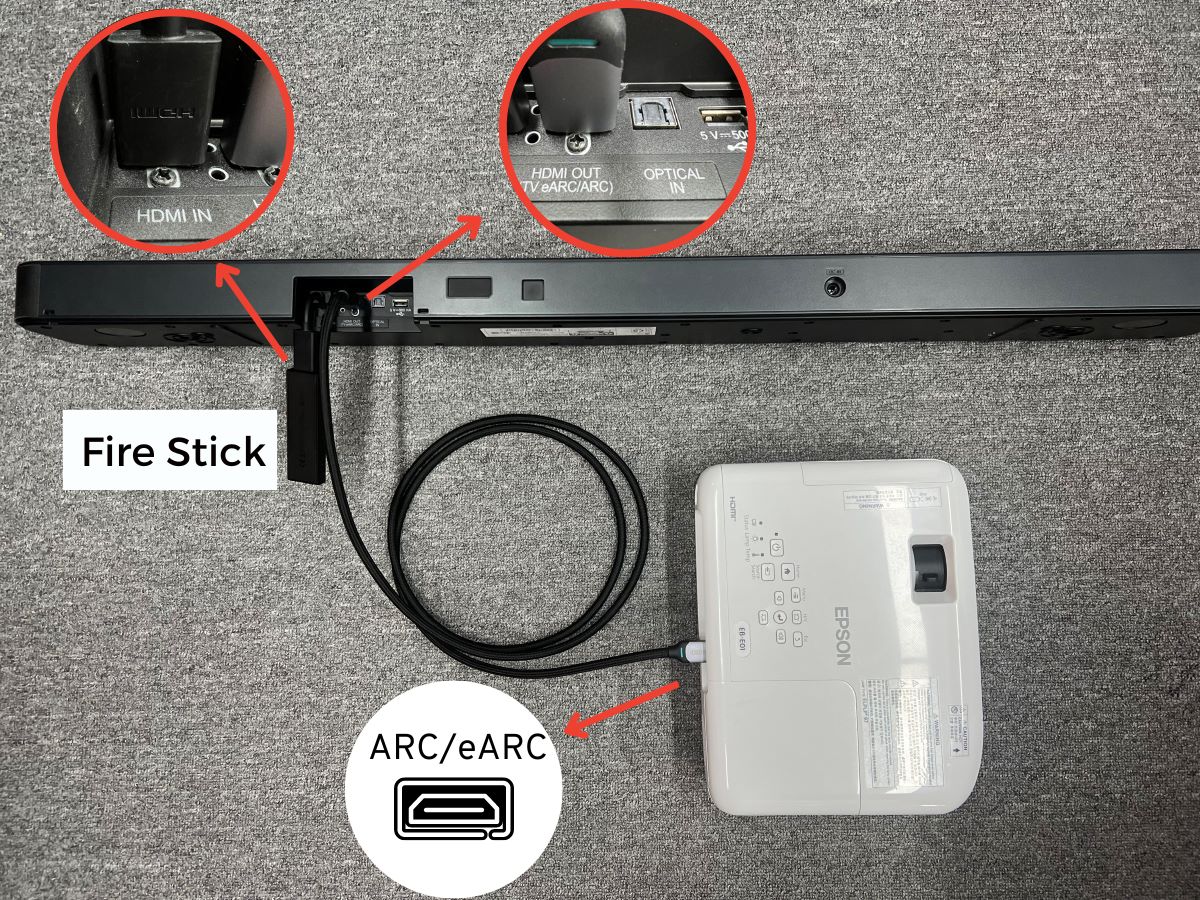 Should your projector be HDMI ARC/eARC-incompatible, then it will be unable to output Dolby Digital or Dolby Atmos signals.
That said, you can still connect a soundbar and streaming device to your HDMI ARC/eARC-incompatible projector following our comprehensive guide.
Wrapping Things Up
You heard it here first: there are projector models that do support HDMI ARC and eARC, allowing them to connect to soundbars. However, before you break the bank buying the latest and greatest soundbar, confirm your unit is equipped with these features since not all models are.
Once you've confirmed your projector supports HDMI ARC/eARC, you can connect it to a soundbar using a compatible HDMI cable. eARC requires HDMI 1.4, while ARC needs at least HDMI 1.4.
If your projector supports HDMI ARC/eARC it can also output Dolby Digital or Dolby Atmos signals, so you can have the highest-quality home theater on the block.
Should your projector be HDMI ARC/eARC-incompatible, you can try connecting it to a soundbar by following our instructions.
So, does your projector support HDMI ARC/eARC? If so, what's your experience connecting it to a soundbar?
Let us know in the comments below!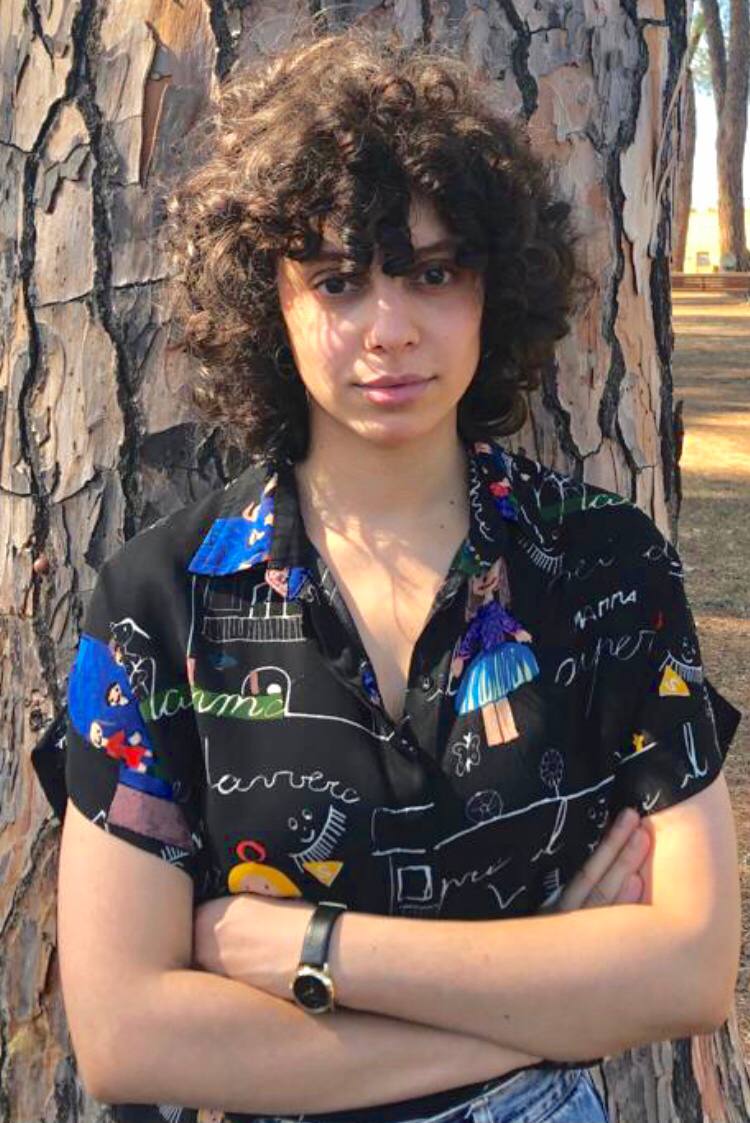 Yesenia Achlim is a technical copywriter and editor with a focus on AV equipment. She aims to break down complicated topics and make technology accessible, no matter your technical expertise. When she's not teaching you how to replace a projector lamp, you can find her reading and baking.