Whether you're a video editor, software developer, or just someone looking to enhance their remote work setup, you've probably had your eye on dual monitors for some time.
You know that monitors can be connected using uses the input source's two HDMI ports, but is there another way you can connect them with only one HDMI port?
Could you, for instance, use an HDMI splitter to create a dual monitor setup?
No, HDMI splitters can only duplicate the source device's image to the main and secondary monitor.
Splitters can not extend the source device's image and create a larger surface area for peak productivity and entertainment.
In this article, I'll discuss the different possible dual monitor setups, explain what an HDMI splitter does, and how to use it for your dual monitor setup.
Let's get started!
Different Dual Monitor Modes
Depending on how you've set up your hardware and settings, dual monitors can be used in a variety of ways. Let's go over each one and discuss their individual pros and cons.
Extend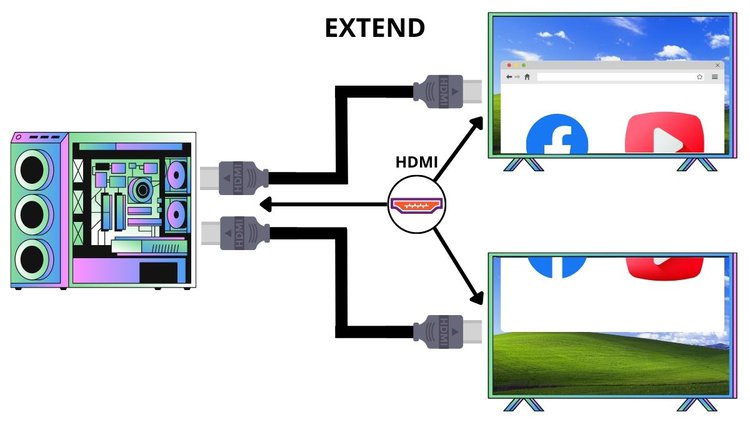 Using your dual monitors in "Extend" mode allows them to work together as one large monitor. This means you can move windows and your cursor from one screen to the other, giving you double the amount of workspace.
You'll often find that offices choose this mode as it enhances productivity. It's also great for gaming setups as you can see the game more clearly or chat/watch videos on one screen while you play on the other.
Duplicate/Mirror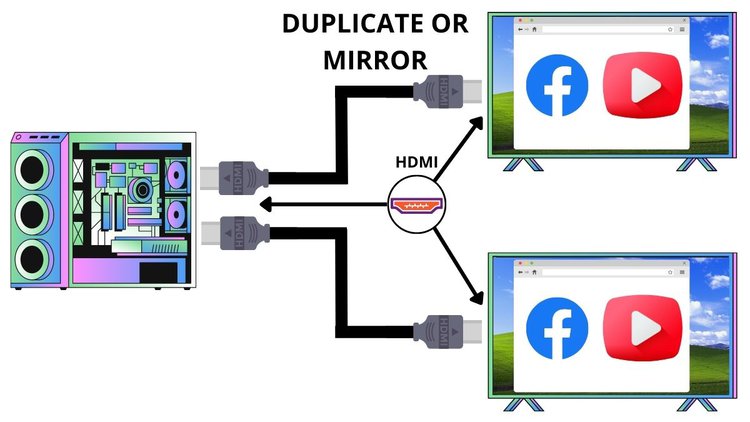 This mode simply mirrors one source device's image on two screens, resulting in both monitors displaying the exact same desktop.
While this setup is not useful for day-to-day activities, it can be helpful if you want to display the same presentation/video on multiple monitors.
Main Screen Only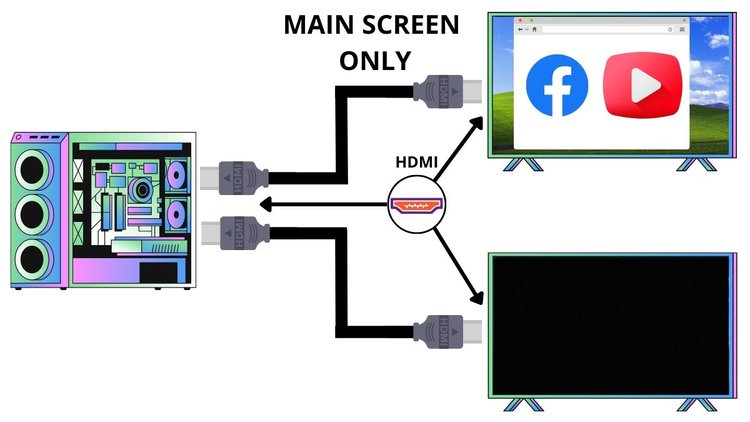 While two monitors are connected to the source device for this setup, the source image will only be displayed on the main monitor.
This mode is useful if you only want to use one of your two monitors while working or like the main monitor's position better.
Second Screen Only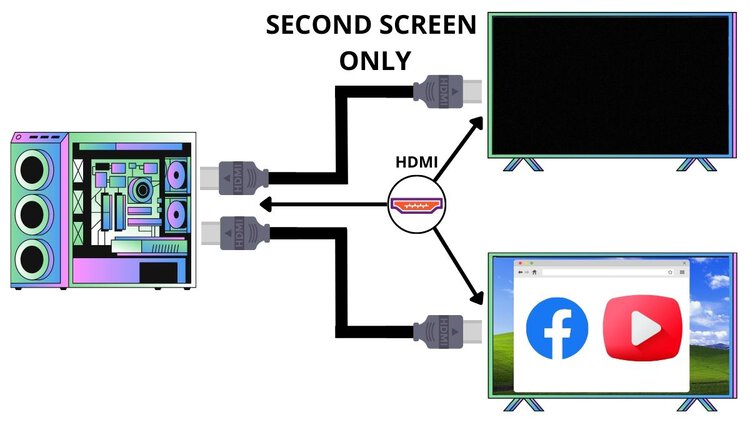 This setup is similar to the "Main Screen Only" mode in that it only displays the source image on one monitor.
However, here only the second monitor will show the source image, which is great if you prefer a single-screen setup or the second screen's position.
How Do You Set Which Monitor Is the Main or Secondary Screen?
So, you've opted for a single-screen setup, but you're not sure how to only display the source video on one monitor.
Don't worry. I'm here to help.
You will need to adjust your computer's settings to achieve a single-screen setup.
Follow the steps below to do so on a Windows or Mac computer.
Windows 10
Step 1: Navigate to your desktop and right-click anywhere on the screen. Then, click on Display Settings from the drop-down menu.
Step 2: Then, you'll be automatically redirected to the Displays settings page. From here, click on Identity. You should then see the numbers 1 and 2 pop up on the bottom left of your screen, with each representing one of the monitors.
Step 3: Click on the number corresponding to the monitor you'd like to display the content on.
Step 4: Next, scroll down to the bottom of the settings page. Under Multiple Displays, tick or untick the box next to Make this my main display to select which monitor you'd like to use.
Watch the video below demonstrating how to create a single-screen setup on your Windows computer.
How To Change Primary Monitor Windows 10 | Monitor 1 To Monitor 2
Windows 11
Step 1: Open the Settings menu.
Step 2: Navigate to System and select Display.
Step 3: Choose Multiple displays.
Step 4: Select Show only on 1 or Show only on 2 to display the content solely on the monitor you want.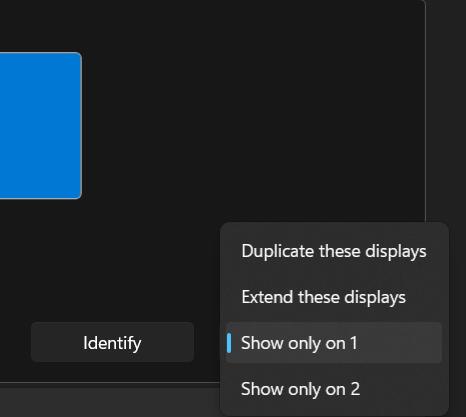 Mac
Step 1: Head to the Apple Menu and go to System Settings.
Step 2: Click on Displays.
Step 3: At the top of the window, you'll see all your connected monitors. Click on the monitor you'd like to use.
Step 4: Then, select either Main display or Extended display.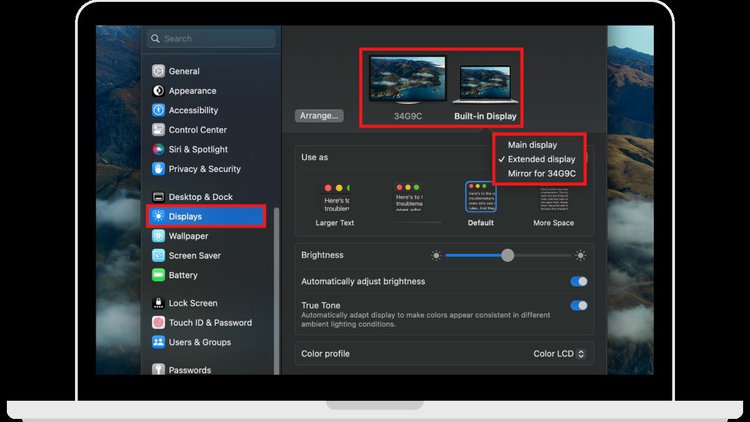 What Does an HDMI Splitter Do?
HDMI splitters work by transmitting the AV signals from one source to multiple displays. This allows you to view your source device's display on several monitors at once in duplicate/mirror mode.
However, HDMI splitters can not extend your screen. So, if you're looking to expand your workspace with two monitors, then it's best to try another method.
How Does an HDMI Splitter Work and Which Setup Is Best?
HDMI splitters should be used if you want to create a duplicate/mirror setup since the splitter can only duplicate the main screen's contents, allowing the second screen to display the same image/video.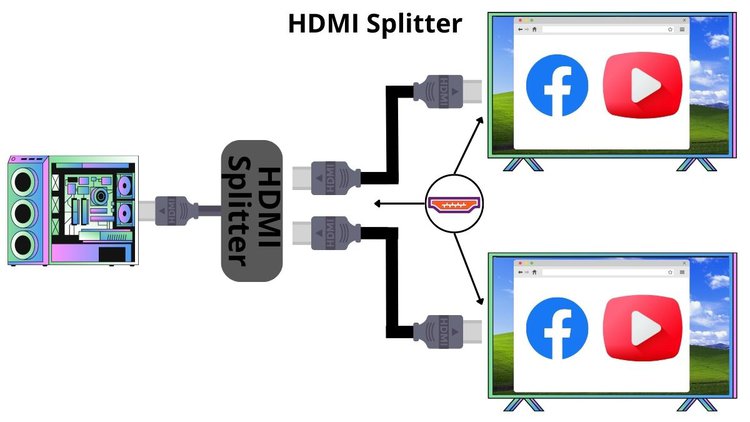 Follow the steps below to use an HDMI splitter for your dual monitor setup.
Materials
Instructions
Step 1: Plug the HDMI splitter's HDMI connector into your source device.
Step 2: Plug one end of an HDMI cable into one of the HDMI splitter's HDMI OUT ports and the other end into your monitor's HDMI IN port.
Step 3: Repeat Step 2 with the other HDMI cable and monitor.
Now you're ready to use your duplicated/mirrored dual monitor setup!
Please note that HDMI splitters will not work for any of the following setups:
Extend
PC/Main Screen Only
Second Screen Only
Wrapping Things Up
You can absolutely use an HDMI splitter for a dual monitor setup, however, you will be limited in which modes you can use.
HDMI splitters can only be used for the Duplicate/Mirror mode, which displays the same image on both screens.
They will not work for the Extend, PC/Main Screen Only, or Second Screen Only modes.
Remember that if you do decide to use a single-screen setup, you must adjust your computer's settings accordingly. Otherwise, both monitors will continue to display the source image.
What's your experience using an HDMI splitter for dual monitors? What's your favorite dual monitor setup, and why?
Let us know in the comments below!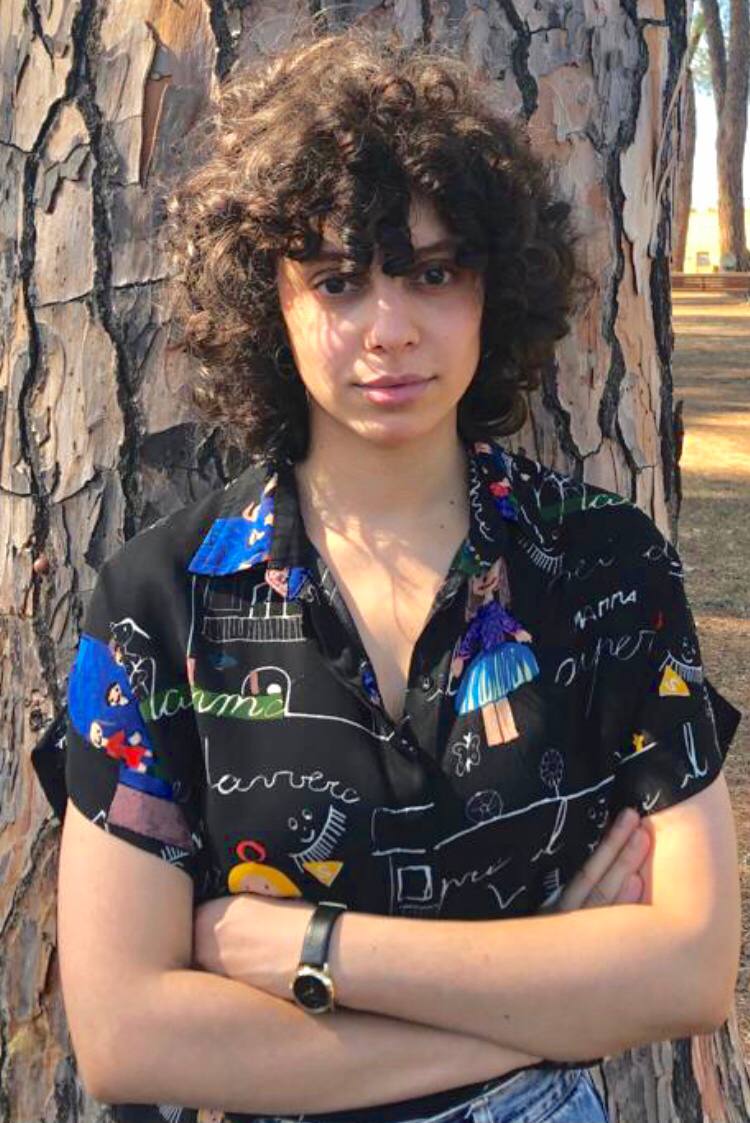 Yesenia Achlim is a technical copywriter and editor with a focus on AV equipment. She aims to break down complicated topics and make technology accessible, no matter your technical expertise. When she's not teaching you how to replace a projector lamp, you can find her reading and baking.