Do you envision a work desk with two monitors connected to your computer and how that would make work easier?
If you wish to but your computer has only one HDMI port, we're going to show you foolproof ways to do connect your two Monitors to your computer with only a single HDMI port. And these techniques work with any computer that has HDMI.
We hope that these solutions will make your workstation more productive.
Can you set up dual monitors with only one HDMI port?
Yes, you can set up dual monitors on a computer with only one HDMI port. But before doing so, ensure that your computer supports multiple displays.
Check your computer settings
Most modern computers and operating systems support multiple monitors. Graphics cards, too, support two monitors at least.
To confirm that your PC has multi-monitor support:
Right-click anywhere on your desktop.
Scroll down and click Display.
If at the bottom it says Multiple Displays. Then your computer supports multiple monitors. And it will automatically detect any additional monitors you connect.
Older monitors may not connect automatically. However, the computer will try to connect to the monitors when you click Detect.
Check and update the graphics card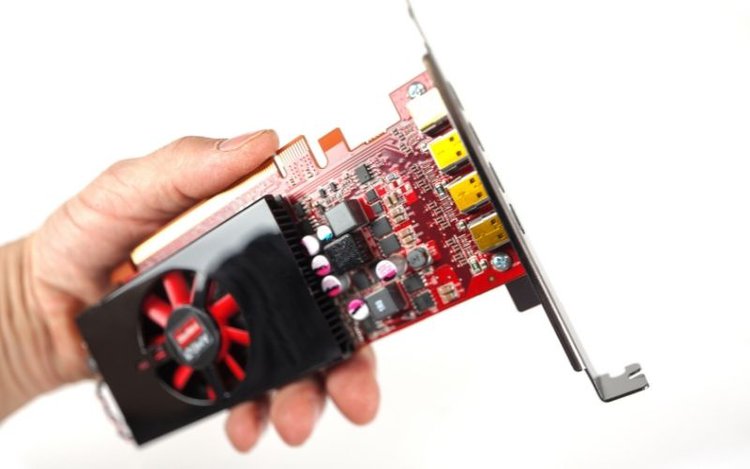 You may realize that your computer supports multiple monitors, but your graphics card does not pick up the extra monitors.
To check whether your graphics card is up to the task, confirm that it supports multiple monitors first.
An easy way is by searching for the card details on the official graphics card website. Or you could enquire through the website customer support channels.
You've confirmed that your graphics card supports two or more monitors.
Now, try updating the graphics card drivers to see if the card will recognize the additional monitors.
Automatic graphics card driver update
To do this:
Open File Explorer, then scroll down and right-click This PC.
Scroll down to Properties and click Device Manager.
A pop-up will warn you that you can only view device settings as a standard user and that you should log in as an administrator to make changes. Click OK.
A list of supported devices will open up. Go down to Display Adapters and expand it to show the available adapters.
Double-click on your graphics card. That opens the card settings.
Click Driver. It should be the second item on the menu at the top.
Then click Update Driver.
If the automatic driver update fails, update it manually.
Manual graphics card driver update
To do this:
Go to your graphics card manufacturer's website.
Search for the latest driver for your card model.
Download and install it.
Once updated, your graphics card should be able to recognize any additional monitors you connect.
How to check settings and graphics cards for Apple computers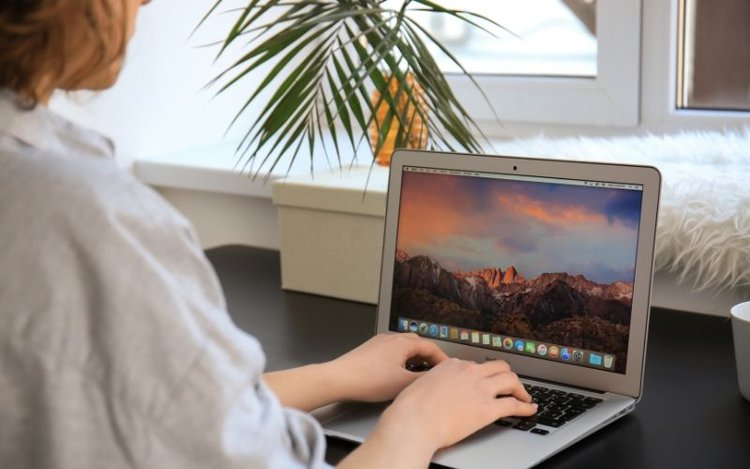 Check how many monitors your Mac or Macbook model can support.
From the Apple menu, go to This Mac.
Double-click your serial number and copy it by pressing Command-C.
Go to the Tech Specs page on the official Apple Support site.
Place your cursor on the Search Tech Specs bar, then click Command-V to paste your computer's serial number.
Press search.
Click the Specs page for your Macbook or Mac model from the results shown.
Go to Graphics or Video support to see the number of displays the computer supports.
Most Apple computers with an HDMI port support 2-4 displays.
For Linux, Ubuntu, Chromebook
Linux, Ubuntu, and Chromebook all support multiple displays, so you can connect two monitors to your computer if you have one of these.
How do I connect two monitors to a computer with only one HDMI port?
It's easy to connect two monitors to a computer with only one HDMI port. Let's have a look at some of the methods you can use.
1. Using an HDMI port + one other computer video output
The average computer comes with more than one video port.
We've identified that yours has an HDMI port so now confirm what additional ports are on the computer. These could be a USB, VGA, DisplayPort, or DVI port.
If at least one port on the computer is similar to one port on the monitor, the two should connect seamlessly.
For example, you can connect a monitor with a DVI port to the DVI port on your computer. And the same applies to monitors with DisplayPort and VGA ports.
This method works if both the computer and the monitor have an identical video port. The setup should be as shown in the image below: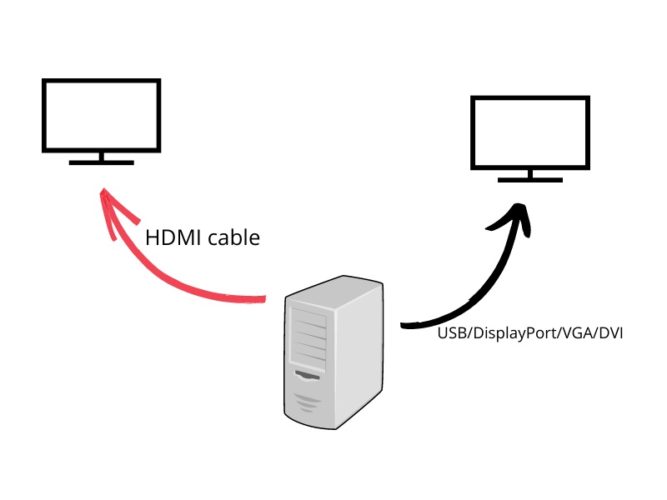 Here's how to make the connection:
Plug one end of an HDMI cable into the HDMI port of your computer.
Plug the other end of the cable into the HDMI port of the first monitor.
Take a VGA/DisplayPort/DVI (as applicable) cable and plug one end into the corresponding computer port.
Plug the other end of the cable into the VGA/DisplayPort/DVI port on your second monitor.
Turn on the monitor, and it will automatically detect the HDMI input.
If none of the ports on the monitor is identical to those on your computer, consider the following two methods.
2. Use HDMI port + an adapter on the second port
The second method is to use an adapter on one of the monitors. With the right adapter, you can convert the video signal from your computer to the signal type your monitor supports.
This is what we mean:
Let's say the computer has a DVI port in addition to an HDMI port. You want to connect it to 2 monitors: one with an HDMI port and one with a VGA port.
You can use a DVI to VGA adapter to make the conversion and complete the connection.
If the reverse is true— that is the computer has VGA, and the monitor has DVI— you can use a VGA to DVI converter .
Do the same for every other type of port:
Use a DisplayPort to VGA adapter if the computer has a DisplayPort and the monitor has a VGA port.
It's also possible to connect any of the ports to a monitor that has HDMI.
Use:
Most DVI to HDMI adapters are bidirectional and will work both ways: from DVI to HDMI and from HDMI to DVI. However, If you connect devices both ways regularly, such a cable will prove invaluable.
Now to connect your computer to your two monitors, here's how the connection should look like: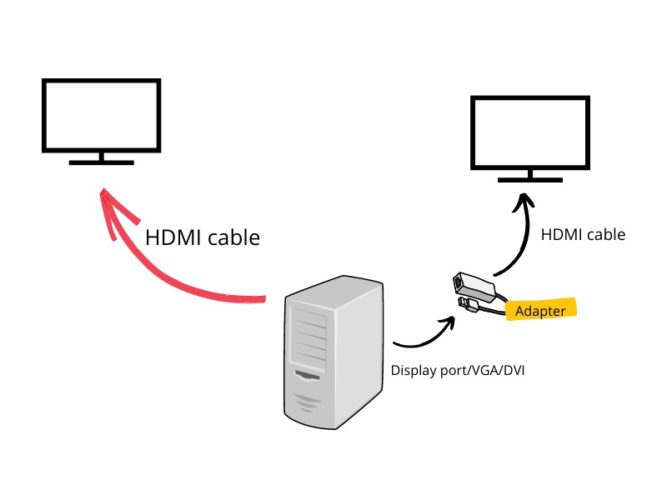 Plug one end of an HDMI cable into the HDMI port of your computer.
Plug the other end of the cable into the HDMI port of the first monitor.
Plug the adapter input into your computer video output.
Connect one end of the correct cable (VGA/DisplayPort/DVI) to the adapter output.
Finally, plug the other cable end into the monitor input.
Use HDMI port + USB video adapter
Sale
Last update on 2023-03-30 / Affiliate links / Images from Amazon Product Advertising API.
A USB video adapter is the second option in a scenario where the video ports on the computer are not similar to those on the monitor.
One of the advantages of using a USB adapter is that it is compatible with tons of devices.
Choose a USB-to-HDMI adapter that is compatible with the USB port on your device.
Then follow the connecting procedure below:
3. Use Two HDMI Adapters for Mac
You can connect two monitors to your Mac or MacBook using two Apple USB-C Multiport adapters that comes with a USB-C port, HDMI port, and USB port.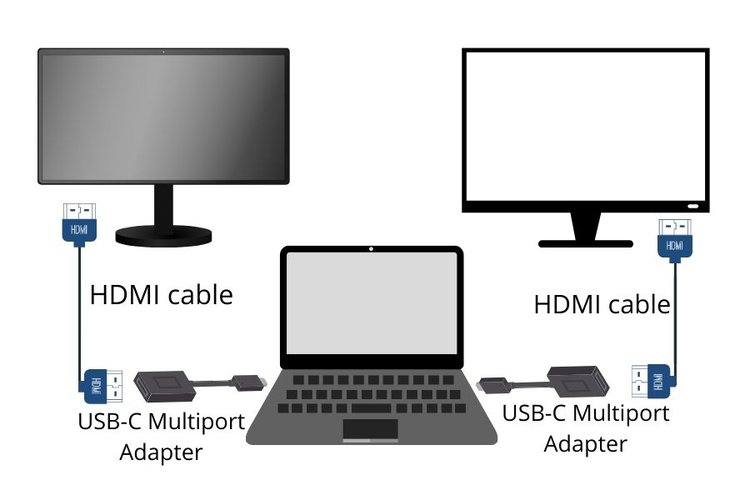 This video shows how to connect both dongles to your MacBook.
How to set up DUAL SCREEN external monitors on an Intel Macbook using HDMI to USB-C dongles (2021)
Points to note:
1. Some adapters support specific operating systems.
Some HDMI adapters support Windows only or MacOS only while others support all the major operating systems. Be sure to choose an adapter that is compatible with your OS.
2. You can control the monitors via the computer Display Settings.
Your computer screen is, by default, the main display (primary display in Linux/Ubuntu). But you can change this and make any of the monitors the main display.
3. The VGA and DVI interfaces will not transmit audio.
Planning to play sound through one of the monitors? Run a separate audio cable from the computer to the target monitor. Or use an adapter that carries both video and audio.
Conclusion
It is possible to connect two monitors to your computer even when it only has one HDMI port.
Your computer likely has another video output port besides HDMI. You can use this to connect one monitor. And then connect the second monitor to your HDMI port.
You can also use a video adapter to connect the computer to a monitor that has HDMI or any other video signal, like DVI or VGA.
Lastly, you can connect the two monitors to the only HDMI port on your computer using an HDMI splitter if you want duplicate monitors.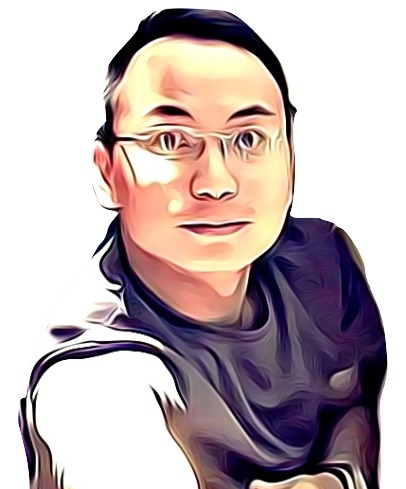 Vance is a dad, former software engineer, and tech lover. Knowing how a computer works becomes handy when he builds Pointer Clicker. His quest is to make tech more accessible for non-techie users. When not working with his team, you can find him caring for his son and gaming.