Are you on the hunt for an awesome gift for that special man in your life? Don't worry, we've got you covered!
Whether it's for your dad, husband, boyfriend, brother, or even a male friend or co-partner, our tech gadgets are sure to make him smile.
No matter the occasion – be it a birthday, anniversary, retirement, or a holiday like Father's Day or Valentine's Day – our carefully curated selection has something for everyone.
From cutting-edge electronics to stylish accessories, we've got it all!
Our collection is constantly updated to stay on top of the latest trends and innovations.
So, take a look at our ultimate collection of 20+ cool tech gadgets for men below and find the perfect gift to make his day extra special!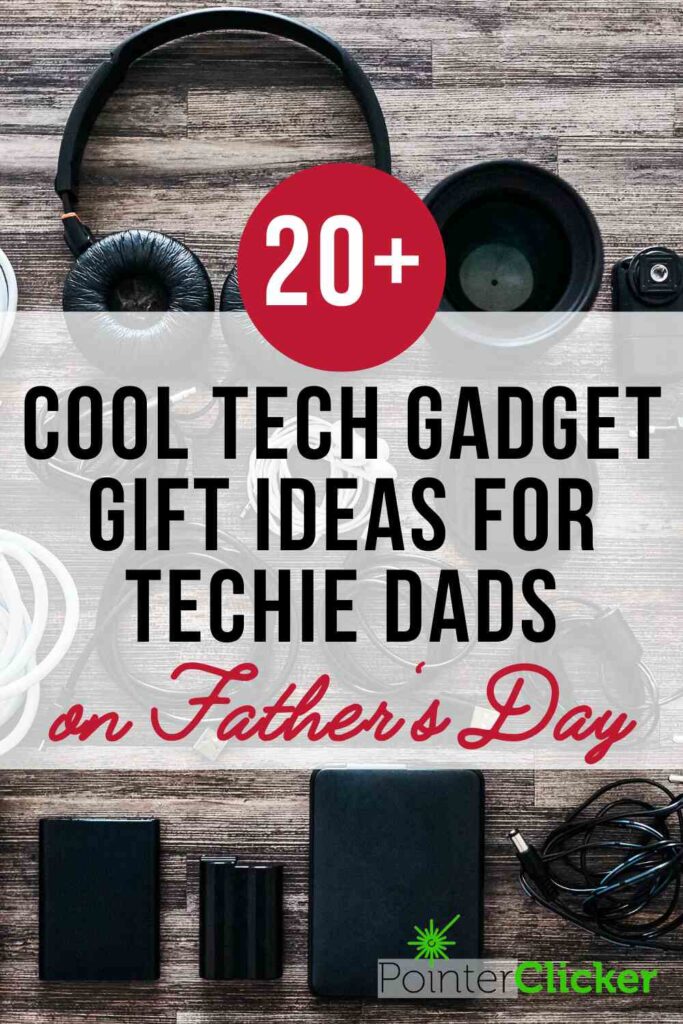 1. Roam Bike Phone Mount

CHECK LATEST PRICE ON AMAZON.COM
Introducing a must-have gadget for cycling and motorbike enthusiasts—Roam's adjustable handlebar mount will keep him safe and focused.
This phone mount is specially designed to hold his device securely in place, allowing him to enjoy the thrill of the ride without fumbling with his phone.
Whether he's an iPhone or Android user, this mount is compatible with both.
Crafted with premium quality plastic, the mount is built to endure any weather conditions, just like his adventurous spirit!
2. Nulaxy Dual Folding Cell Phone Stand

CHECK LATEST PRICE ON AMAZON.COM
Looking for an awesome gift for a man who's always glued to his phone? This phone holder from Nulaxy is the perfect companion for him.
It can be used with all of his smartphones, tablets, or Kindle devices, so no worries about compatibility.
The adjustable and foldable design ensures easy portability, so he can effortlessly carry it wherever he goes and prop his phone up against anything.
He can switch between portrait and landscape mode for a better video, game, or video call experience while still having his phone powered up thanks to its special design!
3. Miady 2-Pack Portable Charger
CHECK LATEST PRICE ON AMAZON.COM
If you're looking for the perfect tech gadget gift for a guy who's always on the go, let me introduce you to the Miady Portable Charger.
This little powerhouse comes in a pack of two, so he'll always have a backup when he needs it most.
With its latest USB C In/Out feature, it's compatible with all his devices—no more worrying about compatibility issues.
It's super slim and compact, so he can easily hold it in his palm or slip it into his pocket without any hassle.
Plus, it's flight-approved, so he can take it with him wherever his busy life takes him.
4. WAITIEE Wireless Fast Charging Station
CHECK LATEST PRICE ON AMAZON.COM
A simple charging station that's all about convenience and functionality is the perfect gift idea for your man!
With this nifty station, he can effortlessly charge his watch, mobile phone, and earphones all at the same time.
And here's the cool part—he can keep an eye on the screen while everything juices up!
This charging station is designed to be super high-speed and wireless, making life so much easier.
Plus, it supports both vertical and horizontal positions, so he can find the perfect angle for all his multitasking needs.
5. OontZ Bluetooth Speaker

CHECK LATEST PRICE ON AMAZON.COM
If you've got a techie guy who's all about music, the OontZ Angle 3 Bluetooth Speaker is for him!
This little speaker is a total game-changer. Not only is it portable, but it's also splash-proof, so he can take it with him in the shower, by the pool, or even out on the open water.
And here's the best part: the battery life is seriously impressive. He can jam out to his favorite tunes all day long without worrying about it running out of juice.
Plus, the connectivity range is out of this world—up to 100 feet! It's like having a personal concert wherever he goes.
6. Anker NEBULA Mini Portable Projector

CHECK LATEST PRICE ON AMAZON.COM
If he is a total movie buff, I've got an incredible surprise for him. It's the Anker NEBULA lightweight portable projector—trust me, he'll be blown away!
This little gadget is so compact, like a soda can-sized pocket powerhouse.
But it can let him enjoy all his favorite movies and TV shows on a screen that can go up to a whopping 100 inches!
And the sound? Oh boy, it's next-level! The 360° speaker delivers immersive audio from all directions, making him feel like he's right in the middle of the action.
Plus, with just one charge, he'll have a solid 4 hours of non-stop entertainment.
7. Fujifilm Instax Smartphone Printer

CHECK LATEST PRICE ON AMAZON.COM
A great idea for a gift that'll make any photography enthusiast jump with joy? Check out the Fujifilm Instax Smartphone Printer—it's seriously awesome!
This wireless pocket-sized printer lets him bring his favorite smartphone or social media photos to life in an instant.
The fun part is, he can get creative and add personalized filters and decorations for that extra special touch.
But here's where it gets really cool—he can even print out still images from his favorite videos! It's like freezing those magical moments in time.
And with the pack of 40 mini film sheets included, he'll have plenty of opportunities to capture and share all those precious memories.
8. SERMAN BRANDS Slim Contactless Payment Blocker Leather Wallet

CHECK LATEST PRICE ON AMAZON.COM
Here's another awesome gift idea for your man—the SERMAN BRANDS RFID Blocking Slim Wallet!
It's a real gem made from handcrafted full-grain leather that only gets better with time, developing a rich and dark color.
This wallet has a slim design that fits seamlessly into his pant front pockets, shirt pockets, or even inside jackets, without any unsightly bulges. It's all about style and convenience!
And the best part? It's equipped with advanced RFID secure technology, keeping his valuable information, like credit cards, safe from those sneaky unauthorized scans.
9. Ankaka Tactical Pen Gadget

CHECK LATEST PRICE ON AMAZON.COM
Looking for a unique and versatile gift for that special guy in your life? The Ankaka Tactical Pen Gadget is a must-have!
This pen is not your ordinary writing instrument – it's packed with 6 incredible functions in one sleek design.
It features a self-defense tip for added security, a built-in flashlight for those dimly lit situations, and even doubles as a handy bottle opener. Need a screwdriver or hexagonal wrench? This pen has got him covered too!
And when he's not using it for self-defense or fixing things, he can enjoy the smooth writing experience with its smear-proof ink that dries quickly.
Plus, the pen comes with spare batteries and ink cartridges, ensuring long-lasting use.
10. Tile Pro Bluetooth Tracker

CHECK LATEST PRICE ON AMAZON.COM
The ultimate gift for a man who always seems to misplace his belongings is definitely Tile Pro Bluetooth Tracker!
This handy device is a lifesaver when it comes to keeping track of his everyday essentials. Whether it's his wallet, keys, or even his phone on silent mode, the Tile Pro has got him covered.
The best part? The tracker is compatible with all Android, iOS, and smart home devices. With just a simple attachment, he can easily track his nearby or far away misplaced items using his phone or tablet.
Plus, he can add his contact information to the Tile, so if someone finds it, they can quickly reach out to him.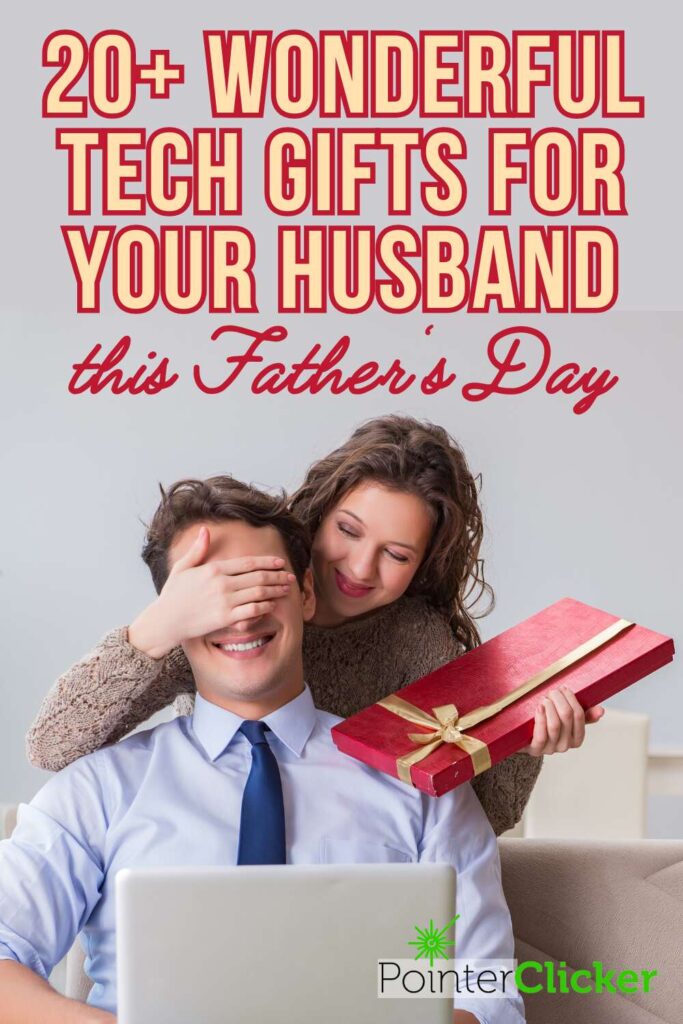 11. Fitbit Advanced Health & Fitness Tracker Watch

CHECK LATEST PRICE ON AMAZON.COM
Looking for the ultimate gift for a man who is all about health and fitness? Look no further than the Fitbit Advanced Health & Fitness Tracker Watch!
Not only does the watch provide him with a daily Stress Management Score, but it also tracks his heart health with high and low heart rate notifications.
The built-in GPS and 24/7 heart rate tracking help him track his pace and distance during outdoor activities, and also optimize his workouts for calorie burn.
Plus, the Fitbit watch also provides valuable insights into his sleep quality with a daily Sleep Score and offers tips on how to improve his sleep for a more energized wake-up.
But that's not all—its lightweight design and impressive week-long battery life will surely make it a game-changer for any man on a quest for a healthier lifestyle!
12. Oral-B Rechargeable Electric Toothbrush

CHECK LATEST PRICE ON AMAZON.COM
Want to give him a fantastic surprise that'll take his oral health to the next level? Check out the Oral-B Smart 1500 Rechargeable Electric Toothbrush!
This toothbrush is seriously top-tier and is packed with some awesome features.
It's got a visible pressure sensor that's like a personal gum protector, automatically stopping the pulsation movement if he brushes too hard.
Plus, there's an in-hand timer that'll guide him to brush for the recommended 2 minutes (just like dentists suggest!).
Did I mention its lithium-ion battery? This toothbrush charges faster than older models, making it super convenient and efficient.
13. Bissell Cordless Hand Vacuum

CHECK LATEST PRICE ON AMAZON.COM
If you're looking for the perfect gift for a man with pets, the Bissell Pet Hair Eraser Lithium Ion Cordless Hand Vacuum is a game-changer!
This portable cordless handheld vacuum is a must-have for cleaning up all that embedded dirt and pesky pet hair from soft surfaces like beds, sofas, car seats, and staircases.
It's got some serious suction power and a triple-level filtration system that works wonders to improve its cleaning performance.
Plus, it's super easy to use and empty the dirt bin, making cleaning a breeze.
The best part? It charges up quickly and the battery life is more than enough for a thorough cleaning session.
14. PhoneSoap UV Cell Phone Sanitizer & Charger Box

CHECK LATEST PRICE ON AMAZON.COM
Here's a gift idea that's both practical and cool for a man in your life—the PhoneSoap UV Cell Phone Sanitizer & Charger Box.
This nifty gadget not only charges your phone but also cleans and sanitizes its surfaces using UV-C light. It's like giving his phone a spa treatment!
With dual USB and USB-C charging ports, he can power up his devices while they undergo 360-Degree Disinfection, ensuring every nook and cranny is reached by the germicidal UV-C light.
Simply close the lid, and within 10 minutes, his items will be disinfected and ready to go. Plus, it's not just for phones—keys, wallets, headphones, jewelry, glasses, credit cards, you name it, it can sanitize them too.
15. Everlasting Comfort Seat Cushion for Tailbone Pain Relief

CHECK LATEST PRICE ON AMAZON.COM
Looking for the perfect gift to bring some relief and comfort to a man in your life? I've got you covered with the Everlasting Comfort Seat Cushion for Tailbone Pain Relief.
This amazing cushion is specially designed to provide relief from lower back, coccyx, and sciatica pain. It's like a supportive hug for his seating experience whether he's at work, traveling, or chilling at home!
The cushion's ergonomic design and ComfortFoam material distribute weight evenly, reducing pressure and alleviating pain. No worries about durability either—it can withstand up to 400 lbs without flattening or losing its shape.
The soft cover with a non-slip bottom ensures the cushion stays in place, and he can easily clean it as the cover is machine-washable.
16. Homedics White Noise Sound Machine

CHECK LATEST PRICE ON AMAZON.COM
Want to give the gift of a peaceful night's sleep to a special guy in your life? Look no further than the Homedics White Noise Sound Machine!
This incredible device is designed to block out noise and create a serene environment for rest and relaxation. With 6 digitally recorded soothing sounds that mimic the natural environment, it's the perfect way to mask distractions and promote deep sleep.
Plus, it offers flexible options like continuous play or an auto-off timer with 15, 30, or 60-minute settings, so he can customize his sleep experience. The convenient volume control buttons make it easy to adjust the sound to his liking.
Best of all, it's lightweight and cordless, making it a breeze for him to bring along on travels in his bag or suitcase.
17. LEVOIT Air Purifier

CHECK LATEST PRICE ON AMAZON.COM
For a man who values clean and fresh air, the LEVOIT Air Purifier is here to make his day!
With its advanced filtration system, this incredible device pulls out smoke, dust, pet allergens, bacteria, and more, ensuring he breathes in nothing but the best.
What's even better? When it's time for a peaceful slumber, he can easily switch to Sleep Mode. This clever feature turns off the display light and reduces noise levels, letting him enjoy a restful night's sleep.
With its sleek and stylish design, this air purifier will not only improve his breathing but also enhance the aesthetics of his space.
18. Amazon Smart Plug

CHECK LATEST PRICE ON AMAZON.COM
Looking for a gift idea for a man who loves smart home automation? Well, it seems like the Amazon Smart Plug is a perfect choice.
This nifty gadget allows him to schedule the activation and deactivation of lights, fans, coffee makers, and other appliances according to a daily routine. No more climbing up and down stairs just to plug or unplug a device!
And guess what? He can even control them remotely using an Alexa-enabled device or the app when he's away. It's like having a personal assistant at your fingertips!
Plus, it's Certified for Humans, meaning it's designed to be hassle-free and user-friendly and takes just a few minutes to set up.
19. Ring Video Doorbell

CHECK LATEST PRICE ON AMAZON.COM
Have you heard about the Ring Video Doorbell? It's a total game changer when it comes to enhancing smart home convenience for your man!
It has an awesome feature that lets him see who's at his door without even leaving his comfortable couch. With its crystal-clear 1080p HD video and night vision, he'll never miss a visitor again.
And guess what? He can have a conversation with them using the two-way talk feature. Even when his hands are busy, he can still ask Alexa to do the job.
Plus, with motion detection and alerts, he'll be instantly notified when someone approaches his door.
Best part? It's super easy to install and use—just connect it to his Wi-Fi and mount it with the included tools.
20. Google Learning Thermostat

CHECK LATEST PRICE ON AMAZON.COM
If you're searching for a gift that combines convenience, energy-saving features, and smart technology for him, look no further than the Google Learning Thermostat.
This amazing device automatically adjusts itself as his life and the seasons change, making it a breeze to keep home comfortable. He'll be amazed by how intuitive it is—the thermostat learns his temperature preferences within a week and programs itself accordingly.
With built-in sensors, it can even detect if he's left the house and set itself to an Eco Temperature to save energy. Thanks to the Home/Away Assist feature, he won't have to worry about heating or cooling an empty home.
He can also easily control the thermostat using the Nest app on his phone or by simply using his voice with Alexa.
Plus, with the Energy History feature, he can keep track of his energy usage and make adjustments to be more efficient.
21. iFixIt Pro Tech ToolKit

CHECK LATEST PRICE ON AMAZON.COM
If you're on the lookout for an awesome gift for a man who loves tinkering with electronics, look no further than the iFixit Pro Tech Toolkit.
This is the original toolkit designed specifically for computer, smartphone, tablet, and gaming repairs, and it comes with thousands of free instructions to guide him every step of the way.
Packed with all the essential tools he needs, it's built to last with a secure magnetic case and foam insert for safe storage and transportation.
And here's the best part—it comes with a lifetime warranty, so if anything breaks, they've got him covered.
Trust me, this toolkit is a total game-changer, and you won't find any negative 1 or 2-star reviews about it.
22. RAK Magnetic Pickup Tool

CHECK LATEST PRICE ON AMAZON.COM
Are you looking to level up a man's toolbox? I've got just the thing for you—a versatile tool that makes a perfect gift for all the handy guys out there.
Whether he's into automotive repairs, HVAC, boating, camping, fishing, home improvement, plumbing, or any other DIY projects, this tool has got it all!
Not only does it serve as a super bright handheld flashlight, but it also offers a convenient hands-free lighting solution. No more struggling to find those dropped nuts, bolts, nails, or screws—this tool will light up his world!
And the best part? It comes with a whopping total of 8 batteries, ensuring long-lasting power and eliminating any worries about running out of juice too soon.
23. ANCEL Car Diagnostic Scanner

CHECK LATEST PRICE ON AMAZON.COM
Take a look at the ANCEL Car Diagnostic Scanner if he's a car-lover!
This nifty gadget is a must-have for any car owner who wants to take charge of their own maintenance. With just a few simple steps, he can easily figure out why that pesky check engine light is on and clear diagnostic trouble codes in a flash.
Even if he's a beginner, this scanner is designed to be user-friendly, allowing him to access live data, freeze frames, and monitor readiness effortlessly. No more trips to the mechanic shop for every little issue!
This compact and lightweight scanner is perfect for on-the-go use and it covers a wide range of car brands. It's like having a personal mechanic in his pocket!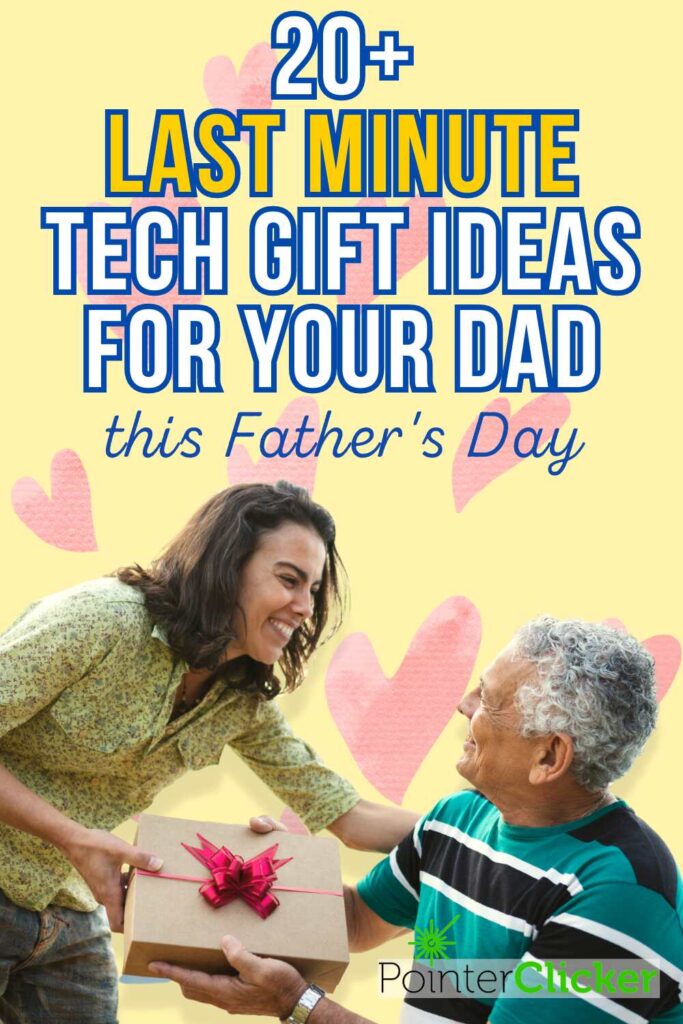 How was content created? This piece is created collaboratively, with tech editors generating ideas, conducting testing, and proofreading meticulously, while AI assists in fine-tuning.