Cleaning things in the house can be therapeutic. For many people, it's their favorite pastime.
Cleaning a TV screen can be oddly satisfying, particularly if the display glass is ingested with tiny dust particles, and one swipe reveals a spic and span surface.
But cleaning a TV screen is not as straightforward as wiping it with any piece of relatively clean cloth you find in the house.
Attention must be paid to the cloth, water, and cleaning solution used. If the wrong tools are used, you could end up scarring the glass.
Therefore, cleaning solutions and kits specially designed for TV screens and other electronic displays exist. You may even use diluted white vinegar or dish soap.
Some may also use their eyeglass cleaning liquids on their TV screens without knowing much about the method's efficacy.
So do eyeglass cleaners work on TV screens? How safe and effective are they? Read on to find out more.
What are Eyeglass Cleaners For?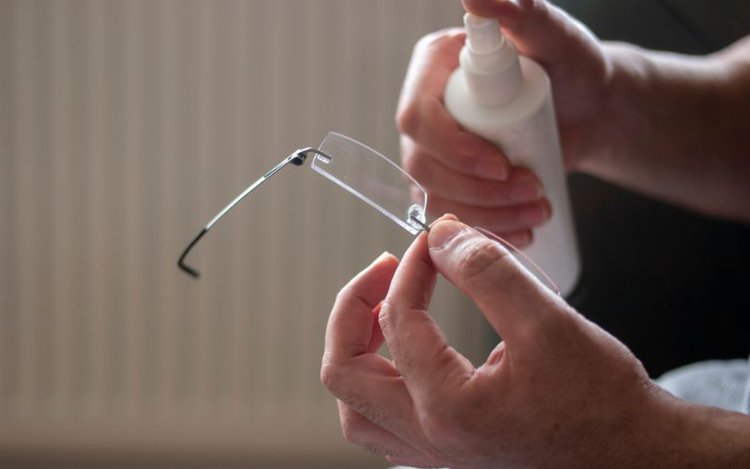 As the name suggests, eyeglass cleaners are tools to clean eyeglasses (prescription glasses, sunglasses, etc.). They help remove dirt, oil, dust, and fingerprints without leaving behind streaks or scratching the glass.
Eyeglass cleaning solutions are essentially distilled water mixed with a mild cleaning agent to remove grease without damaging the glass. The cleaning agent could be isopropyl alcohol, like the one used in this Zeiss Lens Care Pack.
Sale
Last update on 2023-05-28 / Affiliate links / Images from Amazon Product Advertising API.
Besides prescription glasses and sunglasses, eyeglass cleaners can clean anti-reflective coated and blue light-blocking lenses, camera lenses, ski and swim goggles, and binoculars.
Can You Use Eyeglass Cleaners on TV Screens?
Technically, you can use eyeglass cleaners on TV screens, but the results won't be anything to write home about. Eyeglass cleaners are not potent enough to tackle TV screen grime.
An eyeglass or lens cleaner is not as harsh as your Windex or Sprayway glass cleaners, which means, at the very least, they won't damage the TV display.
But because the cleaning agents used in eyeglass cleaners are very mild, they cannot help clean TV screen muck and stains.
And if you go ahead anyway, you'd likely run out of the cleaning solution before you make any real progress with the cleaning.
What Cleaners are Safe for Your TV Screens?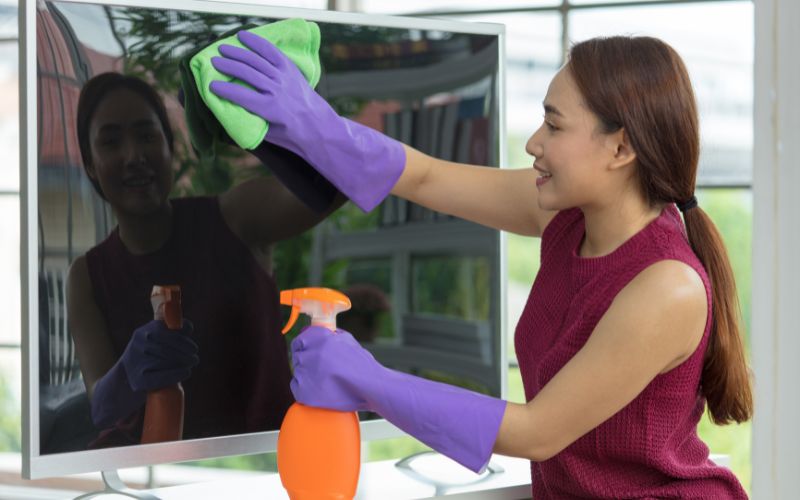 Cleaners that don't contain harsh chemicals (benzene, ammonia, acetone, alcohol, etc.) are safe for your television screens and won't damage the panel's protective film.
If the TV screen's outer layer is damaged, its anti-glare ability could become compromised, and the panel's color reproduction may go for a toss too.
Also, abrasive paper towels or pads are strictly advised against as they could easily scratch the TV screen or strip the anti-glare coating.
The best and safest cleaners for your TV screen are a microfiber cloth and some distilled water.
You'll also need a spray bottle to dispense the water onto the cleaning cloth, like this Flairosol Ultra-Fine Continuous Mister .
The TV screen cleaning process is usually divided into two phases: dry wiping and wet cleaning. A dry microfiber cloth comes in handy for the dry cleaning or dusting part. The spray bottle, distilled water, and microfiber cloth are used for the wet-cleaning process.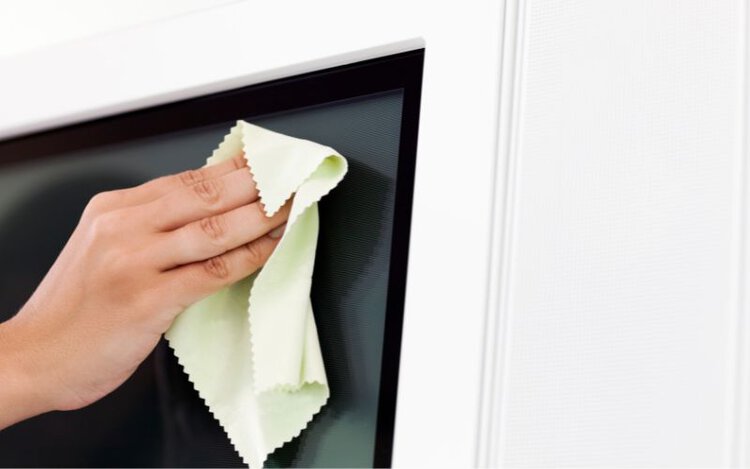 There is no shortage of microfiber cloths on the market. But make sure you're buying the right size and design.
For instance, to wipe the dry dust and keep it locked in the cloth, use a fabric with more prominent, readily visible grooves, such as this Microfiber Screen Cleaning Cloth .
If your TV is relatively big (55 inches or more), look at a bigger cleaning cloth, such as the Frienda Extra Large Microfiber Cleaning Cloth or the USANOOKS Microfiber Cleaning Cloth , so that you can easily clean the large canvas.
To dry the screen after a damp cleaning session, use a relatively fine piece of microfiber cloth, such as the MagicFiber Microfiber Cleaning Cloth.
Last update on 2023-05-28 / Affiliate links / Images from Amazon Product Advertising API.
Please do not confuse a regular microfiber cleaning cloth with a pre-treated one. The oily finish or pre-treatment on the fabric is meant to dust wood furniture, not TV screens or other electronic displays.
If used to clean a TV screen, it could leave behind residue and scratches.
Also, there are ready-to-use, pre-formulated TV screen cleaning solutions or products on the market if you want to avoid the inconvenience of assembling the cleaning items individually.
Look at the EVEO Screen Cleaner Spray (with microfiber cloth wipes) and Monster Spray Screen Cleaner Kit for some TV display cleaning options.
Conclusion
A TV screen is delicate. It may not look like it, but it is. Therefore, handle and clean it with care. No household cleaning solutions, please.
Use something like a Windex or a Spraywell, and you'll tarnish the screen's protective outer plastic layer.
But that doesn't mean your TV screen requires extra-special treatment. A microfiber cloth and distilled water are usually par for the course.
As far as eyeglass cleaners are concerned, they are pretty much ineffective against TV screen muck. But you can certainly try them out if you want to.
Eyeglass cleaners are designed for use on delicate eyeglasses. The cleaning agents in them should, therefore, cause no harm to TV screens too.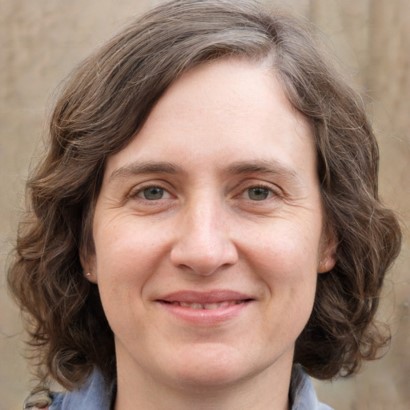 Catherine Tramell has been covering technology as a freelance writer for over a decade. She has been writing for Pointer Clicker for over a year, further expanding her expertise as a tech columnist. Catherine likes spending time with her family and friends and her pastimes are reading books and news articles.