What To Know
You can simply connect a Roku device to computer monitors with an HDMI input.
Monitors with speakers or headphone jacks can directly play Roku audio.
For monitors without speakers, an audio extractor enables connection to external sound devices.
Dive into this guide to swiftly set up your Roku with HDMI-enabled monitors and learn solutions for screens without built-in speakers.
Is Roku Compatible with Computer Monitors?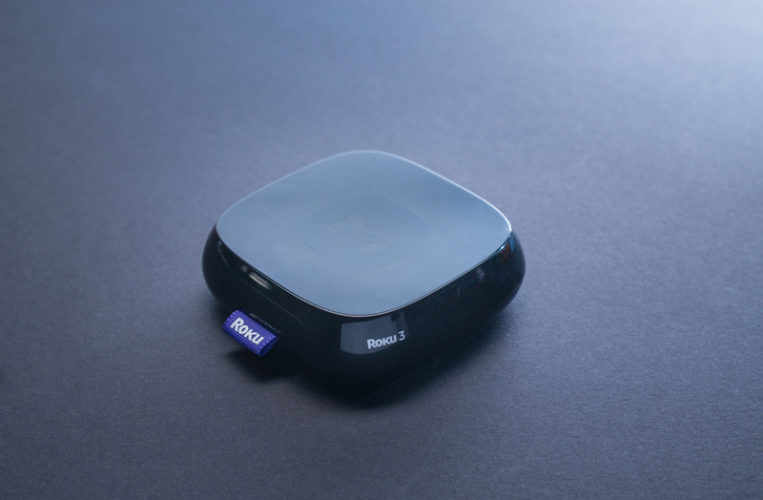 Like television sets, computer monitors have different ports and specifications. Because of this, it's difficult to assume that Roku sticks are compatible with ALL computer monitors.
However, we can say this: Roku is compatible with most modern computer monitors.
This is because most monitors today have an HDMI port, which is exactly what you plug your Roku stick into.
If your computer monitor has an HDMI input and built-in speakers or a headphone input, you can plug in your Roku stick without any issues.
This is one of the easiest ways to convert your desktop monitor into a tiny smart TV that can access streaming sites like Netflix, HBO Go, Amazon, and Hulu.
If your monitor doesn't have an HDMI port, you won't be able to connect your Roku device.
How to Connect Roku to a Computer Monitor?
Here's how to connect your Roku device to a computer monitor with HDMI input and internal speakers or headphone jack:
Plugin your Roku device into a power outlet using a USB cord and adapter.
Connect the Roku Stick+ or Roku Streaming Stick 4K+ to your computer monitor via the HDMI port. If you have the Roku Express or Roku Ultra , use an HDMI cable to connect to the HDMI port.
Press the source button on your monitor and choose the HDMI input with the Roku stick.
Once the Roku Home page loads, use your Roku remote to navigate.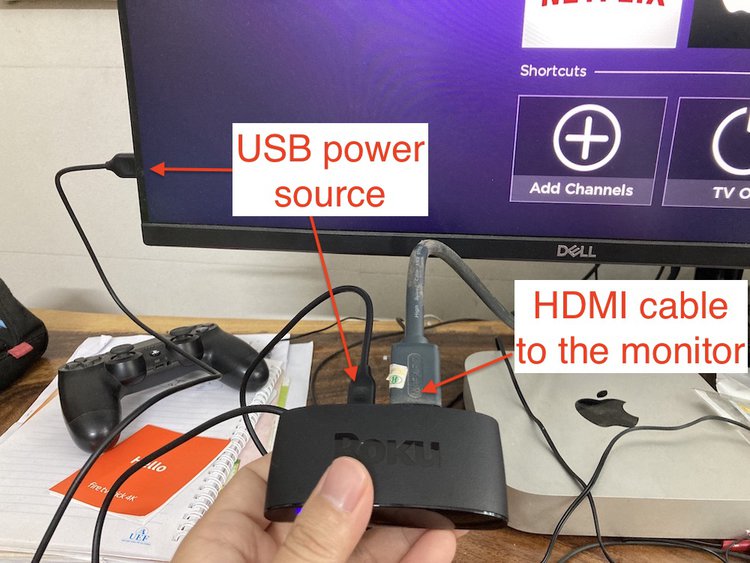 If you're looking for a computer monitor with built-in speakers, we recommend the HP 24mh FHD monitor below.
Last update on 2023-11-29 / Paid Link.
It's backed by IPS technology to ensure outstanding visuals and stunning image quality.
We love this model because of its space-saving and ultra-slim flat surface.
At the same time, the screen size isn't compromised thanks to the micro-edge design.
It also offers consistent color and quality across an ultra-widescreen with a panoramic horizontal and vertical viewing angle of 178°.
This computer monitor is extremely versatile –– it offers multiple connectivity options (DisplayPort, HDMI, VGA, and 3.5mm audio jack) for your work and play needs.
What if My Computer Monitor Doesn't Have Built-in Speakers?
That shouldn't be a problem. If your computer monitor doesn't have internal speakers or a headphone jack (most models don't).
All you need is an audio extractor so that you can connect external speakers, a soundbar, or headphones to your computer monitor.
Audio extractors also work well if you want to connect a gaming console (PS3, PS4, Xbox), Blu-ray or DVD players, and video camera to a computer monitor without speakers.
Here's how to use Roku on a computer monitor without speakers: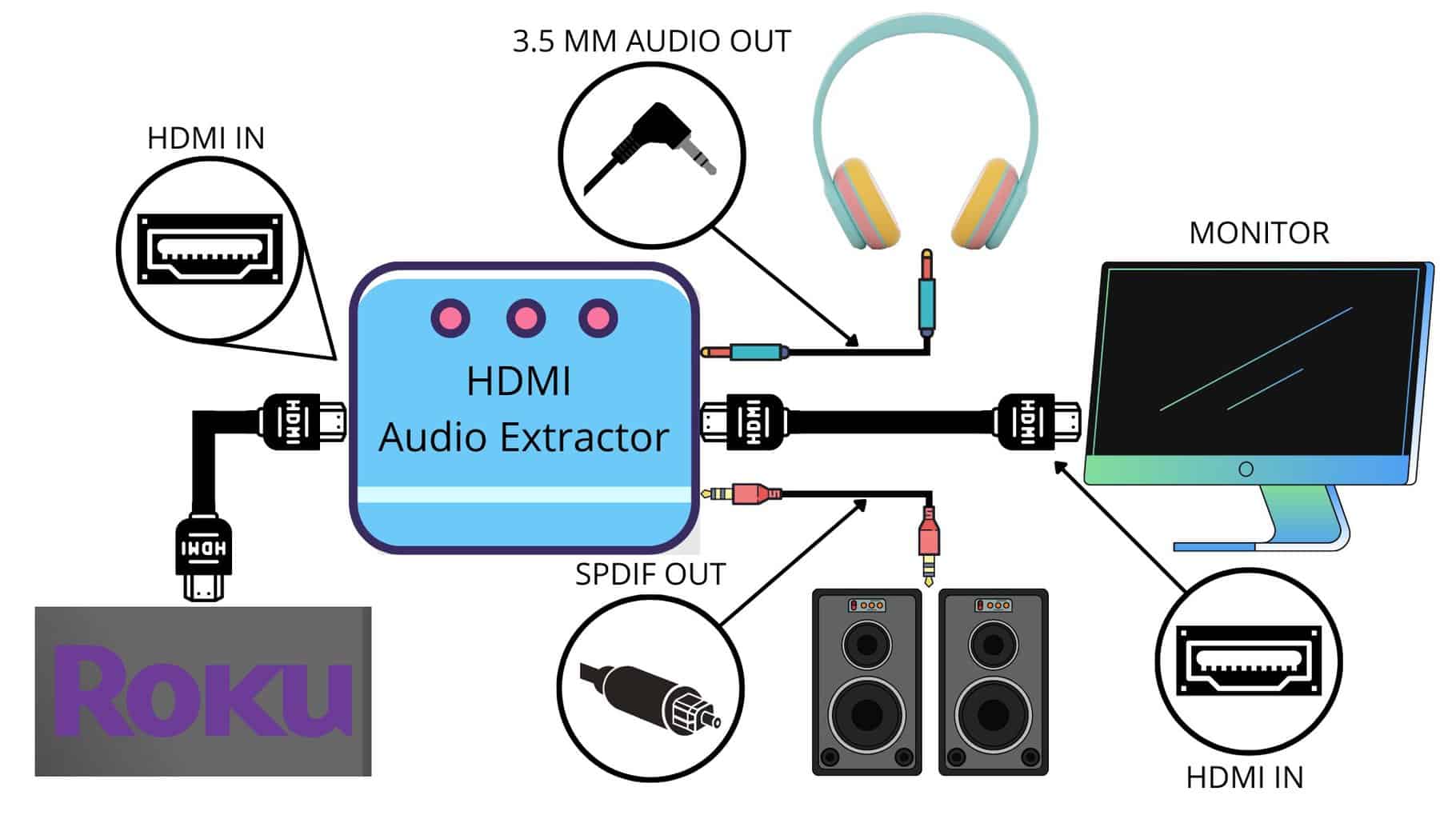 Plugin the audio extractor into a power outlet using a USB cord and adapter.
Connect your Roku device to the audio extractor via the HDMI input.
Plugin external speakers into the extractor Audio out using a 3.5mm audio cable . Alternatively, you can plug in headphones.
Benefits of Using a Computer Monitor for Roku Streaming
But you might be asking what's in it for you if you use a computer monitor for Roku streaming. So here, let's discuss the advantages of using a monitor for streaming movies and TV shows.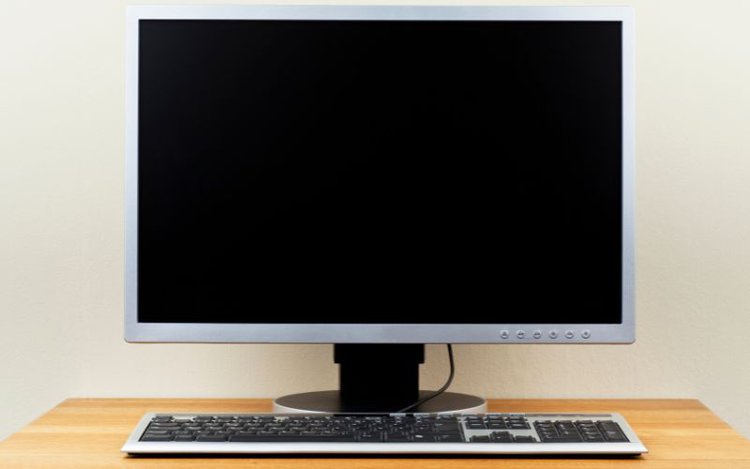 Multipurpose Investment
An office computer by day, and a home entertainment set by night – computer monitors, especially the latest gaming monitors, can cost you thousands of dollars.
One of the best reasons why you should consider using your computer monitor for streaming Roku content is that you get to maximize your money's worth by using it for work, playing games, and streaming content.
Better Viewing Experience
There's a reason why computer monitors are more expensive than TVs. Computer monitors do better when it comes to graphics, response times, refresh rates, and input lag. This means that you get a much better viewing experience.
Portable
Having multiple monitors in your house can eat up a lot of space.
Most computer monitors are easy to lift, so you can carry them from your workstation to your living room, kitchen, or bedroom when you want to watch movies.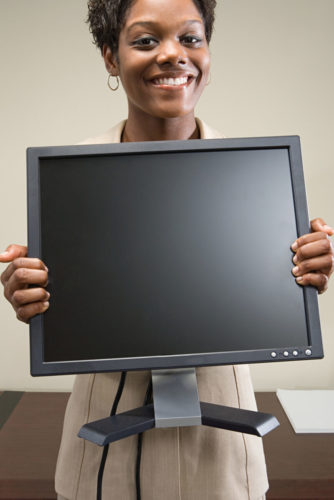 Better than a Tablet or Laptop
Watching movies on a tablet or a tiny laptop certainly doesn't promise the best cinematic experience.
While much smaller than your average TV, watching movies on your computer monitor will be better than streaming on your phone, laptop, or tablet.
Versatility
Most TVs only have one or two HDMI ports. But most modern computer monitors come with a wide variety of connectivity options, including multiple HDMI ports, USB ports, DisplayPort, and USB-C.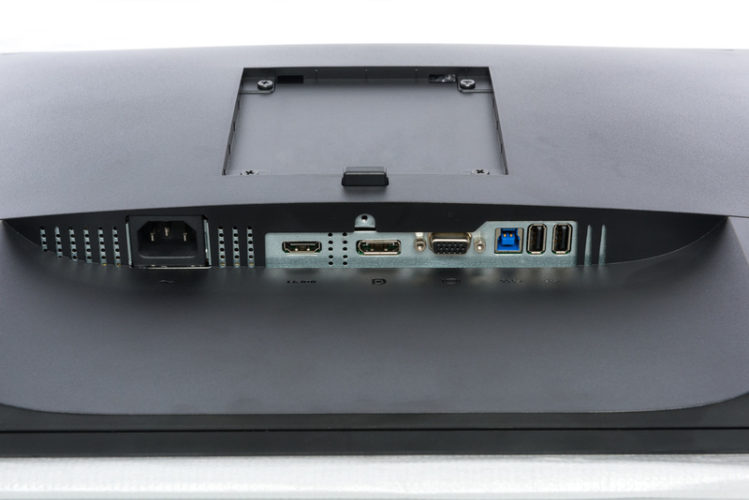 Conclusion
All Roku devices are compatible with displays that have an HDMI port, including most modern computer monitors.
If your computer monitor supports HDMI input and has internal speakers, then you can simply plug your Roku device into the HDMI port and access the Roku home page.
Meanwhile, if your computer monitor doesn't have speakers, you can still connect your Roku device to the monitor via an audio extractor.
This will allow you to connect external speakers or headphones to the setup.
Meet Vance. He's a proud dad, a seasoned Electronics Engineer, and an avid tech lover. His proficiency in electronics and troubleshooting skills were instrumental in crafting Pointer Clicker. Vance is passionate about simplifying tech for those who aren't well-versed in it.