Have a DisplayPort monitor but are not sure you can use it with your gaming console?
Imagine how cool it would be to display Xbox on your DP-enabled monitor.
Below, you'll discover whether your HDMI can be converted to DisplayPort?
It's the Big Q that holds the solution to your above-mentioned dilemma.
Most importantly, you'll learn a simple way to make the conversion.
Can HDMI Be Converted To DisplayPort?
Yes. With the correct conversion adapter , you can convert HDMI to DisplayPort.
Although the two signal types are different in terms of their technical makeup, they are compatible.
The newer DisplayPort is backward compatible with HDMI, and so it's easy to connect it to any HDMI device.
That means you can transfer data between an HDMI device and a DisplayPort device using a cable.
But because you're dealing with two distinct interfaces, you have to rely on a converter to translate the HDMI signal coming from the source to a signal that the DisplayPort device can recognize.
Can HDMI 2.1 Be Converted To Displayport?
At present, there are no adapters that specifically translate HDMI 2.1 signals to DisplayPort.
If you have an HDMI 2.1 port and wish to connect it to a DP monitor, your best option is an HDMI 2.0 adapter .
Such a conversion adapter will give you HDMI 2.0 video quality—that is, 4K at 60 Hz. No doubt this is way lower than the 4K @ 120 Hz you would get with an HDMI 2.1 conversion, but it's the best you can hope for, at least for now.
This situation will likely change soon as more devices feature HDMI 2.1 ports. HDMI 2.1 to DisplayPort adapters will become more readily available then.
Can we be sure such adapters will become available?
Unfortunately, until we hear from conversion adapter makers, we cannot be 100% certain of when they will manufacture HDMI 2.1 to DP adapters, if at all. However, going by past trends, we can confidently argue that they will probably produce such adapters.
When the HDMI 1.4 spec was released, cable makers gave us HDMI 1.4 to DisplayPort adapters. And when HDMI 2.0 came out, they did the same with HDMI 2.0 to DisplayPort adapters.
Therefore, chances are they will do the same with HDMI 2.1, seeing as we already have DisplayPort to HDMI 2.0 adapters on the market.
Moreover, the uptake of HDMI 2.1 devices is increasing. That and the subsequent demand for products that link the newest HDMI spec to DisplayPort mean adapter manufacturers have a ready market that's waiting to gobble up the product. And that may be the signal they need to avail HDMI-DP adapters.
How To Convert HDMI To Displayport?
Start by obtaining a quality HDMI to DisplayPort adapter .
Before buying, confirm that the adapter is HDMI to DP, not DP to HDMI.
Why does this matter?
Because the latter only translates signals from DP and does not have the mechanism to translate HDMI signals to DP.
Some adapters are bidirectional, and they carry signals in both directions across two different interfaces. It's a scenario you see a lot with HDMI-DVI adapters, for instance, because they have a similar signal transmitting technology (TMDS).
The HDMI-to-DisplayPort connection, however, does not work the same way for two main reasons:
Firstly, HDMI and DisplayPort use different signal transmission protocols. HDMI uses Transmission-minimized differential signaling (TMDS), while DisplayPort uses Low-voltage differential signaling (LVDS).
Secondly, each has a different power capacity. HDMI connectors provide a minimum of 5V, while the DisplayPort power pin provides 3V.
So any adapter transporting a signal from HDMI has to support 5V from the source end. Likewise, any adapter that transports a DisplayPort signal must support 3V from the source end. As such, the adapter can only be unidirectional. It cannot carry signals bidirectionally.
Can't figure out which adapter to use?
This Cable Matters HDMI to DisplayPort adapter is a good option, specially built to withstand frequent use.
Now that you've understood how to pick your adapter, let's see the actual conversion procedure.
Your HDMI-DisplayPort adapter will likely be active, meaning it contains extra chips to facilitate signal conversion. That would mean it also comes with a USB power cord, which you'll need to plug into a separate power source.
Should you end up choosing a passive adapter, you won't require an external power source. That's because the adapter will use the power coming down from the source device connectors.
Here's how to connect your devices for the HDMI-to-DisplayPort conversion, and we've outlined the simplified step-by-step guide for you below:
UPTab HDMI to DisplayPort Active adapter Xbox Series X/S 1440p at 120Hz
If using an active adapter, plug the adapter charger into a socket. Active adapters mostly use USB power cords, so a USB charger works fine.
Plug the HDMI end of the adapter into the HDMI port on your source device.
Connect one end of a DisplayPort cable to the DisplayPort of the adapter.
Plug the other end of the DisplayPort cable into the DP port on your monitor or projector.
Turn on your devices.
Conclusion
You can convert HDMI to DisplayPort but you will need an HDMI to DisplayPort converter/adapter to translate HDMI signals to DisplayPort. Using a converter that makes it possible for you to connect HDMI and DisplayPort devices.
A DisplayPort to HDMI adapter won't be helpful since it works by translating DisplayPort signals to HDMI.
While there may be a few passive HDMI to DisplayPort converters, active adapters are more common and better performers for this kind of signal conversion.
Active HDMI-to-DisplayPort adapters intercept the HDMI signal flowing from the source device and change it into a DisplayPort signal. Then they pass the transformed signal into the DisplayPort monitor through a DP cable.
Presently, only HDMI 1.4 to DisplayPort adapters and HDMI 2.0 to DisplayPort adapters are available.
If you're working with an HDMI 2.1 to DP setup, you'll have to pick an HDMI 2.0-to-DP adapter, which gives the closest quality to HDMI 2.1.
Connecting the adapter to your HDMI and DisplayPort devices is easy. Plug the HDMI end directly into the HDMI port of your video source, and then insert the DisplayPort end into the DP port of your display device.
Connect any power cords present to a USB charger/adapter, turn on the devices, and enjoy your content.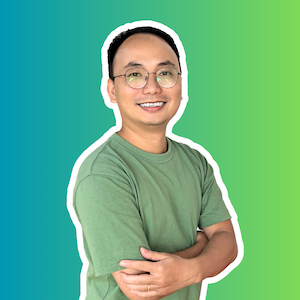 Vance is a dad, former software engineer, and tech lover. Knowing how a computer works becomes handy when he builds Pointer Clicker. His quest is to make tech more accessible for non-techie users. When not working with his team, you can find him caring for his son and gaming.