Have you ever used a Fire Stick to turn your TV into an awesome streaming machine? It works great, right?
Well, what if you wanted to use it on your computer? Can you use a Fire Stick on a Laptop?
Although some might think it's unnecessary to connect your Fire Stick to your laptop because your laptop can already stream content from a variety of websites, we think it's essential to address why you might want to do it.
But seriously, yes, you can use your Fire Stick on your laptop. So ditch that enormous flatscreen TV and grab your laptop. We've got some streaming to do.
Can You Use a Fire Stick on a Laptop?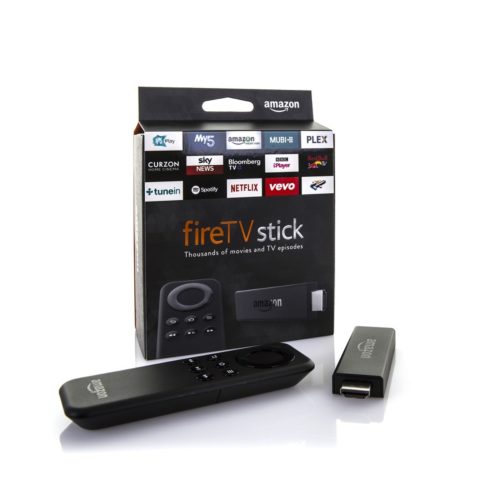 Yes, you can use a Fire Stick on your laptop. Although we should mention that your laptop or desktop computer can perform many of the same functions a Fire Stick can, except it does so better and smoother.
A computer can stream through an internet browser. You can even download apps onto your desktop.
A computer makes streaming a lot easier. Ever watched Netflix on your computer? It's easy to head to Netflix.com, login and start streaming something.
So, using a Fire Stick on your laptop could be a waste of time and money. But regardless, you can do it if you want to.
Should You Use a Fire Stick on a Laptop?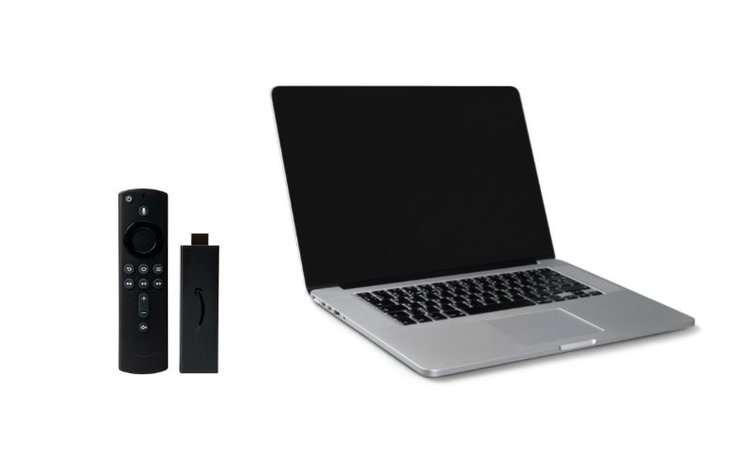 The question remains: if your laptop performs many of the same functions better than a streaming stick, then why plug it into your computer in the first place? Should you do this?
The answer to this question is actually two-fold.
You want to use your laptop as a portable display and take it anywhere you go. Or perhaps you want to display Fire Stick contents on a laptop in order to share a stream online.
Both answers are equally valid and can even serve a purpose you might not have thought of.
Then again, maybe you want to have options available to you. Even though a computer can perform many of the same functions a Fire Stick can, there's something to be said about a good user interface that's familiar.
So, if you ever wanted to take your TV with you (via Fire Stick), now you can. And that's pretty awesome.
As a side note, watching your Fire Stick on your laptop is not the same as mirroring your laptop to your Fire Stick. Mirroring your laptop to your Fire Stick is simple and doesn't require extra equipment or software.
How To Connect a Fire Stick to a Laptop?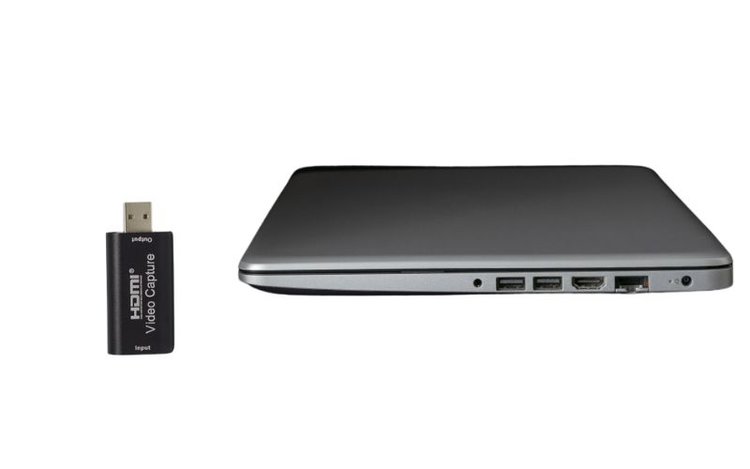 Connecting an Amazon Fire Stick to your laptop is not hard, but there are a few steps we might need to understand. With that said, there are two methods for connecting it to your computer so you may enjoy the brilliance of the streaming stick.
Those methods include:
Using a capture card
Using a laptop with an HDMI input port
Now let's see how to go about each of them.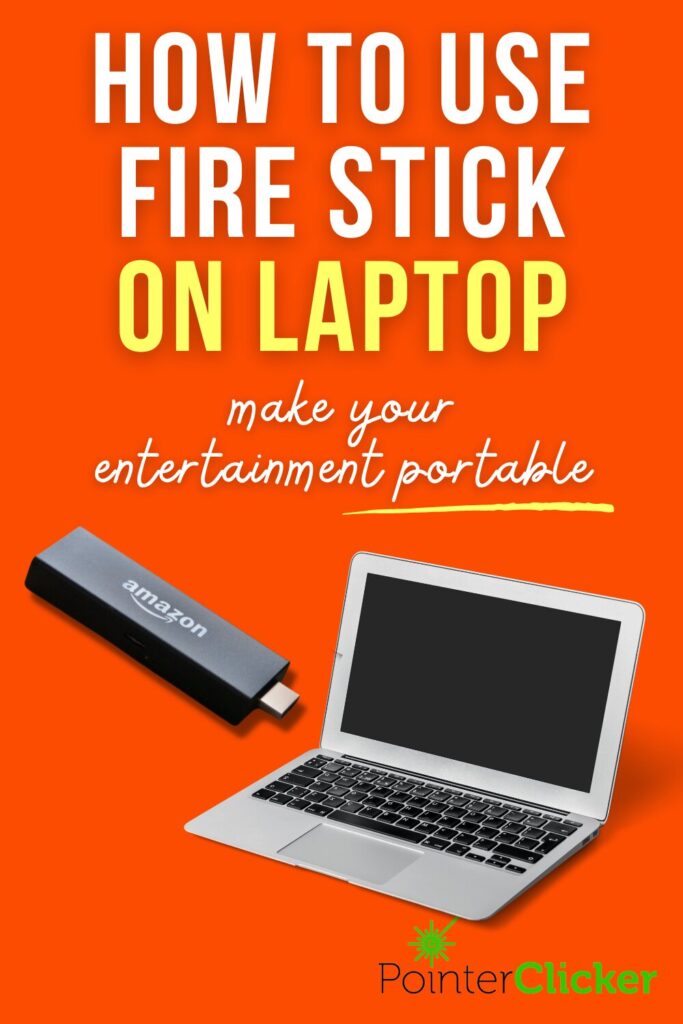 Connecting a Fire Stick Using a Capture Card
For this method to work, we'll need a couple of different items. You'll need a Video Capture Card and software that allows you to use the capture card. You'll also have to spend a few more bucks to make this work. However, it's not a lot of money, and most people will be able to afford it.
Ok, let's get to it.
Step 1: This is where you'll need to spend a couple more dollars in order to get your Fire Stick on your laptop. Head over to Amazon and get a Capture Card. This BlueAVS branded card is a popular choice, and it makes this as easy as plugging and playing.
Step 2: Ensure you download this free software called OBS (Open Broadcaster Software). You can download it here.
Step 3: Plug your Fire Stick into the video capture card. Then plug your capture card into your laptop's USB port.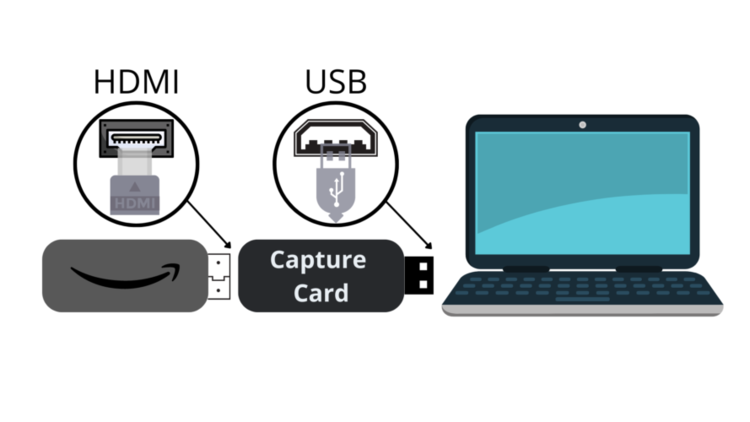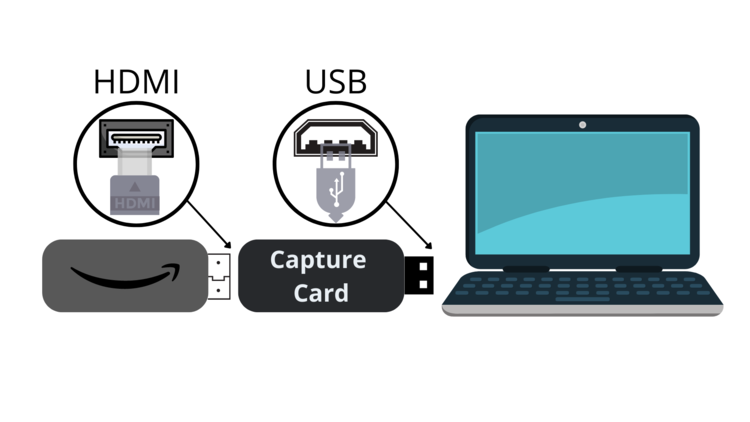 Step 4: Make sure to plug your Fire Stick into a power source, whether that's your computer or to a wall outlet.
Now that everything is connected and you've downloaded the OBS software, we can proceed to the next step.
Step 5: Open the OBS software and look for a + symbol near the bottom of the interface. Click on it and navigate to Video Capture Device.
Step 6: A "Create/Select Source" window will appear. Create a unique name for your Fire Stick. It can be anything you want. Click OK once you're satisfied with your name.
Step 7: A Properties window will then appear. Head to the top and click on the dropdown menu labeled "Device." Scroll down and find USB Video. Don't close this window yet. We have one more thing to do here.
After selecting USB Video from the dropdown menu, your Fire Stick user interface appears in the background.
Step 8: At the bottom of the Properties window, you'll see a box that says Use Custom Audio Device. Tick the box. Then Select OK to exit the window.
Step 9: From here, you'll have to configure your audio settings. This allows your Fire Stick device sound to come through your computer's speakers. And don't worry, we're not going to leave you hanging. We have a video tutorial for you that shows you all the steps mentioned above as well as how to configure your audio settings:
How to Connect Any Firestick to Laptops
One of the great things about this method is that you can use it on both Mac and PCs. As a side note, we should mention that you cannot use your laptop's trackpad and keyboard to control the firestick for navigation purposes.
Connecting a Firestick Through an HDMI Port
We should mention that your laptop must have an HDMI In port, and not all laptops are equipped with this feature.
Some laptops are equipped with a port that can switch between IN and OUT. These laptops include:
Alienware m17x R3, and R4,
Alienware 17 R1
Alienware m18x R1, and R2,
Alienware 18
However, please note that the HDMI port is set to HDMI OUT as default. In order to change it, please press the FN plus F8 or F9 keys. This will change the HDMI OUT port to an HDMI In port. If you're interested in a video tutorial, check out the following YouTube video:
How to use HDMI-IN with Sound coming out from Alienware M18X R2
Conclusion
So, can you use a Fire Stick on a laptop? Yes, you can. Although it seems like more work than it should be, you can do it if you want.
There are two methods you can use. The first method involves the OBS software and a Video Capture Card. Method two uses an HDMI port that's built into your computer.
We hope we answered your questions on how to connect your Fire Stick to your laptop and the reasons you might want to. If you have other questions for us, please feel free to leave them in the comments.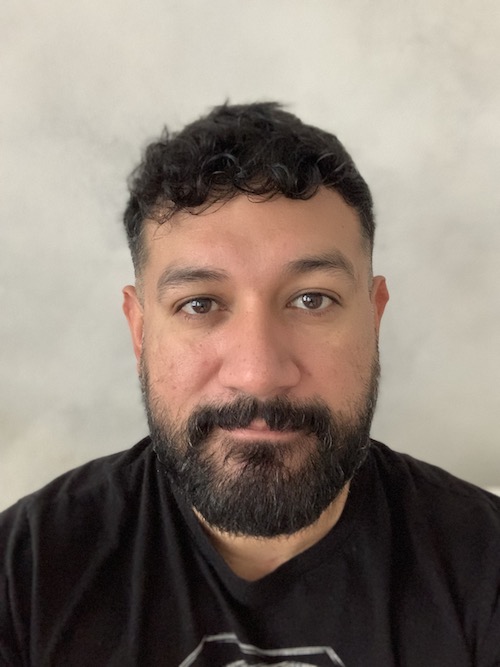 James Quintanilla is a technical copywriter. Although his experience allows him to write on many topics, he loves to focus on tech and travel. As a freelancer, James has worked on projects with Pointer Clicker, Lonely Planet, and the Travel Channel. When he's not writing or planning his next adventure, he's watching a scary movie.