Do you have your presentation stored on your MacBook Air? If so, you can easily connect to a projector and display it on a large screen.
The projector will enlarge your display, casting it onto the projection screen. We consider projectors an excellent option when displaying media to a large audience.
Using HDMI, VGA, or USB-C connectors, you can connect your MacBook Air to a projector. If your projector and MacBook Air ports do not match, you can use an adapter or a converter video cable.
This article outlines the stepwise process to help you create this connection with ease. Let's go!
MacBook Air Ports
The MacBook Air is a notebook computer designed and manufactured by Apple Inc. After its first release in January 2008, Apple introduced various MacBook Air models to the market.
MacBook Air computers use either Mini-DP or USB-C connectivity ports to output video signals. Earlier models used Mini-DP, while later models moved on to the more common USB-C connector.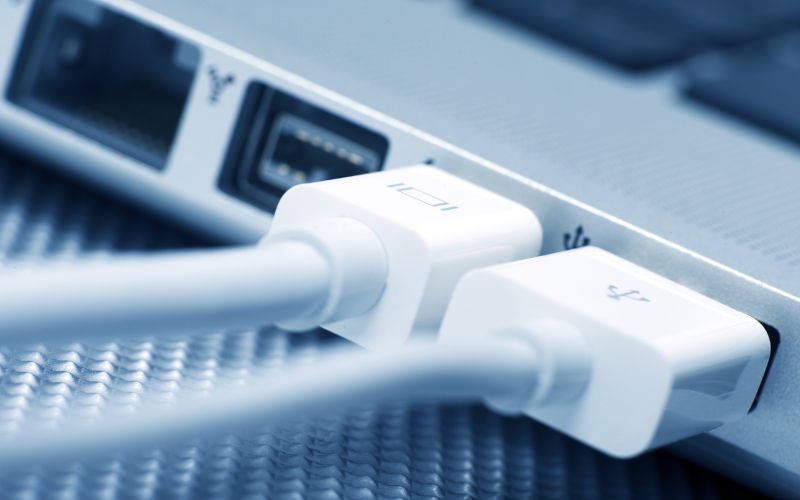 These computers also have Thunderbolt ports which can transmit power, network data, and AV signals. Thunderbolt 1 and 2 use Mini-DP cables while Thunderbolt 3 and 4 use USB-C cables.
MacBook Release Year
Video Output Port
Models
2008 – 2017
Mini-DP

Thunderbolt 1

Thunderbolt 2

MacBook Air 2 – 7
2018 – 2020
USB-C

Thunderbolt 3

Thunderbolt 4

MacBook Air 8 – 10
The first step to creating your connection is identifying the connectivity ports on your devices. If you can't tell the Mini-DP connector from USB-C, check the manufacturer's manual for your MacBook Air.
Projector Ports
Projectors are increasingly popular because of how advanced projection technology has become. You can enlarge images while retaining their clarity and brightness.
Modern projectors are designed to be versatile. They have various connectivity ports like HDMI, VGA, USB-C, DVI, and Composite.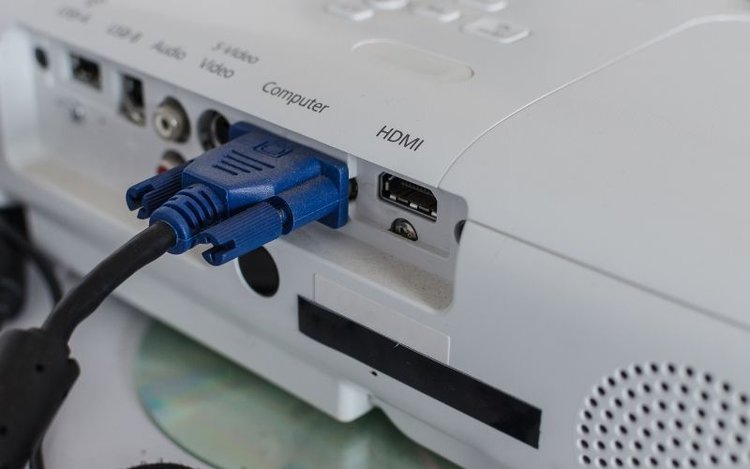 While projectors come in various models from different manufacturers, three types of connectors are commonly found on modern projectors. They are:
You can connect various source devices to the projector with these connectors, including your MacBook Air.
How To Connect Your MacBook Air To a Projector?
After identifying the ports on each device, you can purchase a converter video cable and get started!
Converter video cables convert one type of video signal into another — like a hybrid mix of adapters and video cables. They allow you to transmit signals between different connectors, i.e., VGA to HDMI.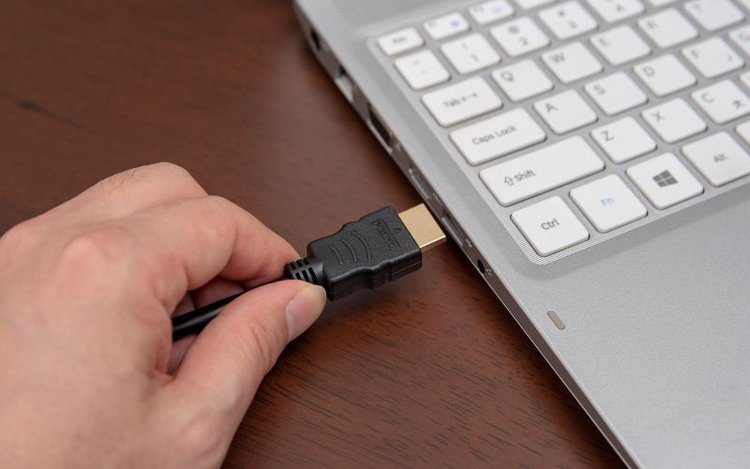 Materials Needed
Projector
Projection screen
MacBook Air
Converter Video cable or dual USB-C video cable
Here are some video converter cables to choose from:
Step-By-Step Guide
We have put together an easy-to-follow guide on how to create the connection.
Step 1: Set Up The Projector and Projection Screen
If you're installing a projector for the first time, there are many brilliant ways to mount your projector. First, you must find a space that is convenient for you and safe for the projector.
To set up your projector screen you must consider your projector's throw ratio and your sitting distance from the screen. Ensure that your image is angled correctly and fits properly on the screen with no spillovers.
Step 2: Power On Your Projector
Plug your projector's power cable into an electric outlet and make sure it fits tightly. Next, use the remote controller to power on the projector.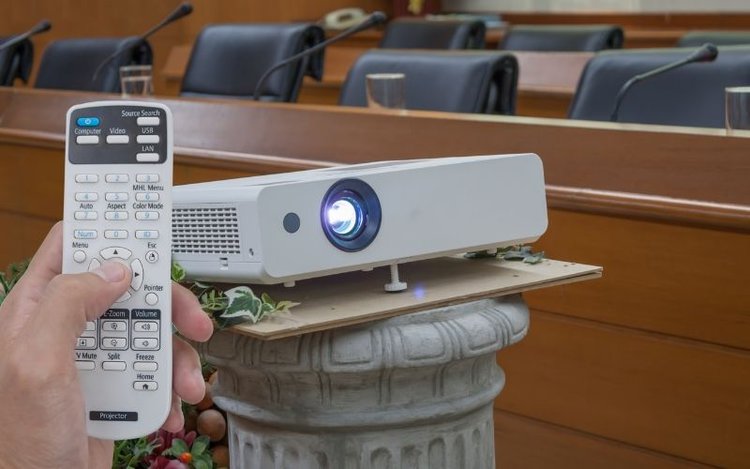 Use the Power button on the projector's control panel if the remote is missing.
Let the projector warm up, and then change its input source so that it can detect the MacBook Air's signal. Press the Input or Source button on the remote to switch sources.
Step 3: Power On Your MacBook Air
Ensure your MacBook Air is charged before you use it — on average, a MacBook Air lasts three to seven hours when fully charged. The exact duration depends on what you are doing with it.
If your MacBook's battery is low, you may plug it into an electric outlet and charge it while you use it.
Step 4: Connect Both Devices With The Video Cable
Connecting your Mac to your Projector
For your MacBook Air, you have only two connector options. In comparison, there are three options for the projector.
Select a converter cable that best fits your devices. If you have an older model MacBook Air, use a cable that converts from Mini-DP to HDMI or VGA — depending on your projector's connector.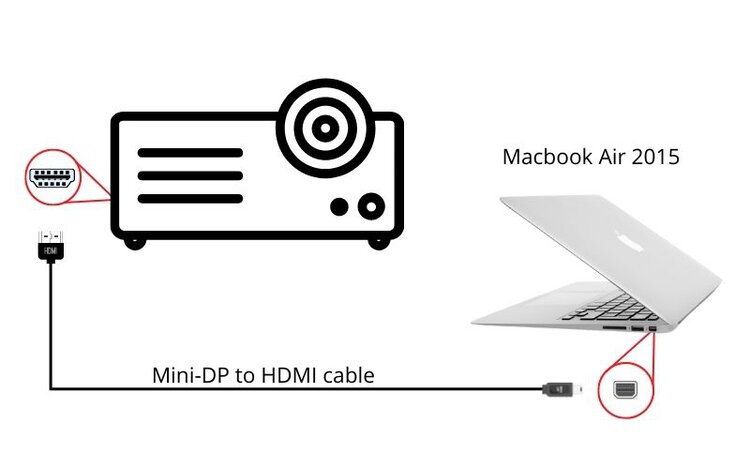 For the newer model MacBooks, use a cable that converts from USB-C to VGA or HDMI. If your projector also has a USB-C port, you're in luck. Use a dual USB-C cable to connect both devices easily.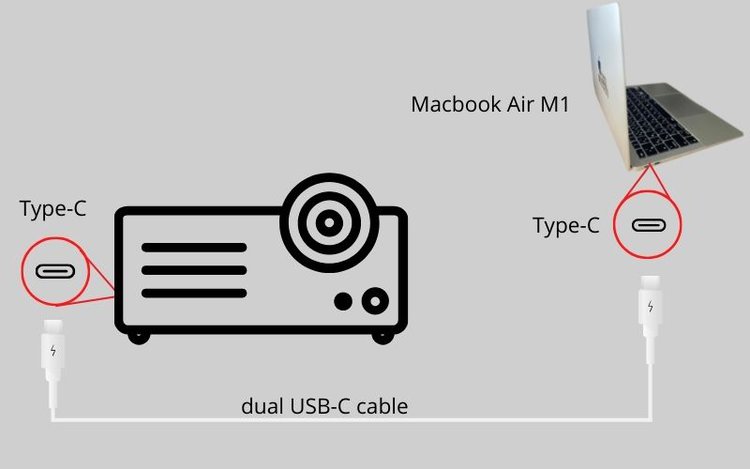 Plug one end of the cable into the matching connector on your MacBook Air, and plug the other end into the matching connector on your projector. Once the connection is established, your projector will mirror the computer's screen.
Connecting With Adapters
Can't find a converter cable? You can use an adapter and pair it with VGA or HDMI cables. For example, you can use the USB-C to VGA adapter with a VGA cable .
Plug the adapter into your MacBook Air. Next, plug one end of the VGA cable into the adapter's output port and plug the other end into your projector.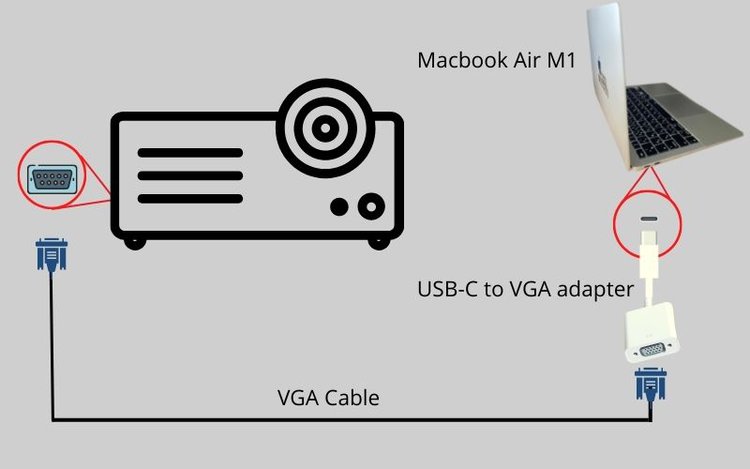 Check the table below to find the appropriate setup for your MacBook Air and projector.
| | | | |
| --- | --- | --- | --- |
| MacBook Air Port | Projector Port | Cable/Adapter Needed | Wiring |
| Mini-DP | HDMI | Mini DP to HDMI Cable | Macbook Air → Mini DP to HDMI Cable → HDMI port of projector |
| Mini-DP | VGA | Mini DP to VGA Cable | Macbook Air → Mini DP to VGA Cable → VGA port of projector |
| USB-C | HDMI | USB-C to HDMI Cable | Macbook Air → USB-C to HDMI Cable → HDMI Port of Projector |
| USB-C | VGA | USB-C to VGA Adapter | Macbook Air → USB-C to VGA Adapter → VGA Cable → VGA Port of Projector |
| USB-C | USB-C | USB-C Cable | Macbook Air → USB-C Cable → USB-C Port of Projector |
NOTE: If you're using the VGA connector, plug in the cable before turning on your devices. VGA is not designed to be hot-pluggable and doing so can damage the projector's motherboard.
Step 5: Select a Display Mode
After creating the connection, your next move is to set your preferred display mode. The connection automatically mirrors your screen, but you can uncheck that option and use your projector as a second screen instead.
Open the Apple Menu at the top left corner of the MacBook's screen.
Go to System Preferences > Display > Arrangement. Here you can check or uncheck the mirroring option.
You can also change various display settings from the Display Settings menu at the bottom right corner of the Display page. You can customize the screen resolution, refresh rate, and rotate the image.
How To Connect Your MacBook Air To A Projector Wirelessly?
If you'd rather not deal with the clutter of wires and adapters, you can try a wireless connection.
AirPlay Mirroring
Your MacBook Air can connect wirelessly to compatible Android projectors via iOS AirPlay Mirroring.
Follow the steps below:
Open Play Store on your android projector.
Install and launch the "AirScreen" app on your projector.
Turn on the "AirPlay" feature on the app.
Ensure your projector and MacBook Air are connected over the same Wi-Fi network.
Go to your MacBook's Menu, and click on Control > Screen Mirroring.
Select your projector from the options listed.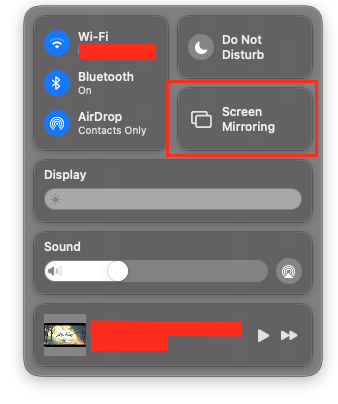 After completing these steps, your projector should mirror the screen of your MacBook Air.
Google Chromecast
If you want to stream media from apps like Netflix or YouTube, you can use the Chromecast streaming dongle. Connect it directly to your projector.
The Chromecast dongle also lets you cast from your MacBook to the projector for presentations.
Power on your MacBook Air and projector. Connect the MacBook and Chromecast to the same Wi-Fi network.
Plug your Chromecast dongle into the HDMI port on your projector. Ensure the dongle is also connected to a power outlet.
Set your projector's input source on HDMI 1 or HDMI 2 — depending on where you plugged the Chromecast.
Launch the Google Chrome browser app on your Mac. Make sure it is the most recent update.
Open the Menu (three-dot icon) from the top right corner of the screen.
Click "Cast" and select your Chromecast from the list of available devices.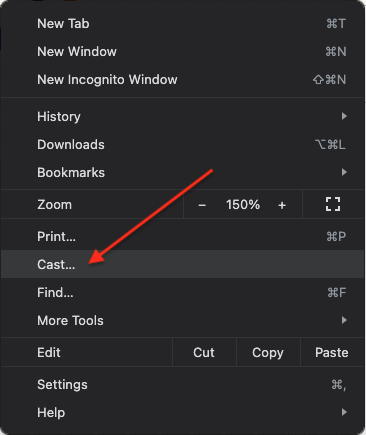 Your browser screen will appear on the projector immediately. Enjoy!
NOTE: Casting is not limited to your Chrome browser. You can also cast from other Chromecast compatible apps like Netflix and YouTube. However, these casting functions are not as efficient as mirroring over video cables.
You cannot set up Google Home devices on your Mac because the Google Home app is only available for iOS and Android devices. However, you can install the BlueStacks Android emulator which allows users to run android apps on macOS.
FAQ
Why is My MacBook Air Not Connecting To My Projector?
If your projector and MacBook Air refuse to establish a connection, it could be for one of the reasons below.
Faulty Cables or Ports
The wired connections could be faulty. The problem could be anything from a bad cable to a faulty connector port. Ensure your cables work well and fit firmly into the ports.
Delayed Detection
In rare cases, your MacBook Air may not detect the projector automatically after connecting them properly. You can manually push the Mac to find your projector.
Go to System Preferences > Display. Click on the Detect Displays button.
Corrupt Display Settings
If the previous suggestions don't work, try resetting your System Management Unit and Non-Volatile RAM. The reset will erase corrupt display settings.
Turn off your MacBook Air and power it on again. Instantly, press and hold these keys: Option, Command, P, and R.
Hold the four keys for about 20 seconds and release them when your MacBook Air restarts. After an NVRAM reset, you'll have to re-enter your date and time settings.
Conclusion
The detailing and immersive experience that comes with a large screen is undeniable. If you have a MacBook Air and a projector, you too can enjoy it.
You can connect your MacBook Air to a projector for classroom presentations or home theater set-ups. The best part is that you get to choose between wired and wireless connections.
We hope the steps outlined in our guide help you to connect your devices and start displaying. Cheers!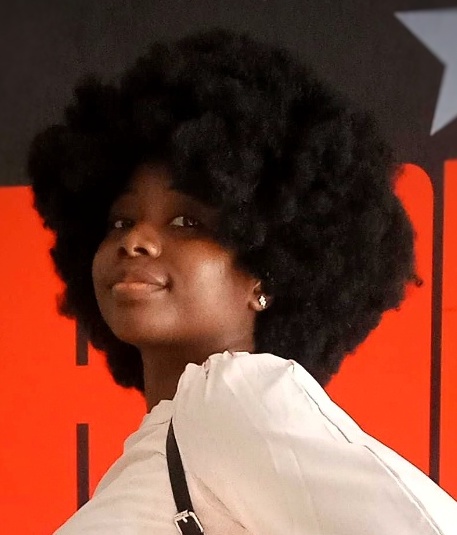 Gabriella 'Diogo is a content writer with a vested interest in tech hardware and equipment. She shares her knowledge and processes in an easy-to-grasp, lighthearted style. When she's not testing or researching device performance, you'll find her writing short stories or rewatching episodes of her favorite sitcoms.