With the 3rd generation Apple TV 4K rocking the A15 Bionic chip, the Apple TV has always been at the forefront regarding raw processing power.
The device is also sleeker-looking and robustly built, made predominantly with recycled aluminum compared to the plastic casings most streaming devices incorporate.
But good looks and a powerful CPU are not all. For any streaming device to work optimally, it should score high on all fronts. Most importantly, it should communicate well with other devices.
For example, suppose there is an issue with your Apple TV's Wi-Fi capabilities. In that case, it won't talk to your Wi-Fi router properly, resulting in connectivity issues or video streaming problems, like buffering. The device's aesthetics and build quality won't matter then.
But buffering content is not necessarily your router's fault or the Apple TV Wi-Fi chip's wrongdoing. But other things could also be at the core of the issue.
Continue reading to find out all the plausible reasons for your Apple TV's buffering concerns and the fixes.
1. Check Your Router or the Wi-Fi Internet Connection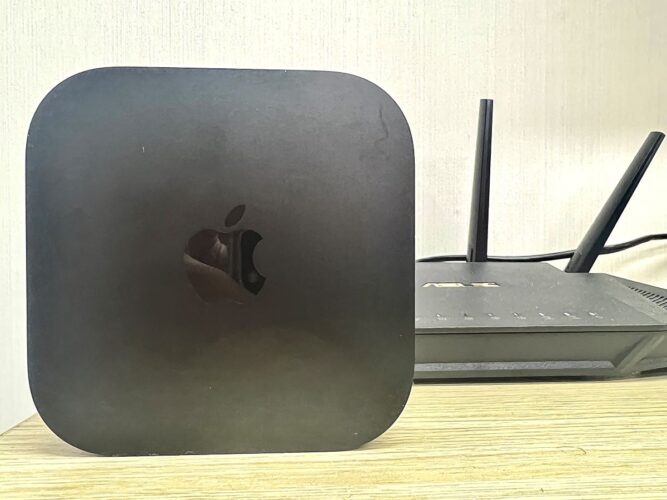 At times your Apple TV buffering could be due to a fundamental issue such as a faulty router or wireless internet. We take our Wi-Fi routers for granted or don't bother checking on them after the original setup.
If your Wi-Fi internet is misbehaving, here are a few things to do:
Soft-reset: Soft-reset your router so that its IP address changes to a snappier one. The reset could also clear any network congestion and connectivity issues between the router and your Apple TV.
Connect to the 5 GHz band: The 5 GHz band is snappier than the 2.4 GHz one. But it doesn't travel as far as 2.4 GHz. Switch to the 5 GHz band if your router and Apple TV are in their vicinity. Maybe your 2.4 GHz Wi-Fi speeds are not cutting it.
Bring the router and Apple TV closer: Ensure the two devices are not too far away. Ideally, they should not be more than a meter (three feet) away. Also, ensure there are no obstructions in their path. A clear line of sight is always recommended.
Allow the router to cool down: It's okay for Wi-Fi routers to get warm or occasionally hot during operation. But if the device becomes extremely hot and stays that way, turn it off, as constantly high temperatures can impede the machine. Most modern routers usually don't encounter overheating issues—older models may. If your router does, check out our Router Overheating Fix 101 article.
Update your router: If your router's firmware is not up-to-date, it could have performance troubles, such as its speeds could be underwhelming. Check for updates on the router's official website. Check out our article to learn how to update router firmware correctly.
Upgrade to a speedier plan: If your router is fine, the positioning of it is okay too, but if the performance is still lacking, upgrade to a faster plan. Confirm your internet speeds first by visiting this link.
2. Troubleshoot Your Apple TV's Internet Connection
Perhaps your Apple TV needs help receiving and processing Wi-Fi signals or is plagued with connectivity issues. It is likely the case if the Apple TV is several years old. Luckily, there are troubleshooting options.
Open the Settings app.
Select General > Network > Wi-Fi.
Select your Wi-Fi network and choose Forget Network. This should disconnect your Apple TV from your wireless internet connection.
Reconnect the device to your Wi-Fi. Under Network, choose Wi-Fi, and then select your Wi-Fi network.
Enter your Wi-Fi password to reconnect the Apple TV to your Wi-Fi.
Restart the device to enable a fresh beginning. To reboot, head to Settings > General > Restart.
If other network-specific concerns exist, head to Settings > Network > Troubleshooting and follow the on-screen prompts/solutions.
3. Clear Background Apps
If your Apple TV has many background apps and you're witnessing performance issues with the current app, maybe the inactive apps are using up system resources and causing hindrances.
Press your Apple TV remote's TV button twice to see the background apps or evoke the App Switcher.

Select the app by swiping right or left on the Apple TV remote's touchpad to skim over the open apps. Swipe up on the remote's touchpad to clear the app. Do this one by one for each app.

4. Perform a Soft Reset or Restart
Soft-reset or restart your Apple TV to give it a fresh start and resolve any software-related concerns hampering performance.
To do a restart, head to the Settings app. Choose System > Restart and follow the prompts on the screen to confirm the reset.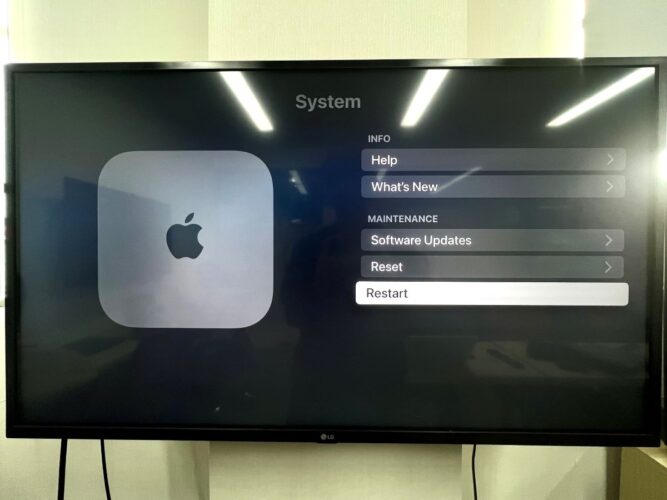 Note that the restart will not erase your Apple TV settings or data. A complete cleansing happens during a factory reset. More on it toward the end.
Do a soft reset in conjunction with the restart. It entails unplugging your Apple TV from its power source for at least 30 seconds and then plugging it back in.
5. Let Your Apple TV Cool Down from Overheating
No electronic device functions optimally when its temperatures are out of whack. And the Apple TV is no exception. Turn off the device and power on the device after the heat dissipates or the device is longer hot to the touch.
Excessive heat could throttle the device's performance to reduce the heat. That could result in laggy performance, slower response times, decreased processing power, etc.
The Apple TV could freeze, crash, or automatically reboot under the heat load. Its components may get damaged with prolonged exposure to heat.
If your Apple TV gets excessively hot frequently or within minutes after bootup, the hardware could be faulty. Get it repaired or replaced.
To prevent overheating, keep a tab on the device's ambient environment. Proper ventilation, a relatively dust-free space, normal room temperatures, etc., will help prevent overheating.
6. Relieve the Storage
Uninstall apps that you don't use. It's common to install apps only to use them once initially and never again. Such apps sit there, occupying space and providing nothing in return.
Delete the apps and make the digital environment less congested for other apps you regularly use. Not to mention, fewer apps means a slimmer catalog of apps to choose from for streaming.
To uninstall apps, head to Settings > General > Manage Storage > and select the trash icon beside the app.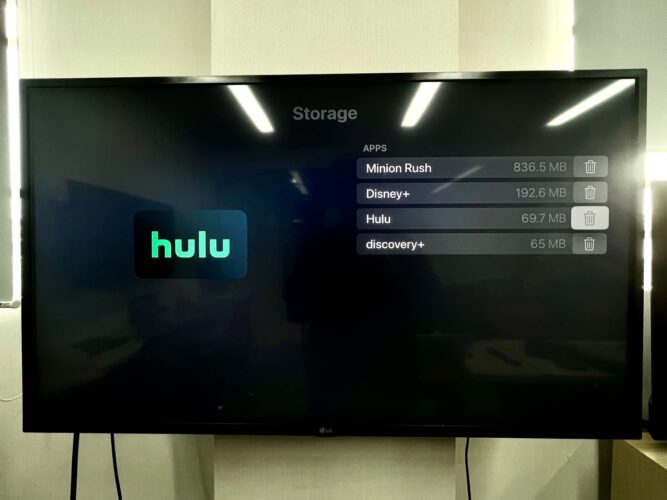 Periodically assess your Apple TV's app repository to remove unnecessary apps and optimize performance.
7. Reinstall Apps that Buffer
Reinstall buffering apps so your Apple TV's memory is relieved. Update them if needed. Apps at times malfunction when outdated or buggy.
To update an app, launch the App Store. Go to Purchased, select the All Apps option on the sidebar, and choose the particular app. On the app info page, choose Update.
Alternatively, type the app's name in the Search tab. Choose the app from the results and choose Update.
Deleting and reinstalling the app will automatically ensure the app reinstalled is the latest version with all the performance improvements and necessary bug fixes.
You may uninstall the app right from the home screen of your Apple TV or the Settings menu. If doing it on the home screen, follow these steps:
Navigate to the specific app.
Press and hold your Apple TV remote's touchpad. Let go of the touchpad after it starts jiggling.
Press the Play/Pause key. A menu will come up.
Choose Delete from the options.
Reinstall the app from the App Store.
Alternatively, head to the Settings menu. Choose General and then Manage Storage. Choose the bin icon to the app's right and select Delete.
8. Check the Service Server Status
Check the streaming app's server status. If the server is experiencing downtime, interruptions, or is under heavy load, the app's videos could buffer, the streaming video quality will get affected, connectivity problems may arise, etc.
Netflix, Apple TV+, Paramount+, etc., have web pages to check service status. Third-party tools offer the service for all streaming services and websites. We recommend Downdetector, Site24x7, and Is It Down Right Now.
App servers rarely go down. Server downtimes should, therefore, most likely not be the issue causing video buffering. But it doesn't hurt to check.
9. Turn Off Data Saver
Apple TV doesn't have an integrated data-saving feature like certain apps or mobile devices or does not cap the bandwidth it intakes.
But if the router or mobile hotspot it's sourcing internet from has any such feature enabled, turn them off.
For example, your Apple TV could suffer if the router's Quality of Service (QoS) setting is enabled to prioritize specific devices or activities (such as online gaming).
The data cap will limit the streaming device's capabilities and cause buffering issues, especially when streaming 4K HDR videos or content with increased bandwidth requirements.
10. Update Your Apple TV
Outdated software or bugs could cause buffering and network problems. Therefore, ensure your Apple TV is using the latest software always.
To update software, go to Settings > Software and then Software Updates. Next, choose Update Software. Choose Download and Install so that the update process begins.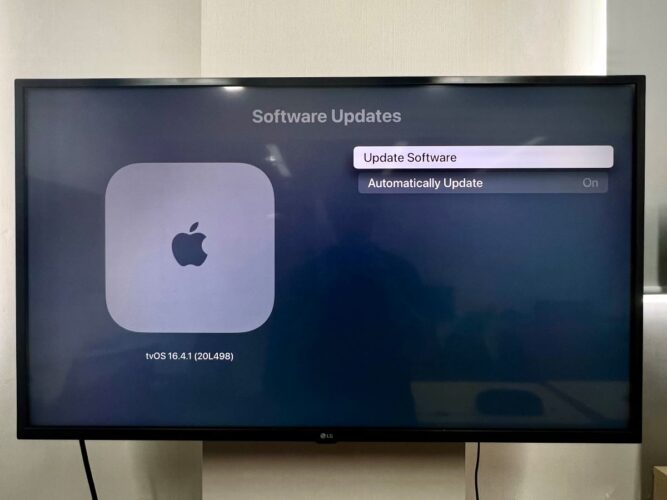 To update the Apple TV, connect it to the internet. Use Wi-Fi or an Ethernet cable. After the update's complete, your Apple TV will reboot itself.
11. Factory Reset Your Apple TV
A factory reset should be your last resort as it completely overhauls your Apple TV, erasing all user information, customizations, and preferences.
It should be implemented only if the above fixes do not work. Or if software issues such as system freezes, crashes, unresponsive behavior, etc., become recurring even after multiple reboots or soft resets.
Also, do it at the behest of Apple support. Don't decide by yourself. The Apple support team will let you know if anything can be tried before a factory reset.
For a factory reset, head to Settings > Systems > Reset/Reset and Update.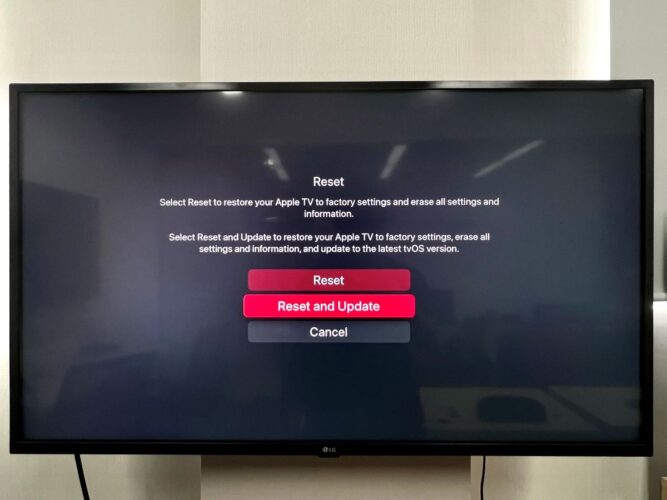 The Reset and Update option will restore your Apple TV's factory settings and update the device to the latest tvOS version.
12. Upgrade to a New Apple TV
If your Apple TV does not support the latest tvOS version, it's too old, or a hardware upgrade is pending.
Another sign that your Apple TV is getting old is if Apple doesn't sell the device anymore on its official website.
But then, unlike the iPhone, Apple doesn't launch new TVs yearly. There's usually a three to four-year gap on average between releases. And whenever a new Apple TV is launched, the previous version is taken off the site even if it's sold through third-party websites.
A three-year-old Apple TV is not old, especially if it continues to receive software updates.
The latest Apple TV OS is tvOS 16.5. It is compatible with all 4K Apple TVs and Apple TV HD released in 2015. If you're rocking Apple TV HD and it is working fine, you don't need a new Apple TV.
But on the other hand, even if the device is more recent and eligible for software updates but is plagued with problems that cannot be resolved, a new Apple TV, like the Apple TV 4K (3rd Generation) , makes sense.
Long story short, buy the latest Apple TV if you're current device has issues and is not eligible for OTA (over-the-air) updates. If you don't know your Apple TV model, click here.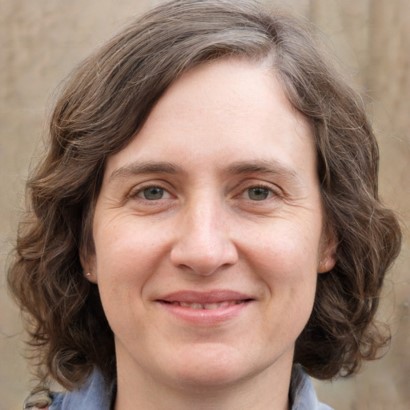 Catherine Tramell has been covering technology as a freelance writer for over a decade. She has been writing for Pointer Clicker for over a year, further expanding her expertise as a tech columnist. Catherine likes spending time with her family and friends and her pastimes are reading books and news articles.