How have your presentations fared during the virtual meetings during the pandemic? We understand the trouble you've been having with them because presenting without being able to point the audience towards key points is difficult.
You can use laser pointers in Google Meet, but there's a trick to it. The process requires a little creativity and can help you enhance your presentation. It's only a matter of discovering cursor options, and then you're all set to ensure that you are communicating your point of view safely and effectively.
Is There a Laser Pointer in Google Meet?
Technically, no. Strictly speaking, no option in Google Meet will allow you to deploy a laser pointer for your presentations. However, an option in Google Slides helps you get a laser pointer when presenting your plan.
Hence, you will need to upload your presentation to Google Slides and get the laser pointer from there.
Where Can I Find the Google Slides Laser Pointer?
To find the laser pointer in Google Slides, you need to go through the following steps:
Open Google Slides on your browser or in the application.
Click on the blank presentation to see a basic template.
Click on 'File' and then click 'Open.' Then choose 'Upload' and select the presentation from your PC.
Once the presentation becomes available in Google Slides, you will see the 'Present' button on the top right corner of your screen. Click on that to open the full-screen version.
Take your cursor to the bottom left of the screen, where you will see a semi-translucent tab. Click on the three dots, and some options will appear.
Click on the 'Turn on the Laser Pointer' option (second from top), and your cursor will become a laser pointer.
How to Use a Laser Pointer in Google Meet
Once you find the laser pointer in Google Slides, using it on Google Meet is easy. Start presenting in your meeting and click on 'Share Window.' If you opened Google Slides in the application, click on that or click on the browser and switch to the Google Slides tab.
Once there, start the presentation and follow the steps mentioned above. You are sharing your screen with everyone in the meeting, so they can see where your laser pointer cursor is.
Alternative
There is one other way to use a laser pointer when using Google Meet and presenting through Microsoft PowerPoint.
Windows – Start the slideshow or opt for the reading view. Once you are on the full-screen, click and hold the 'Ctrl' button, and press and hold the left button on your mouse. The cursor will become a makeshift laser pointer until you release either button.
macOS – Start the slideshow and drag your cursor to the bottom left side of the screen. Click on the pen icon, and you will see several options for cursor control. Choose 'Laser Pointer,' and your cursor will temporarily become a laser pointer until you turn it back to normal.
How does the Laser Pointer affect my Presentation?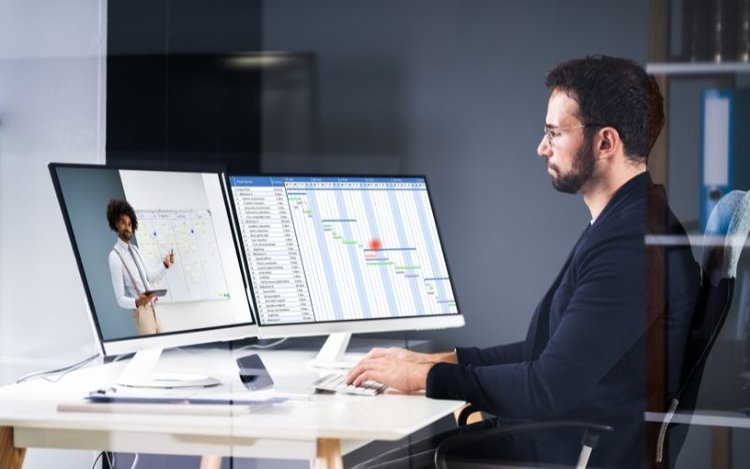 Laser pointers are effective during presentations because they help bring attention to the part of the slide visual you want everyone to focus on. Even when presentations follow all the rules of data visualization, a single slide often features multiple significant concepts or data.
Without identifying where the data is mentioned on the slide, the audience may start looking for the part you mention, drawing their focus away from what you are saying.
Hence, when elaborating around a particular concept or explaining a key figure, pointing a laser pointer at the location where you mentioned it in the presentation will help clarify.
Can Using the Laser Pointer in Google Meet be Harmful?
No. Laser pointers in Google Slides and Microsoft PowerPoint are nothing like the actual laser and only mimic their appearance to create the same effect. They are no different from any other graphic displayed by your desktop or laptop and only need to be treated with the same care.
What not to Do When Presenting on Google Meet
The general 'Work from Home' set up on such a large scale was unprecedented, and shifting meetings and pitches online has led to several challenges. The benefit of in-person meetings is that you have your entire body language communicating the presentation for you.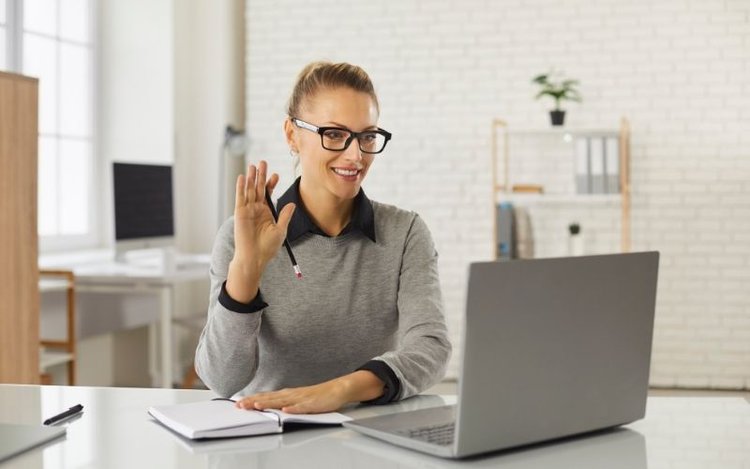 While you are presenting virtually, the audience's attention is strictly focused on the screen you are sharing and your voice. Hence, the following are a few tips on what to avoid during such presentations:
Don't Use a Fast or Slow Delivery
Speaking too fast will make it difficult for the audience to understand what you're saying, and they will miss several prominent points you make. In contrast, speaking too slow will end up boring the audience and elongate the presentation unnecessarily.
Prepare a moderate talking speed in advance and use it to present effectively. It will improve your chances of communicating your idea or position.
Don't Fidget too Much with the Laser Pointer.
In the case of Google Slides and Microsoft PowerPoint on Mac, your cursor will be a laser pointer. Hence, be careful not to fidget with it too much because the motion will distract and affect the audience's concentration.
Don't Keep Talking Without Engagement.
Finally, don't just keep talking. Whether you are presenting physically or virtually, take time to pause between what you're saying to engage with the audience to confirm if they are on the same page as you. It also breaks the monotony and prevents them from zoning out.
Conclusion
We hope our guide on using a laser pointer in Google Meet helps you understand the technicality of getting a laser pointer for your virtual meetings. It is a significant addition and will help enhance the effectiveness of your presentations.
If you enjoyed reading this blog post and want more information about laser pointers, check out our other blogs about the topic.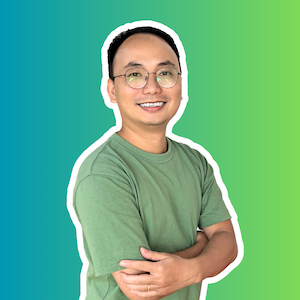 Vance is a dad, former software engineer, and tech lover. Knowing how a computer works becomes handy when he builds Pointer Clicker. His quest is to make tech more accessible for non-techie users. When not working with his team, you can find him caring for his son and gaming.