What To Know
You can physically move your router to a new house, but whether it can access the internet depends on your ISP's coverage range.
For internet access in your new home, it must be equipped with the necessary infrastructure, e.g., if you use fiber optic cables and they aren't present at your new home, the cables would need to be installed.
Ready to move and wondering if your internet router can come along? It's more than just packing it up; will it work seamlessly at your new place?
Discover which ISPs are in your new area and whether to retain your current internet plan.
Let's unravel the answers!
Can You Move Your Internet to Another House?
Whether or not you can bring your internet to your new home depends on where you're moving to.
While you can bring the physical router wherever you like, whether or not you'll be able to access the internet depends on your current ISP's range. Should your current ISP not cover your new home's area, you'll have to consider changing it to have internet access.
You'll find that different ISPs cover different areas of a city/state, so you may have to change your ISP even if you're just moving a few neighborhoods away.
If your new home is very close to your old one and still within your current ISP's range, your ISP agent will recommend keeping your current plan and modem/router. This is, by far, the most convenient option since you won't have to wait for your new router to ship and spend time researching new ISP plans.
To see if this is a viable option for you, contact your ISP's customer service and inquire about moving your gateway (modem/router) or router with you to your new address.
The modem will work in your new home as long as it can access the same internet connection type as before. So, if your router uses fiber optic cables that aren't installed in your new home, you will have to have a professional install them before you can use the Wi-Fi.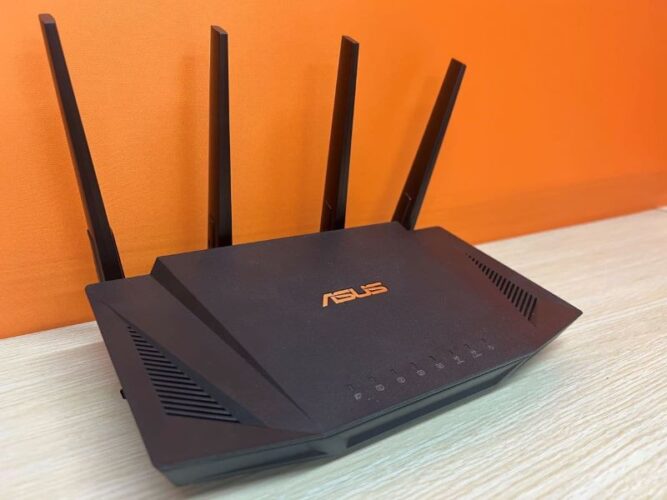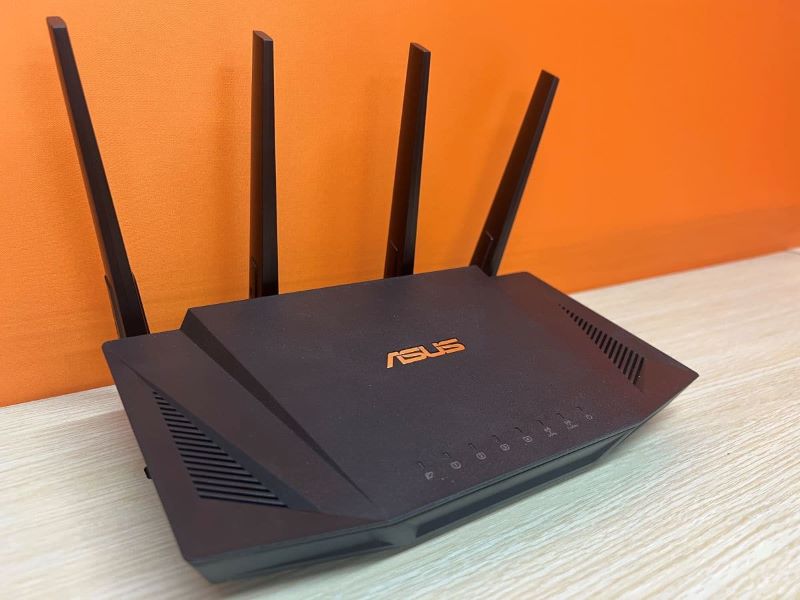 If you do decide to change your ISP, you must guarantee that your modem/router (gateway) will work on its network. So, it's a good idea to contact their customer service and inquire about using your old modem at your new address.
If your current modem does not work on the new ISP's network, you must replace it accordingly.
Luckily, this is a pretty straightforward process and your ISP will include detailed instructions on how to do it.
Check out the links below for the gateway setup instructions for three notable ISPs in the United States along with some general installation instructions.
While these instructions are not overly complex, they can be hard for some users to grasp. If you're struggling to follow any steps and worry you may not be able to set up the gateway yourself, don't hesitate to contact your ISP and ask them to send over a professional to install it for you.
Bear in mind that this option may come with a bit of a delay as you'll have to wait for the next professional installation opening.
Please note that you will be charged a professional installation fee, though this fee will vary depending on your ISP.
As for your router, you'll be able to use it with any gateway, regardless of your ISP plan. However, if your router for five years or longer, consider replacing it to ensure maximum functionality.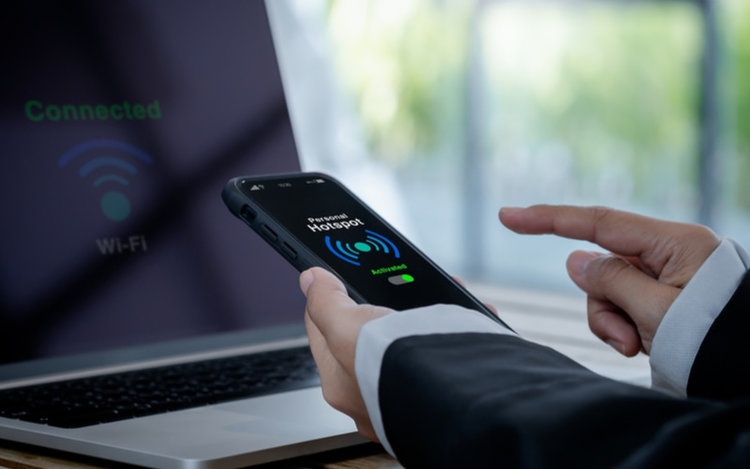 However, if you use your cellular data for most or all of your internet activity, you're in luck! Your phone's mobile data will work anywhere you take it within the country, with many plans supporting roaming for overseas travel as well.
Bear in mind that roaming is often several times more expensive than standard data though.
All you have to do to use your cellular data in your new home is slip your smartphone out of your back pocket and start browsing the internet or apps. You can also enable your phone's hotspot to connect other devices to its cellular data.
Just be wary of your data consumption, since mobile hotspots consume much more data than regular cellular data does.
How to Know Which ISPs are Available in the Area
You've just discovered that your current ISP doesn't cover your new address. Now what?
It's time to start looking for a new ISP. This process can seem complicated, especially if you're not sure which ISPs cover your new area.
To find out which ISPs are available in your new neighborhood, head to High-Speed Internet and enter your new zip code into the search bar.
We'll demonstrate exactly how to complete this process using the zip code 20070 (Washington DC).
To start, we'll enter our example zip code (20070) into the search bar before clicking Search Providers to see all of the ISPs in the area.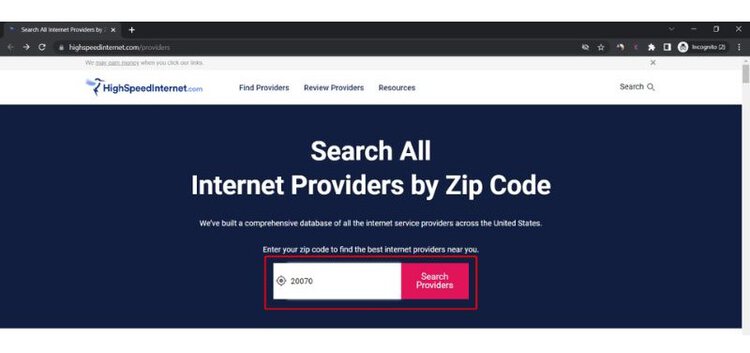 The search results will reveal all of the available ISPs in your region, along with their connection types, maximum download speeds, and user ratings.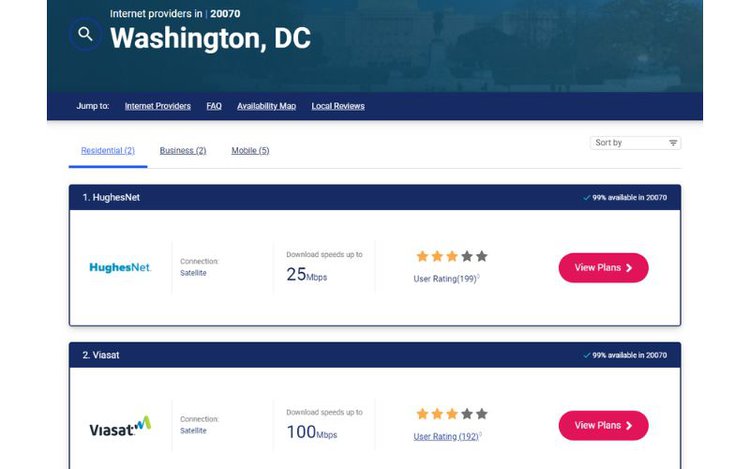 While the default results show Residential plans, you can also select Business or Mobile from the top menu to see other plans for your office or smartphone.
To see the ISPs' prices and other details, select the View Plans button, which will redirect you to the ISP's official website.
When looking at plans, bear in mind that many "unlimited" plans in the United States, often have a data cap. You can learn more about what "unlimited" means in terms of data plans by reading our article When Does a Wi-Fi Data Plan Reset? Is Unlimited Really Unlimited?
Should I Keep My Internet Plan When I Move To a New House?
If your new address is still within your current ISP's range and service, then you can find out if you can keep your internet plan by contacting your ISP directly. Tell them your new zip code and ask if it would be possible to keep your same plan, and if so, what that would entail.
Otherwise, you may have to cancel your internet service at your old address before signing up for a new plan. If you do decide to cancel your old plan, make sure to contact your ISP's customer service and ask about their Early Termination Fees (ETFs). It's commonplace for ISPs to include ETFs in their contracts.
However, select ISPs may waive their ETFs under certain circumstances, such as if you're moving outside of the coverage area, moving into bulk housing that's already committed to a different ISP, or moving for military deployment. So, make sure to tell your ISP agent why you need to change internet plans and inquire about these exceptions.
Note: Early Terminal Fees (ETFs) is a commitment between the ISPs and their customers. These will be outlined in the contract that you signed when agreeing to the ISP's terms of service. In the case that you cancel your internet plan before the contract expires, you will have to pay the ISP's ETFs. Customers will not have to pay these ETFs if they simply choose not to renew their contract once its coverage period has terminated.
You can learn more about which ISPs have an ETF and how much they cost by checking out the article How to Cancel Your Internet Service.
If you're only planning on not using your internet plan for a short period (e.g. traveling) or want to avoid the ISP's hefty ETF, consider researching if your ISP allows customers to put on a hold on their service. This will allow you to temporarily stall your internet plan.
ISPs such as AT&T and Xfinity support this feature.
Let's learn about their terms of service for putting a hold on your internet plan.
AT&T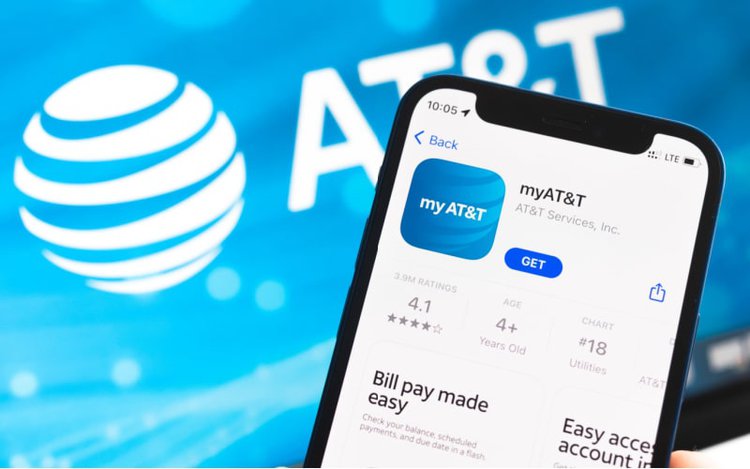 AT&T allows their customers to put their service on hold while they're on an extended vacation as long as they meet the following requirements:
Account in good standing (no outstanding fees)
Active service for at least 30 days
Submitted request to put the account on hold 10 to 30 days before the start date
Committed to the restoration of service between 60 and 270 days from the start date
You can learn more about the ins and outs of putting your AT&T account on hold by checking out their article Put your service on Vacation Hold.
Note: You will be charged $7 a month for every account you put on hold.
Xfinity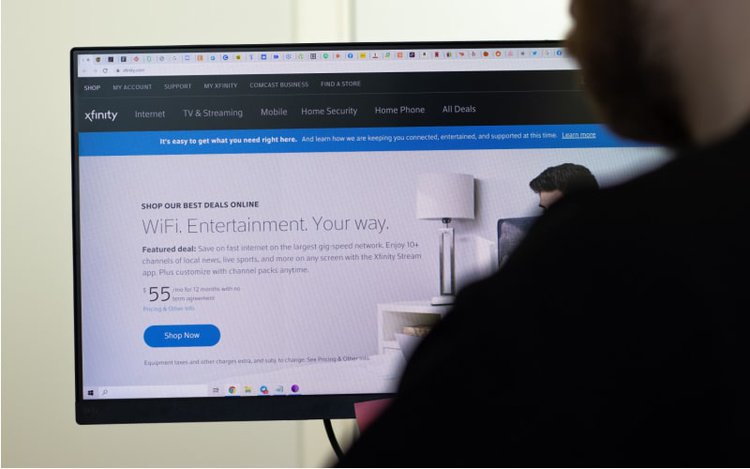 Xfinity also has the option to put your account on hold using their Seasonal Convenience Plan.
You will be charged a small monthly fee depending on which internet plan you're putting on hold.
Please note that this option is only available for residential customers (i.e. home internet plans) in specified areas. This option is not available to those registered in the Affordable Connectivity Program.
You can find out more about Xfinity's on-hold service, what it entails, and how to activate it by heading to their article Seasonal Convenience Plan – Enrollment Form.
Wrapping Things Up
You can move your internet to another house as long as that area is still covered by your ISP. Your new home must also be fitted with the correct hardware for the internet connection type (e.g. fiber optic cables).
However, if your new home's area is not covered by your ISP, you'll have to cancel your current internet plan and sign up for a new one. You can find out which ISPs are available for your new address by heading to High-Speed Internet.
Bear in mind that you may have to pay Early Terminal Fees (ETFs) to terminate your contract early depending on your ISP.
Alternatively, you can look into your ISP's on-hold services if you want to stall your account for a few months while traveling.
What's your experience moving your internet from one house to another? Have you ever put your internet plan on hold?
Let us know in the comments below!
Yesenia Achlim is a technical copywriter and editor with a focus on AV equipment. She aims to break down complicated topics and make technology accessible, no matter your technical expertise. When she's not teaching you how to replace a projector lamp, you can find her reading and baking.