What To Know
LG TVs post-September 2014 have at least one HDCP 2.2 compliant HDMI port.
HDCP errors can be resolved using HDMI splitters or hardware replacement.
Ensure your entire device setup, including cables and adapters, is HDCP compliant to prevent playback issues.
As digital media becomes more secure, ensuring your TV aligns with HDCP standards is essential.
This article dives into LG TV's compatibility with HDCP and offers solutions to address common HDCP errors.
Are LG TVs HDCP Compliant?
According to LG, all TVs manufactured after September 2014 have at least one HDMI port that is HDCP 2.2 compliant.
This is in accordance with the requirements of the Consumer Electronics Association, of which LG is a member.
How Do I Know If My Current TV Is HDCP Compliant?
Did you purchase a television set, and you're unsure if it's HDCP compliant? Here are some ways to check if your TV is HDCP compliant:
You can check the original box. Often, TV manufacturers will put whether the TV is HDCP compliant on the box itself.
Check the manual that comes with it. In the video-cable section, you will be able to see if your TV is HDCP compliant by looking at the definition of video ports.
If you don't have the original box or manual, you can contact the customer support service of your TV manufacturer and directly ask them whether your TV is HDCP compliant or not.
You can also inspect the connections on your TV. Here are the types of HDCP-compliant connections that you should be able to see:
ARC
HDMI (4K@60Hz)
HDCP 2.2
I'm getting an HDCP Error in My LG TV. How do I Fix it?
HDCP errors occur when there is an interruption or problem with the connection or communication between your LG TV and another device. Another common reason is that one device or cable is not HDCP compliant.
For example, if you connect a Chromecast to an old TV, you might encounter errors such as:
HDCP ERROR
ERROR: NON-HDCP OUTPUT
Here are ways to fix HDCP errors:
Use an HDMI splitter
You should position the HDMI splitter between the input and output devices. For instance, if your Chromecast can't connect to the TV because of errors, connect the Chromecast to the input port of the HDMI splitter and use a different HDMI cable from the HDMI splitter's output port into the TV's HDMI slot.
By using a splitter, the HDCP request is no longer transferred because the splitter blocks it from moving from one device to another.
We found great HDMI splitters that help fix HDCP errors.
These are the HDMI Switch 4K HDMI Splitter and the ViewHD 2 Port 1x2 Powered HDMI 1 in 2 Out Mini Splitter .
Replace the hardware.
To avoid errors, the cables and devices should be HDCP compliant. If the problem is the device or cable, replacing the hardware will usually solve the issue. If you have an old TV, you should invest in a newer one.
Restart devices
Disconnect both ends of the HDMI cable.
Unplug or turn off the TV and the other device. Wait for at least one minute before plugging it again.
Reconnect the HDMI cable to a different port on your TV.
Restart the TV and the other device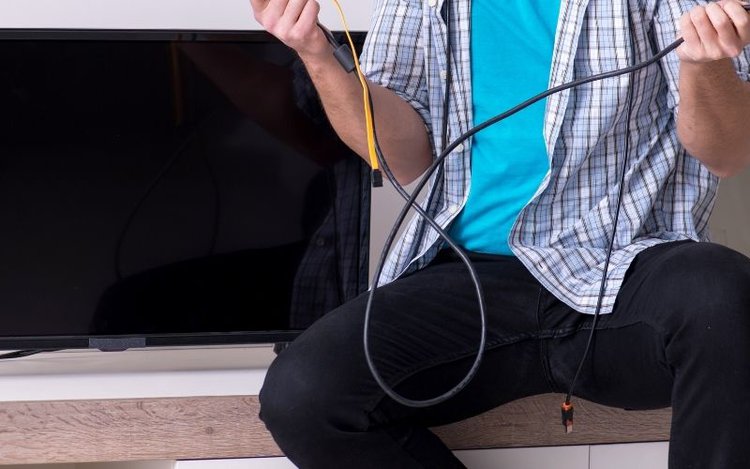 Are you still seeing an error message?
Ensure that your device setup is HDCP compliant, including the adapters, cables, drivers, graphics cards, monitor, and TV.
FAQs
I Have a Non-HDCP Compliant LG TV. Is There a Way to Make It HDCP Compatible?
Unfortunately, no firmware upgrade can turn your non-HDCP TV into an HDCP-compliant one.
Conclusion
When shopping for a new TV, you should always check for HDCP compliance. To prevent frustrations along the way, it is best to stick with well-known brands like LG to play it safe.
With trusted brands, you can guarantee that their newer 4K TVs have an HDMI input that is HDCP 2.2 compliant.
Meet Vance. He's a proud dad, a seasoned Electronics Engineer, and an avid tech lover. His proficiency in electronics and troubleshooting skills were instrumental in crafting Pointer Clicker. Vance is passionate about simplifying tech for those who aren't well-versed in it.