LG is a well-known home appliance and electronics brand. They sell everything from washing machines and microwave ovens to mobile devices and (of course) TVs.
Most digital devices nowadays are equipped with a protection protocol known as HDCP. This encrypts digital content, making it harder for pirates to duplicate.
In order to play HDCP-protected content, both source and output need to be HDCP-compliant.
Thus, it's natural to wonder:
Are LG TVs HDCP compliant?
We find that out — plus more — in the succeeding sections.
How Do I Know If My Current HDTV Is HDCP Compliant?
Did you just purchase a television set, and you're unsure if it's HDCP compliant? Here are some ways to check if your TV is HDCP compliant:
You can check the original box. Often, TV manufacturers will put whether the TV is HDCP compliant on the box itself.
Check the manual that comes with it. In the video-cable section, you will be able to see if your TV is HDCP compliant by looking at the definition of video ports.
If you don't have the original box or manual, you can contact the customer support service of your TV manufacturer and directly ask them whether your TV is HDCP compliant or not.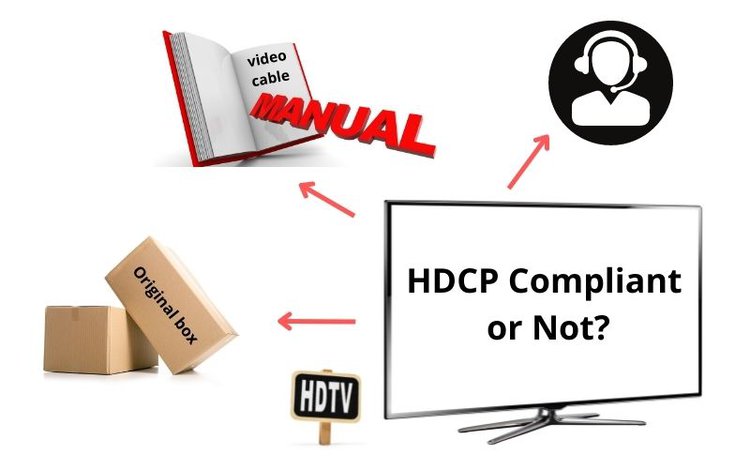 You can also inspect the connections on your TV. Here are the types of HDCP compliant connections that you should be able to see:
Are LG TVs HDCP Compliant?
According to LG, all TVs manufactured after September 2014 have at least one HDMI port that is HDCP 2.2 compliant. This is in accordance with the requirements by the Consumer Electronics Association, where LG is a member.
Are All 4K TVs HDCP 2.2 Compliant?
Although most newly released 4K TVs are HDCP compliant, you should also know that not all 4K TVs support HDCP 2.2.
Can I Still Enjoy HD Content If My TV Does Not Support HDCP?
Yes, you can still watch HD content on TVs that do not support HDCP. However, the quality or resolution of the video will be lower compared to HDCP-compliant TVs.
What Is the Latest Version of HDCP?
The latest version of HDCP is version 2.3. It was released in February 2018.
However, most devices still support the previous version. This is fine since HDCP is backward compatible.
What Is the Difference Between HDMI and HDCP?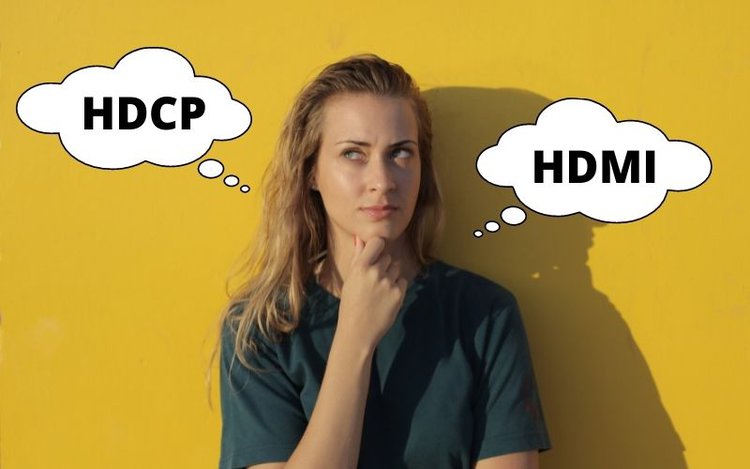 When you're looking for 4K TVs, you most likely heard about HDMI and HDCP. Some people are confused with both terms.
The notable difference is that HDMI 2.0 is backward-compatible with older HDMI versions.
On the other hand, HDCP 2.2 is not backward-compatible with 4K videos, which means you can still connect it with older devices and still enjoy HD content.
However, if the 4K TV detects a 4K video source, an HDCP authentication is needed to complete the digital handshake. If there's no authentication, there will be no 4K picture.
How Do I Know That My Setup Is HDCP Compatible?
When your setup is HDCP compatible, you will be able to play videos in standard definition. If your setup is non-compliant, you won't be able to watch videos, and you will receive an error.
If you're wondering if your device is HDCP compliant, you can search online for the specifications for your device, adapter, or cable.
I'm getting an HDCP Error in My LG TV. How do I Fix it?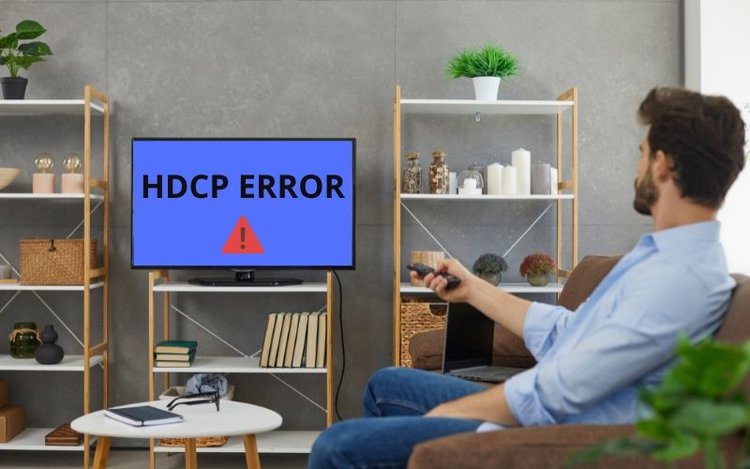 HDCP errors occur when there is an interruption or problem with the connection or communication between your LG TV and another device. Another common reason is that one device or cable is not HDCP compliant.
For example, if you connect a Chromecast to an old HDTV, you might encounter errors such as:
HDCP ERROR
ERROR: NON-HDCP OUTPUT
Here are ways to fix HDCP errors:
Use an HDMI splitter
You should position the HDMI splitter between the input and output devices. For instance, if your Chromecast can't connect to the TV because of errors, connect the Chromecast to the input port of the HDMI splitter and use a different HDMI cable from the HDMI splitter's output port into the TV's HDMI slot.
By using a splitter, the HDCP request is no longer transferred because the splitter blocks it from moving from one device to another.
We found great HDMI splitters that help fix HDCP errors. These are the HDMI Switch 4K HDMI Splitter and the ViewHD 2 Port 1x2 Powered HDMI 1 in 2 Out Mini Splitter .
Replace the hardware.
To avoid errors, the cables and devices should be HDCP compliant. If the problem is the device or cable, replacing the hardware will usually solve the issue. If you have an old TV, you should invest in a newer one.
Restart devices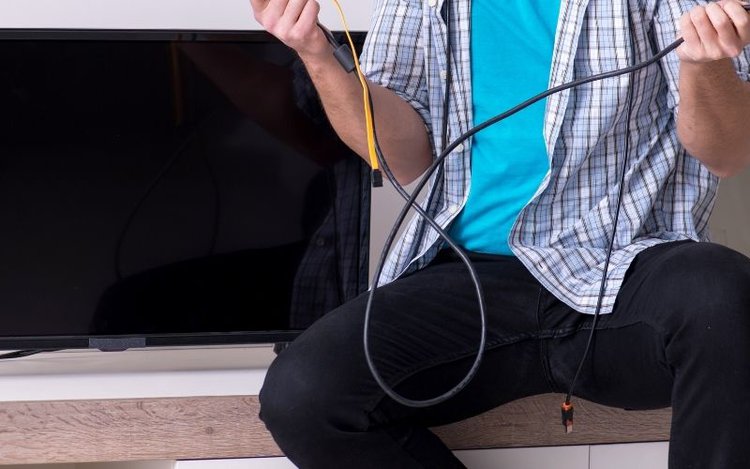 Disconnect both ends of the HDMI cable.
Unplug or turn off the TV and the other device. Wait for at least one minute before plugging it again.
Reconnect HDMI cable on a different port on your TV.
Restart the TV and the other device
Are you still seeing an error message?
Ensure that your device setup is HDCP compliant, including the adapters, cables, drivers, graphics cards, monitor, and TV.
Why Is HDCP Important When Playing HDR or 4K Ultra HD Content?
To watch or stream HDR or 4K Ultra HD content, connect the HDMI cables to the devices that support HDCP, including your audio/video receiver or AVR, TV, and other devices connected.
If one device is not HDCP compliant, you can only view the content in either 720p or 1080p.
I Have a Non-HDCP Compliant LG TV. Is There a Way to Make It HDCP Compatible?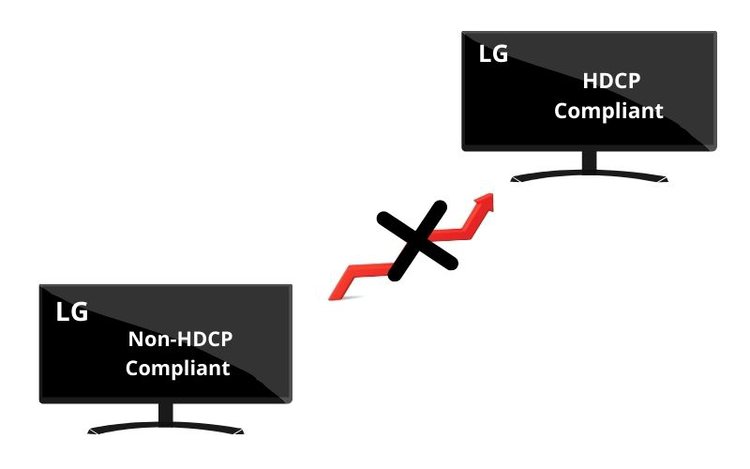 Unfortunately, no firmware upgrade can turn your non-HDCP TV into an HDCP compliant one.
Conclusion
When shopping for a new TV, you should always check for HDCP compliance. To prevent frustrations along the way, it is best to stick with well-known brands like LG to play it safe.
With trusted brands, you can guarantee that their newer 4K TVs have an HDMI input that is HDCP 2.2 compliant.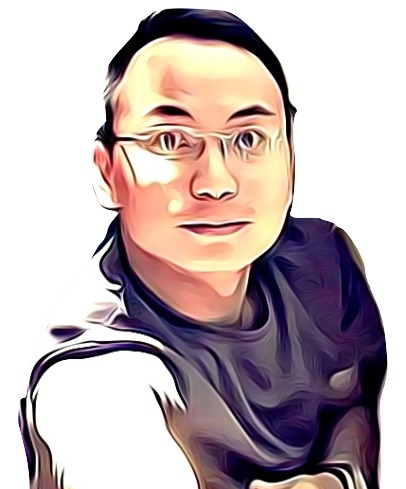 Vance is a dad, former software engineer, and tech lover. Knowing how a computer works becomes handy when he builds Pointer Clicker. His quest is to make tech more accessible for non-techie users. When not working with his team, you can find him caring for his son and gaming.