The relationship between SDI and BNC can be quite hard to understand. Are they different video connector types? Are they cable types? If you're wondering about the similarities between both, you're in the right place.
SDI and BNC are not two different video connector interfaces; neither are they male and female connectors of the same interface. However, they often work hand-in-hand to aid the transmission of uncompressed HD digital signals.
This article explains both terms and demonstrates just how they are related. Keep reading to find out when to use SDI and BNC.
What is SDI?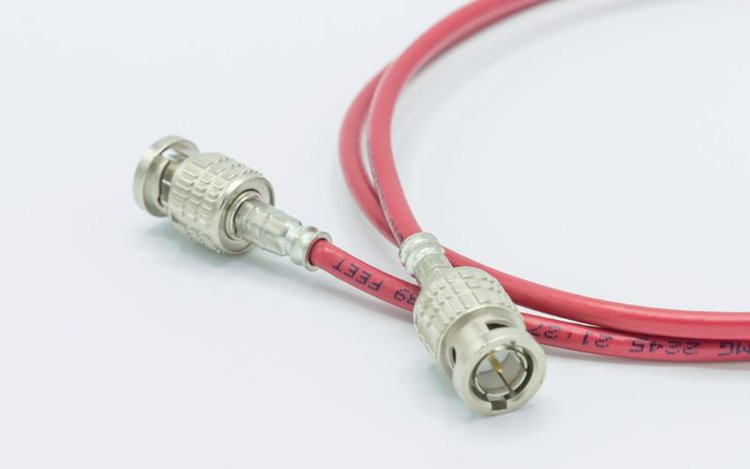 SDI stands for Serial Digital Interface. It is a digital standard [format] for transmitting uncompressed and unencrypted digital video and audio between two devices or equipment.
SDI is a unidirectional video and audio signal. It is carried over 75 Ohm coaxial cables which use BNC plugs.
Unidirectional signals generate a single output that allows data to flow through from only one point, in one direction. This eliminates the risk of interference and reduces the chances of signal degradation. You must first decode SDI signals to display the video and audio information they carry.
SDI was developed for professional video broadcast operations; it is known to transmit high-bandwidth digital video over long distances up to 300m. SDI signals are transmitted between equipment like recorders, vision mixers, and PCs.
The SDI was first introduced in 1989 by The Society of Motion Picture and Television Engineers (SMPTE). It initially supported only SD video resolutions up to 480i and 576i.
Over time, SMPTE introduced various SDI standards to keep up with the advancing video resolutions (HD, 4K, and 8K), higher frame rates, and 3D video. The different SDI standards are tabled below.
| | | | |
| --- | --- | --- | --- |
| Standard | Year | Bitrate | Max Resolution & FPS |
| SD-SDI | 1989 | 177-270 Mbps | 576i @24FPS |
| ED-SDI | 2000 | 540 Mbps | 576p @60FPS |
| HD-SDI | 1998 | 1.485 Gbps | 1080i @24FPS |
| Dual Link HD-SDI | 2002 | 2.970 Gbps | 1080p @60FPS |
| 3G-SDI | 2006 | 2.970 Gbps | 1080p @60FPS |
| 6G-SDI | 2015 | 6 Gbps | 4K @30FPS |
| 12G-SDI | 2015 | 12 Gbps | 4K @60FPS |
| 24G-SDI | 2020 | 24 Gbps | 8K @60FPS |
Each SDI standard has its unique functions and supported video quality. We'll explain them below.
SD-SDI: This is the original version released in 1989. It sends and receives videos with embedded audio at a data rate of 177 to 270 Mbps. It delivers low-resolution videos at 24 fps [frames per second].
ED-SDI: This is referred to as the 'Enhanced Version' and it has a data rate of 540 Mbps. ED-SDI supports progressive resolutions up to 480p and 576p.
HD-SDI: In 1998, HD-SDI was released to transmit video signals with integrated audio at 1.5 Gbps. It is capable of transmitting HD resolutions of 720p and 1080i.
Dual Link HD-SDI: It was released in 2002 and can send and receive videos with integrated audio across two lines. It has a total data rate of 3 Gbps; each line supports 1.5 Gbps.
3G-SDI: It supports a three Gbps data rate across a single line. Released in 2006, 3G-SDI allows multiple mapping levels and is used for transmitting 1080p video resolutions (true HD).
6G-SDI: This SDI standard was released in 2015. It uses six Gbps to send and receive audiovisual signals. It is primarily used for transmitting 1080p at 60 fps and 2160p at 30 fps.
12G-SDI: It employs a 12 Gbps data rate and is committed to high resolutions, enhanced frame rates, and high color accuracy. Released in 2015 with four times the capacity for HD transmission, 12G-SDI is great for 4K resolutions at 60 fps.
24G-SDI: This signal is also referred to as UHD 2. It has a 24 Gbps data rate and supports high-resolution transmissions up to 8K. It transmits 8K videos at 60 fps and 4K resolutions at 120 fps.
The SDI Cable
SDI is transmitted over a coaxial cable which terminates in a BNC plug.
The SDI format transmits 16 channels of the PCM audio and uncompressed digital video. These high-bandwidth signals can extend to gigahertz, which standard SDI cables cannot support.
SDI cables must be flexible and strong, allowing high-bandwidth transmission over long distances. Hence, SDI uses thicker lines with large copper centers (i.e., coax cables) and 75-Ohm BNC connectors for smooth transmission. They are especially ideal for outdoor use.
Because SDI cables use BNC connectors, people often refer to them as BNC cables.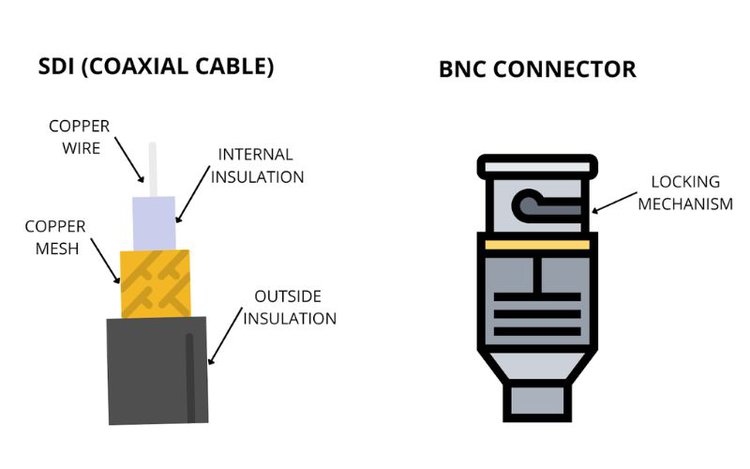 When To Use SDI
SDI is used in professional settings where signal interruptions or disconnection is taboo/detrimental. It is mainly used where there is a lot of moving around and exposure to kicking, stepping, or tripping over the wires.
The lock-in mechanism of male and female BNC connectors is very reliable; it makes it difficult to disconnect them by pulling.
You can use SDI at TV studios, sporting events, concerts, and other live broadcast locations with wildlife or harsh weather conditions. The sturdiness of the SDI cable makes it ideal for such places.
While SDI has become a standard for professional broadcast systems, most consumer video devices (i.e., TVs) do not support SDI. They do not have BNC connectors for SDI because SDI is not HDCP-compliant.
SDI transmits digital HD video, which is often HDCP-protected to prevent piracy. For this reason, SDI transmissions are limited to professional video equipment.
The ability to transmit uncompressed (unaltered) signals is another reason SDI is welcomed on the professional field. Editing uncompressed video and audio is easier and ends with better results.
What is BNC?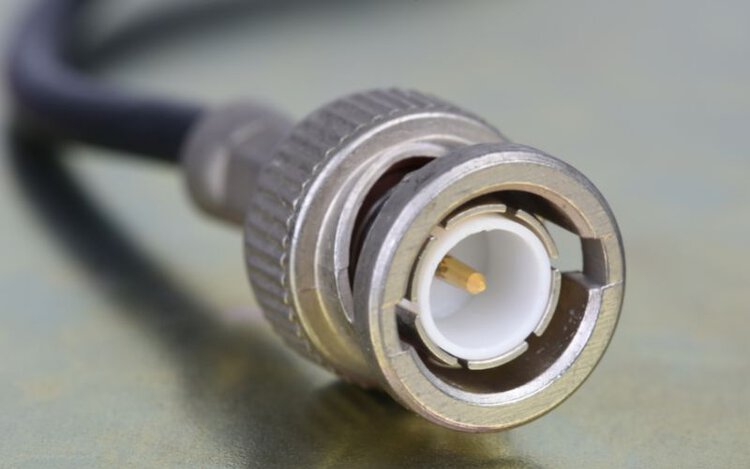 BNC is a connector plug format used with coaxial or fiber optic cables to extend their signal bandwidth. The female BNC connector is found on various devices like cable boxes, satellite receivers, radios, and televisions.
B in BNC stands for Bayonet (in reference to how a bayonet is attached to a firearm), and the NC stands for Neil-Concelman — a combination of its inventors' names.
Paul Neil and Carl Concelman designed the BNC connector and introduced it in the 1940s. It is one of the strongest connector types. It is also very cheap and easy to install.
Often, male connector interfaces include a transmission cable unique to that connector type, but BNC is an exception. It only refers to a port and plug interface which you can use with more than one cable type.
What Does the BNC Connector Look Like?
The BNC male connector [plug] has a pin that you can use to attach it to a coaxial cable in a process called "crimping".
How To Make Your Own HD SDI Video Cables
It also has a rotating ring used to lock onto the female connector. The female BNC connector [port] has two bayonet logs for coupling with the plug.
BNC connectors come in two main versions; there are 50-ohm and 75-ohm connectors, which have slightly different dimensions. The significant differences between both versions include the following:
The amount of resistance to the flow of current within the cable.
The amount of charge contained within the line during the flow of current.
In both cases, the 75-ohm connector is better. Hence, SDI cables use the 75-ohm plug because of its ability to accommodate higher digital signal bandwidths.
F to BNC Connector, 2-Pack BNC Male Plug to F Female Jack Coax Adapter 75 Ohm, RG6, RG59 Connector for Scanner, Camera
Work with RG6, RG59 coaxial cable on scanner, security camera, tester, DVR, etc.
Made of brass copper, nickel plated with gold plated contacts for increased corrosion protection....
Come with 2-Pack, which can save you much and makes you always have a backup.
Last update on 2023-10-01 / Affiliate links / Images from Amazon Product Advertising API.
BNC connectors are used for connections involving SDI video signals, radio antennas, and other electronic equipment. They are versatile because they transmit both audio and video signals.
However, many video equipments are fitted with 50-ohm female connectors. If you want to use SDI, ensure that your transmitting devices use the 75-ohm BNC connector type.
NOTE: You cannot mix 50-ohm devices with 75-ohm cables and vice versa. Mixing both versions can result in a 'standing wave', which causes unrecoverable signal loss.
When To Use the BNC Connector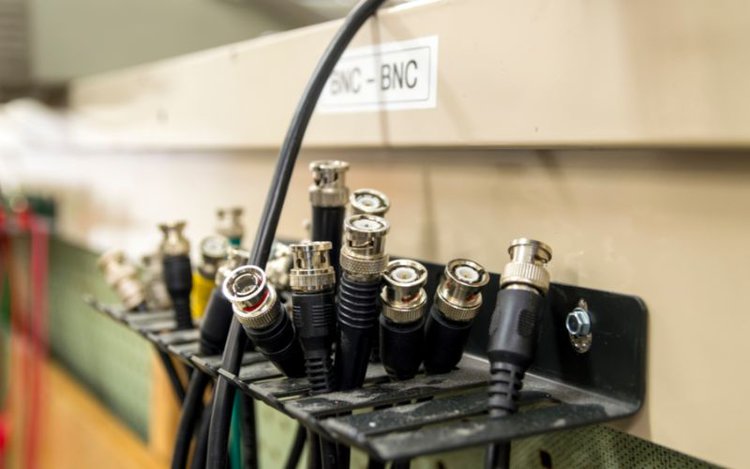 You can use the BNC connector in situations where rugged connectors are preferable. It is sturdy, strong, and resistant to harsh conditions.
Initially, BNC connectors were used for military and industrial installations. However, they gained ground in the commercial sector with RF and video signal devices.
BNC connectors are used for aerospace electronics applications, antennas and broadcast companies, cable modems, LAN/ethernet connections, and medical equipment.
As we mentioned before, most consumer devices do not support SDI. However, you can send media from an SDI source to other video devices.
Some converters switch signals from SDI to DVI or SDI to HDMI .
Comparison of SDI and BNC
1. Use Cases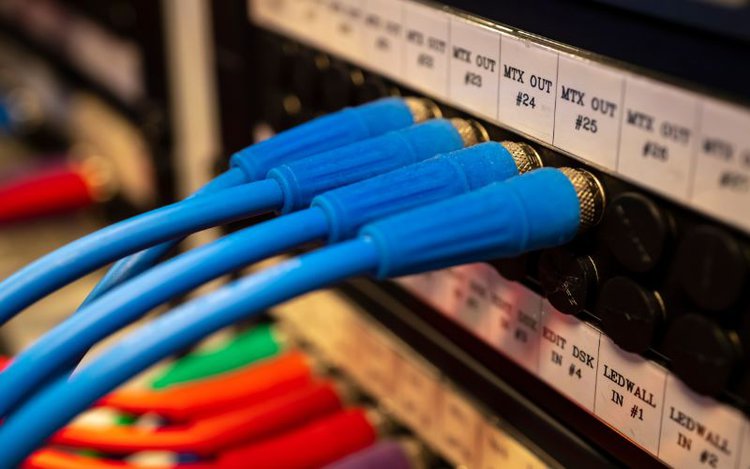 SDI and BNC are different things, but they are related based on their function. Both technologies contribute to transmitting high-bandwidth uncompressed digital video and audio.
SDI is a digital format that carries digital information, while BNC is a connector type that securely connects the cable to the input and output devices.
SDI and BNC are mostly used in live broadcast operations with professional video and RF equipment like radio antennas, recorders, & vision mixers.
2. How Do They Work?
The SDI signal is unidirectional, eliminating the risk of interference and signal degradation. It carries digital audio and video information that the receiving device must first decode before display.
SDI is transmitted over Coaxial cables and BNC Connectors.
A BNC Connector is a plug-and-port format that extends the signal bandwidth of coaxial cables. The port and plug have a sturdy lock-in mechanism that makes the connection hard to break.
3. Are They Safe?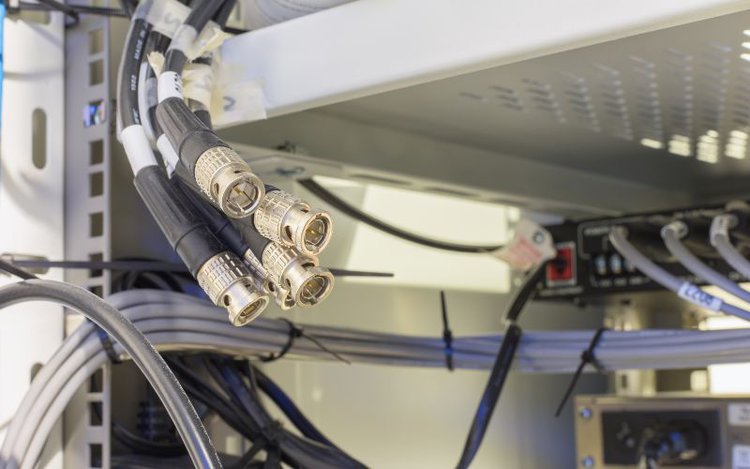 SDI circuitry/ports can get damaged if you establish the connection before the equipment is powered on.
We advise that you connect equipment to power sources first and turn them on before coupling the BNC connectors. Also, uncouple the BNC connectors before disconnecting equipment from the power source.
The lock mechanism of BNC connectors stops the center pin from moving or detaching when a pulling force is exerted on the cable. BNC connectors are designed for outdoor use and are often durable and waterproof.
FAQs
1. How Far Can You Run the 12G-SDI Cable?
A 12G-SDI signal is a signal with a 12 Gbps transmission rate. It has eight times the bandwidth of the regular HD-SDI.
With a suitable connector (the 75-ohm BNC), 12G-SDI cables are known to carry signals over distances as far as 100 meters.
2. Can SDI Carry 4K Signals?
The original SDI signal could only carry SD signals. However, subsequent standards have been released to meet the higher resolution demands of the industry.
Of the existing SDI standards, only 6G, 12G and 24G can carry 4K resolution videos in one cable. 6G-SDI transmits 4K at 30 fps; 12G-SDI at 60 fps, and 24G-SDI at 120 fps.
Last update on 2023-10-01 / Affiliate links / Images from Amazon Product Advertising API.
Conclusion
The SDI video format is ideal for telecom and broadcast companies. It might even be why your favorite sports broadcasts are timely and rarely disconnected.
While there are alternative interfaces and connectors for transmitting digital video, SDI has held its own as one of the best formats for outdoor use.
BNC aids the transmission of SDI signals by securing the connected devices together firmly.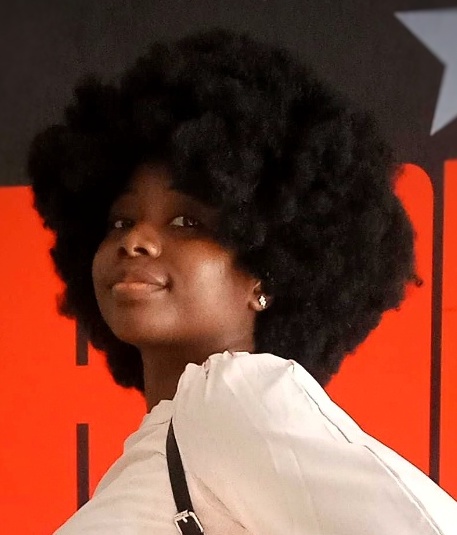 Gabriella 'Diogo is a content writer with a vested interest in tech hardware and equipment. She shares her knowledge and processes in an easy-to-grasp, lighthearted style. When she's not testing or researching device performance, you'll find her writing short stories or rewatching episodes of her favorite sitcoms.