You're getting ready for a long transatlantic flight and are committed to staying entertained the entire time. You've packed a few books, snacks, and a sketchbook, but one thing is clearly missing: the music!
Since you'll be several thousand feet in the air, you won't be able to use your iPhone's data or connect to Wi-Fi, so you need to find an app that will let you listen to your favorite tunes offline.
Don't worry. We've got you covered.
We've scoured the App Store for the top ten apps for listening to music offline. Some of these are paid while others are free, but they all have the latest beats that will put you in a good mood no matter where you find yourself.
So, put on your headphones and get comfortable – it's time to jam out!
Let's get started!
1. Apple Music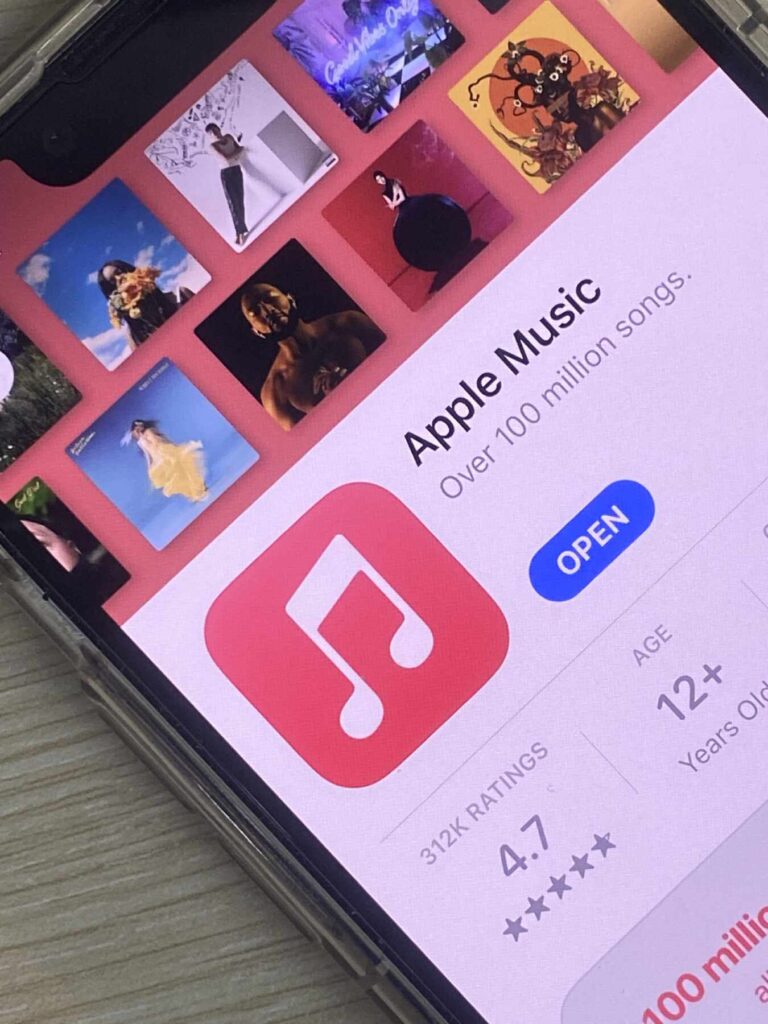 Apple's very own music app Apple Music comes preinstalled on every iPhone, so it's likely already waiting for you on your home screen. Otherwise, you can download it from the App Store.
While Apple Music is not free and you will have to pay a small monthly subscription fee, Apple does offer all first-time users a 90-month free trial period. This gives you plenty of time to see if you enjoy the app before financially committing to it.
Once you have a subscription, you'll have access to all of the app's amazing features, including unlimited skips, millions of songs, and, of course, offline listening.
To listen to a song, album, or playlist offline, simply download it within the app. The app has a generous storage limit, so you'll be able to download thousands of songs. Needless to say, it will ensure the party never stops whether you're camping in the middle of nowhere or traveling abroad without Wi-Fi.
For an additional fee, Apple Music also offers a family plan, so your whole household can reap the benefits of unlimited offline tunes.
2. YouTube Music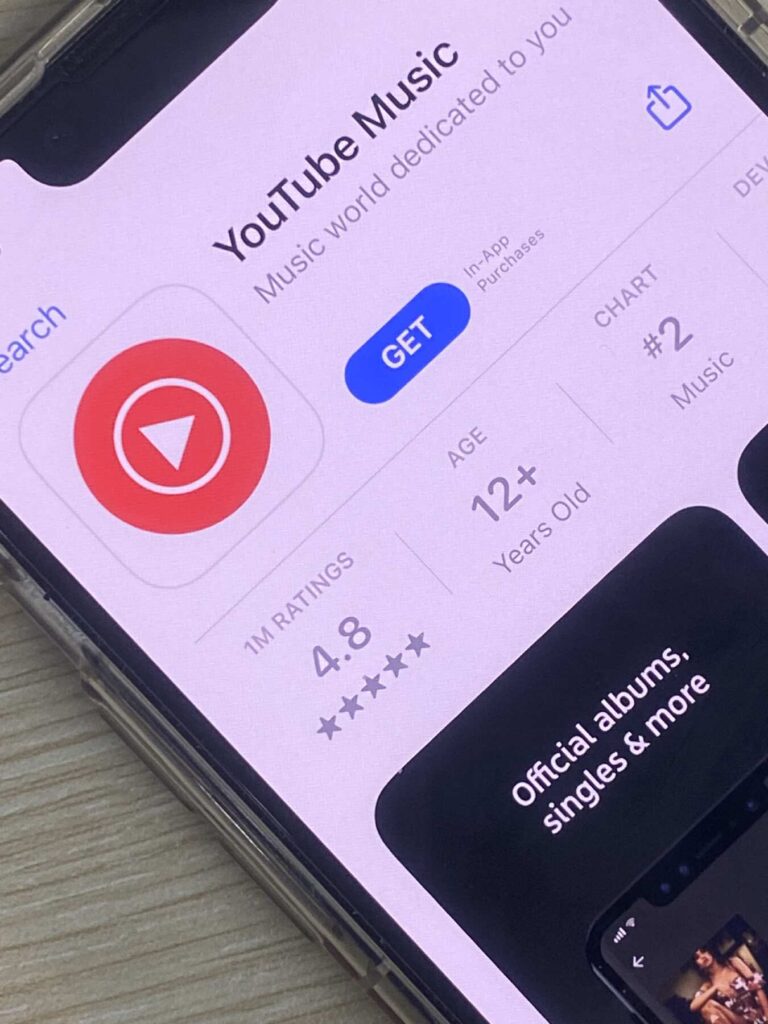 If you're anything like me, you grew up on YouTube and almost exclusively listened to all music on it until embarrassingly recently. Well, now you can listen to tunes on your favorite classic streaming platform with YouTube Music.
YouTube Music has tons of songs for you to choose from, many of which have music videos that you can watch within the app! You can create custom playlists or play the app's, which are specifically curated to your taste and activities.
What's more, YouTube Music's Video Hotlist will keep you up to date with the season's hottest hits.
When you're planning on being offline for a while, simply download any songs you want to listen to later and you're good to go!
YouTube Music also has a family plan as well as a college student plan, which comes at a significantly discounted rate. However, in order to qualify for the college student discount, you must prove that you're actually enrolled in a university.
While a free trial isn't guaranteed, the app may offer it to you if you're installing it for the first time. Personally, when I first downloaded the app, it offered me a one-month free trial, which I gladly accepted!
3. Spotify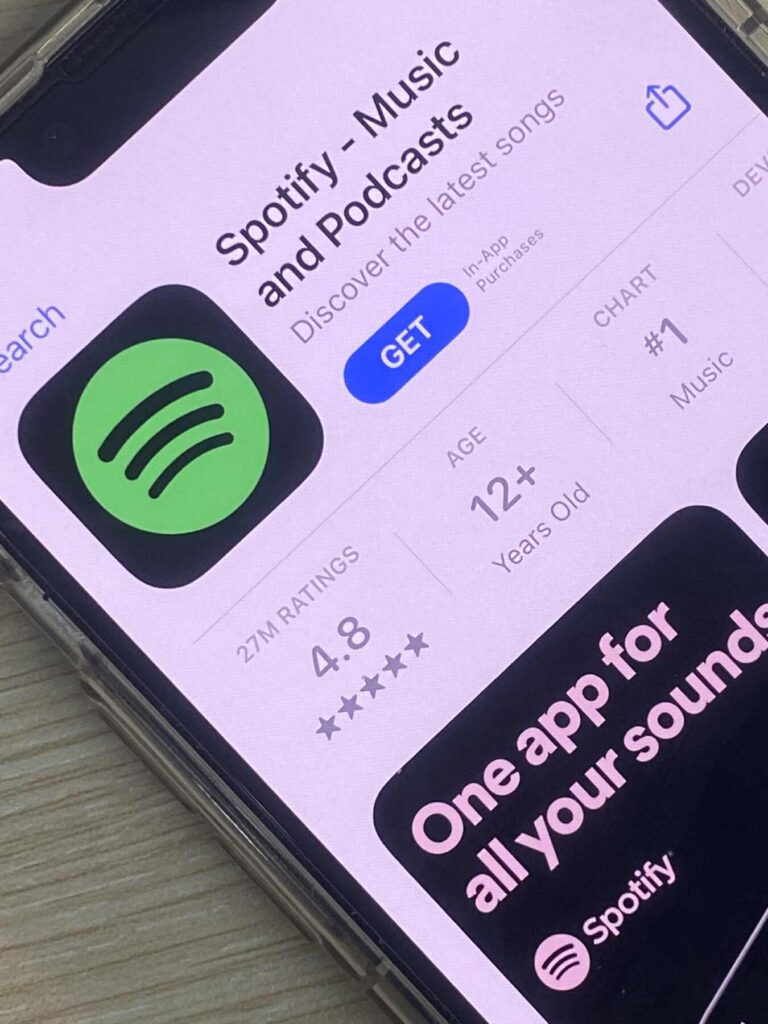 Spotify is by far one of the most popular music apps out there, with 515 million monthly users. The free version allows you to listen to unlimited tunes, though there are ads every few songs and you can not create your own playlists or play specific tracks. Additionally, you have a limited number of skips.
I had the free version of Spotify for years, but once I accepted their free Spotify Premium three-month trial, I never went back! Not only does Spotify Premium allow you to download songs, albums, playlists, and podcasts to listen to offline, but you also get unlimited skips and the ability to completely customize your listening experience.
The app is always offering amazing premium trial deals, be it several months free or 99 cents per month for the first three months. So, the next time Spotify throws an incredible premium trial your way, try it out!
Spotify's developed a reputation for creating spot-on playlists for their users. I'm here to tell you this reputation holds up, and you'll find the app suggesting artists that you'd never heard of before but will be on repeat all year long.
Something I love about this app is its large and diverse podcast selection. So, I usually download a few episodes of my favorite shows to listen to on long plane rides.
If you live with a roommate or partner, you can even sign up for Spotify Duo for a small additional fee, allowing both of you to reap the benefits of Spotify Premium for a fraction of the price!
4. Deezer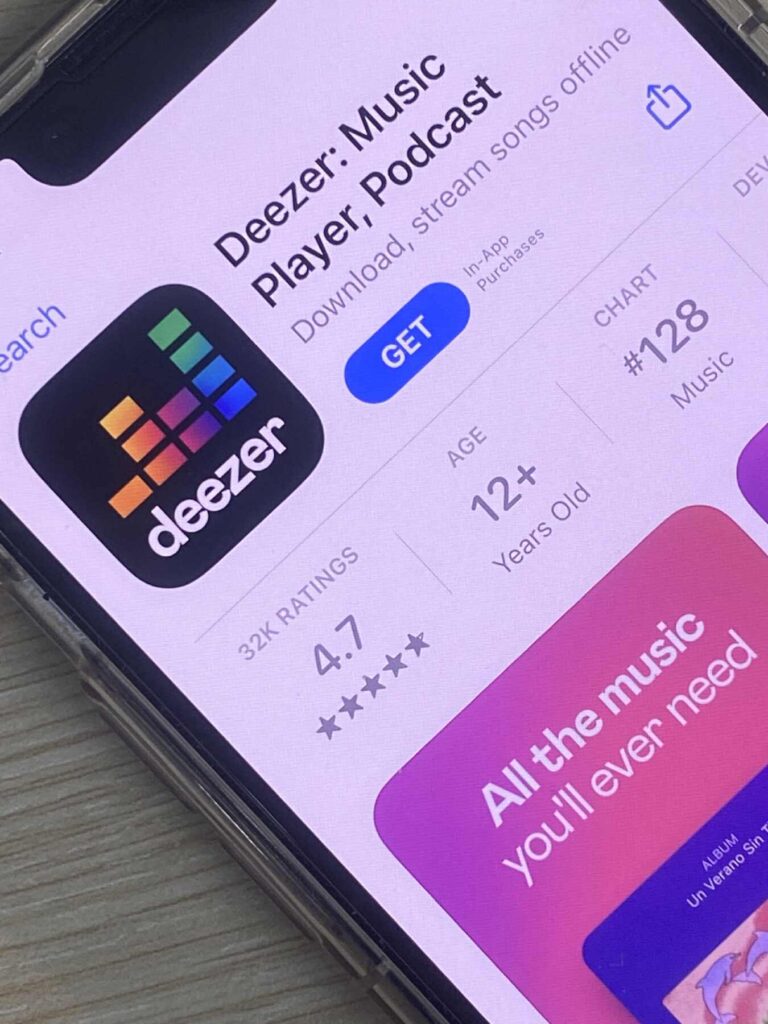 Though less popular than some of the other music apps, Deezer has an amazing selection of songs.
There is both a free and paid version of the app, with the free version featuring ads and lacking certain premium functions. For instance, only premium users can listen to music offline. Deezer's premium versions' monthly fee is reasonable and the app will give you one month free or another amazing discount when you first subscribe.
While the app's UI looks a little different than some of the other music apps, it functions virtually the same and has every hot hit you could possibly want.
In addition to listening to music offline, the premium version is also ad-free and, like Spotify, allows you to select and play any song you'd like as opposed to only playing playlists or albums.
The app also features thousands of live radio stations from around the world, including stations from Spain, South Africa, and Brazil, which is perfect if you're living abroad and missing your home country's radio shows. I love that I can listen to the radio in my native language no matter where I am! However, you will need a network connection to use this function.
5. Amazon Music
As its name suggests, Amazon Music is Amazon's dedicated music streaming app featuring over 100 million songs from every genre under the sun. It also has a nice variety of podcasts covering any subject your heart desires to keep you endlessly entertained.
Amazon Music does have a free version, but you will not have unlimited plays and there will be intermittent ads and an allotted number of skips. You also won't be able to download and listen to content offline.
To listen to music without Wi-Fi, you must either get Amazon Music Prime (which is included in your Amazon Prime subscription) or Amazon Music Unlimited. However, only the Amazon Music Unlimited Family Plan or Individual Plan support offline listening. You can not download music with the Unlimited Single-Device Plan.
Additionally, Amazon Music Prime members will only be able to download All-Access Playlists for offline listening, which some users may find limiting.
To learn more about these plans, check out Amazon's article What Are the Differences Between the Amazon Music Subscriptions? which features a comprehensive comparison table.
6. Pandora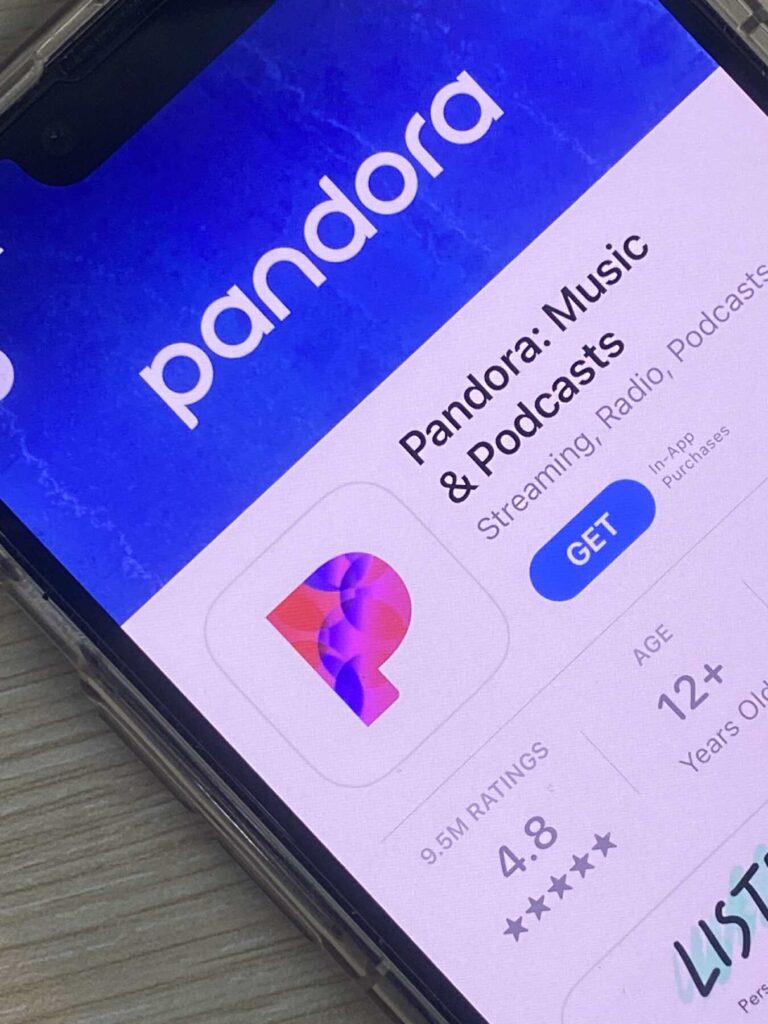 While Pandora used to lead the music streaming industry, it's since fallen behind its competitors. However, that doesn't mean it still doesn't have a lot to offer!
Its free version allows you to play any song on-demand and offers unlimited skips, provided you watch an ad beforehand. You'll also have access to personalized stations, creating a truly custom listening experience.
However, if you want to listen to songs offline, you'll need to invest in one of their two paid versions: Pandora Plus or Pandora Premium.
Pandora Plus is a fantastic option for anyone wanting a premium music experience without paying premium prices. It allows you to listen to music offline, though you'll only be able to download up to four playlists at a time. Still, that should be more than enough music for a short trip.
With Pandora Premium, you can listen to endless content offline, meaning you can download any and every song you want! You can also create and share playlists, and of course, listen to them offline later.
The app frequently offers codes for free trials and some telecommunications companies, like T-Mobile, even offer their customers free Pandora Premium trials.
Unfortunately, due to copyright laws, Pandora is only available in the United States and hasn't released any plans to become accessible anywhere else. So, if you live outside the U.S., this option isn't for you.
7. Napster
If you have a vivid memory of downloading your first songs from Napster back in the early 2000s, you're not alone. The iconic music-sharing app used to be extremely popular, but took a brief hiatus after being forced to close in 2001 due to its illegal nature.
However, Napster is back and better than ever before. Not to mention, it's 100% legal now.
While Napster does not have a free version, you can take advantage of its 30-day trial period before committing to its reasonably-priced premium plan. This plan is completely ad-free and includes access to 110 million songs and offline listening.
For a small fee, you can upgrade to a family plan, which supports six accounts. You can also purchase an annual subscription for either plan to save 20%.
Napster lets you transfer songs to the app for no additional cost, making it a one-stop shop for all your music needs.
Additionally, you can even watch many songs' official music videos within the app, which is a welcomed bonus!
The app's UI is intuitive and easy to navigate, so you can spend less time troubleshooting and more time jamming out.
8. TIDAL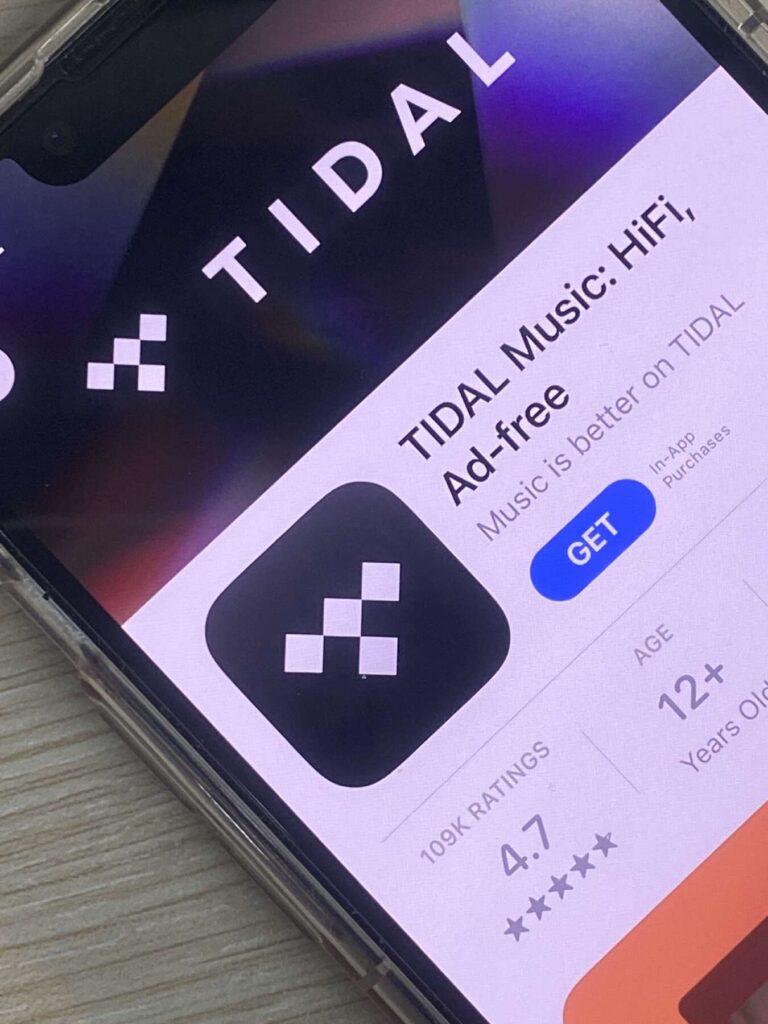 If you're a Jay-Z superfan, you'll love listening to your favorite albums on his very own music app – Tidal!
Like Napster, Tidal does not have a free version. Instead, you can choose from two premium plans: HiFi and HiFi Plus.
Both versions offer a 30-day free trial period so you can test it out before starting to pay its monthly subscription fee.
Of course, these plans also include unlimited offline listening so you can play songs without Wi-Fi to your heart's delight!
Tidal's unique features make it stand out against the crowd. Not only can you listen to over 100 million songs and watch over 650,000 music videos within the app, but you can also use it to listen to music with your friends around the world with its Live on Tidal function.
The app even shares live streams of some performances, so you can enjoy your favorite artist's concert from the comfort of your home for a fraction of the price.
While HiFi Plus is slightly more expensive than the other premium plans on this list, you can get a 50% discount on either the HiFi or HiFi Plus plan with Tidal's student discount. So, if you're a high schooler in the U.S. or a university student, make sure to snag Tidal's juicy discount when signing up.
9. Audiomack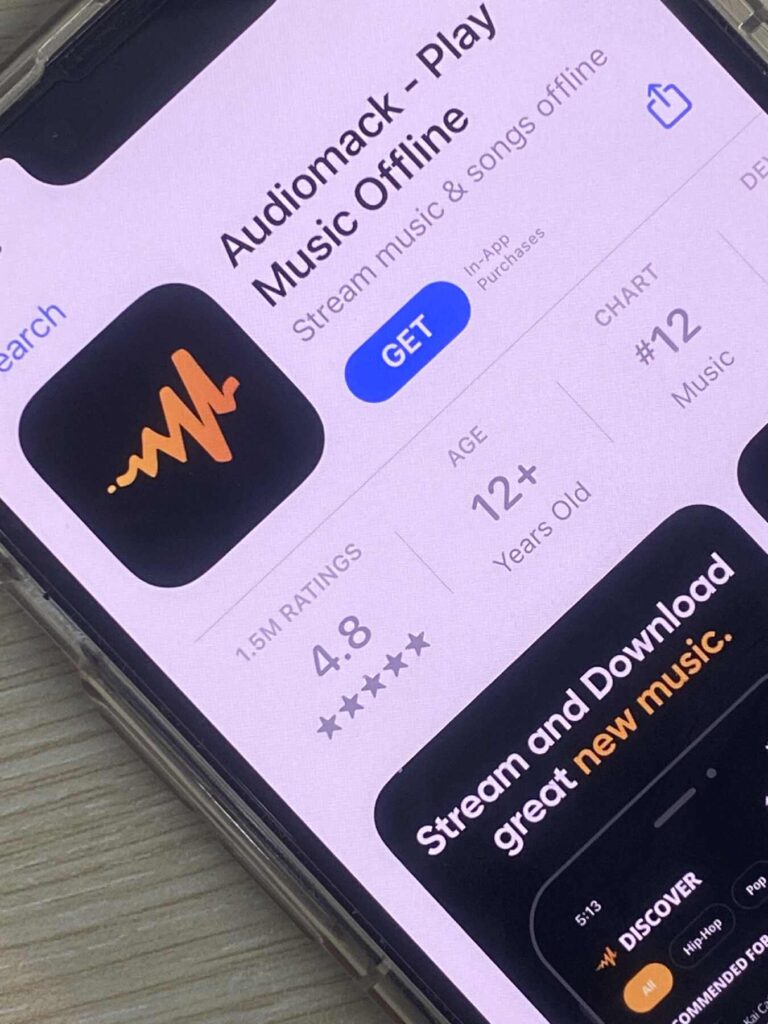 Audiomack is one of the few apps on this list that offers offline listening for completely free!
It sounded too good to be true, so I checked it out for myself and can confirm the rumors aren't lying! Signing up couldn't be easier and you won't be asked to insert any credit card details.
You can play specific songs on-demand or play one of their thousands of unique playlists. If you love Latin music, Afrobeats, or house music, you will adore this app's selection of tunes.
From what I could tell, Audiomack particularly caters to those who like techno, instrumental, and pop music, though they have several other notable music genres as well.
However, one downside is that it doesn't seem to have the full discographies of several popular artists. For instance, I noticed it only had two out of three Cardi B albums. Still, its selection is generous enough for a free app.
Since the app is free, there are pop-up ads within it that may block the album art until closed. While a little annoying, they're easy to close and won't interrupt your listening experience too much.
Audiomack also has a premium version which is ad-free and very modestly priced. So, if you get tired of the pop-up ads, you can always choose to chuck up a few dollars a month to make them disappear.
10. Evermusic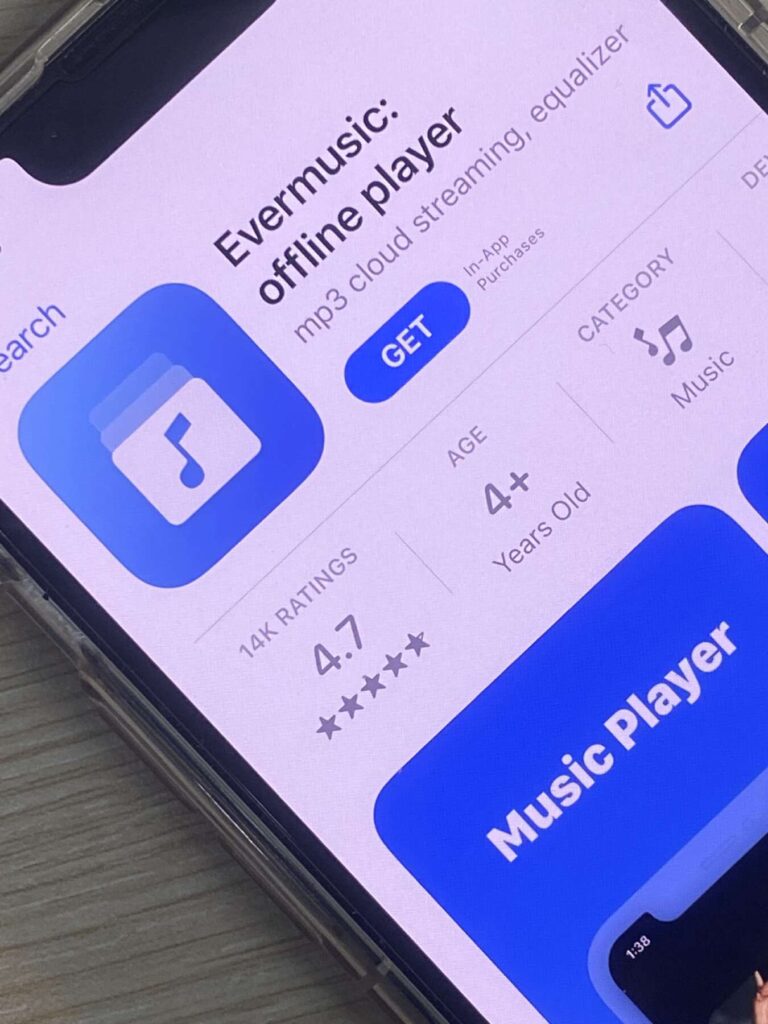 Do you have tons of albums stored on your iCloud, Google Drive, or another cloud service? While you can jam out to these tunes when connected to Wi-Fi, you can't listen to them offline, let alone organize them and make playlists.
Introducing: Evermusic!
Evermusic is a music organization app that allows you to upload audio files from other cloud services onto it. From there, you can create custom playlists and download songs to listen to offline.
While some users say Evermusic's premium version works much better, its free version allows offline listening and works well enough to get the job done.
Additionally, it only works on iOS devices, meaning it was specifically designed to work flawlessly with your iPhone.
As usual, its free version does have ads, but they're a small price to pay for a free offline listening app.
The main downside is that this app is only for those who already have a generous music collection stored on their cloud. If you (like me) only stream music and don't own any albums, I recommend choosing one of the music streaming apps listed above instead.
Since you have to manually upload each album to the app, setting it up can be a little tedious. So, make sure to give yourself plenty of time to upload and download all your favorite songs before going offline.
Wrapping Things Up
There are so many amazing music apps available in your iPhone's App Store, but only a few of them are ideal for offline listening. You may already have one of the apps listed above installed on your phone, but don't let that stop you from trying out some of the others on this list!
Most of these apps require premium subscriptions to access offline listening, however, if you share their family plans with a few of your friends, this life-saving feature will only cost you a few dollars a month.
The only music streaming app with free offline listening on this list is Audiomack, and while their selection of hip-hop, Afrobeats, and Latin music is top-tier, indie, folk, and modern pop lovers may not find what they're looking for.
If you already have a decent music collection saved to your cloud, why not give Evermusic a try? It's a great organizational tool that allows you to make playlists, supports offline listening, and best of all, is free.
What's your favorite way to listen to music on your iPhone without Wi-Fi? Have you tried any of the apps on this list, and if so, what did you think of them?
Let us know in the comments below!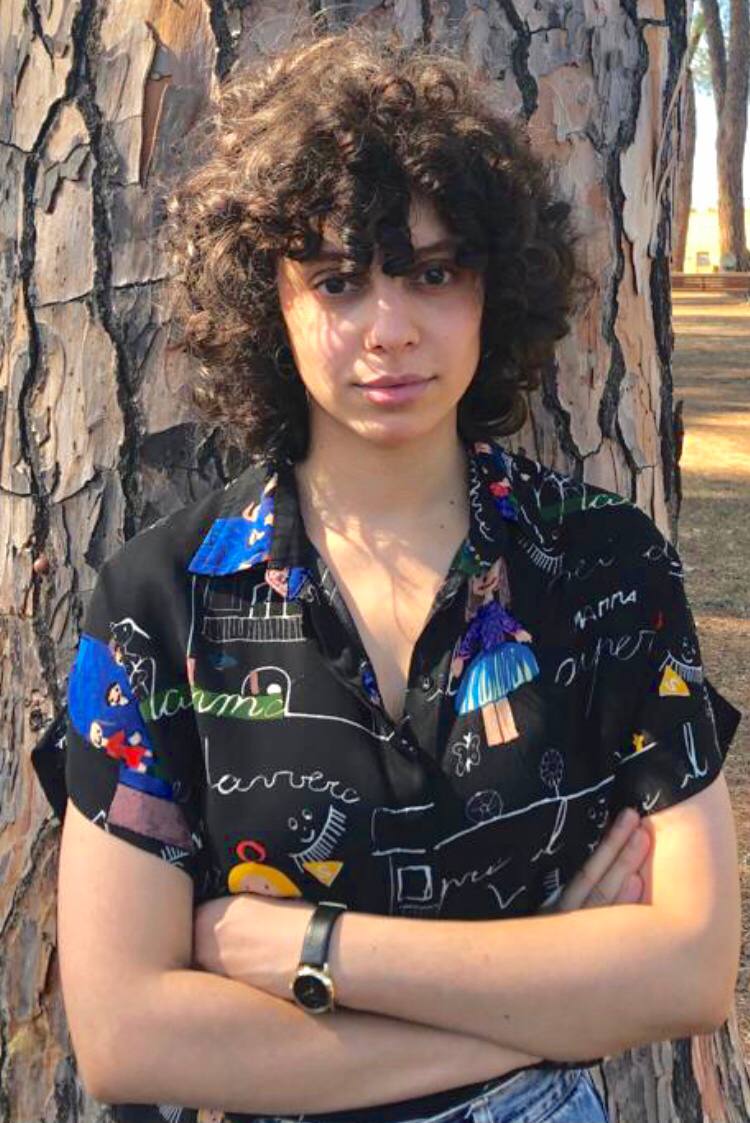 Yesenia Achlim is a technical copywriter and editor with a focus on AV equipment. She aims to break down complicated topics and make technology accessible, no matter your technical expertise. When she's not teaching you how to replace a projector lamp, you can find her reading and baking.