Are you wondering what causes moving horizontal lines on a TV? Or how to fix it?
I'm a TV enthusiast, and I know the feeling. The pesky rolling bars can get on your nerves because they make it hard to focus on what you're watching.
There is nothing to worry about though, your TV isn't dead yet. The annoying lines can be due to loose connections, poor signals, outdated software, or internal problems.
Solutions can be as simple as cleaning it, hitting the back of the TV, or seeking professional services if the issue is a bit more complex.
So let's fix your TV.
Causes of Moving Horizontal Lines on a Television Screen
Slow blue moving horizontal lines - HD simple animated motion background #02
We can classify the causes of moving horizontal lines on a TV into two categories:
External factors. These include external devices, cables, and electromagnetic interference. They are the easiest to identify and fix.
Internal factors. These are problems within the TV itself and may need professional attention.
External Factors
Input Devices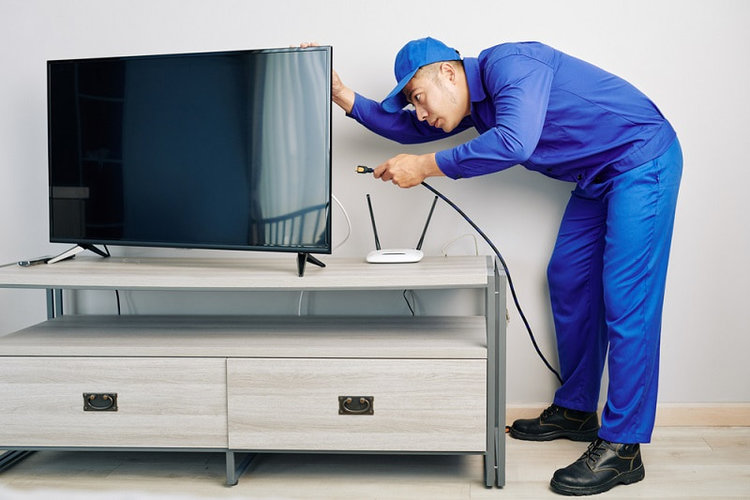 The device you use to view your movies or TV shows may be the problem.
To rule out this possibility, ensure the cables connecting the device to your TV are in perfect shape and securely connected. Test your TV with another video input to confirm this.
Disconnect all devices from the TV. Let each device boot up, then plug them back in one at a time. Take notice if any of the devices cause the horizontal lines to reappear.
Electromagnetic Interference From Other Devices
Another common cause of horizontal lines on a TV is interference from other electronic devices. EM interference occurs when two devices with different electrical properties are in proximity to one another.
Electromagnetic Interference & How to Reduce it
Most modern TVs feature anti-interference technology to prevent interference from nearby devices such as wireless routers and microwaves. The screen may display those annoying horizontal lines if this technology isn't working correctly.
You could also have horizontal lines on your TV from other devices in your neighbourhood. EMI is particularly common in apartments with many electric appliances.
Faulty Connections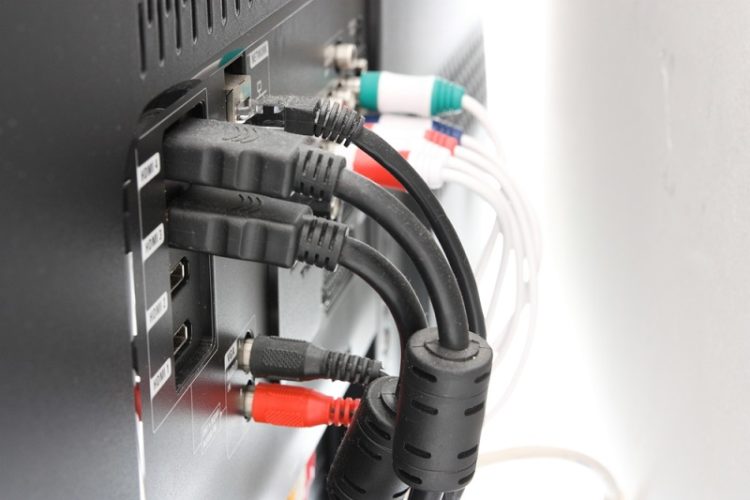 Faulty and loose connections are the most common cause of horizontal lines on a TV. If you recently moved your TV, you might not have properly connected the cables.
This is especially true if you're using HDMI cables. Loose cables can easily slip out of their ports.
Video Source Problem: Cable Box, Satellite Receiver, Or Antenna
Poor signal quality from cable or satellite services could result in rolling horizontal lines. The problem is more likely to occur when watching standard-definition channels over high-definition ones.
You can check the TV signal quality from your receiver or box by connecting another device directly to your TV. If there are no horizontal lines on the screen when using another device, it's likely that the box or receiver has a poor signal.
You also need to check if your antenna is to blame. Connect your antenna to another TV and monitor its performance.
If the other TV produces clear images without horizontal lines, your TV has issues.
A Wet Or Dirty Screen
If you have a wet or dirty screen, it can cause horizontal lines to appear on your TV.
A damp screen causes moisture to build up behind the glass of your television, causing image distortion. You should clean or dry your TV as soon as possible after noticing these issues to prevent further damage.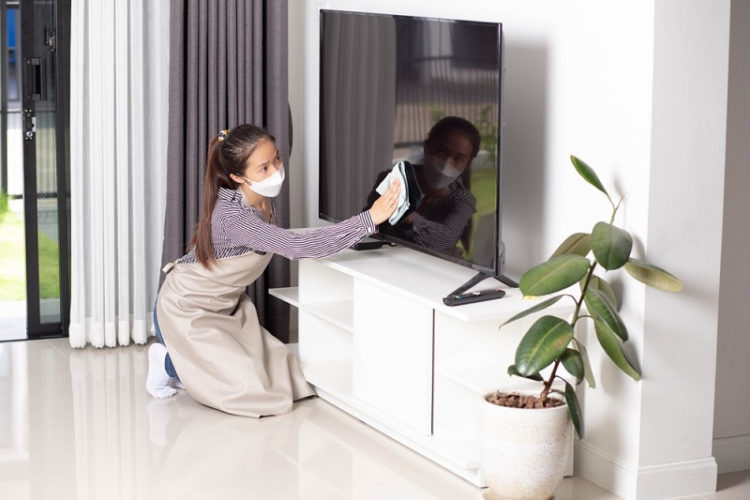 If you live in a place with high humidity, you may have a problem with condensation on the screen. This can occur when using your TV in an environment that's too warm, such as an enclosed room or cupboard without proper ventilation.
The solution to this problem is straightforward. Wipe your TV screen with a soft cloth to remove all dust and dirt. And if possible, watch your TV in a well-ventilated room.
Internal Factors
These are the internal factors responsible for rolling horizontal bars in TVs:
Damaged LCD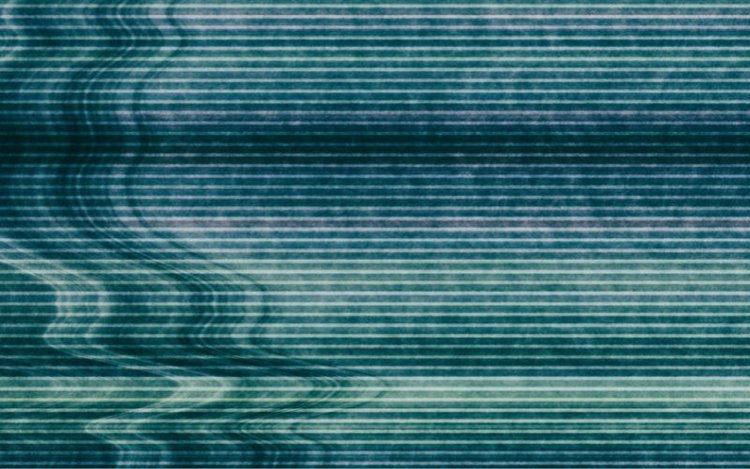 Damaged liquid crystal displays (LCDs) can cause horizontal lines on your TV screen. These lines may appear as one continuous line or as multiple lines equally spaced apart.
Vibrations, heat, and voltage surges can damage LCD screens. To fix these horizontal lines on your TV, you will need to replace the damaged LCD screen.
Loose Or Faulty Conductors Inside The TV
Your TV may also have loose or faulty conductors causing horizontal lines. Overuse or simply being old and outdated may damage the wiring.
If you are handy, consider re-soldering any faulty connections to prevent any damage to other parts. However, if your warranty is still valid, doing this will void it. I would advise that you only do this when your warranty has expired.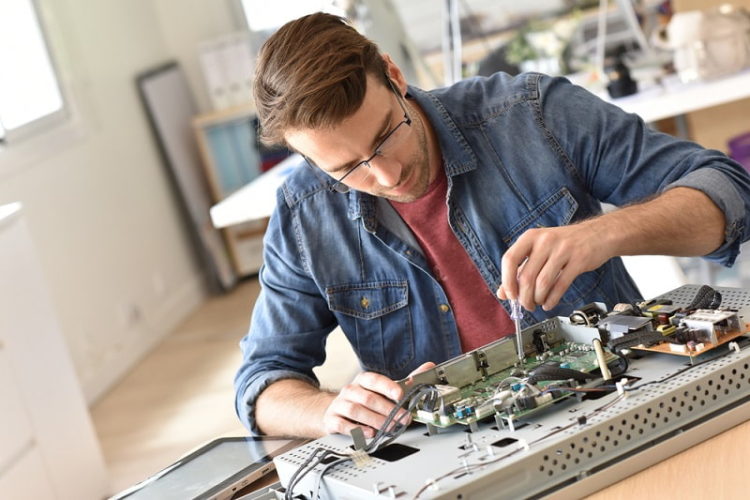 Failed Row Driver
The failure of a row driver can also result in horizontal lines on your TV screen.
A row driver circuit sends signals from the microprocessor to each pixel row on the display panel within an LCD panel. When one or more pixels in a row go bad, it can cause lines across your screen. To fix this, you will need to replace the failed row driver.
Fixing horizontal lines caused by internal factors is technical and usually requires the assistance of an electronics expert.
Outdated Software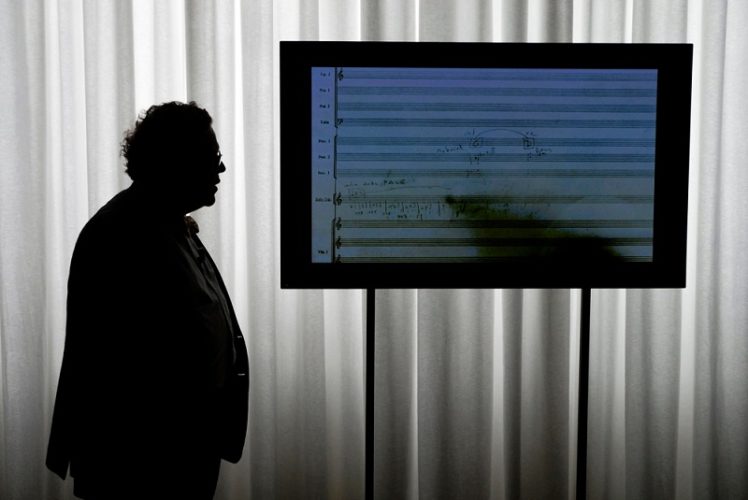 Outdated software often causes horizontal lines in televisions. Your TV runs on software that allows it to display images and play audio files.
If this software isn't up-to-date, it can lead to glitches like horizontal lines appearing on a TV.
How To Fix Moving Horizontal Lines on a Television Screen?
If you are experiencing horizontal lines on your TV, follow these steps:
1. Check the User Manual For More Information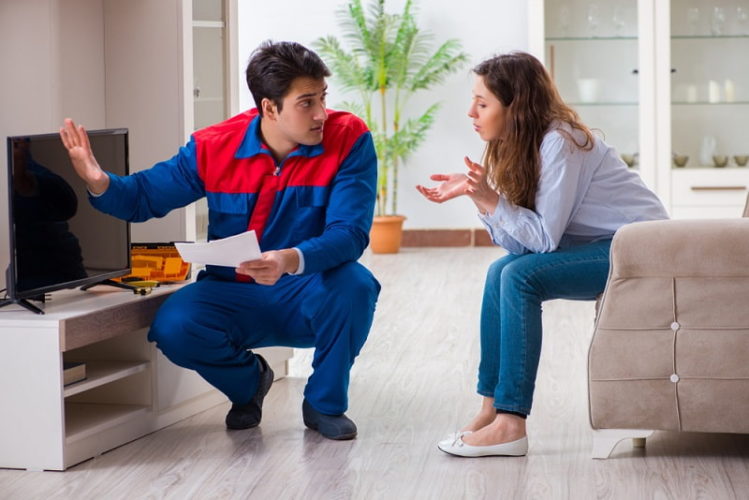 If your TV has a problem with horizontal lines, check the user manual for troubleshooting information.
Most manufacturers list common issues and their solutions in the manual. If you don't have your copy of the user manual, you can most likely download it over the internet.
2. Restart Your Television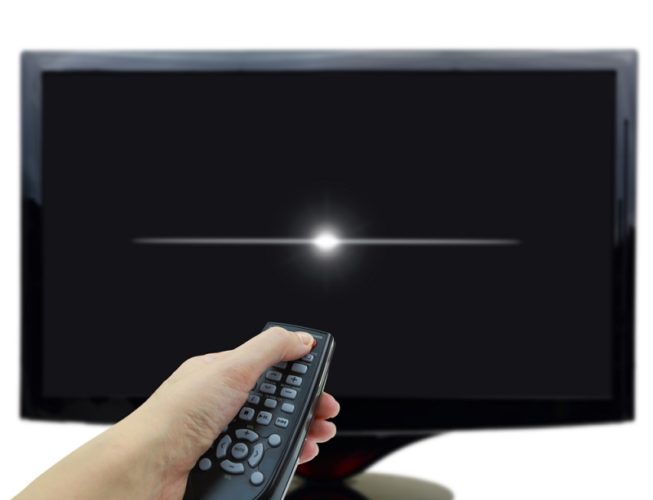 Restarting your TV sometimes helps to remove temporary horizontal lines.
Turn off the TV, unplug all cables, and wait 30 seconds. Next, plug in the power cable and turn it back on. If this does not work, proceed with the next step.
3. Hit The Back Of The TV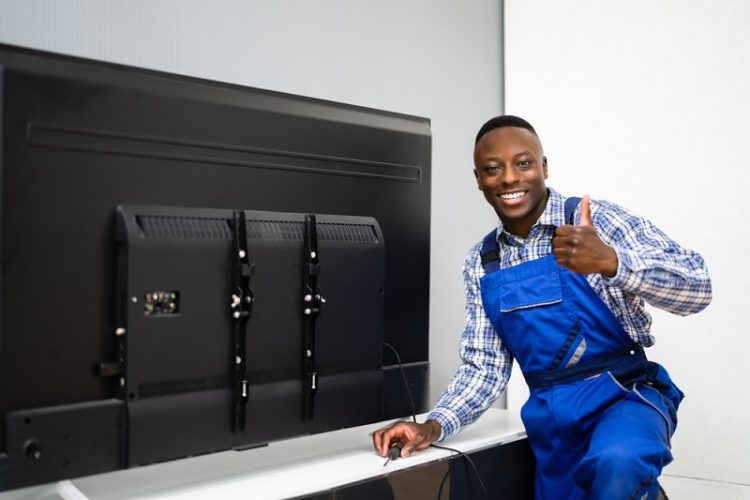 Hitting the back of the TV with the palm of your hand helps to dislodge dirt. Hits can also help restore loose connections, though this is only a temporary solution.
Give your TV a few smacks while checking if the horizontal lines disappear. However, do not hit it hard as you could end up damaging it instead of resolving the lines.
4. Check The Cables And Antenna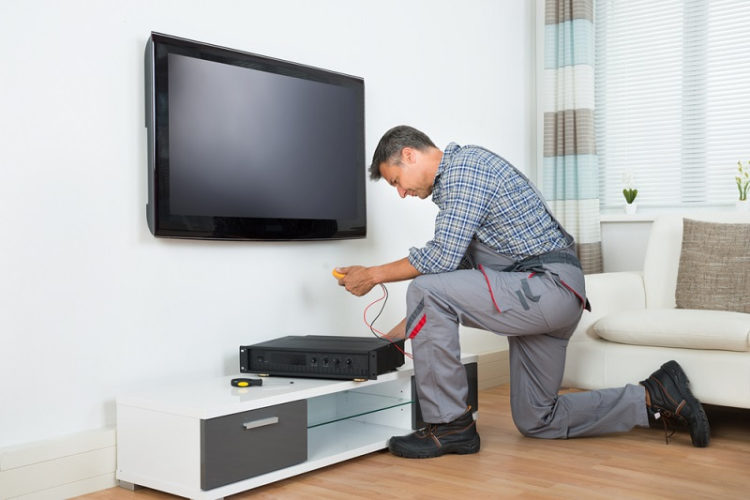 Ensure all the cables and wires connecting your TV to other devices are in good shape. Connect each cable and wire securely and replace worn-out cables and antennas.
Connect your satellite or cable box directly to the wall socket instead of a splitter or power strip. Connect any loose or disconnected wires and then try watching TV.
If the lines are still there, disconnect and reconnect everything again and see if your picture improves. If the rolling lines do not disappear, move on to the next step.
Some TVs have an auto-scan feature that checks for problems caused by loose cables or bad connections. If yours has this feature, try running it.
5. Fasten Loose Screws on TV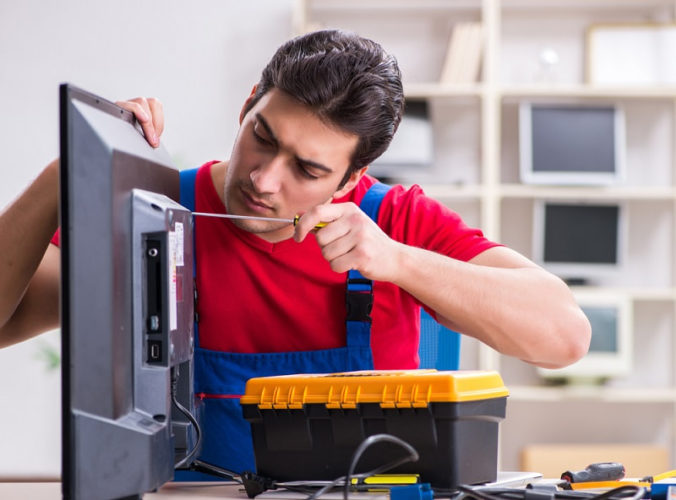 Once you have ensured that your TV's cables are in good condition, ‌tighten any loose screws.
This is especially important if you've recently moved or transported your set. Screws can loosen over time or during transport, so make sure to double-check them.
6. Update The Software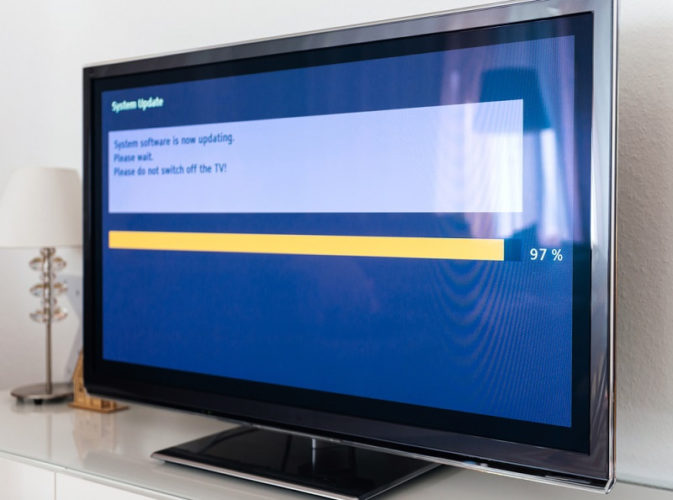 Updating your software could be all you need to get rid of the lines. To update, follow these procedures:
Go to the manufacturer's website and download the latest firmware version. You can perform the update by connecting a USB drive to your computer and running the software.
Connect your TV to a Wi-Fi or Ethernet network. Connect it to Wi-Fi or Ethernet with a strong signal if you have a smart TV. Update your television's software by going to Settings > System > Software Update > Network Update > Download Now. The update should resolve any issues caused by outdated software running on your device's hardware components.
7. Clean Up Around Your TV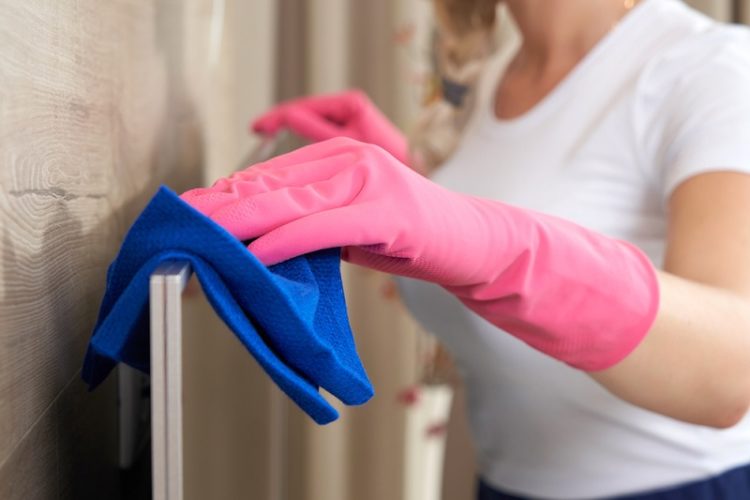 Dust and dirt build-up on televisions causes static electricity, leading to horizontal lines on screens.
Clean out dust or debris around your television, especially behind it where fans might suck it inwards.
8. Discharge Static Electricity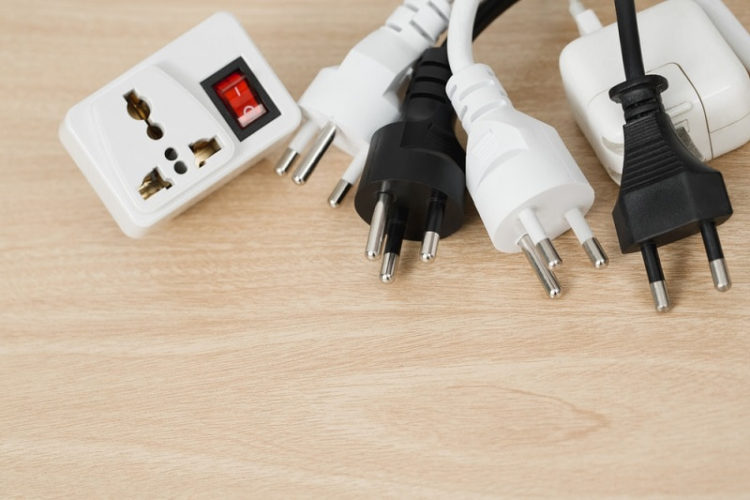 Static electricity can also produce moving horizontal lines on a television screen. It interferes with the way cable boxes and satellite dishes process signals.
Turn off and unplug all electrical devices for two minutes, then turn them back on one at a time until all the static electricity discharges.
9. Eliminate EM Interference
There are three solutions to this problem. You can buy a signal amplifier to increase signal strength and eliminate interference.
Second, use a filter to prevent interference from reaching your television. Third, move your television away from any source of interference.
10. Refresh the TV screen to fix the horizontal line
If the horizontal lines on your Android TV are not too severe, you may fix them by just refreshing the screen using these steps:
On your remote control, press the "Menu" button and select "Setup."
Scroll down to "Screen" with the arrow buttons and press OK/Enter to access this menu option.
Scroll down to "Refresh Rate" using the left or right cursor button and press OK/Enter again to access this setting option.
Increase the frequency of image refresh on your TV by pressing the up button on your remote control. Or press the down arrow button to reduce the refresh rate.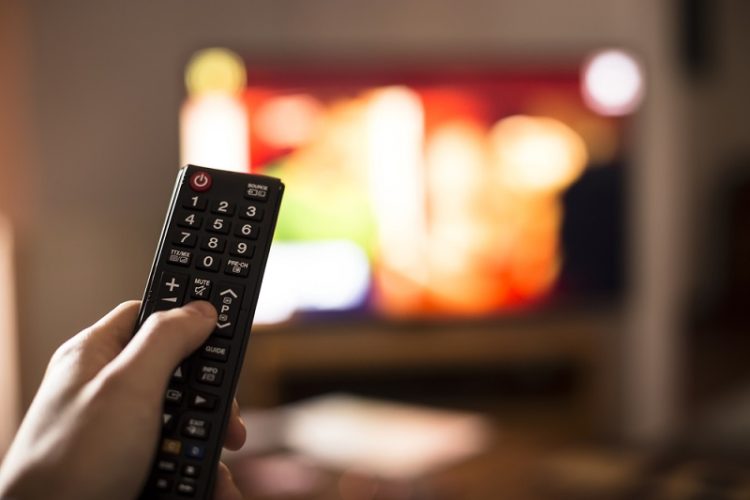 Please note that these steps may vary across brands. That said, the above steps will apply to most Android TVs. If you have a Samsung or Sony Bravia, below are the steps to follow:
Samsung TV
Turn on your TV
On the remote control, locate and press "Menu"
Press "Enter." This will allow you to select "Picture"
Press the up/down arrow buttons on the remote and select "Picture Options"
Select "Auto Motion Plus 120Hz" and press "Enter"
Select "Standard" and press "Enter." This will change the screen rate to 120Hz
Highlight "Exit" and press enter to exit the menu
Sony Bravia
Turn on your TV
Press "Home" on the remote control to bring up the "Menu"
Press the left/right arrow buttons on the remote to select "Settings Section"
Press the up/down arrow buttons on the remote to select "Picture Adjustments"
Adjust the settings for Motionflow to either "High", " Standard", or "OFF"
Adjust the settings for CineMotion to either "Auto 1", or "OFF"
11. Replace Timing Control Board T-Con

A faulty Timing Control Board (T-Con) may cause horizontal lines on your TV.
As part of the TV's internal circuitry, the T-Con regulates the voltage to the picture tube, so if it's faulty it needs to be replaced.
You can replace it yourself if you are handy. You can either buy a new T-Con from an electronics store or get one from another, old television.
Here are steps to replace a faulty T-Con:
Unplug your television from the power source and wait for at least one minute to allow any residual electricity to dissipate
Disconnect all cables connected to your TV
Detach the back cover of your TV by unscrewing all screws holding it in place. Use a screwdriver that fits precisely into each screw head to prevent the screws from being stripped
Once you remove the back cover panel, you should see the T-Con cover. Remove the screws on the cover to get to the T-Con board
Remove the T-Con board connectors which connect the T-Con to the motherboard
Carefully remove the T-Con board metal cover
Inspect the T-Con board. If it has any cracks or burnt spots, it needs replacing
Remove the flat ribbons that connect the T-Con board to the display
Remove the T-Con board and replace it with a new one
After replacing the T-Con, replace the cover and screw it back on firmly
If your T-Con board has ribbon connectors, here's a video tutorial to guide you on how to replace the ribbon connectors.
LCD TV Repair Tutorial - T-Con Board Common Symptoms & Solutions - How to Replace T-Con Board
Keep in mind however that these steps may vary depending on the brand of TV you own. Be sure to check what the user manual says or contact customer support for further guidance.
Also, if your T-Con board is bonded to the display panel, you may not be able to replace it. It's best to get a professional at this point.
Do not worry if you are not comfortable working with electrical equipment or do not want to risk damaging your TV. We recommend hiring a professional service to help you diagnose and replace a faulty T-Con Board.
12. Factory Reset
How to perform a Forced Factory Reset on an Android TV
If you have tried every tip above and nothing seems to fix the problem, then you'll need to factory reset your TV. Resetting it will restore its original settings and should fix any glitches.
First, turn off your TV and unplug it from the wall socket. Wait for at least 10 seconds before plugging it back in and turning it on again. This will reset the power supply to the device.
Next, press and hold the power button on the remote control until the TV turns off again. Release the remote's power button and wait a few seconds before pressing it again, only once, to restart your TV.
Now that you've restarted your TV, perform a factory reset by following these steps: These steps may vary depending on the TV's brand. If you have a Sony Bravia TV for instance,
Press the "Menu" tab on your remote control
Navigating through each option until you reach "Settings"
Scroll down until you reach "Factory Reset" and select it
Select "Yes" when prompted by pressing the "OK" button on your remote control
13. Contact Customer Support
Contact customer support if you have ruled out external factors causing the horizontal lines on your TV, and they're still there. The company will ‌help you identify the problem and offer a solution.
Technicians in your local area may also ‌assist you with troubleshooting and repairing horizontal lines on a TV.
Conclusion
And that's it!
While the causes of horizontal lines in a TV are varied, solutions are plenty and quick to fix.
And the best part is fixing TVs with rolling bars helps save both the environment and money.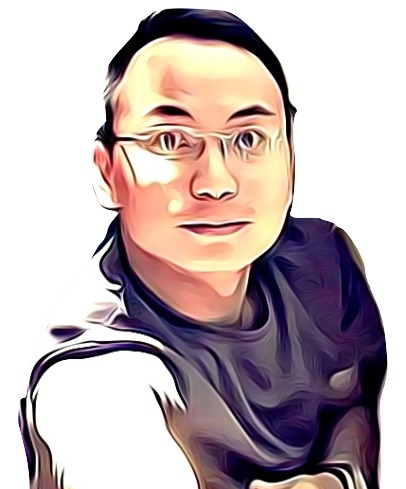 Vance is a dad, former software engineer, and tech lover. Knowing how a computer works becomes handy when he builds Pointer Clicker. His quest is to make tech more accessible for non-techie users. When not working with his team, you can find him caring for his son and gaming.