Our favorite digital connector just got better!
HDMI has been around for years and has become the go-to connector for TVs, projectors, mobile phones, tablets, and more. Nowadays, they have come up with other variations such as the HDMI ARC and HDMI eARC.
Both HDMI ARC and HDMI eARC specialize in improving your audio experience.
Picture this: you're having a movie night with friends. You have Netflix logged in, snacks and drinks at the ready. The only thing you're missing now is incredible audio.
You can't get that if you're using your TV's speakers. That's why people opt for soundbars instead. But you don't like how messy cables get. What do you do?
That's where HDMI ARC and HDMI eARC come in. Having either of these two removes your need for an optical cable. You have to plug your HDMI ARC or eARC into the HDMI behind your TV and soundbar.
These HDMI variations sound similar. Are they backward compatible? Will you be able to use an HDMI eARC cord to connect your TV to your soundbar? How do you know if a device is HDMI eARC compatible?
Let's talk about them!
Is HDMI eARC Backward Compatible with HDMI ARC?
The short answer here is no. HDMI eARC is not backward compatible with HDMI ARC. While you will still be able to get some audio if you use your HDMI eARC in an ARC-only HDMI socket, you won't experience the high bitrate audio that eARC intends to provide.
You can, however, upgrade your soundbar or AV receiver to support HDMI eARC. But this will heavily depend on their manufacturer and the hardware used to make them.
"But eARC has ARC fallback. Doesn't that make it backward compatible?"
No, it does not. When you connect an HDMI eARC cord to an eARC-compatible device and connect the other end of your cord to an ARC-only device, these will fall back to broadcasting an HDMI ARC signal instead of an eARC signal.
What Equipment Will I Need to Use eARC?
If you plan to use an HDMI eARC to connect your TV to your AV/soundbar, you must ensure that these devices have HDMI 2.1 hardware or higher.
You will also need a high-speed or ultra-high-speed HDMI 2.1 (or higher) cable to connect your devices. It's a plus if you can find one that also has ethernet .
Don't worry; ultra-high-speed HDMI 2.1 cables have been on the market for a while. So you won't have a hard time finding them online or in your local electronics shop.
How Do I Know if My TV Supports HDMI eARC?
Finding out if your TV supports HDMI eARC supports can be tricky. HDMI eARC is not as commonly used as HDMI ARC because it's the newest edition in the market, only introduced in mid-2019.
But don't sweat it; most companies have started to catch up. Like with many technological advancements, most electronics will be able to support eARC in no time.
To know whether your TV or AV/soundbar supports HDMI eARC, simply check your device if it supports HDMI 2.1. If it does, then it can most likely handle eARC.
Some devices can support some of eARC's functionality despite only having the earlier HDMI standards (HDMI ARC). However, this will only be possible if the manufacturers release firmware that can support eARC.
So make sure to ask your manufacturer if your TV has added support.
Do All HDMI Cables Support HDMI eARC?
No, unfortunately, not all HDMI cables have the bandwidth needed to carry eARC's extra audio channels.
But you're in luck! Many "high-speed" cables can handle the demons of eARC. Just find ones with "ethernet" support.
Another sign that an HDMI cable is eARC-compatible is if it can carry at least 48Gbps.
These cables don't have to cost an arm or a leg. There are many great deals on Amazon that you can check out!
Electronics Brands that Support eARC
As mentioned above, HDMI eARC-compatible devices are not as common, at least, NOT YET. However, more and more companies are starting to catch on to the demand.
Here are a few that make TVs, AVs, and other media electronics with eARC-compatible hardware:
Okay, we know this list is a "hodge-podge" of different devices, but it's here to reference which companies currently offer eARC-compatible devices.
Another tip is to check when the TV model was released. Smart TVs released in mid-2019, for example, are more likely to possess better hardware compared to smart TVs introduced in 2018 or 2017.
Beware of HDMIs marked with "ultra-high-speed" or "HDMI 2.1" as these can be misleading. Always make sure to read the reviews on the listing or contact the company's customer support for verification.
Conclusion
Now that you know HDMI eARC is not backward compatible with HDMI ARC, are you planning to test it out?
HDMI eARC has a fantastic audio output that can enhance your movie experience at home. Excellent sound quality is certainly something many movie-lovers look for in their home theaters. The downside is that not many eARC-compatible devices are readily available.
You will have to take some time to do your research and verify with manufacturers if the TV or AV unit you are looking at can support eARC. You should also ask if they can update your current TV's or AV's firmware to support the new HDMI version.
eARC may look like more trouble than it's worth, but its audio potential is not something to ignore. If you are someone who likes clear and crisp sounds coming from AV/soundbar, then HDMI eARC is worth checking out.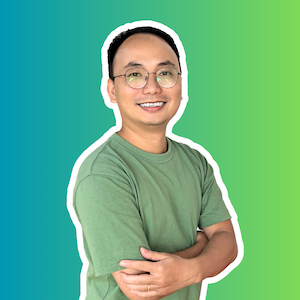 Vance is a dad, former software engineer, and tech lover. Knowing how a computer works becomes handy when he builds Pointer Clicker. His quest is to make tech more accessible for non-techie users. When not working with his team, you can find him caring for his son and gaming.