If you are a game lover, you must have heard of the Nintendo Wii. If you have not, that's okay, you can know more about it here.
What is Wii?
It is a popular game console that has gained popularity over time. It was manufactured by Nintendo and was launched in the year 2006.
It works with motion control technology and has games for people of every age. This game console can keep anyone glued to their screen.
Nintendo Wii Console, White (Renewed)
Bundle Includes: Wii Console, Wii Remote, Nunchuk, Wii Remote Jacket, Sensor Bar, Wii AC Adaptor,...
Built-in Wi-Fi Access For Easy Connection To Internet
Last update on 2023-03-30 / Affiliate links / Images from Amazon Product Advertising API.
What's in the box?
When you buy a box of Nintendo Wii game console, you will find these items in the box:
The Nintendo Wii System
The Wii Nunchuck
Nintendo Wii Remote controllers (There are up to four remotes in the box, and they can be connected wirelessly via Bluetooth).
An AC Cable
Sensor Bar
A standard AV adapter
Can you connect Wii to a projector?
Yes, you can connect Wii to a projector. It is much more exciting compared to playing the game console on a TV.
It may be enough fun to play it on TV if it is just you. But when you have your friends come over for the weekend, you will need something bigger to serve everyone; no one likes to be left out.
What ports are on the Nintendo Wii?
There are different ports on Wii. These ports allow you to connect the game console easily to other devices such as projectors, LAN adapters, USB keyboard, TV, and many others.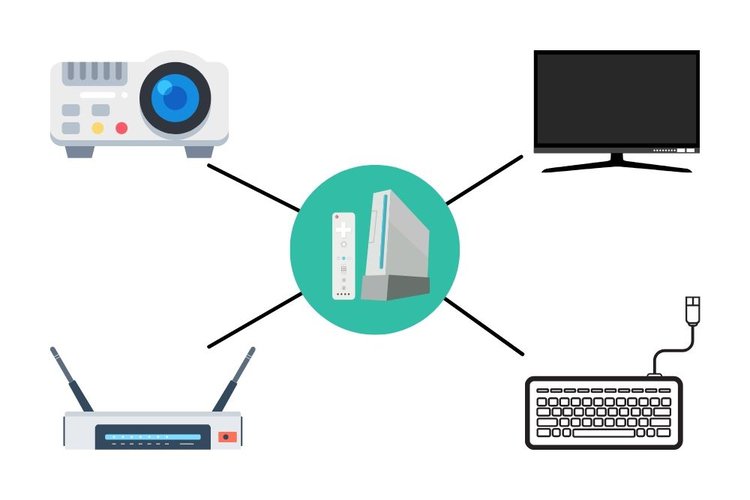 It has two USB ports on its rear side. You can connect USB hubs via these ports. It also has a video output and power connectors.
Wii works best for projectors that have the A/V connection. However, those types of projectors are somewhat outdated. New model projectors have the HDMI connection instead of the A/V connection.
Things to know when connecting Wii to your projector
When connecting Wii to your projector, know that:
Your sound system should be linked to the game console via an A/V cable. If your sound system does not have an A/V port, you can connect via the HDMI port. However, you will need to use an adapter for this.
The Wii should be in front of you. This is to enable it to detect your motion when you are playing a game. It should also be placed below the image, at a position central to the ceiling and the floor.
The projector should be placed in a position where there will be no disruption. You can hang it on the ceiling or place it on the opposite side of the room.
You can connect Wii to a projector via different methods; some of these methods will be discussed in the next paragraphs.
How to connect Wii to your projector via the HDMI port?
Wii does not have an HDMI port, therefore it is impossible to connect it directly to a projector using an HDMI cable. However, there are ways to go about this.
What you need
An RCA/AV to HDMI converter
An HDMI cable
Wii video cables
How to do it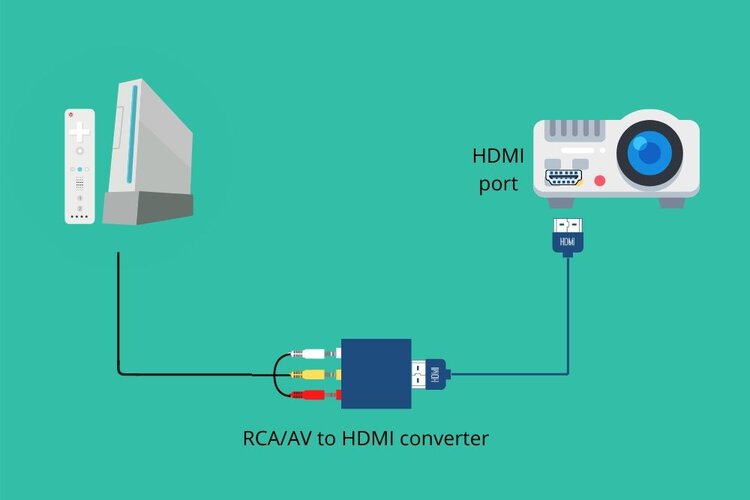 Connect one end of the HDMI cable to your projector and the other end to the RCA/AV to HDMI converter.
The rear part of the adapter has three ports into which you will connect the video cable. Each of them has a different color, one is white and the others are yellow and red respectively.
Be sure to plug the cables correctly into each port, it is to be plugged into the port with a corresponding color.
Turn on the projector to see if the connection was successful.
How to connect Wii to a projector using a VGA cable
What you need
A VGA cable
RCA to VGA converter
How to do it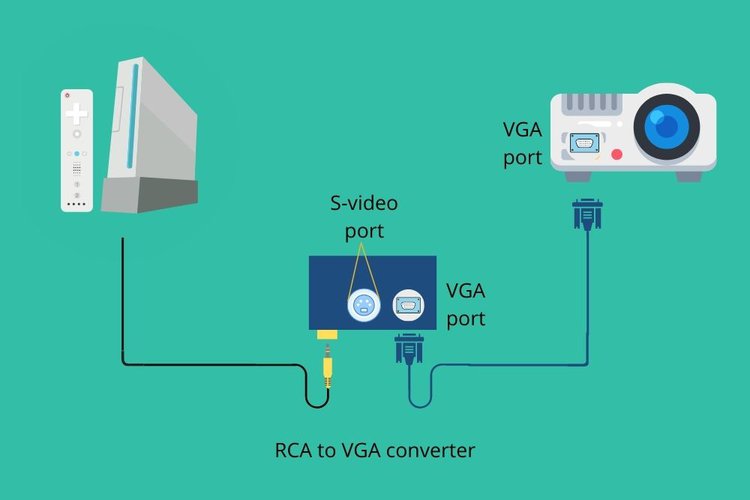 Connect the yellow plug of the cable from the Wii to the RCA to VGA converter. There is a yellow jack at the front of the adapter, plug the cable into it.
At the back of the adapter, there is an output port and an S-video input port. Connect one end of the VGA cable to the output port and the other end to the VGA port on the projector.
Turn on the projector to confirm the connection.
Conclusion
If you are connecting Wii to the projector using the video connector, you will have to use the A/V cable. However, this may be a difficult task, because this cable is too short.
Since it's best to position the projector far behind in the room, there may be a need for extra cables, to complete the connection.
Wii has several amazing games like the New Super Mario Bros, Metroid Prime, Super Mario Galaxy, Wii Sports, and many more.
Another model of the Nintendo Wii is the Wii Mini. It is smaller than the Wii, and it does not support SD card storage and online connectivity.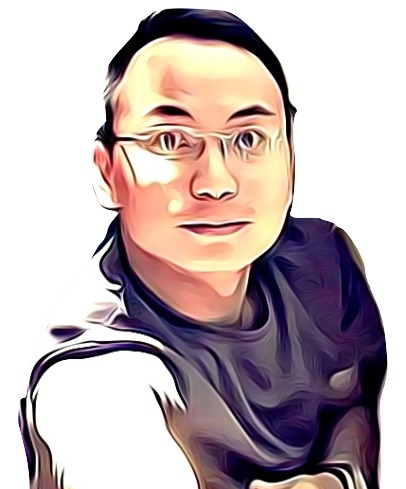 Vance is a dad, former software engineer, and tech lover. Knowing how a computer works becomes handy when he builds Pointer Clicker. His quest is to make tech more accessible for non-techie users. When not working with his team, you can find him caring for his son and gaming.