Using a laptop and a projector is a standard and an excellent way to deliver a presentation effectively and interactively. The use of text and visuals is going to make it easy for an audience to follow complex thoughts and information.
But before every presentation, you'll have to master hooking up your laptop to a projector, and setting it up to give a clear image. It's quite easy if you follow these simple steps.
What you'll need
Your laptop and charger
A compatible video cable
Projector
Projector screen
An outlet or an extension cord (optional)
A sound system and a connector (optional)
A laser pointer (optional)
The materials you need will vary depending on the brand and the compatibility of the devices and cords. Moreover, the area you will be presenting in might not have all the items you'll need so it's best to come prepared.
Most of the time, you will need to point and emphasize certain words, phrases, and pictures. So make sure you have a handy laser pointer with you. If you don't have one yet, you can choose from this list.
Step 1: Connect your laptop to the projector
First off, we use a video cable to connect the 2 devices. The cable used is usually a VGA or HDMI cable. But if you aren't sure about what cable you're supposed to use, here's the guide. (Look for the one that's existed on your laptop and the projector)
VGA
Used in most laptops
Usually colored blue or gray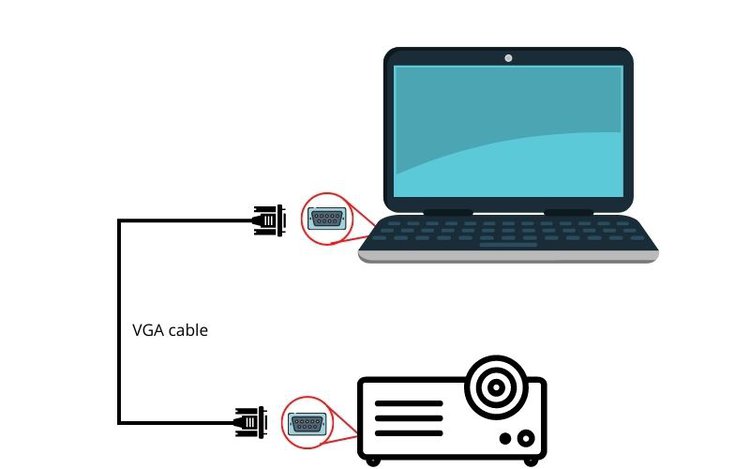 Sale
Last update on 2023-05-29 / Affiliate links / Images from Amazon Product Advertising API.
DVI
Used in older laptops and desktops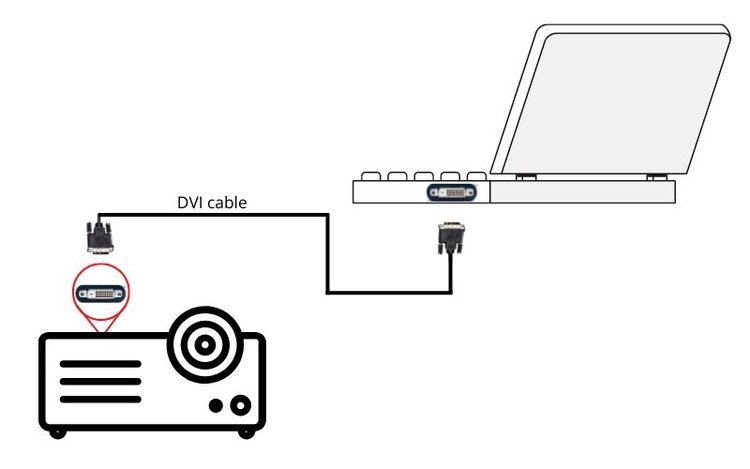 Last update on 2023-05-29 / Affiliate links / Images from Amazon Product Advertising API.
HDMI
Can be found on newer laptops and old Macbook models
Used for both audio and video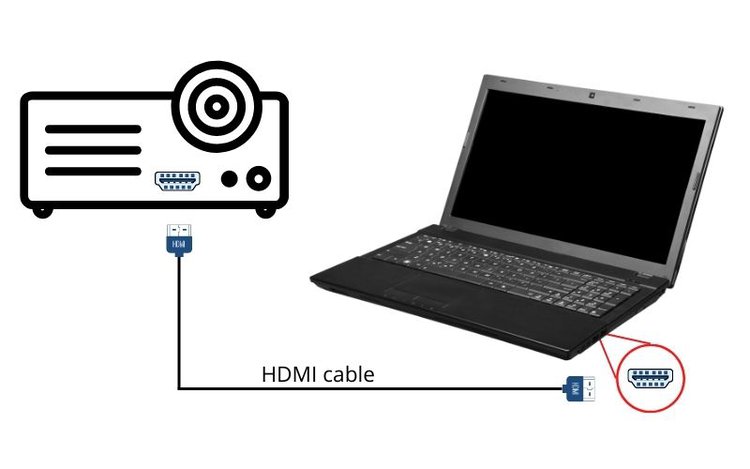 Last update on 2023-05-29 / Affiliate links / Images from Amazon Product Advertising API.
Thunderbolt
Found on all new Macbooks and iMacs
Use an adaptor to connect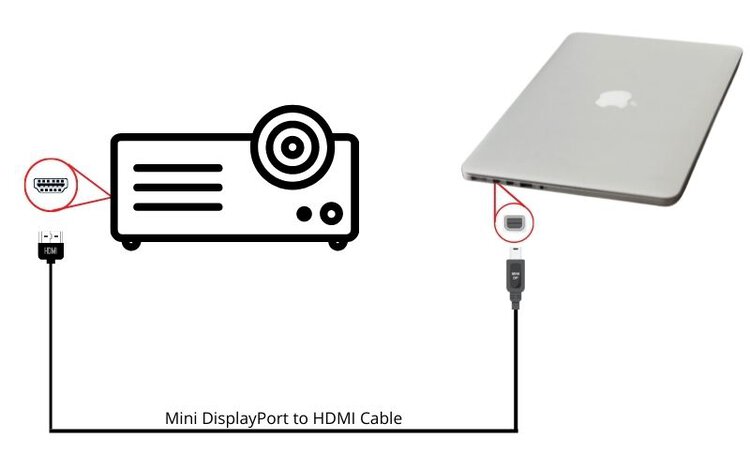 Last update on 2023-05-29 / Affiliate links / Images from Amazon Product Advertising API.
USB-C
Found on new Macbooks and other new laptops
Use an adaptor to connect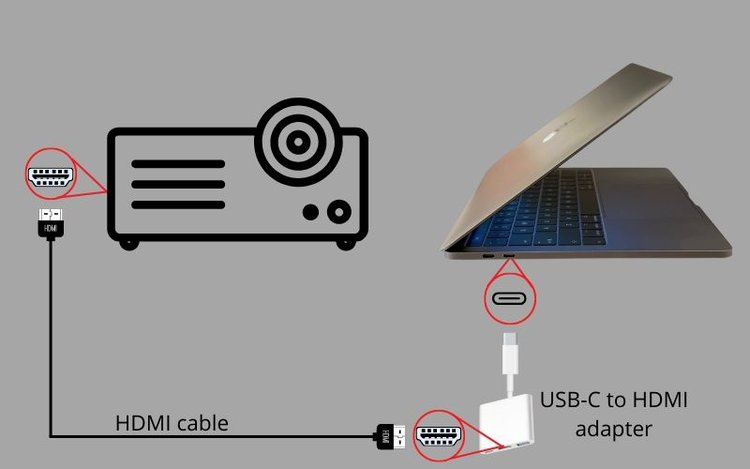 Anker USB C to HDMI Adapter (

[email protected]

), 310 USB-C Adapter Aluminum, Portable , for MacBook Pro, Air, iPad Pro, Pixelbook, XPS, Galaxy, and More
The Anker Advantage: Join the 80 million+ powered by our leading technology.
Vivid Video: The HDMI adapter lets you connect to any TV or display with an HDMI port to stream...
Plug and Play: Instantly turn your laptop or phone's USB-C port into an HDMI port, with no...
Last update on 2023-05-29 / Affiliate links / Images from Amazon Product Advertising API.
Read more: How To Connect A Laptop To A Projector With A USB Cable?
For more details, this video is quite helpful. It's best to come prepared and have all the necessary cables and adaptors so you can successfully connect the devices.
HDMI, DisplayPort, DVI, VGA, Thunderbolt - Video Port Comparison
Step 2: Outlet and wires
Depending on where the outlets are in a room, it's best to come prepared with your own extension cord. Remember that you will be presenting so even your devices and wiring must be neatly organized.
You won't know how long you might be using the laptop for, so it's best to have the charger prepared. We wouldn't want it to turn off in the middle of an important presentation!
Step 3: Plug into the sound system (optional)
If you'll be presenting videos that have audio, you will need to use a sound system. If the area won't have one available, you can use a speaker that can fill the whole room.
One important thing to remember is to use something with an auxiliary input. These days, most laptops can connect via Bluetooth, but this isn't always the case. Don't forget to bring the charger for the speaker, too!
Sale
Last update on 2023-05-29 / Affiliate links / Images from Amazon Product Advertising API.
Step 4: Set up the projector screen
Depending on what projector screen you'll be using. You can pull the projector screen down if it's mounted on the wall but if it's a projector with a stand, pull the tab up and fasten it at the top of the stand.
Step 5: Sync the laptop and the projector
For Windows / PC
Depending on your PC's brand, use these shortcuts: Hold down Function (FN) + toggle keys F4, F5, F7, or F8. Adjust the keys depending on the laptop you are using, and it should work in the same way.
On Windows 7, you can hold down the Windows key and press on P. These functions will appear on the screen:
PC screen only
Duplicate
Second screen only

Click on duplicate for the projector to mirror your laptop screen at the same time. If you want more details on this shortcut, you can check out this video.
TechTips: Windows7 - Connect to a Projector
For Macbook
Mirror display on MAC
For Mac users, the following steps will get you to connect easily.
Click on the Apple logo at the upper left-hand corner of your screen.
Select System Preferences
Click on Displays
On the second window, select optimize for Display (or select the name of the projector)
Then go to Arrangement
CHECK the box labeled mirror displays. This means that what you see on your laptop screen will be the same as what's on the projected screen.
Extended desktop on MAC
An extended desktop means that your screen will not be the same as what will be seen on the projected screen. You can essentially choose what will be shown on the extended screen.
Repeat steps 1-3.
If you want to use extended desktop, UNCHECK the box labeled mirror displays.
To choose what to display on the extended desktop, click the window you want to show. Then, drag it over to the projector screen.
To see how it's done, you can follow this video.

Mirroring & Extended Display on Macbook Air
Frequently Asked Questions
It's normal to run into some difficulties while setting up your projector. But we're here to help you out with 2 of the most common issues users have.
Why is my projector not showing the computer screen?
Just like any trouble we have with our devices, the first step is to troubleshoot. Check the following to see if any of these might be the cause:
1. Make sure the projector is on.
2. Be sure the projector lens cap is taken off.
Some projectors have lens caps for protection, but if the cap isn't removed, it's going to block the picture.
3. The projector source setting should match.
If your projector has this setting, make sure that the right source is selected. For example, if you're using an HDMI cable, make sure that you select the HDMI as the source.
4. Secure the wire connection.
The cable you are using should be connected correctly to the computer and the projector.
5. Make sure your laptop/projector still working properly.
There is a problem with the projector if your laptop works with other projectors.
The problem is with your laptop if other projectors can't display an image with it.
6. Other serious problems
If these steps don't help, there might be a more serious underlying issue. We suggest getting an expert to take a look at the device in question.
How to display a separate screen on your computer projector?
The "dual-display", "dual monitor", or "extended display" is a monitor option that will allow users to choose what will appear in the projector screen. For Mac users, you can simply follow the steps for "Extended display on Mac".
But if you're on a PC, you can take the following steps:
On your desktop, right-click on an empty area.
Click on "screen resolution"
Find "multiple displays" and click on the drop-down list
Choose "extend these displays"
Click apply
Click on "keep changes"
For a quick fix, you can hold down the Windows key on your keyboard and keep pressing "P" until you select "Extend".
Finally
Most importantly, make sure to try this before the actual presentation! Be sure that everything works smoothly so that you won't encounter any problems on the spot.
It's going to help you master the process and you will be able to troubleshoot any problems on your own. When the day of the presentation comes, you'll be confident every step of the way.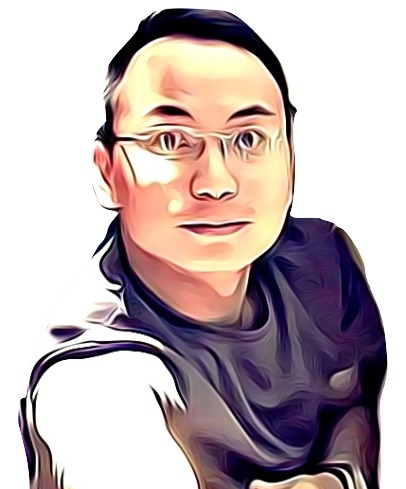 Vance is a dad, former software engineer, and tech lover. Knowing how a computer works becomes handy when he builds Pointer Clicker. His quest is to make tech more accessible for non-techie users. When not working with his team, you can find him caring for his son and gaming.