As audio-video tech advances, older devices based on outdated connection standards become less relevant. SCART is one such tech, which was quite prevalent during the analog period, particularly in Europe.
With the advent of HDMI and DisplayPort, SCART lost its steam or couldn't keep up with the times, dipping in popularity. Currently, it's close to being obsolete.
How come SCART is still around? Because a lot of people are still looking for ways to hook up their modern HDMI devices with heritage machines that use the SCART standard. And luckily for them, the devices with different connection standards can be linked.
This article explores the tools and methods to connect SCART and HDMI and seamlessly enjoy high-quality content.
What is SCART?
SCART (Syndicat des Constructeurs d'Appareils Radiorecepteurs et Televiseurs, translates as "Radio and Television Receiver Manufacturers' Association," a French organization) is a kind of cable that simplifies the process of connecting an audio device to a video device or vice versa.
Developed in France by its namesake company during the 1970s, SCART helps connect DVD players and VCRs to TVs and audio equipment.
SCART merges various analog signals, such as composite video, stereo audio, S-video, and RGB video, into one plug and socket. That helps remove any cable confusion novices could have.
The cable employs 21-pin male connectors at both ends, which plug into female sockets. The connectors are typically gold-plated, ensuring maximum corrosion protection and the best-quality signal transfer possible.
The SCART cable is bidirectional, letting information flow from a TV to an STB (set-top box) and then again to the television after decoding.
The maximum length of a SCART cable is usually 10 to 15 meters with no amplification. The shorter the cable, the greater the signal transmission or picture quality.
When a device uses a SCART cable to connect to a TV, the TV, when powered on, automatically wakes up from standby mode and defaults to the right audio-video channel to play the source device's content.
Also, some manufacturers use SCART to send high-definition signals (1080p, 1080i, and 720p) using a YPbPr link. But with the rise and popularity of HDMI, such usage of SCART to transmit HD signals is not common practice.
Note that SCART goes by a few other names, such as Euroconnector (Spain), Peritelevision or Peritel (France), EuroAV or EXT (United States), etc. EIAJ TTC-003 is SCART's Japanese version.
Can You Convert SCART to HDMI? If Yes, Then How and Why?
Yes, SCART can be converted to HDMI.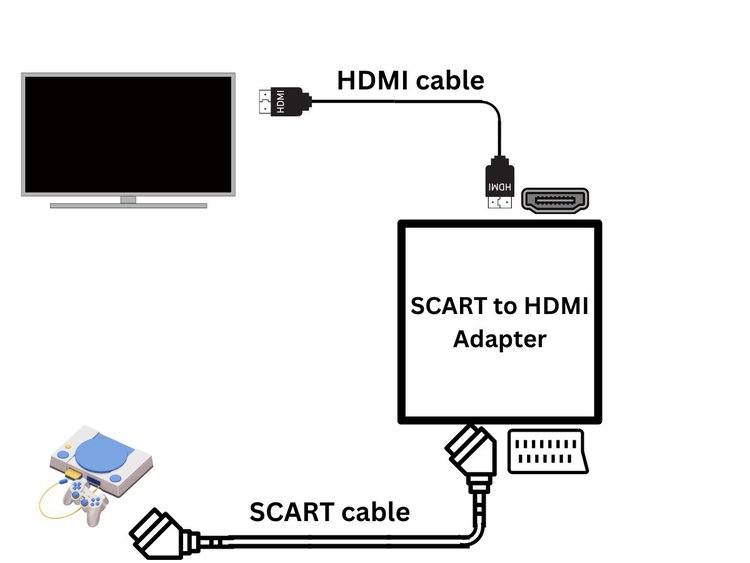 To turn SCART to HDMI, you'll need a converter device. No SCART to HDMI cable does the conversion on the fly.
SCART to HDMI conversion is ideal for retro gaming or using relatively older gaming consoles, such as the PS3, PS2, the Super Nintendo N64, etc., with modern devices.
Here are the steps to convert SCART to HDMI:
1. Grab the converter and plug the SCART cable from your old device's SCART output port into the converter's SCART port.
2. Pick up an HDMI cable. Plug one end into the display device's input port, and plug the other extreme into the converter's output port.
Note that all converters won't work identically. For instance, the converter device may not support RGB signals and fail to deliver the best visuals possible as a result.
And choosing the wrong converter or a device that interprets input signals incorrectly could lead to flickering issues, random black screens, etc.
It's worth noting that SCART uses relatively high signal voltages. Therefore, plugging or unplugging devices when operational (referred to as "hot plugging") is not recommended. Hot-plugging SCART cables may not lead to personal injury but pose risks of device damage.
How to Choose the Right Converter (SCART to HDMI)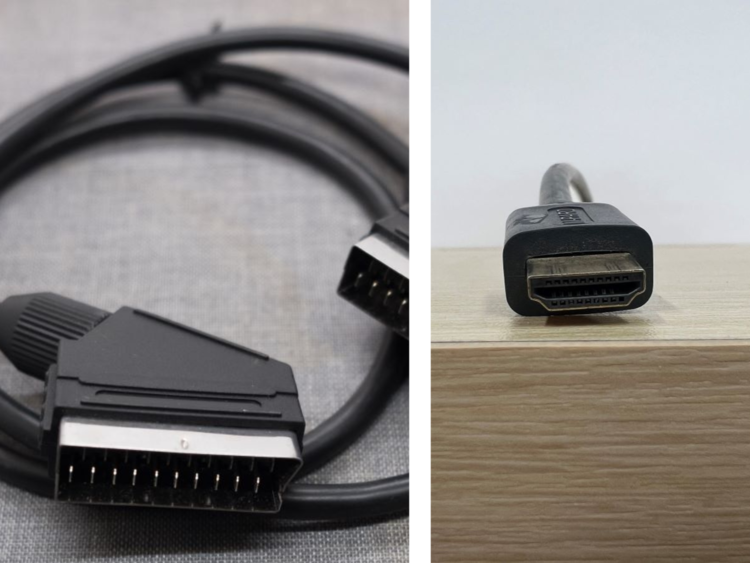 SCART to HDMI converters are similar to AV to HDMI converters. Except for the difference in the analog outputs they use, both cannot emulate the picture quality a direct cable connection provides.
But an RGB SCART to HDMI converter can output images on par or even better than a SCART-to-SCART connection since an RGB video signal is superior to S-video or composite video signals, typically used in regular SCART.
To ensure your SCART to HDMI converter supports RGB video signals, read the device's specifications.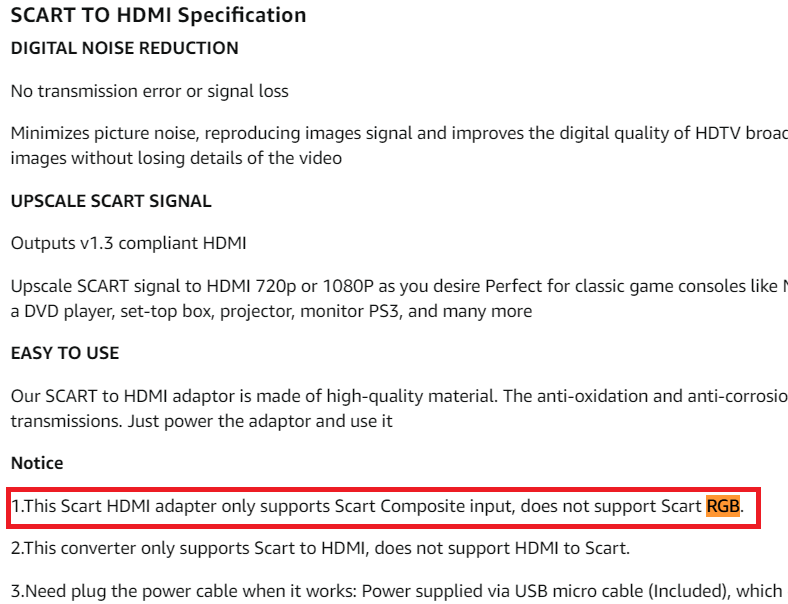 If buying the product online, such as Amazon, Currys, Tesco, or Argos, do not read the whole product description.
Press the Ctrl and F keys and search for "RGB." Press the Command (CMD) key instead of Ctrl if using a Mac. Ensure the RGB mentions on the page are related to the product you're looking at and not part of the description of a related or sponsored item listing.
Most importantly, buy the best possible converter for your requirements. Ensure it's lag-free, delivers solid conversion, offers excellent picture quality, etc. If a converter is too inexpensive, it may not support RGB video.
If you're finding it hard to sift the good or RGB-compatible converters from the non-RGB ones and would like straight product recommendations instead, look at LiNKFOR SCART to HDMI and TNP SCART to HDMI Converter.
Conclusion
If you own SCART-based equipment, such as a classic gaming console or VHS tapes, SCART to HDMI converters will help bridge the lacuna between the modern present and the analog past, letting you inject a fresh lease of life into existing audio-video devices.
When you link SCART devices with HDMI-enabled machines, you can continue retro-gaming, watch classic movies, or simply preserve memories.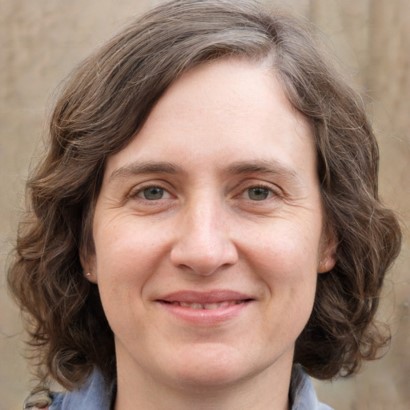 Catherine Tramell has been covering technology as a freelance writer for over a decade. She has been writing for Pointer Clicker for over a year, further expanding her expertise as a tech columnist. Catherine likes spending time with her family and friends and her pastimes are reading books and news articles.